ASICS and Brooks are two of the most popular brands when it comes to running shoes. Both produce high-quality shoes for different running styles or foot types. They also make specialized shoes for people who suffer from gait issues. 
While Brooks exclusively manufactures running shoes, ASICS produces shoes for various activities. But just because Brooks specializes in running shoes that doesn't mean they are better. ASICS has some wonderful technology working in its favor to provide shock-absorption and responsiveness.
For most people, ASICS will be the better fit between the two. However, if you have wider feet, Brooks may be the better choice. Let's compare the two in more detail.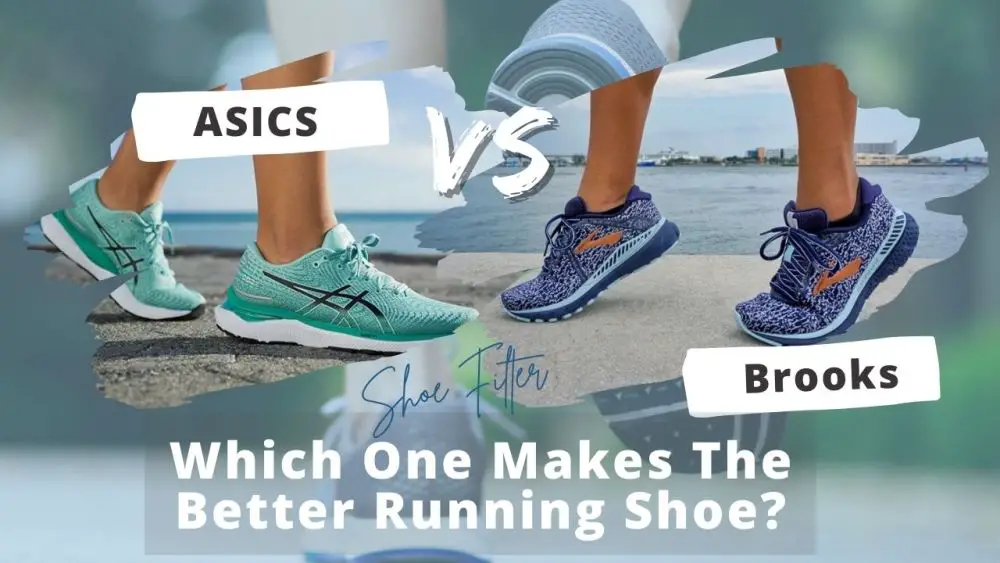 Why Should You Choose ASICS?
While different models have varying features, all ASICS running shoes have their basic technology in common. The following features of ASICS shoes make them fit for running.
GEL technology offers superior shock absorption to protect your joints and muscles from excess strain.
You can expect each pair to last about 400 to 500 miles of running
Ortholite footbed for added cushioning that also absorbs sweat
Accommodates all pronation levels
TRUSSTIC sole system offers both control and flexibility, without compromising on sturdiness. 
Why Should You Choose Brooks?
Brooks shoes have a lot of features that make them great for running. Here are some of the best aspects of Brooks.
They have a wider, roomy toe-box to fit people with wide feet.
Their technology aims to accommodate different gaits instead of trying to correct gait.
Dual technology to maximize breathability. Engineered mesh and FitKnit provide easy drying of sweat and comfort.
Can easily last 300-500 miles of running.
DNA LOFT and BioMoGo DNA technology to provide ultra-responsiveness.
Vans Vs. Nike Comparison Table
Characteristics
ASICS
Brooks
Material
Upper: engineered mesh 
Midsole and insole: Solyte and SpEVAGEL, Gel in the heel and forefoot 
Outsole: high abrasion resistance rubber with a Space Trusstic.
Upper: Mesh and fabric
Midsole and insole: EVA, DNA AMP,BioMoGo DNA, or DNA LOFT.
Outsole: arrow pointed, high abrasion rubber outsole.
Shoe Type
Running, walking, trail running, paddling, volleyball, tennis, golf. Wrestling, indoor court shoes, outdoor field shoes, etc.
Running shoes
Durability
Lasts up to 400-500 miles of running
Lasts up to 300-500 miles of running
Cushioning
GEL technology is used for cushioning. ASICS Flytefoam is efficient at energy return and responsiveness.  
DNA AMP, BioMoGo DNA, or DNA LOFT technology is used to provide superior cushioning. These are combinations of mesh, air, and rubber for perfect cushioning.
Breathability
Breathable engineered mesh upper to quickly evaporate moisture
Soft, stretchy mesh upper that allows air circulation 
Fit
Snug fit, especially in the heel and midfoot.  Features heel clutch for a better fit.
Perfect for wide feet with a roomy toe box and wide footbed. 
Key Features Of ASICS
Different models have different features. However, most ASICS shoes share these basic qualities.
Engineered mesh upper that is breathable.
Flytefoam footbed for responsiveness and easy bounce.
GEL technology in heel and forefoot for easy movement.
High abrasion-resistant rubber with TRUSSTIC system for stability and friction.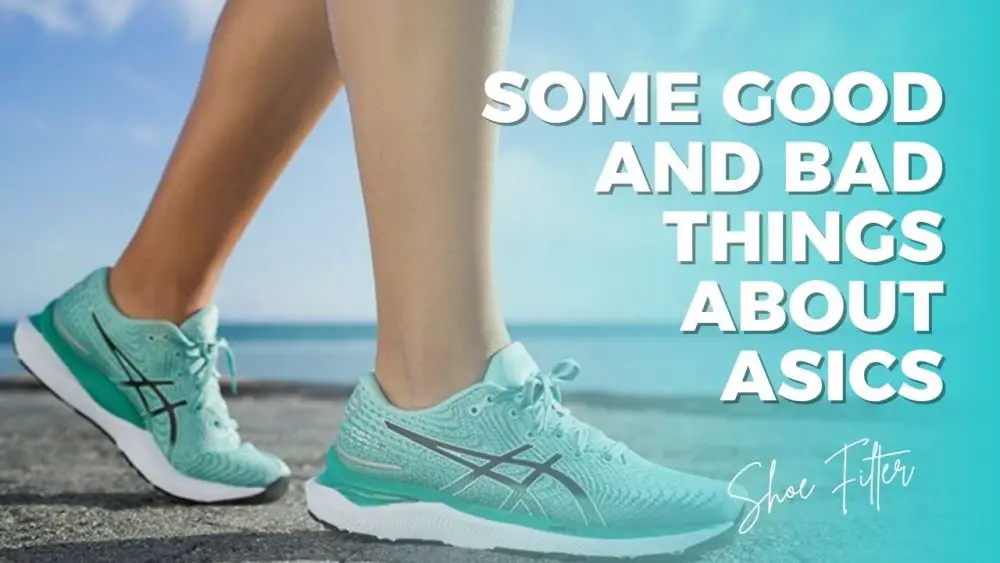 Some Good Things About ASICS
ASICS running shoes have many incredible features that make them stand apart in the industry. Their uppers are lightweight, stretchy, and formfitting. You can feel it adjusting when you lift your feet. This makes for a super comfortable run. Also, the mesh material used is breathable and keeps feet dry.
When it comes to cushioning and responsiveness, ASICS is hard to beat. With their GEL technology, they have cracked the code on how to get perfect responsiveness. Flytefoal footbed is also every bit responsive and cushions the impact of running. Together, they protect your joints, heel, and muscles from exertion.
ASICS outsoles also have a split dividing the forefoot and the heel known as space Trusstic. This provides additional stability and control. Their treaded high-abrasion-resistant rubber outsole is durable as well as excellent at creating friction.  
Some Bad Things About ASICS
ASICS shoes are shaped narrowly and can fit pretty snuggly on your feet. However, this can be very uncomfortable for anyone with wide feet. When you wear ASICS for a long time, your feet can start hurting from being so tightly bound all day. 
Another thing that bugs users when it comes to ASICS is that their durability is not as much as you would expect, considering how high-end the brand is. But we do think that the performance of these shoes makes them a total value for money. 
Key Features Of Brooks
Here are some of the basic features you will find in Brooks running shoes.
Soft, stretchy, and breathable mesh upper material.
DNA AMP, BioMoGo DNA, or DNA LOFT technology provides superior cushioning.
Their dual-arch pod system offers superior stability and better flexibility around the forefoot.
With Brooks GuideRails technology, you can move your hips, joints, and knees naturally but with added support whenever necessary.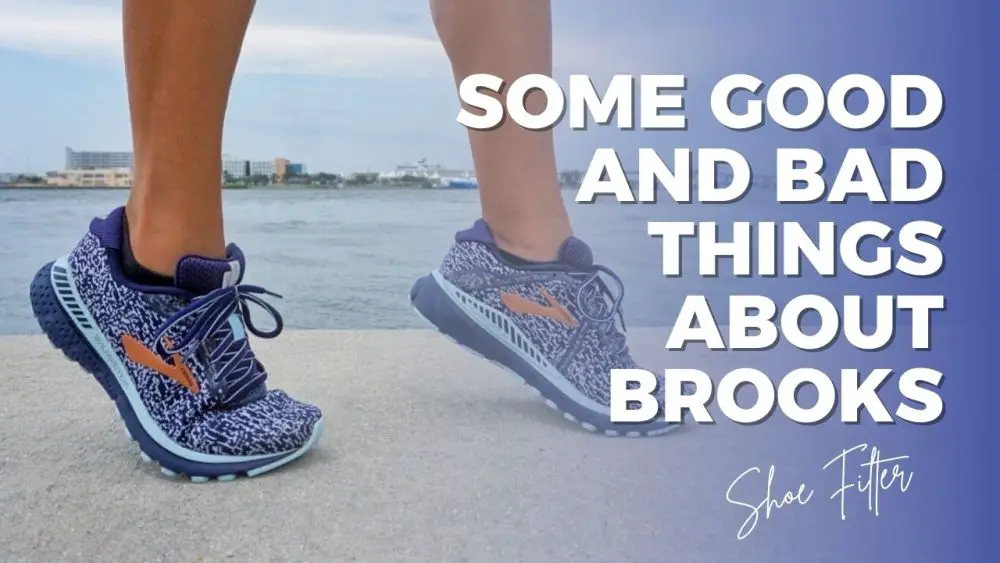 Some Good Things About Brooks
Just as ASICS, Brooks uppers are also super lightweight, stretchy, comfortable, and accommodating. Your feet will stay dry all day because of how quickly these shoes wick away moisture.
Their cushioning technology adopts a mixture of air, mesh, and rubber for the softest feel. The best part is how the cushioning system adjusts to your strides, speed, and weight. With a dynamic cushioning system like Brooks', you get easy energy return and greater responsiveness.
Brooks shoes have outsoles made entirely of rubber with arrow treading for added friction. They have a proprietary Dual-Arch Pod system that gives you more stability and increased flexibility for a fluid running experience. 
Some Bad Things About Brooks
The complaint most people have with Brooks is their durability, considering what they had to pay. Their shoes are pretty great when it comes to performance but only last 300-500 miles.
Other than that, Brooks may not fit you very well if you have narrow feet. Nobody likes to worry about their shoes falling off mid-run.
FAQs
What is ASICS best known for?
ASICS is best known for its development of new technology and improvement of its running shoes. Their most famous technology is the GEL™, which was first launched way back in 1986. Since then, they have kept improving their footwear's quality and performance.
Why are Brooks shoes so good?
Their use of BioMoGo DNA technology makes them excellent for running. Due to this technology, the entire sole of the shoe is adaptively cushioned and supported. In other words, the insole changes to fit your foot and running gait.
Is it OK to wear running shoes for walking?
Yes. You can wear running shoes for walking. Running and walking shoes have similar features. However, a running shoe is made with better shock absorption and durability as running is a more vigorous and demanding activity. So, running in walking shoes is a bad idea. But you can definitely walk in running shoes.
Are Brooks Glycerin good for plantar fasciitis?
The Brooks Glycerin running shoe is a perfect shoe for plantar fasciitis. It sports a plush OrthoLite sock liner for comfort. Additionally, the rubber outsole's DNA LOFT cushioning offers another comfort layer. This prevents exacerbating your plantar fasciitis.