Out in the field in the middle of the game and you feel the shoe compressing your feet with every bend. 
The second you feel it, your shoe ceases to be a cult favorite athletic footwear and becomes a pain in the "foot." 
Soccer enthusiast or professional athlete, everybody needs the right pair of soccer cleats that fit like a glove and have room for movement for all the bends and impacts your feet must suffer in the game. 
This is why this article features a collection and in-depth reviews on the best soccer turf shoes for wide feet in the market.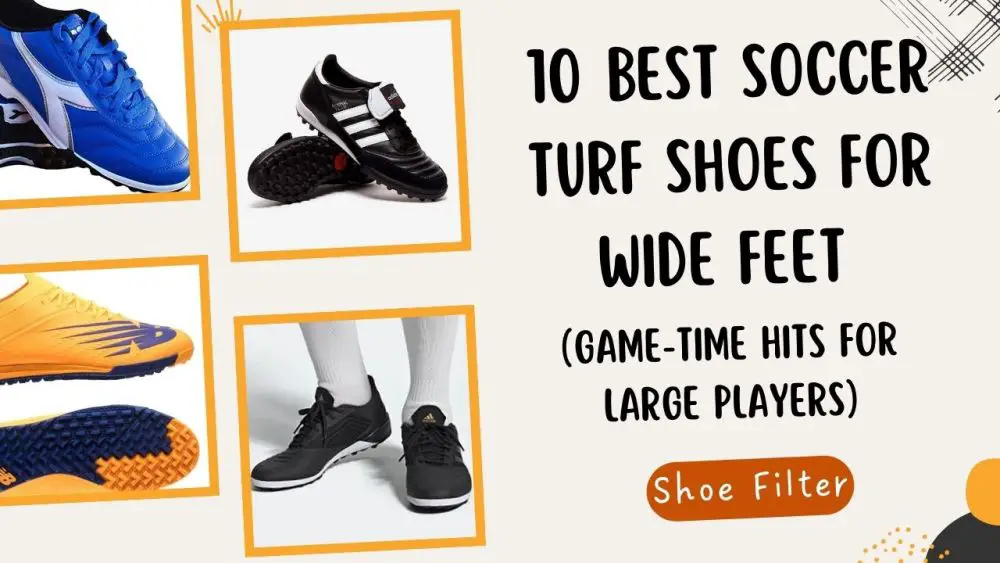 Best Soccer Turf Shoes for Wide Feet to Play the Game!
Here are the details on the 10 best soccer turf shoes for players in different positions on the field:
Best Overall: Adidas Performance Mundial Team Turf Soccer
A timeless classic from the footwear giants, Adidas, the Mundial team is said to be a favorite for gentlemen in their mid-50s to women in their early 20s. Hailed as one of the best soccer women turf shoes for wide feet, where a pair lasts you 7+ years, let's look into the details.
Top Pick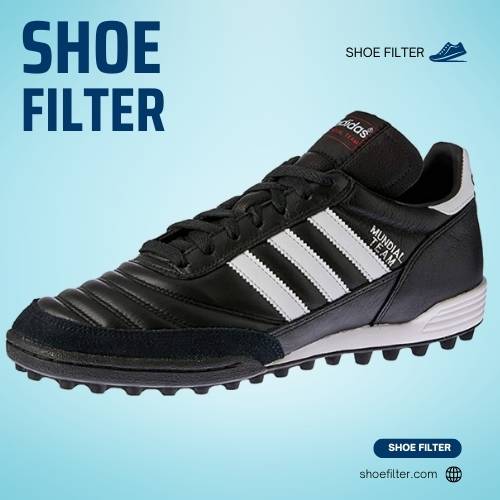 Adidas Performance Mundial Team Turf Soccer
Provides you with soft comfort for its leather and suede upper.
Includes a soft lining made of synthetic material and has traxion outsole.
The midsole is made of Molded EVA to offer you lightweight cushioning
The insole is made from Die-cut EVA and it is completed with a lace closure.
TRACTION ON TURF Traxion outsole for maximum grip in all directions
When it comes to the fit and touch of these shoes for those with wider feet, you can hardly find a rival that hugs your feet as perfectly. 
Dominating courts with its wearing softness, reliable control, and step-in comfort, the pair has it all! The rubber outsole works to improve the stability of the shoe on both turfs and hard grounds, while the foamy midsole takes care of every step, giving comfort to your wide feet without compressing them.
And it's not just players who are fans of the traction and flexibility this pair provides, even referees and coaches who tend to have wider feet than some Mundial team.
Best In Tongueless Designs: Adidas Predator 19.3 Tf Men's
A portion of the sporty design from the Mundial Team Turf, minus the shoe tongue has been brought alive in the Predator 19.3. This men's turf is one environment-friendly pair, being made of partly recycled production waste. But how do they fare for wide feet?
Runners Up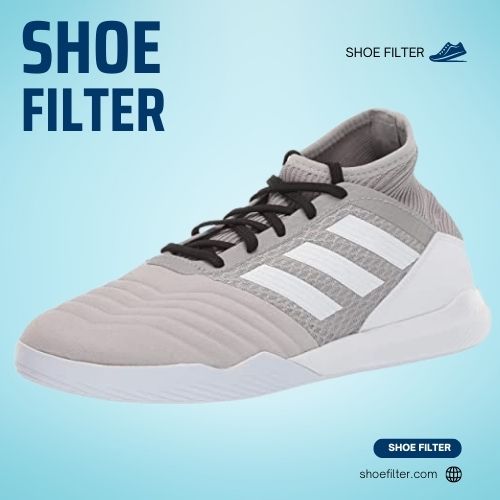 Adidas Predator 19.3 Tf Men's
Regular fit that is true to size and meets with a lace closure
Includes a coated textile upper that can resist stains while playing.
Stretch mid-cut collar in the sneakers for a quality bend.
Features EVA midsole and durable rubber outsoles.
25% of the upper shoe components are made with 50% recycled content at least.
If you liked the control that you got in the Mundial Team, you'll love the Control Zone on this pair too. 
This along with the strategically grippy construction in the print allows the soccer cleats of the players with wider feet aka you, to dominate the ball with ease. 
On the other side, the supportive collars along with the rugged rubber outsole make sure that you remain in charge for long.
Specially designed to handle artificial turf, this pair is sure to catch your eye with its tongueless design. But for you, it means one less thing to worry about pre-game.
Best Budget Pick: Diadora Men's Capitano TF Turf Indoor/Outdoor
Quite similar to the Predator 19.3 in the sense that both of these two are budget-friendly, the Diadora also has another common ground with the other great footwear, the Mundial Team. Both of them are made of high-quality leather uppers and are soccer footwear favorites.
3rd Pick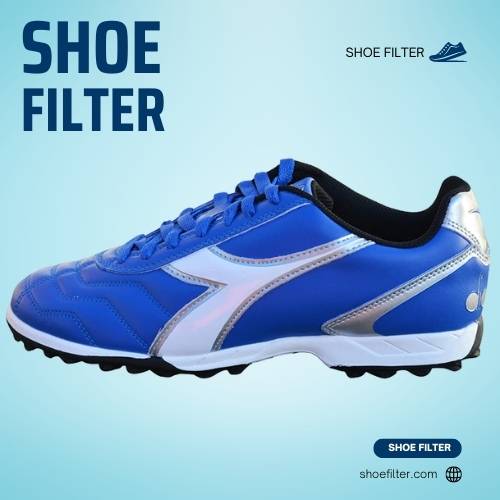 Diadora Men's Capitano TF Turf Indoor/Outdoor
Upper consists of a soft and full-grain leather upper for comfort.
Touch Control on the shoes finishes to give you an enhanced first touch.
Includes insoles made of fixed cotton and shock-absorbing EVA foam.
The midsole edge is also made from shock-absorbing EVA foam material.
The rubber outsole is made from multi-studded, anti-abrasion rubber for superior traction.
Made to thrive in both turf and hard natural surfaces, the best thing about this pair is that despite being a budget-friendly pick, it does not compromise when it comes to the quality of the material. 
The leather upper ensures that you have the strength and freedom of movement with your wide feet in these, without worrying about wear and tear. 
Another great thing about it is that you can break in these pretty quickly. So you don't have to wait it out before you can play in these cleats. The lightweight design always works in your favor on the field.
Kid's Pick: New Balance Unisex-Child Furon Dispatch Turf V6 Soccer Shoe
Next on the list of soccer turf shoes with wide toe boxes is this one from New Balance. At just 1.15 pounds, this would have been the lightest-weight and breeziest for larger feet so far if it weren't for the Predator 19.3. But will kids with larger feet like it? Let's see.
4th Pick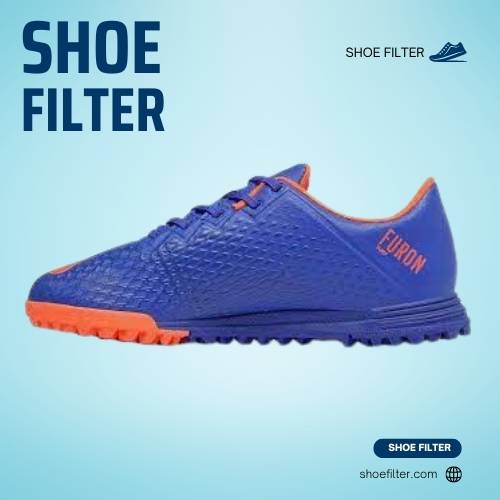 New Balance Unisex-Child Furon Dispatch Turf V6 Soccer Shoe
Features die-cut EVA inserts that allows underfoot cushioning and offers comfort.
Turf pair consists of a Knitted Tongue as well as padded shoe collars.
Lightweight mesh fabric in the upper lining increases wearer comfort.
Single-shot TPU outsole and rubber studs on the outer increase the agility from the turf.
Synthetic PU knitted upper makes it breathable for people with wide feet to play in.
Simplified technology comes in the form of weight reduction here by virtue of which kids with heavier and wider feet do not need to feel as if they need to drag their feet to the ball. 
The reengineered Fit Weave upper is a one-piece construction that provides lightweight stride and stability to kids with zero distractions on the feel of the ball.
Also, the knitted collar here is enhanced such that it can be more contoured to your feet and lock it in, preparing it for play and movements. The seamless and integrated stitch lines are also perfectly included here.
Best for Quick Moves With Foot Pain: Nike Men's Alpha Menace Shark Football Cleats
The fitting rival to Adidas, of course, Nike had to make it to the list. Now those with wider feet are usually prone to foot pain when they tend to play in shoes than run in a narrower size. But with this one, you get a fit true to size, even with your wide feet!
5th Pick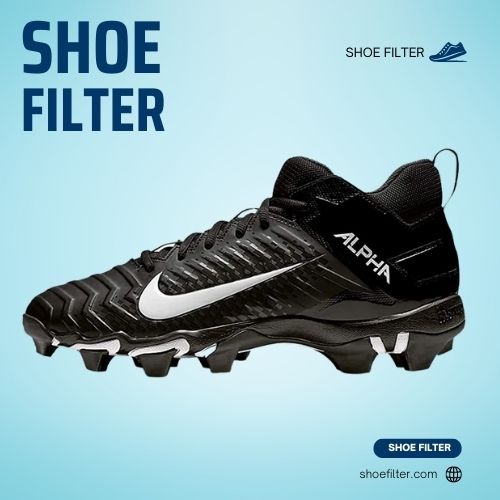 Nike Men's Alpha Menace Shark Football Cleats
The 3rd edition of the Menace adds an extra layer of containment with support.
Features wings to the sides of the shoe that integrates with the lace closure for security.
The stiff plate has a 12-stud configuration for traction during quick cuts and abrupt halts.
The midsole of the shoe cushions the stride for comfort when you practice or play.
Consists of a 3/4-inch length of wedge foam for stability.
The Nike Alpha Menace is known for its lightweight stability, something those with flat feet or foot pain that arises mid-game highly appreciate. 
It offers you traction that allows you to move quickly and respond to the opponent or team on the field in any direction, without making your feet suffer for it. The midfoot overlays secure you in the middle of jukes, spin, and cut down the field easily.
With the right amount of heel and ankle support from this cleat, users assert that this pair of turf shoes is not just great for soccer as a soccer turf, but is also outstanding as a softball or baseball shoe.
Mundial Team Turf is good for being soft, stable, and flexible while the Predator 19.3 is good for controlling and dominating the ball and having a good grip. Again, the Alpha Menace Shark is good for ankle support during sharp movements; and the 
Best for Indoor Futsal/Wet Grass: Nike Men's Football Boots
If you want a turf suited for outdoor plays like the Diadora Men's Capitano, and want something that is more suitable for indoor soccer and wet-season play at the same time, here's your deal. The Tiempo Legend 8 Pro Firm Ground from Nike has the following benefits for wide-feet soccer players:
6th Pick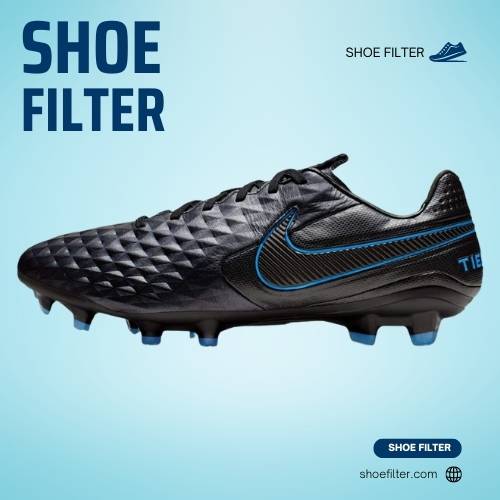 Nike Men's Football Boots
Quadfit mesh lining that hugs the foot with a comfortable grip and allows proper airflow.
A Flyknit tongue that wraps under the arches gives you more support.
Textured forefoot All Conditions Control technology for control in wet/dry weather.
NikeGrip technology on the sock liners to lock your feet in place.
Foam sock liner that adds the necessary padding to the turfs for a comfortable feel.
If you frequently tend to play on slightly wet indoor surfaces or short-cut grass fields, these are the right indoor soccer shoes for you. For players who face dewy grasses during winter and do want to avoid skids at all costs, this is it. 
It makes sure that those with particularly wide feet need not suffer from the weather with its lightweight plate that gives you hyper-stability and trustworthy multidirectional grip on firm grounds.
And since it is made of premium kangaroo leather and has a wraparound Flyknit tongue, you have all the comfort and support that you need.
Editor's Pick On Best Cleats: Nike Men's Phantom 2 Academy Df Fg/Mg Football Boots
Just like the Legend 8 Pro Firm Ground, this one too, is a weather-friendly/all-season turf that fares well in firm ground and middle-ground for the wide-footed soccer players. But what are the features that make it happen? Let's find out.
7th Pick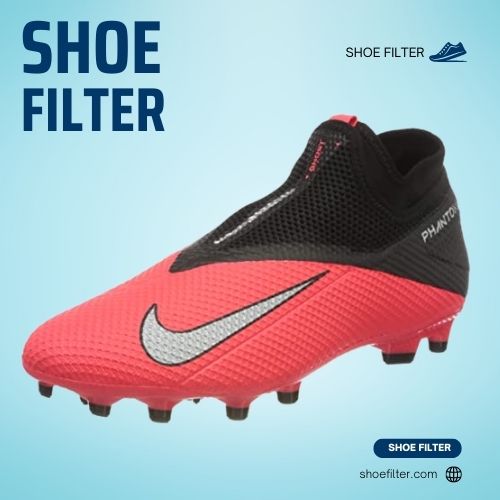 Nike Men's Phantom 2 Academy Df Fg/Mg Football Boots
A dynamic-fit collar that wraps your ankles in stretchy material for security.
Features an off-center lacing system that helps you take powerful strikes.
Flyknit construction helps to support your feet with a sock-like fit. 
The hyper quick system brings together the fine-tuned chassis for optimal stability.
Updated studs in the configuration promote traction that allows swift directional changes.

With its predecessor as the Phantom GT, the Nike Phantom Vision 2 comes with an upgrade on the pattern and design of the turf, engineered altogether to help you shoot with precision and accuracy on the field. 
The clean strike zone is there thanks to the off-center lacing that makes it easier to dribble-pass-score like the man himself!
The FG also features a data-driven design, which means that you can make precision attacks. 
And credits to the Flyknit construction, you have a grippy texture that allows a much smoother touch, while the specialized traction from the turf helps you control the ball. The stretchy shoe collar secures your foot so your focus can be on the game.
Kid's Premium Pick: Adidas Unisex-Child Nemeziz Tango 18.3 Indoor Soccer Shoe
And back to Adidas again! This time, the spotlight is on a kid's turf, but don't think Adidas is playing when it comes to even kid's shoes. The breathability of this one for kids with wide feet, and the support that small feet additionally require are all here!
8th Pick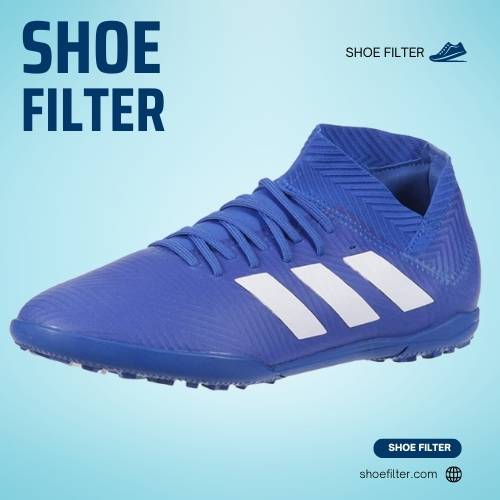 Adidas Unisex-Child Nemeziz Tango 18.3 Indoor Soccer Shoe
Textile and Synthetic construction in the upper of the shoe.
A synthetic outsole that makes the shoe durable and keeps traction.
Shaft measurements in the shoe are approximately low-top from the arches.
Two-layer mesh upper comes with seamless and stable print overlays.
Responsive Cloudfoam technology in the midsole allows pillow-soft cushioning.
Compared to the New Balance Unisex-Child Furon Dispatch, this one offers the luxury of being feather-like lightweight at just half the weight of the former, at 0.55 pounds itself, making it easiest for kids with wide and heavy feet to dribble in these without feeling excess shoe weight on their feet. 
So your kids can focus on the footwork instead of having to drag their feet to the ball and gain control.
Assuming that kids' aren't the best with shoe maintenance, Adida made sure that the outsole on this pair is durable enough so that even if your kid engages in practice every day, the turf can sustain it and still last for years.
Premium Pick: PUMA Men's King TOP TT Sneaker
One of the most expensive turf soccer shoes on the list today, this one from Puma is a far-off cousin of the Mundial Team, with the former being lighter in weight, being made for men only (sorry, ladies!) and having a lesser size selection range. So what does it have?
9th Pick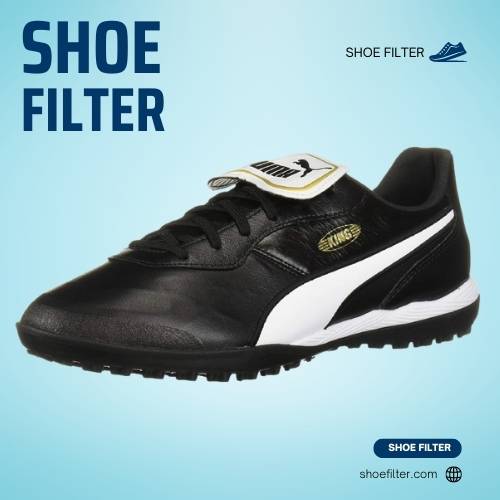 PUMA Men's King TOP TT Sneaker
Premium Kangaroo leather upper for stretch, comfort, and strength.
A fold-over tongue that personalizes your fit and foamed EVA midsole.
Low-profile and multi-studded outsole made of rubber for traction and durability.
Contrasting Formstrips on lateral sides of the turf sneaker.
Usable/wearable on both hard, natural surfaces as well as synthetic grass.
In construction, the King matches the Legend 8 Pro Firm Ground with its premium kangaroo leather upper. 
As you know already, this one makes sure that the shoes and turfs last longer for people with wider feet, whose shoes are more prone to wear and tear unless given suitable fabric like the one mentioned.
So this one is bound to sit securely, but not tight on your foot. And while proving you with all the good grip and comfort, this is for sure going to prevent you from getting blisters post-game.
Also See: Nike Men's Football Shoe
Designed for turf at its core, the Nike Mercurial Superfly 8 Academy is a unique one that combines traction and touch in itself. Featuring a tongueless design like the adidas Predator 19.3 Tf, let's take a look at its key specifications.
10th Pick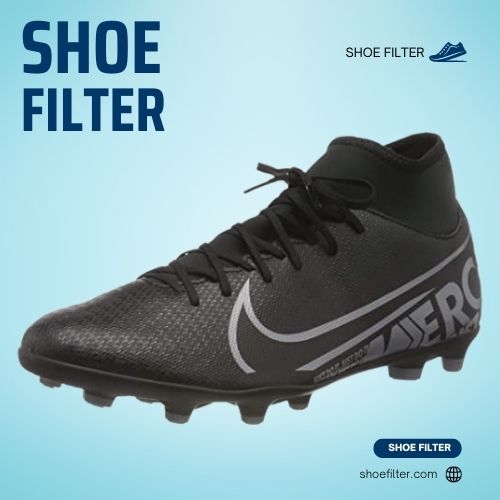 Nike Men's Football Shoe
Textured pattern on the upper allows control of the ball during high-speed dribbling.
Dynamic Fit collar wraps around your ankles creating a secured, stretched-out fit.
Rubber-made outsole grants your feet multidirectional traction on the turfs.
Better used in shorter and synthetic surfaces than on natural grounds.
Cushioned insole for a foamed and padded landing during gametime.
Above everything else, if ball control is of the most importance to you, then the Superfly can be your wide-foot bestie. 
The cleats are not just comfortable for the wearer, but also have a sock-like fit that makes it appear as if you are running with your socks on. The multidirectional pattern on the rubber outsole grants you traction that only makes the enhanced feel better.
The soft synthetic of the upper also makes sure that there is room for your wide feet to move inside and have airflow inside so as to make your game of the highest comfort.
Soccer Turfs Vs Running Shoes
Soccer turfs mostly suit both indoor and outdoor turf surfaces. These can be either flat or have textured or patterned outsole with studs and feature a low cut. 
The rubber sole here is of sturdier build than running shoes so as to allow quick movements, shock absorptions, and directional changes.
Running shoes are not as efficient on indoor and outdoor turf surfaces and hence may cause you to slip and fall. The absence of traction enough in these halters you from running easily and steadily.
Your Guide for Buying Soccer Turf Shoes For Wide Feet
If your feet are wider than usual, you will find the following guide handy for your turf shoe purchase:
Comfort
Other than the regular length of the shoe, you have to focus on the other dynamic, the width, too, if you have wider feet. If you don't do so, the shoes will boundlessly feel tight on your feet and hamper your game. 
So make sure that you are comfortable with the shoe size, length to width and toe box, etc.
Performance
Since the game requires you to run a lot, make sure you can do that in your shoes without slipping or tripping. This will only come when you have a securely lined fit. 
Also making sure of additional technologies that work in shoe weight reduction, or make it weather friendly, more cushioned, more impact-resistant are good investments to enhance the performance.
Material
Your shoe will adjust with your feet and vice versa if you have the right material on them. If you need more strength and durability, leather can be your best bet. If you need more breathability, mesh and synthetic upper are better for you. A mix of suede and textile is good enough if you want both. 
A protective coat is better if you fear them staining. Firmness, elasticity, pressure sustainability are all good things to look out for.
Lightweight
If you have wide feet, your soccer shoes should necessarily be lightweight. You should not feel as if you are having to drag your feet and carry on a weight you don't want to instead of focusing on the ball. 
So make sure that the shoes are lightweight and under 2 pounds at best.
FAQs
What soccer cleat is considered the best for wide feet?
It depends on what you want from the turf. If it is all-around best, the Mundial Team from Adidas is great. So is the Shark Menace or Phantom Vision 2 from Nike for their own reasons. But in general, they are all roomy, and hence allow a wider fitting, are durable. And highly supportive and secure.
Are Adidas shoes good for my wide feet?
Yes. Adidas shoes are good for those with wide feet as well as for those with narrow feet. New Balance shoes are also good for anyone with wide feet.
Do Diadora soccer cleats feel good on wide feet?
Yes. Diadora cleats are good for wide feet as well. If you have a larger foot structure this brand makes some of the best cleats on budget.
Are soccer cleats OK to run in on turfs?
Yes, soccer cleats can function on turf, and some are even better on natural grass grounds and surfaces. In the latter case, the suitable cleats can bite the ground and create the needed traction.
Final Words
And that brings you to the end of the list for the best soccer turf shoes for wide feet! If you thought having wider feet lessens your options of having terrific shoes, this article was proof that you could change the idea and look into some of the greatest options. 
The Mundial Team Turf is good for being soft, stable, and flexible while the Predator 19.3 is good for controlling and dominating the ball and having a good grip. 
Again, the Alpha Menace Shark is good for ankle support during sharp movements; and the Phantom Vsn 2 Academy is great for wet fields.
So it actually depends on what with your wide feet you want satisfied in your shoes to decide upon the best pick for yourself.