One of the many customs and guidelines for wedding guest etiquette is to refrain from wearing something similar to the bride's dress. The right colors to wear at a wedding are those that will make you blend in with the crowd.
While white dresses should definitely be avoided unless they are requested directly by the couple, many guests are utterly perplexed about wearing white color shoes. Do they also defy the custom of wedding guests?
Can you wear white shoes to a wedding?
Yes, you can wear white shoes to a wedding, as long as you don't steal the spotlight from the bride, meaning, you don't go all white and resemble the bride. 
Before you decide on whether to wear something white on wedding occasions, learn about when to avoid the white color, the limitations of wearing white, and more in this article!
Is It Okay to Wear White Shoes to a Wedding?
On the bride's wedding day, anyone else wearing white is typically undesirable. However, a little touch of white on a wedding guest is acceptable, so it is okay if you wear white shoes to a wedding. But keep this limited only to accessories and elements that hold the outfit together, not the whole outfit itself.
Change the color scheme of your attire if you want to wear a pair of white shoes and still blend in with the crowd well. White accessories have the upper hand when it comes to matching items with the outfit; choosing some other colored outfit won't be a problem if you select white shoes.
When To Avoid Wearing White Shoes To A Wedding?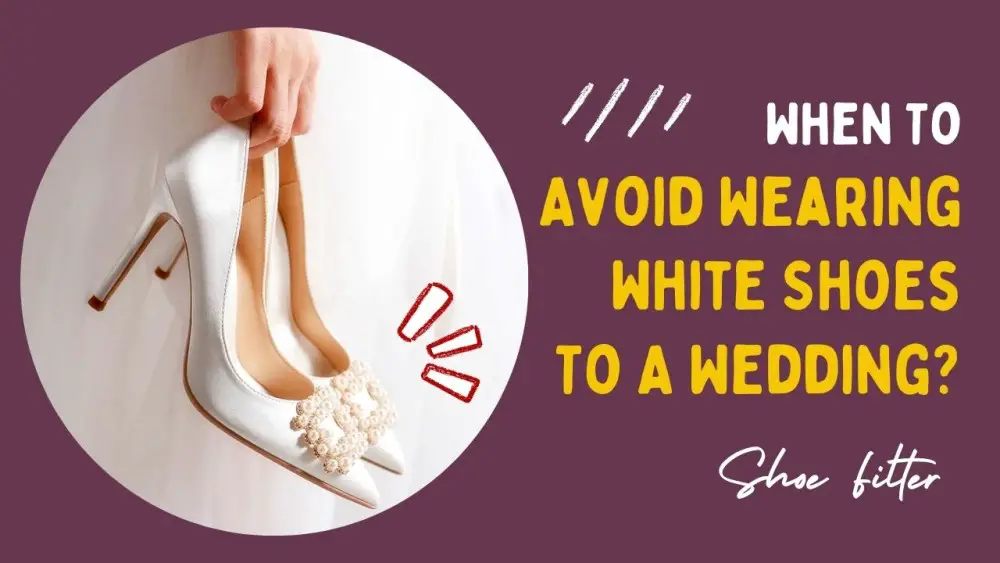 If the wedding couple has specifically requested a certain color scheme for the wedding party other than the color white, then it is best to avoid wearing white shoes to a wedding. And also, try to avoid shoes that closely resemble the white color, like beige or cream.
Avoid wearing white in your attire, including your shoes, unless wearing all-white is expressly requested on the wedding day. Some excellent colored shoes to wear to a wedding are pastels, earth tones, brown, gray, and light tans.
Is It Disrespectful To Wear All White To A Wedding?
Yes, it is disrespectful to wear all white to a wedding. Opting for something white as a guest can be interpreted as an attempt to divert attention from the couple or trying to overshadow the bride, plus you might stand out excessively in group shots. Going with other hues shows respect for the bride and the tradition's heritage.
However, you can wear something that has a subtle white pattern or simply uses white as a modest accent color.
Is It Okay To Wear White Shoes With Black Jeans?
Yes, it is absolutely okay to wear white shoes with black jeans. They are two basic items in the wardrobe of the modern man because of their adaptability and effortless chic. The combo can be a complete stunner if styled properly. Keeping things harmonized is the key to rocking this ensemble, like, going for a white or denim shirt. And for the jeans style, stick to straight-leg jeans or slim-fit ones.
For formal occasions, low-top leather white shoes are ideal, and for a more laid-back attire, canvas, sneakers, and suedes are fantastic options.
Are You Allowed To Wear White Heels To A Wedding?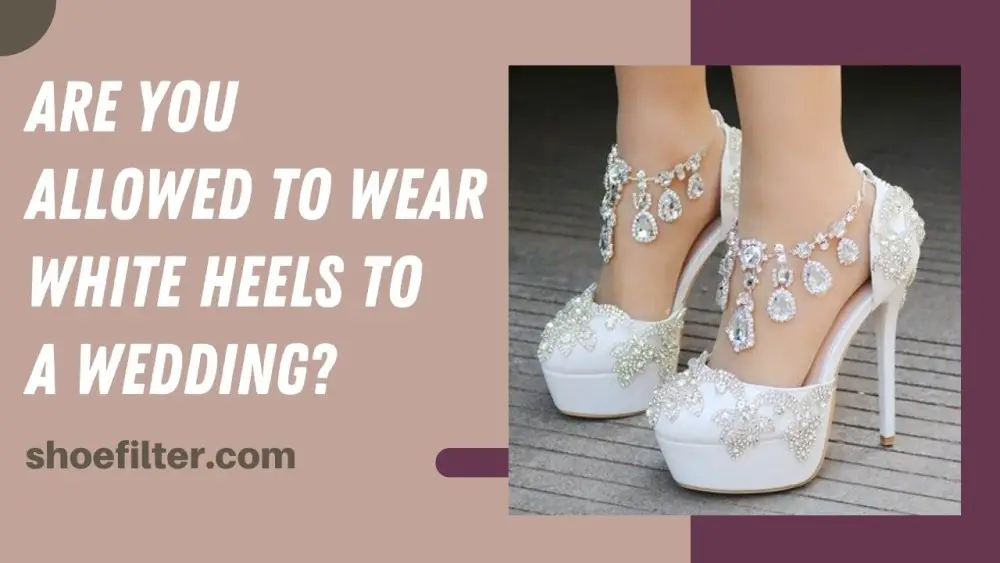 Yes, you are allowed to wear white heels to a wedding unless some specific color theme is requested by the wedding couple. Wearing white to a wedding can be accepted when it comes to accessories, like heels. However, see whether the heels are appropriate for the weather too.
Wearing heels in earth tones is a great compromise between your personal style of going with light-colored heels and the no-white dress requirement at some weddings. There are some great alternatives to white that shouldn't upset the bride, like, light brown, pale blue, and pale yellow.
Final Thoughts
When in question about what colors to wear to weddings, opt for formal, conservative clothing. It's the best solution that can't ever go wrong. Here are some other tips.
Just as white color can draw attention to you, other loud colors like bright red, neon, etc., can also make you stand out among the crowd and look odd, be careful about that. Also, unless specifically requested by the bride and groom, avoid white outfits as a whole unless you bring in some pattern or pair it with other colors. And finally, the weather, location, and formality of the occasion should be considered while selecting your dress.
That's it for today! Hope you enjoy the wedding!