Are you a travel enthusiast? If you are looking for ways to take care of your damaged leather shoes, then learning how to fix a cut in leather boots is the perfect attempt for you. Leather boots are one of the most treasured items for travelers and hikers. 
I once bought an expensive leather boot and believe me they are tricky to take care of. I was having serious trouble with it but fortunately, my friend Gabriel was there to save me.
Here, we will discuss how to take care of leather boots, fix any damage and clean them properly. Stay with us and learn how to make your journey more comfortable and enjoyable with your shoes in their best condition.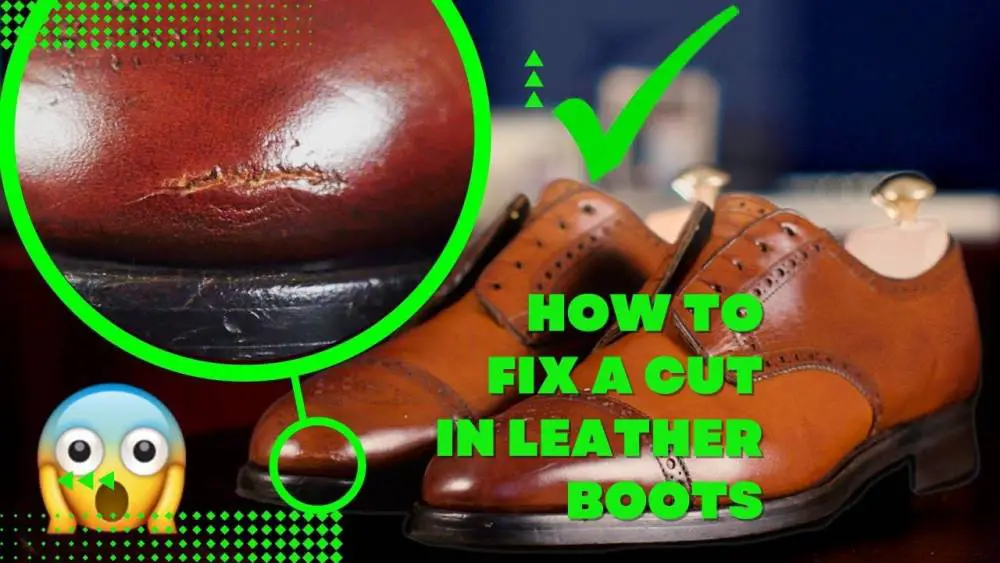 How to Fix a Cut in Leather Boots?
Fixing a cut on a leather boot can be difficult based on the type of cut. 
First, you need to prepare the leather, clean it and then mend the damage. To fix your boots properly, dusting off all the debris is a must. 
You can use cleaning agents, cleaners, or soap. Rubbing off the dirt with a soft bristle brush or cloth can help you mend it. If it becomes tough to work with leather, you can use a little heat to make it more flexible. You can use good-quality glue to mend the cut. 
If the cart is new and not much visible, you can mend it only by using glue. But if the cut is wider, you will need to use leather filler. The right type of filler can make your boot look new. You will need to send the damaged area to make it smooth before and after adjusting the filler. Finally, polishing your shoe will give it a dazzling look.
How to Clean Leather Boots?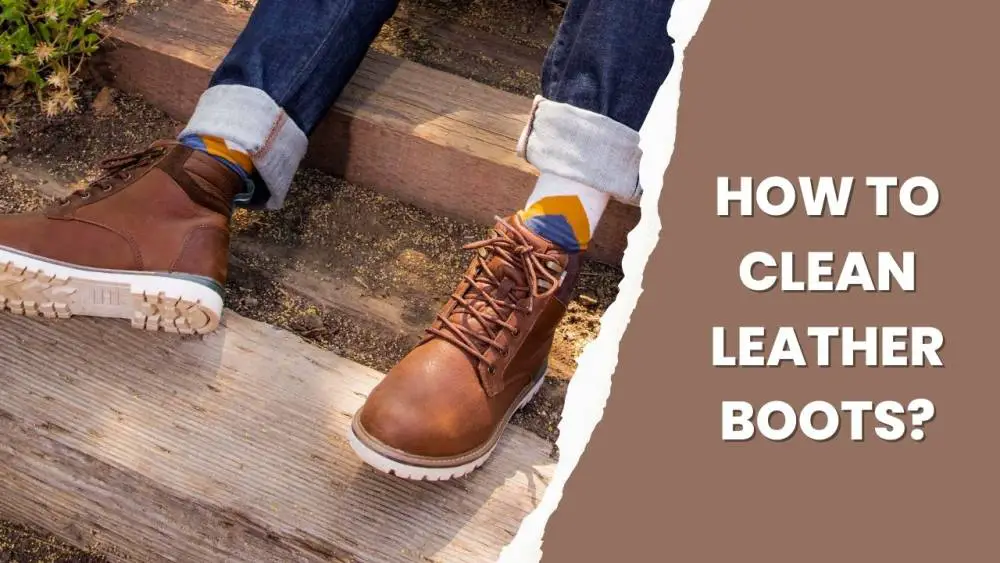 Whether new or old, whenever you need to repair your leather boots, cleaning them properly is the first and most necessary step before it. To clean your leather boots, first, you need to understand the quality of your leather and how to take care of it. 
You will find a user manual while buying your shoes. Try to stick to the instructions to don't damage your boot while cleaning. You can use a soft bristle brush or clothes to dust off the debris. Choose the right leather cleaner or soap to clean the fine dust and stains.
You can use a little bit of bleaching powder to remove hard stains. But be very careful If you are using any strong chemical and take needed precautions. Bleaching powder can damage your skin, so use gloves before using the solution.
How to Repair a Hole into Your Leather Boots?
The first and most important part of repairing a hole in your leather boot is choosing the perfect filler for repairing the damage. As leather boots can be quite expensive, it is not always possible to throw them away if there is a cut or a hole. 
If the hole is me, you can fix your shoes. However, mending holes in your boot can be a difficult task. So, if you don't have proper skills, it is better not to do it at home. 
You need to choose leather of the same color and texture as your shoe for fillers. The filler needs to blend with your design perfectly. Cut the filler strip, so it fits the hole of your shoe. Apply glue on the filler. 
Put the filler strip across the hole and smooth the area with sandpaper. After smoothing and drying it properly, you can polish your shoes and check the result of your repair.
How to Fix a Cut Using a Leather Filler?
Leather filler is the best option to repair your leather footwear. If your shoe has a cut, you can easily mend them with leather filler. 
To repair your shoes using leather filler, you first need to choose the perfect leather to make the filler. The color and texture of your leather need to match your shoe and blend with it perfectly. Cut a small strip of leather that will feet the damaged area of your shoe. Secure the area with duct tape before adjusting the filler in it. Apply good quality glue on the strip that will stick to the shoe for a long time. 
After adjusting the strip with your shoe, you need to smooth the area and sand it properly to match the shoe's surface. Take your time and repair your shoe carefully to get a fold-free outlook.
How to Prevent Cracking of Your Leather Boot?
The main reason for cracking up the leather boots is not taking care of them properly. The fabric of your leather can get damaged due to drying up or wearing off the moisture. 
To save your boots from this type of damage, you need to moisturize the fabric regularly. You can use some simple steps to maintain the beauty and durability of your leather. The pores of leather trap oils and grime easily. 
So, you need to clean them properly to stop them from cracking. You can use clean water and soap if your leather is water-resistant. If it is not, you can use the right cleaning agent.
Conditioning your footwear can also extend the life cycle of your leather. It helps to prevent the flaking and drying out of the fabric. If you wear leather shoes regularly, conditioning can protect your shoe from damage because of sunlight and pollution. Conditioning your boots right after cleaning can give you the best result.
Lastly, store your boots properly. If you keep your boots in a damp place, it can damage the leather surface. Also, you cannot keep the boot exposed to direct sunlight. The heat source can be the cause of fading or cracking. It's better to store your boots in a dry and well-ventilated area so that the damp air does not stick with the leather surface for long and makes it break down.
Is it Safe to Use Sandpaper on Leather Boots?
Certainly, while repairing your leather footwear, it is essential to make the surface of your footwear adjustable. Sometimes leather can be quite tough to work with. Using sandpaper to roughen up the leather surface is a common and useful technique. 
You can use sandpaper on the damaged area to make the surface more adjustable for the repair. It will help you to apply glue. 
After fixing your shoe, sanding can remove the excess filler or debris from the surface and give you a finer and more even look. You need to be gentle with sandpapers. It can damage your leather surface if you are not careful. Gently rub the sandpaper on the damaged area so that you can make it even. 
After rubbing the debris and loose particles, dust them off with a soft fabric. Sanding can help you prepare your leather fixing and make your leather ready for polishing after repair.
Final Thoughts
Your favorite pair of leather boots might carry many memories and emotions as well as give you comfort. If some minor cuts become the reason for them to be abandoned, it will be heartbreaking. 
So, knowing how to fix a cut in leather boots can save your day and give your favorite footwear a long-lasting and happy life cycle. I hope these tips have helped you take care of your boots properly. Now enjoy your trip with the most comfort you can have.
Suggestive posts:
How To Get Paint Off Leather Boots
How to Wear Work Boots With Jeans
How to Clean Timberland Boots With Vinegar
How to Clean Suede New Balance Shoes