Footwear is an essential component of one's attire since it displays one's individuality and may make a lasting impact on others. But choosing the proper footwear isn't a cup of cake, especially when there are numerous options available. Therefore, many people desire to test new brands like Demonia shoes/boots. However, some individuals get perplexed by Demonias' shoe sizes and wonder, "Do Demonias Run Big or Small?"
According to the users, the Demonias footwear is neither bigger nor smaller in size. There is a sizing chart for DEMONIA SHOES. People should check that chart before making any purchase. Otherwise, customers may have to deal with sizing issues and return the purchase.
Since many people are doubtful about the Demonias size, this article will discuss the size of Demonia footwear. In addition, the readers will learn about other necessary information and some FAQs. So, let's start.
What are Demonia Shoes?
If you can remember the gothic culture that prevailed in western Europe between the 12th and 16th centuries, Demonia Shoes tend to follow the gothic subculture. Therefore, some people generalize Demonia Shoes as rebellious, audacious, or rude. So, one can consider it as alternative footwear.
Traditionally, Demonia footwear displays a black leather look that expands from ankle to knee. Another distinctive characteristic of these shoes is their thickness and clunky soles. Besides, these boots and shoes are very durable, affordable, and lightweight.
From the very beginning, the shoes were available in diverse colors and styles. With the flow of time, manufacturers have modernized their designs to match varied tastes. For example, similar shoes are now available in brighter hues like pastels.
Customers may get these varieties of Demonia footwear in the sub-brands of Demonia, named Bordello, Funtasma, and Devious.
DEMONIA SHOES: SIZING CHART
For the readers' convenience, I have mentioned the DEMONIA SHOES SIZING CHART below. Let's look at the chart:
| | | | | | | |
| --- | --- | --- | --- | --- | --- | --- |
| US women | US men | Europe | UK | Aus | Inches | Cm |
| 5 | 3 | 35 | 2 | 3.5 | 9  | 22.8 |
| 6 | 4 | 36 | 3 | 4 | 9 1/4 | 23.5 |
| 7 | 5 | 37 | 4 | 5 | 9 1/2 | 24.1 |
| 8 | 6 | 38 | 5 | 6.5 | 9 3/4 | 24.8 |
| 9 | 7 | 39 | 6 | 7.5 | 10 | 25.4 |
| 10 | 8 | 40 | 7 | 8.5 | 10 1/4 | 26 |
| 11 | 9 | 41 | 8 | 9.5 | 10 1/2 | 26.7 |
| 12 | 10 | 42 | 9 | 10.5 | 10 3/4 | 27.3 |
| 13 | 11 | 43 | 10 | 11.5 | 11 | 28.6 |
| 14 | 12 | 44 | 11 | 12.5 | 11 1/4 | 28.6 |
| 15 | 13 | 45 | 12 | 13.5 | 11 1/2 | 29.2 |
How to fit a Demonia shoe?
Demonia boot and shoe sizing are consistent with the US and Australian sizing. If a woman wears a size 10 in Australia, she can also wear a size 10 US women's. But sizing depends on one's body type. It is pretty natural that a thin person's size would be different from a healthy one. So, there is no one size for all, and it's always better to give a trial before making any purchase.
However, there is another trick that one can follow. I have mentioned these tricks below:
Demonia shoes are typically oversized for an average person. In this case, it is better to purchase a shoe that is one size smaller than the regular one. For instance, if you are an average person and wear a size six 8, you should buy Demonia shoes of size 7. It will serve your needs.
If a large person with broader feet wishes to buy Demonia shoes, it is best to choose the exact size that the person usually wears. In this scenario, if the guy typically wears a size 10, he should buy a Demonias shoe in that size because the breadth will fill the gap.
If any of the tactics mentioned above fail to provide the desired outcomes, a person must return the item and find the best one through the hit and trial technique.
Are Demonias footwear durable?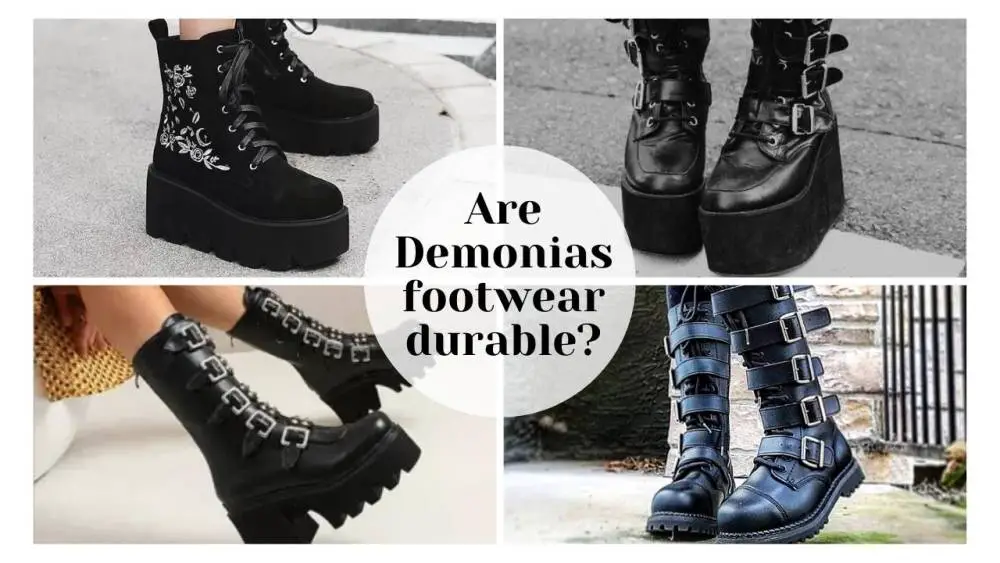 Demonia footwear is not only durable but also affordable than other footwear brands. According to Some users, they had purchased Demonia boots five years ago, but it is still usable in good condition. So, none has to worry about the durability of Demonia footwear. One can use them for several years with standard care.
There are various reasons behind this durability. Demonia use high-quality material in their footwear. Their most used footwear materials include:
Polyurethane:  Polyurethane, sometimes known as vegan leather, is the most used one because it looks and feels like leather. Demonia uses thicker Polyurethane for more excellent durability.
Patent Polyurethane: It is a variant of typical Polyurethane that gives a shiny outlook in shoes, like PVC. 
Leather: Demonia uses high-quality leather in their biker & combat style boots to withstand regular wear and tear.
Suede: Suede is a sort of leather manufactured from the inside of animal skin; it is thinner and less durable than conventional leather, but it has a beautiful, soft, velvety look and feel. Demonia uses suede in only a few Demonia shoes.
Frequently Asked Questions:
Are Demonia shoes good for wide feet?
Demonia shoes have no issues with wider feet if the person picks the right size pair of shoes. One can follow the size chart as well as the hit and trial method to choose the proper size Demonia shoes. For greater comfort, one can loosely tie the lace of the shoes.
Are Demonias in US sizes?
Demonia is an alternative footwear manufacturer brand situated in Southern California, USA. Therefore, the brand specifies all sizes in US sizes. However, if you want to buy Demonia footwear and live abroad, you should not worry since Demonias has provided a size conversion table, from which you may determine the correct size and place an order online.
Final verdict:
Many individuals are keen to explore new brands. In this sense, many people think of  Demonia footwear. But most often, these people are unclear about the size of Demonia shoes and frequently inquire, "Do Demonias Run Big or Small?"
Taking this into consideration, I have discussed Demonias' footwear size. In addition, I have provided several tricks that will enable people to identify the proper size of Demonias' footwear. I hope that if people follow the tips and tactics, they will be able to properly acquire Demonia footwear.