It's often said that for guys it's their shoes that represent their personalities. So, you must be careful while choosing different types of shoes for men.
In this guide, we covered 15 basic men's shoes that are used both casually and formally. 
Aside from adding to your style, these prominent shoe varieties keep you comfortable and protected throughout the day. Whenever you are heading outdoors, it's important to match the right footwear with the right attire.
That being said, keep on reading the discussion below to have an a to z idea of shoe selection for men.
What Are the Different Types of Shoes for Men?
Be it the gym or the office, only the right pair of shoes can make a man look complete. Check out the various shoe categories for men below and learn more about how to pair them up perfectly.  
1. Loafers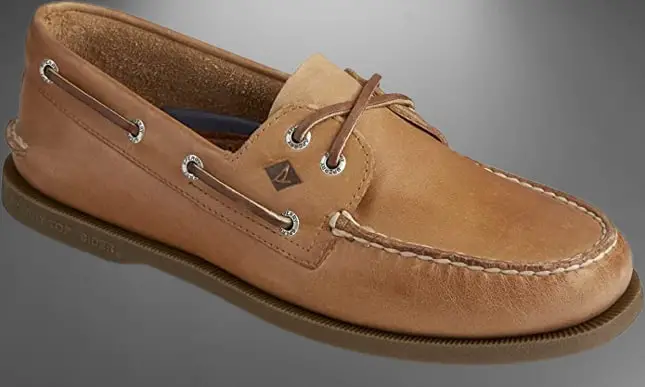 Looking for a casual shoe that goes well with your favorite jeans or cargo pants? Nothing comes closer to a laceless loafer then. 
Being low-heeled or absolutely non-heeled shoes, the loafers always offer optimum grip and traction on any surface. 
Although it's more popular as casual wear, loafers are very much used at weddings or parties too. That means they have formal usages as well.
Having the no-lace design, they are easier to wear. And loafers are quite comfortable even after all-day wear.
In fact, these are the most timeless footwear collection and a must-have for every man's shoe closet.
2. Oxfords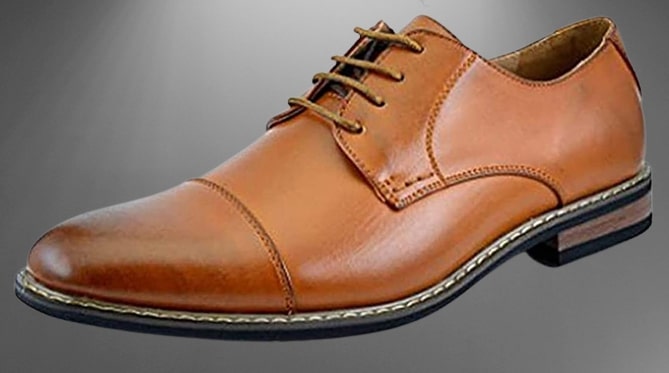 Next comes a completely formal pair. Oxfords are considered the most dressy shoes for gentlemen. 
In most cases, oxfords are made of the high-quality leather upper which attributes a polished look to these dainty shoes. 
Going to an office party? Or need to attend a wedding function? Choose a pair of oxford and they will never let you down. 
However, the defining characteristic of oxford is the closed lacing in the upper which adds to its beauty even more. 
3. Boots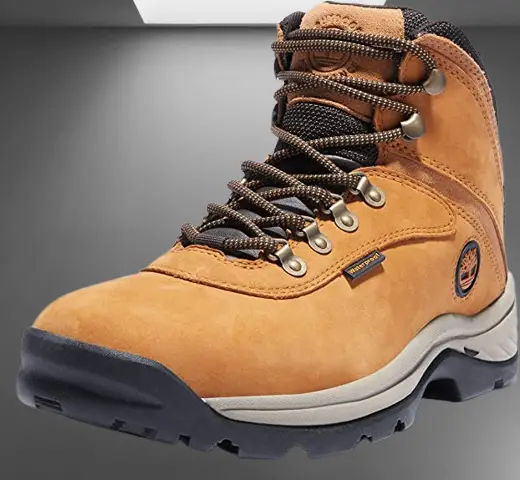 Those who have zero ideas about men's footwear also know about these shoes. Yes, they are that well-known and for good reasons obviously. 
Well, boots are so popular particularly for their grips, especially while it's raining or snowing. The non-slip outsole is a true blessing if you are hiking or trekking somewhere in the wild. 
Besides, it can be worn as totally formal footwear in a business meeting as well. 
Most importantly, the additional padding on the ankle keeps blisters away and lets you relax on the go.
So, boots are one of the safest shoes for men with exceptional durability. 
4. Moccasin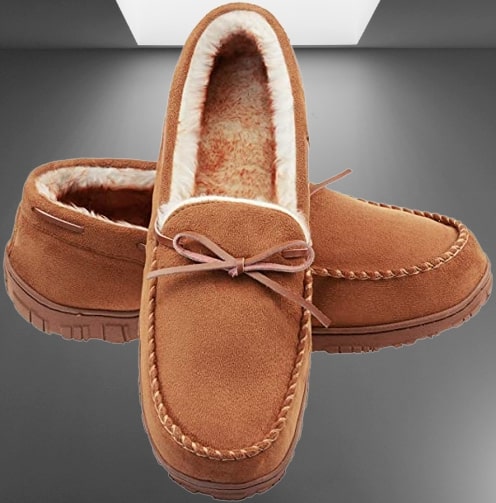 What defines a pair of moccasins is that it's made of a soft single piece of premium leather which is distinctly stitched around the upper.
Naturally, it creates an attractive outlook altogether making you stand out from the crowd when worn.
Besides, moccasins have separate rubber soles that make them softer than ever. That's why they are one of the most comfortable casual shoes for men. 
5. Sandals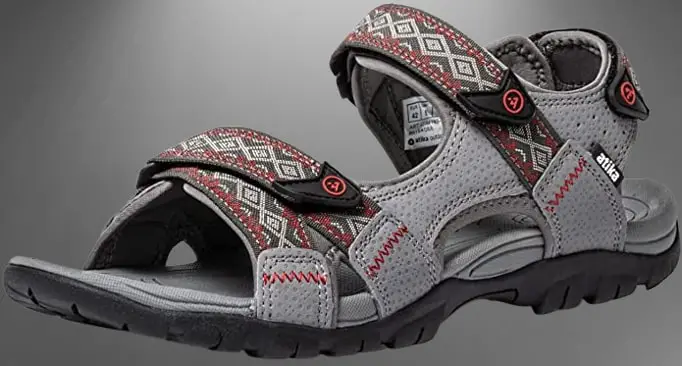 Sandals are preferable especially on hot summer days. The lightweight and flexible architecture lets your feet relax by keeping them cool.
Usually, sandals are casual footwear with an optimum grip on the rubber outsole. We recommend going for active sandals that have straps around both the toes and the ankles.
These will let the sandals stay in place while walking. You can smartly pair up sandals with any of your regular outfits.
6. Running Shoes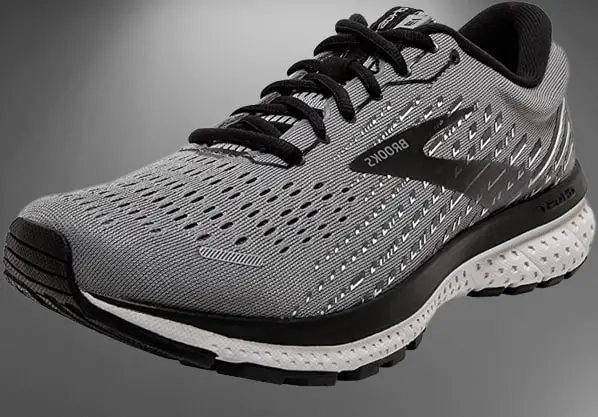 If you look properly, every guy carries a pair of running shoes in their wardrobe. They come in very handy in running, walking, jogging, or working out.
The best part of the running shoes is that they are extremely lightweight. On top of that, the breathable upper doesn't let your feet sweat. 
As these are designed mostly for outdoor use, they have been carefully constructed with flexible soles with shock-absorbing properties. Also, the extra padding in the insole allows ultimate comfort and cushioning on the go.
7. Flip Flops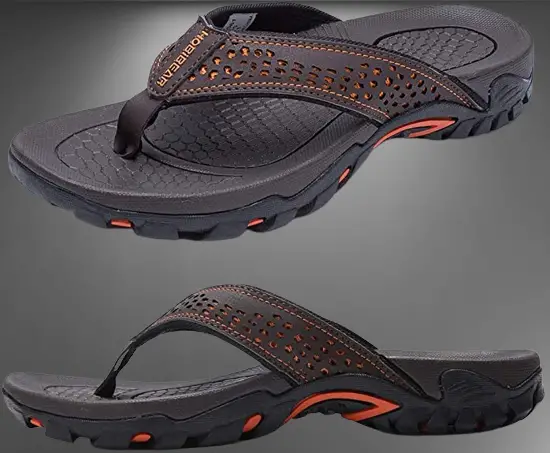 Next on the list, meet an exclusive pair of casual footwear for everyday wear. The easy slip-on design of a pair of flip-flops counts as its USP.
Besides, you will be blown away by the comfy feel it offers with the rubberized sole. And the textured outsole ensures extra grip on slippery surfaces. 
Best of all, the super supportive upper offers the ultimate warmth when you are wearing them at home. 
8. Canvas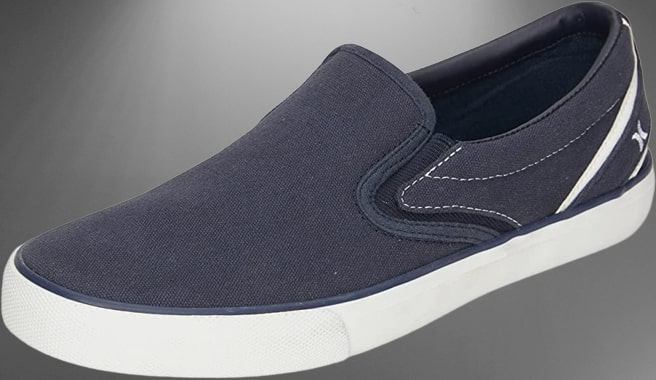 Pair up canvas shoes with your favorite pants or shorts and you are good to step outside.
Having been crafted with cloth upper, these shoes are the king of breathability. Resultantly, you can comfortably carry them during those super-hot summer days.
What makes them so special is the appealing fabric upper with a decent amount of flexibility. Besides, they are very easy to clean which results in easy maintenance. 
Naturally, the shoes last longer. So, it's a very cost-effective footwear collection on mid-budget.
9. Chelsea Boots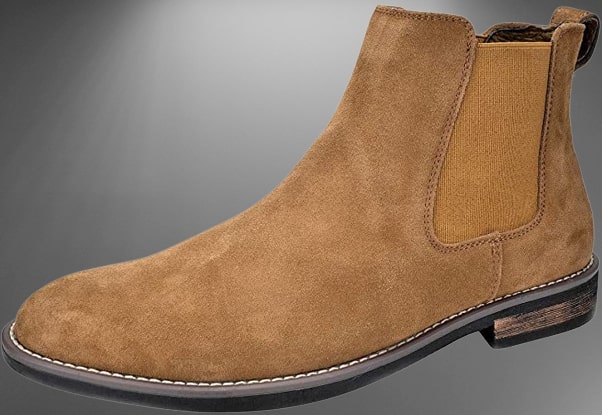 If women have ankle-high boots, then men have Chelsea boots. Yes, these also come in ankle-high length with a rounded toe design.
Similar to the moccasins, a pair of Chelsea-style boots are also made of single-piece leather. 
Everybody loves these casual boots for their easy-to-wear ergonomic workmanship. For example, you get a tab on the back that results in a hassle-free slip-on.
Furthermore, the elasticized sides allow a quick put-on and take-off of the boots. 
10. Sneakers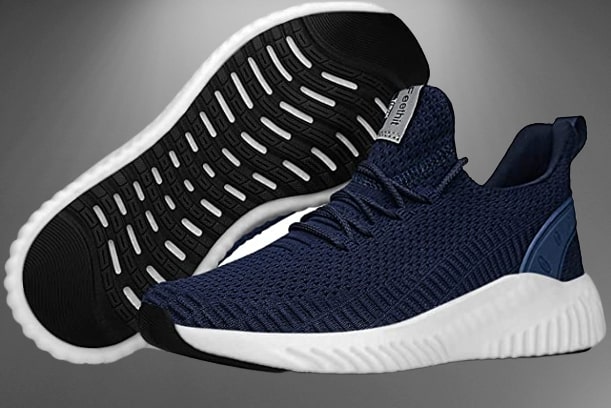 Looking for a pair of athletic footwear? What can be better than sneakers?  They are, indeed, the best athletic shoes with maximum grip and durability. 
Aside from offering ultimate traction on the trail, sneakers are extremely breathable, thanks to the sporty design. 
As a result, you can easily carry them to gyms. 
However, they suit the best with both casual wear and sportswear. 
11. Chukkas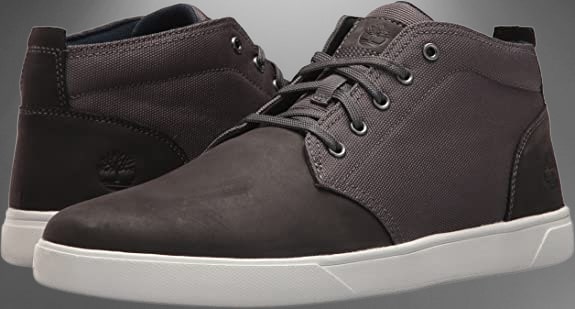 Men usually prefer a pair of shoes that will cover both formal and casual occasions. That's when they look for a pair of extremely versatile chukka boots.
Talking about the most striking feature, chukkas usually consist of two/three rows of shoelace eyelets. Also, the open lacing system with no lining makes them more exclusive. 
Above all, these thin leather boots come in ankle-high height with optimum comfort and protection.
12. Lace-Up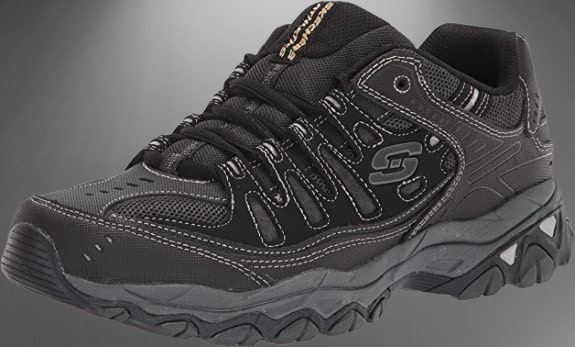 Next, we have formal footwear for regular office goers. These are basically working shoes with eye-catching leather engineering. 
Apart from that, the cushioned inner padding permits wearing them for longer working hours without developing any bruises or blisters.
Then, there are laces on the upper for providing a better hold. And they are also moderately heeled shoes that add some extra inches to your original height.
13. Derby Shoes
Truth be told, the derby and the chukka shoes are actually from the same footwear family. 
Although they were mainly produced for riding and hunting, nowadays, they suit any formal affair too. 
The most prominent spec that defines a pair of derby is the elongated toe. Moreover, the stitched leather sole is soft and supportive as well. 
What we loved the most about these shoes is the sleek leather upper that creates an appealing outlook adding a unique style statement to your overall appearance. 
14. Slides

Slides are the wisest selection among the sandal shoes for men. You can literally wear them nearly anywhere you want. 
Whether it has a double-strapped or single-strapped upper, you can never go wrong with a pair of slip-on slides with its orthotic footbed.
If you prefer a casual and comfy pair of summer shoes, nothing can beat them at all.
15. Brogues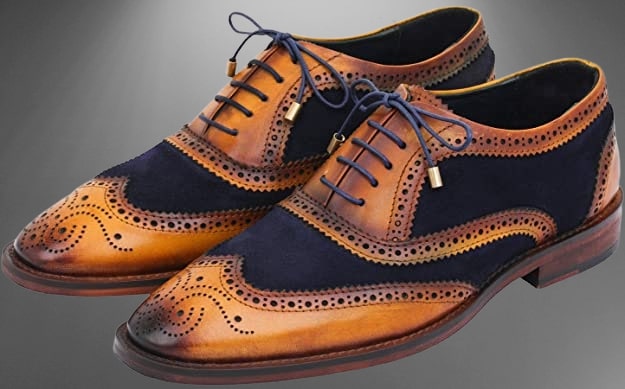 Brogues are kind of fancy shoes that go well with tailored pants and suits. Coming with heel caps, brogues could be your favorite formal footwear that never goes out of fashion.
The open lacing system and the decorative perforation on the toe make them stand apart from other formal shoes. 
However, these can be worn in any official meeting or at weddings with style. 
Read also: Different Types Of Shoes For Women
What Are the Best Men's Dress Shoes?
Well, it varies from man to man. Among high-shine leather shoes, oxfords, Derbys, brogues, etc fit the bill perfectly. But for less formal occasions, loafers could be the best choice. 
In terms of dress boots for men, Chelsea boots, chukkas, or lace-up ones are now on-trend.
What Are the Highest Quality Men's Shoes?
Usually, you should look for the materials in shoes to decide on their quality. 
For instance, full-grain leather shoes are the most durable as well as the most comfortable shoes. Also, please go for the stitched soles, not the glued ones for better support. 
What Shoes Do Guys Like?
If you ransack a guy's closet, there are definitely some must-have shoes that they like the most. For example, they usually prefer sneakers or canvas shoes for walking in the park or shopping in a supermarket. 
But if going for a formal affair, oxfords, Chelsea boots, brogues, or chukkas are their pick. 
However, they are also quite comfortable with sandals, especially in the summertime.
Final Words
So, what's your thought on the different types of shoes for men? What types of shoes do you wear the most?
Well, indeed, men don't have as many varieties of shoes as women. But things are changing over time and now you get quite a decent number of categories to choose your favorite footwear. 
Whatever type you like the most, make sure they are comfortable enough. Also, they should complement your outfit pretty well. 
Otherwise, you won't be able to create an everlasting impact on others.
So, choose your shoes wisely to rock on the road assuredly.
All the best!