We have all learned about Vans, one way or another. Either it's from a friend or a family. Vans is a platitude of fashion and in the world of comfort- a king. Then again, you may have your own reason for choosing Vans. But does it suit your feet? How does Vans sizing run in the market?
Briefly- It is sized as per American standard. The fitting is no different than a standard shoe. Now, what does it mean? It means that if you have a size 8, and all the other shoes of size 8 fit you neatly, a size 8 of Vans will fit you neatly. 
If you want to know more about Vans sizing, read on. Here we will also learn about Vans sizing with Converse and Vans fitting with Converse. On bonus, we will show you how to clean your favorite Vans good as new in no time.
Join us to know more. Firstly, let us see more about Vans sizing.
How Does Vans Sizing Run?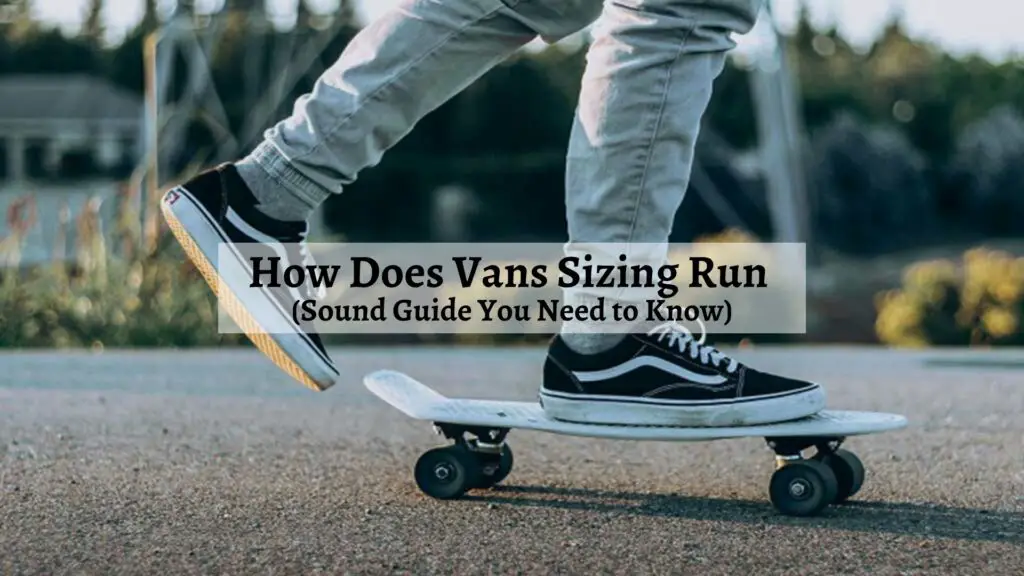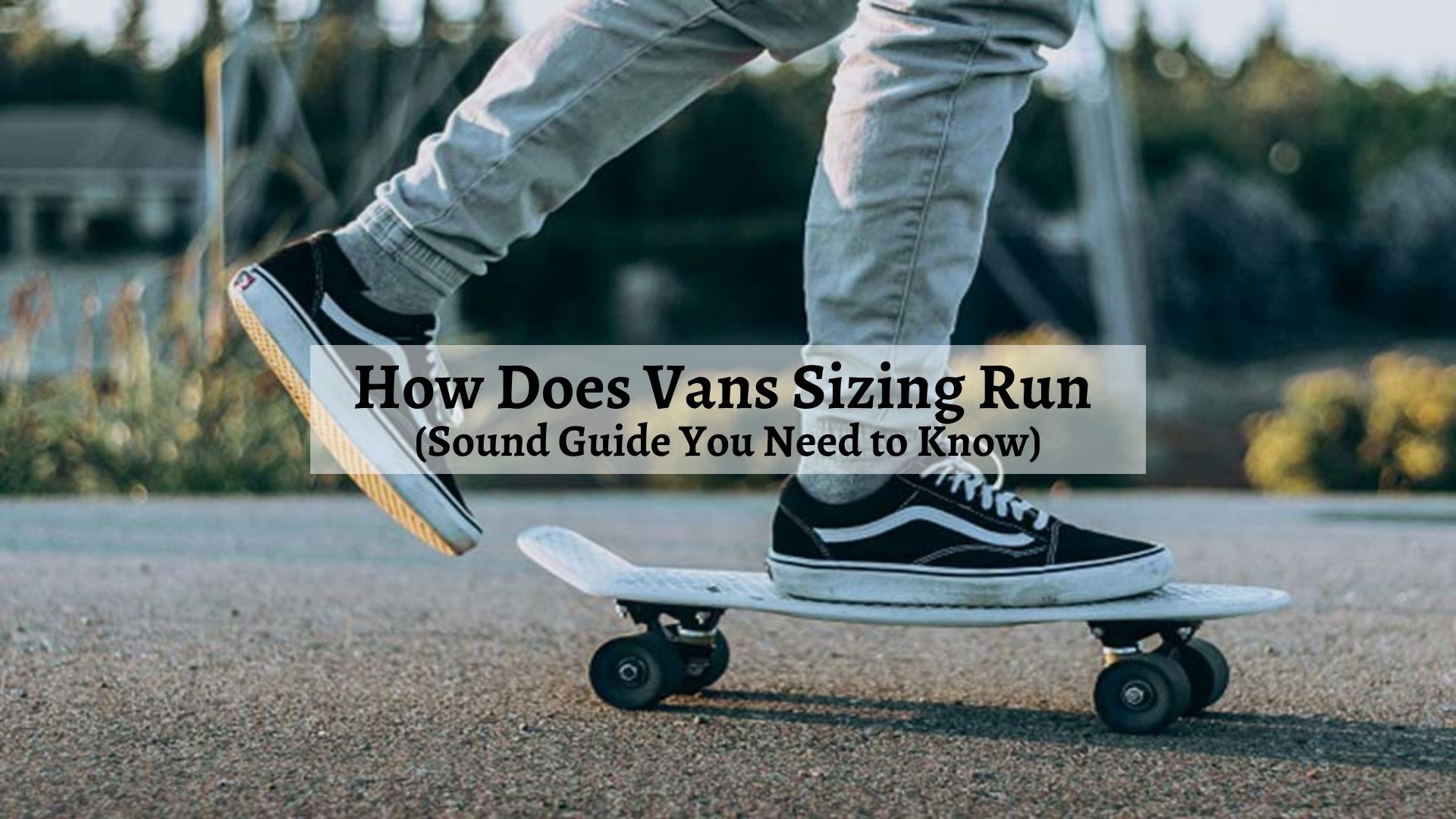 Whether it is a Nike, Adidas, Jordan, or Vans, the right size for you matters. Take a smaller size shoe, for example. Smaller shoes will put too much pressure and friction on your feet. 
Factors like age, weight, height, and many others can change the shape of your feet over time. That is why you will face many foot-related problems if you are wearing the wrong size of shoes.
There are a lot of sizes available in the market. Whether it's Nordstrom, for big feet, or Giordano's, for small feet, they have their advantages as well. Take big sizes, for example. After prolonged standing and weight-bearing activities, our feet swell. 
So, it needs more space. Vans products are designed according to American standards. If you are a size 8 in the American standard, you will need size 8 of Vans.
How Does Vans Fitting Run?
No matter how fashionable your shoes are, you will not have a great time with them if your shoes do not fit. A shoe that does not fit will have health problems as well. A too-tight shoe can hinder good blood circulation.
To maintain a good blood flow, sufficient space is recommended. But too much space can be problematic as well. If it does not fit well, it will not be comfortable to walk around. Too big or too small is the problem.
For Vans, they do not go small or big when it comes to size. It fits true to size as per American standards. But again, not all feet are the same. You might need a different size. So, it is smart to note down a few things about Vans size and fitting.
Related post: Do Vans run big or small
Notes on Vans Size and Fitting
Different brands have different sizing methods. The following are applicable for Vans products only. Let us learn about them.
The whole process is very simple as Vans are true to size.
Except for all sizes above UK 10, Vans shoes are available in half sizes. So, it's okay to buy a single size larger and go with it.
If you are a perfectionist and want just the one for you, you might use a ruler. The measurement must be done from the longest toe to the back of your heel.
Use the size chart to find your size.
Vans vs. Converse
If it's the east, it is Converse, but in the west, Vans rules! Earlier, we learned about the sizing and fittings of Vans. But how can we compare it with other brands? Here we will compare Vans with Converse. Let's begin with sizing.
When we shared notes, we mentioned that Vans shoes are available in half sizes. So you have another option ready for fitting. Since we all are different and we want things preferably, the choice for Vans or Converse might vary. 
For wider feet, you should look out for Vans' bigger sizes. For Converse, your natural size will do.
Let's talk about fitting now. Usually, Converse are wider than Vans. If you have tried any of Vans Old Skool or Vans Authentic, you would surely agree with me. The Converse is relatively more flexible. You will have more room in Converse since Vans is designed for snug fittings.
How to Clean Vans?
Vans are easily cleanable as they are made of Canvas. But if you go into unnecessary washing over and over again, you might ruin the colors. 
Who would want their favorite Vans to go in ruins because of that? No one. Here, we will show you how to clean your Vans. Let's start with the soles.
Cleaning the White Sole
Your only priority must be to protect the colors. So before washing, tape over the canvas. The sole is ready to be washed. Apply alcohol or bleach and wash off any dirt you can find. Once done, wipe it off with water. The sole is now good as new.
Washing your Vans
So far, we have shown how to clean the sole- the part that usually picks the dirt. Now, we will talk about deep cleaning your Vans. First thing first, prepare the washer. Mix the mild detergent in warm water.
Using a brush, wet it in the washer and gently brush the canvas. Brush away any dirt you can find. Now rinse the whole shoe in the warm water. Lastly, wrap up the shoe with paper and leave it to air dry. Your Vans will be new in no time.
Final Thoughts
People who fantasize about shoes love them to the point of pain and poverty. It also represents one's personality, taste, or even mood on that day. So, when people choose Vans, their choice is appraisable. You are in the upper echelon of taste already!
But choosing a brand is not enough to use it on purpose. There are other factors at play that make walking comfortable and obstacle-free. Bad choices will only welcome difficulties down the path. That's why you should know how does Vans sizing runs. When you know nothing about it, chances are you regret it.
Here, we have also talked about cleaning your Vans the right way. So, next time when you are at the supermarket buying your new pair of Vans or cleaning the dirty ones, remember what you have learned today.
Suggestive posts:
Are Vans Non-Slip Shoes
do vans old skool run big or small
Are Vans Good For Walking