We all know that shoe size matters, especially when you are an athlete. It's very important to choose the right shoe size. At the same time, it's quite tough if you have half-size feet. 
So, how much difference is a half shoe size? You need to figure out the disparity if you want a comfortable fitting for your running or walking shoes. 
As shoe sizes vary worldwide, there is no exact answer to this question. Usually, a half-size shoe differs around 4.23 mm according to the US size chart. And there are no half-size shoes in the European standard. 
Is it that easy to differentiate the measurements? Not really. There are lots of other factors to consider when you're buying half-size shoes. Let's get straight to the facts.
Read also: Are European Shoe Sizes Smaller Than the US
Does 0.5 Shoe Size Make a Difference? 
Absolutely yes. Even a 0.5 size difference could be a big issue in finding the right fit. 

Suppose, you have smaller feet. Then you can make the best use of your shoes even when they end up expanding half size wider. 
And for people with larger feet, a half size bigger shoes offer them snug fitting and enough room to accommodate their feet. Thus, they can avoid blisters and bruises by not wearing half-size smaller shoes.
How Much Bigger Is a Half Size in Shoes?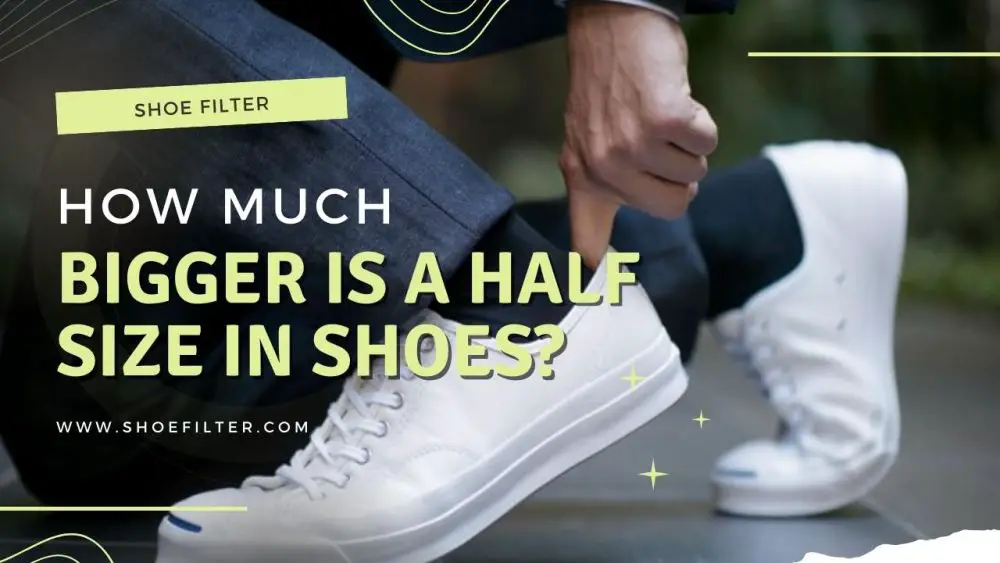 A pair of half-size large shoes add an extra ⅙ inch length to the shoes. A pair of 8.5 size shoes will run  4.23 mm smaller than a 9 sized pair which is ⅛ inches less. Similarly, a 10 size pair will run 4.23 mm larger than a pair of 9.5. 
As there are majorly three shoe measuring systems- US, UK, and European, you must remember that the above sizing system is based on the US measurements guideline. And a pair of US shoes run one size smaller than a pair of UK shoes. So, if you buy a shoe measuring 11 in the US, it means it is size 10 according to the UK size chart.
How Much Difference Is Half a Shoe Size in the UK?
The UK measuring system is pretty close to the US system in terms of length difference between half-size shoes. It too implies ⅛ " difference between a half and a whole-size pair of shoes.
Aside from this, there is another big exception in the UK shoe sizing chart dissimilar to the US. One size up or down than a pair of UK shoes makes two sizes difference in the US size chart. And it's applicable for women's shoes only. 
Suppose, you wear size 9 in the US. Then you need a pair of size 7 according to the UK system. For men, the difference is 0.5 size only. If a man wears 10.5 in the US sizing system, he needs size 10 in the UK measurement. 
How Much Is Half a Shoe Size in CM?
According to the US sizing guide, a woman's half-size measures 0.5 cm and for men, it's 0.4 cm. 
However, men's and women's shoes also differ in width in the US chart. As men have larger feet, their shoes come with wider cuts. 
Is a Half Shoe Size Wider or Longer?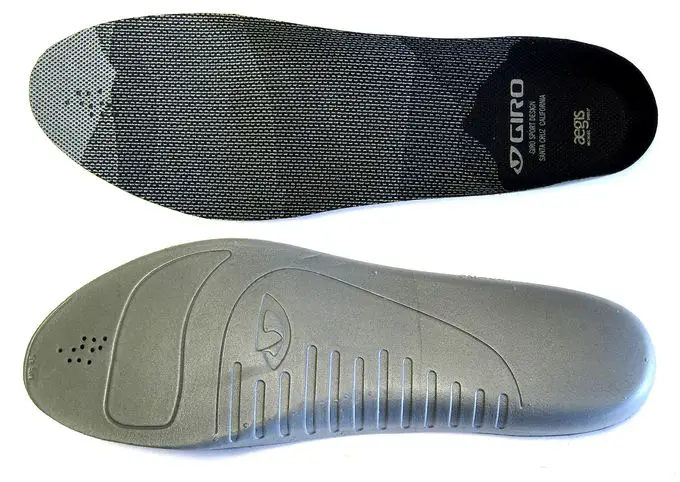 A half-size difference in shoes makes it longer, not wider. 
But some manufacturers produce their shoes both longer and wider. In that case, a size 9 and 9.5 differ both in length and width. 
Although in most cases, a half shoe size means it offers some extra length to the shoes to keep your feet well-protected.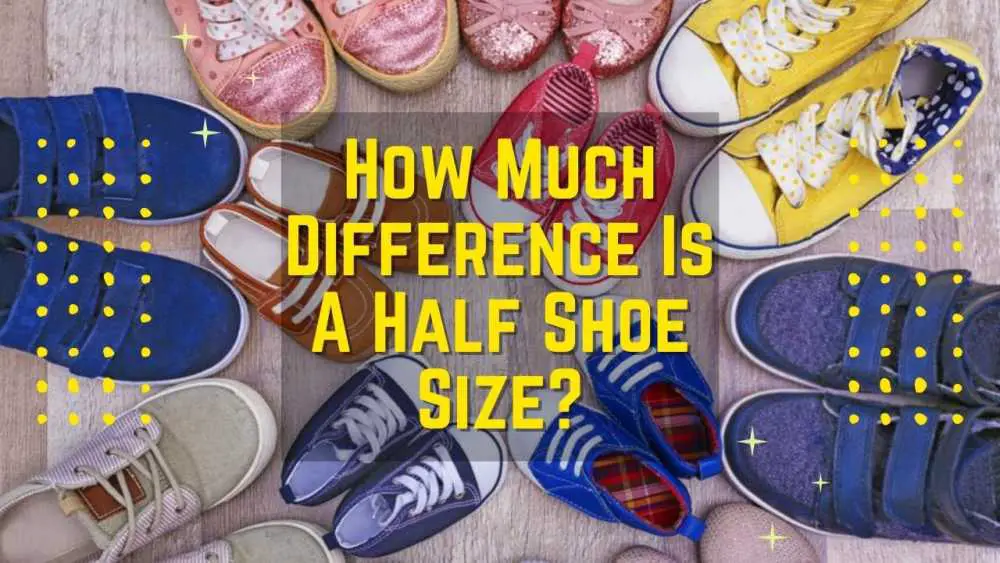 What Does ½ Size Small or Large Mean?
For finding the right fit, it's very important to know whether a shoe runs big, small, or true to size. 
We often notice that the manufacturers tag a pair of shoes as ½ size large or small. It means that if you usually wear size 8, you need size 7.5 for a pair that runs ½ size large. 
Similarly, if the shoe runs ½ size small, you need to pick ½ size larger than your usual size. That's the role of ½ size difference in offering the exact fitting to your shoes. 
Should You Go Up a Half Size in Sneakers?
Yes, you should. Going up a half size in sneakers would help you feel more comfortable because your feet will eventually swell while running.
We know everyone wants a perfect fit while picking their favorite footwear, neither too tight nor too loose. But in terms of running shoes or sneakers, it's better if you buy half-size bigger shoes. 
Because the extra length will make your feet more flexible while walking or running. If the sneakers are too tight, they will require more break-in periods which may hurt your feet. So, going half size up is a wise decision because it will let your swollen feet adjust to the shoes. Moreover, you can have better balance while having a run or a sidewalk.
Final Words
To wrap up, all we can say is don't ignore even a slight difference in shoe sizing as it can turn out to be disastrous. After all, we all need a smooth and snug-fitting, right?
Here comes the question- how much difference is a half shoe size? Does it make a lot of difference? 
To be honest, the distinction is not that big but the impact could be. So, if you need a half-size shoe, stick to that. Otherwise, you will end up having bruises and blisters. 
Although a half-size bigger shoe makes only ⅛ " difference in the length of the pair, ultimately it will ensure enough room for your feet. 
So, measure your feet properly to decide on the right size of shoes.