Nike Air Force 1s were first introduced in 1982. Since then Nike has launched many versions of these shoes. However, none of them are as popular as the all-white Nike Air Force 1. These shoes cut across borders, cultures, and ethnical differences and have stayed one of the most popular sneakers for decades. 
Sadly though, not everyone can afford to get Nike AF-1s. Especially considering how the shoes start losing their luster after a year of regular use, they may seem overly expensive. The worst aspect is probably the creasing. Since Nike AF-1 is made of synthetic leather the creasing on them appears pretty chunky and unattractive.
So, for you, we have compiled a list of the best shoes similar to Air Force 1. Here you go.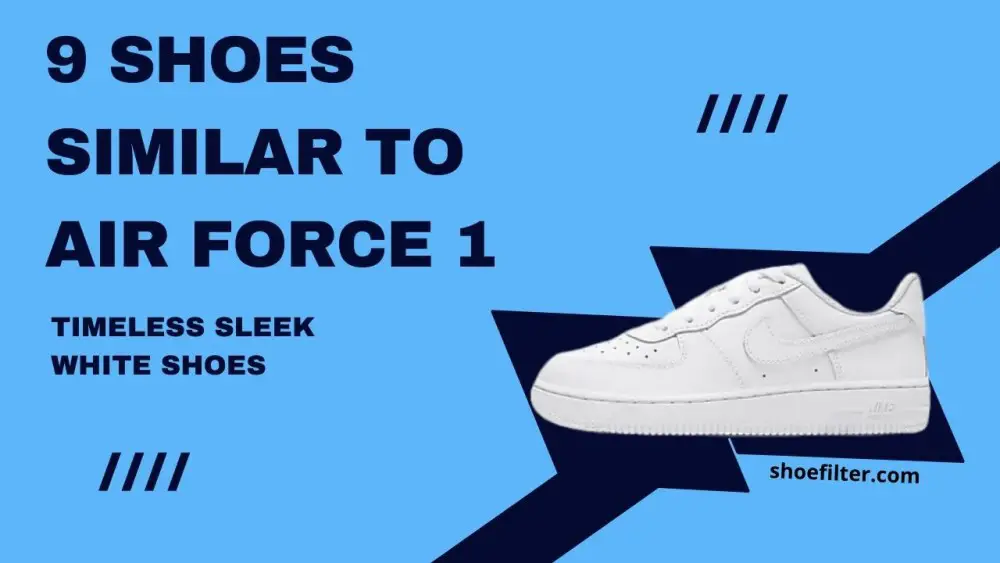 9 Shoes Similar To Air Force 1 – Trendy Platform Sneakers To Boost Your Street Style
We will take a look at each pair of shoes in detail. Hopefully, with our help you can make your mind up about which shoes fit you best. 
Best Budget-Friendly Shoes – Time and Tru Women's Platform Sneakers
Perfect complement to any summer outfit, the Time and Tru women's platform sneakers are a pretty accurate visual copy of Nike AF-1s. These shoes are pretty comfortable and made of quality material, which makes them durable.
Top Pick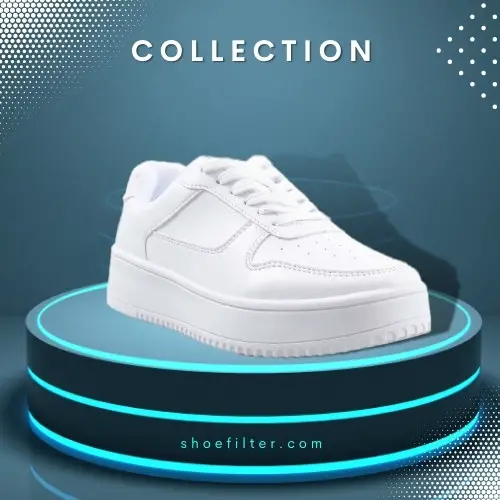 Time and Tru Women's Platform Sneakers
These shoes have perforation on their polyurethane upper.
Thick midsole gives them a trendy chunky look 
Memory foam footbed to conform to your feet shape
Durable treaded rubber outsole for good traction
Easy to clean with just a little wiping down 
These knock off Air Force Ones are pretty accurate apart from a few details. They are all white with thick chunky midsoles and perforated upper that perfectly match the AF-1 aesthetic. The shoe has a narrow shape like AF-1s as well. However, the outsole doesn't have any spiral treads that are signature AF-1. For the most part everything matches pretty well with Nike AF-1s.
But when you look closer, little details, like the stitching on the midsole, AF1 metal tag on the laces, 6 lace eyelets on each side instead of 8, and most obviously no swoosh signs on both sides of the shoes. 
The best part is how comfy these shoes are despite being super cheap. The insole is made of memory foam and since the midsole is so thick, you get pretty good padding. The shoe is pretty flat from all sides, so probably not the best for high arches. But if low to neutral arches fit you well, this one can be your next closet staple.
Best for Support – Fila Men's Original Tennis Classic Sneaker
These shoes are available in a lot of color options, however, the signature AF-1 look is the most loved and worn. Fila is a reputed and well-known brand, with over a hundred years in business. So, you don't have to worry about quality. 
Runners Up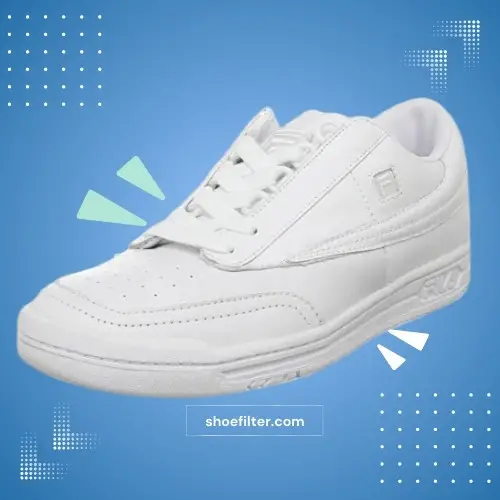 Fila Men's Original Tennis Classic Sneaker
100% leather insole with a smooth finish
Perforations on the front of the shoe for breathability
Visible stitching on the midsole for added durability
EVA midsoles for cushioning and support
Durable treaded rubber outsole for maximum trac
Fila came up with these Tennis Classic shoes that are pretty great for everyday use as well. But since they were made for vigorous physical activity, you can expect them to be more durable and easier to move around comfortably. The upper comes in all leather. The all-white version is smooth but not shiny or glossy, which we love.
The shoes look pretty similar to Nike AF-1 but run a little bit narrower along the top. Similar to AF-1s, they have stitching on various places, including the midsole but instead of the swoosh on both sides, you get the Fila logo.
With EVA midsoles, you get adequate support. But the biggest con of this shoe, as one of the top white shoes like air force ones, is that their midsole is nowhere nearly as thick. For that, you don't get the signature chunky look that we associate with AF-1s. If you want a shoe that looks most like AF-1s Time and Tru Women's Platform is a better choice, according to us.
Best for Easy Cleaning – Vepose Women's Fashion Sneakers
Although these sneakers are noticeably different looking in shape and design than Nike AF-1s, these are comfortable, cheap all-white everyday sneakers that can substitute Nike AF-1s pretty well.
3rd Pick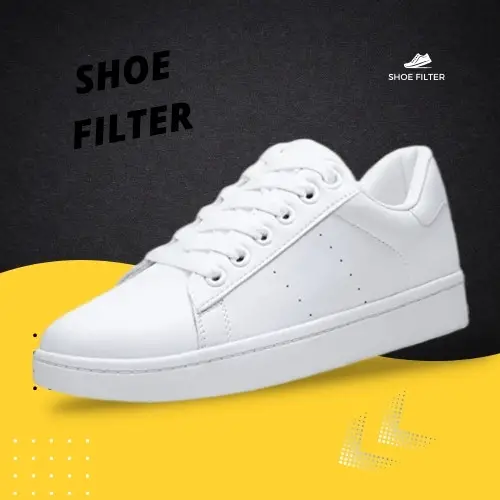 Vepose Women's Fashion Sneakers
100% PU leather upper that is easy to clean
Perforations around the sides for added breathability
Memory foam insoles to fit the shape of your feet
Treaded non-slip rubber outsole that is durable
1-inch high heel for extra heel support
If you are looking for shoes like Air Force 1 in style and functionality but on a budget, these shoes are a great option. This shoe is narrow at the toe-box and also overall but more so than AF-1s. Since they are solely designed for women, for most, the fit should still be comfortable if a bit snug.
The upper is easy to clean and has perforations for breathability. As the insoles are made of memory foam, they provide good support and incredible fit. However, like the Fila Men's Original Tennis Classic, these shoes also have a narrow midsole that doesn't add much height to the shoe. 
Overall, this shoe is pretty flat. The slope from forefoot to heel is definitely less than AF-1s. In case you are comfortable with neutral arch shoes, this should not be a problem. These sneakers have a more comfortable footbed overall compared to Time and Tru Women's Platform, which are the other budget sneakers like Air Force 1 on our list.
Best for Everyday Wear – Reebok Men's Classic Harman Run Sneaker
Reebok Harman Run sneakers are a lot more functional when it comes to doing some physical activities than some of the other shoes. However, though these shoes are better performing, they are meant to be your go-to everyday shoe.
4th Pick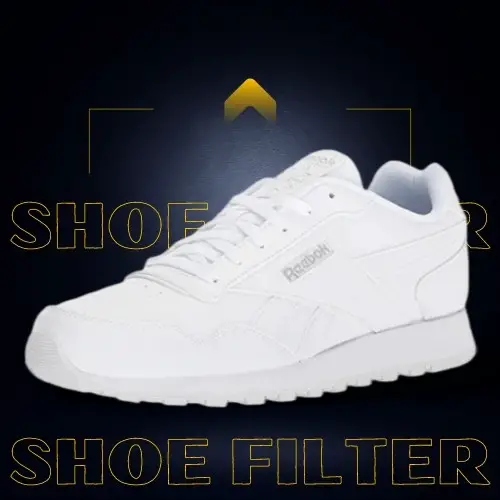 Reebok Men's Classic Harman Run Sneaker
Synthetic leather upper that is supportive
Easy to clean sneakers to save time
Designed to offer extra mobility around the ankles
EVA midsole for comfort and padding
Gum rubber outsole with treaded patterns
The upper is made of high-quality synthetic leather. Although the leather on these shoes is more durable than some of the other shoes on our list, Reebok is more on the higher-end and with that in mind, the quality could be improved upon. Just like AF-1, the upper has perforations for air circulation.
This shoe has very comfortable padding. The insole is Ortholite, which is a great material that offers tons of cushioning. Since the midsole is made of EVA, you get plenty of support from them as well. Because of the use of these materials, these shoes are great for wearing throughout the day.
Like most other everyday shoes, these have neutral arches and are shaped pretty flat. However, the shoe has a very low shaft to give the extra ankle mobility, which prevents the feet from cramping. The outsole is made of gum rubber, which makes the shoe flexible overall. 
Best for Comfort – Nike Court Vintage Premium Men's Fashion Tennis Shoes
In case you want a shoe that is similar to AF-1 but is more sporty, this pair is a great option. AF-1s are great shoes, but they are only meant for everyday use, whereas this pair will give you the support you need on the court or track.
5th Pick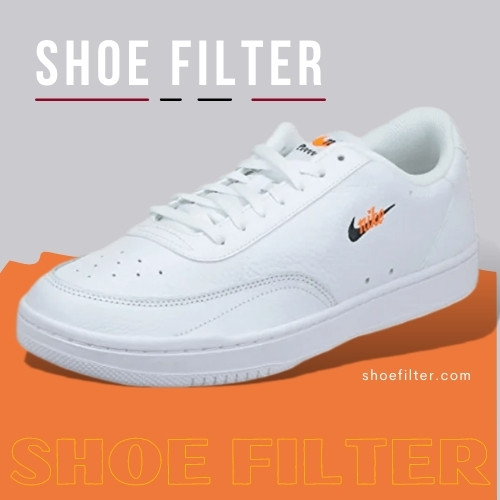 Soft and supple leather upper
Perforation on the toe-box and side for ventilation
EVA midsole for good cushioning and padding
Low-top sporty design for increased mobility
Cup outsole with hobnail treads for superior traction
We are in love with the minimal design of these sneakers. If you want something that is clean and crisp to fit most of your outfits while also being sporty, this shoe is perfect. The tongue and sides have the classic Nike swoosh symbol. However, in orange, other than that, it is entirely white in color. So, the Court Vintage Premium is pretty closet-friendly. 
Let's talk about the feel of these shoes. The upper is soft yet sturdy and adequately breathable. The tongue and lining of these shoes are made of a mesh kind of material that is extremely light and airy. Also, the EVA midsole provides adequate support. You can easily move around in this pair.
Overall, a great combination of performance and comfort. However, they crease quicker than Fila Men's Original Tennis Classic but we found them to be comfier.
Best for Breathability – Akk Women's Athletic Walking Shoes
If you want an all-white shoe like AF-1 but in a different, more breathable material, this sneaker is the one for you. Albeit this shoe doesn't have the classic AF-1 aesthetic, it still is as close to it as we have seen with a non-leather upper. 
6th Pick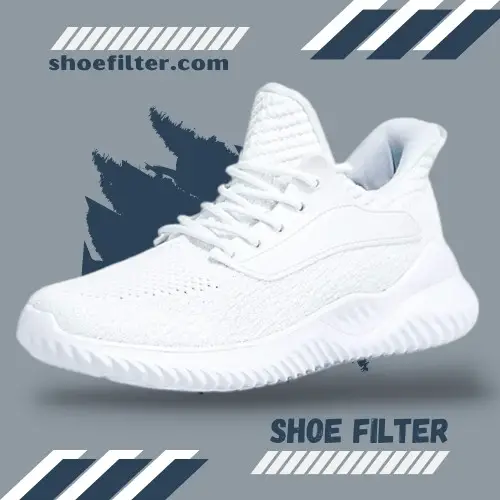 Akk Women's Athletic Walking Shoes
Breathable knitted mesh upper 
Memory foam insole for a comfortable fit
Midsole made of EVA material that provides support
Flexible and stretchy rubber outsole for mobility
Intricate treading pattern for a non-slip outsole
Made of knitted mesh, these sneakers have excellent ventilation. Moreover, the slacklining too has moisture-wicking properties that will keep your feet dry. 
The insole is made of memory foam. While the midsole is made of a combination of EVA material, which makes it super cushy and supportive. Add to that a flexible outsole; you have a shoe that will fit you snugly while allowing a lot of flexibility and mobility.
These shoes are lightweight and much more functional and performance-oriented. You will be comfortable staying in them all day. They are great for indoor physical activities like tennis or hitting the gym. Non-slip and abrasion-resistant the outsole is durable and stable. You can walk a lot of miles in them without damaging the treads. Overall, an affordable shoe that you can easily pair with many of your outfits.
Best Lightweight Shoes – adidas Men's Entrap Basketball Shoe
If you are looking for comfy adidas shoes that look like Air force 1, these ones are perfect. Adidas Entrap shoe is a sporty, mid-top sneaker you will love for its casual look as well as its comfort and performance. 
7th Pick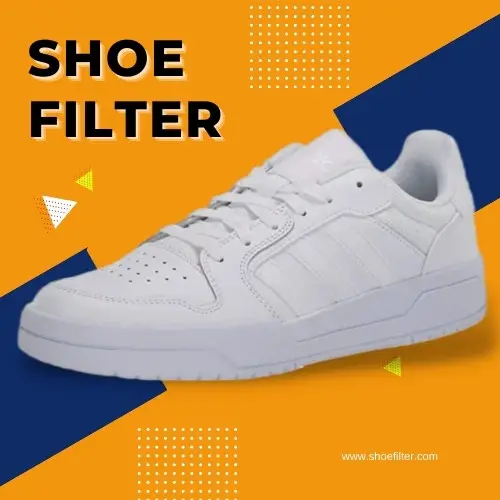 adidas Men's Entrap Basketball Shoe
Leather and mesh upper that is easy to clean
Perforated toe-box and sides for ventilation
Ortholite insole for cushioning
EVA midsole for extra padding and support
Treaded rubber outsole to prevent slipping
Designed with a leather and mesh upper with perforations on the toe-box, this shoe is classy looking and breathable. The shape is pretty standard and should be comfortable for most people. Fitted with 5 pairs of eyelets for a flat lace to go through and a long tongue, you can easily adjust how snuggly it fits you.
The combination of Ortholite insole and EVA midsole is pretty standard stuff at this point. But the high-quality materials used on the lining are undeniable and you will love the feel of these shoes. Lightweight, cushy, and well padded, this shoe can support vigorous physical activities like running, exercising, etc.
The sock liner comes with anti-microbial properties that will keep your feet running fresh even on hot summer days. These shoes are durable and stylish. If you want something as high-quality as AF-1s and similar-looking as well but more sporty, this shoe is a perfect fit. 
Best Leather Upper Shoes –  PUMA Women's Carina Sneaker
Another retro, 80s-inspired classic all-white sneaker makes our cut. The PUMA Carina is a comfortable shoe to put on when you are on the go. The raised platform midsoles, perforated upper, all-leather upper and little details will instantly remind you of Air Force Ones.
8th Pick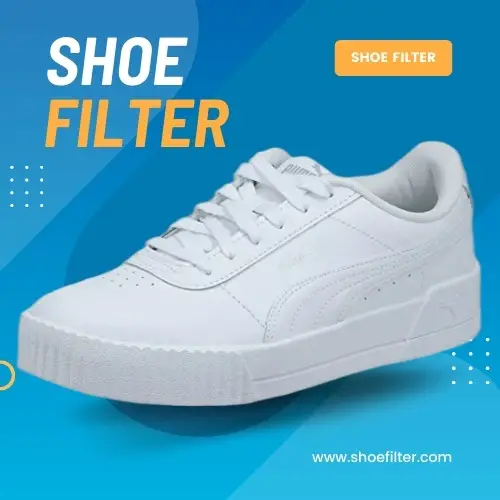 PUMA Women's Carina Sneaker
100% premium leather upper
Perforated details on the toe-box and sides
Softfoam insole, which is a proprietary dual-density material
Raised EVA midsole for extra comfort and chunky chic-ness
Durable rubber outsole marked with treads
The upper of this shoe is high-quality and durable. Usually, leather uppers crease up after some use, but the uppers on these shoes hold up pretty well compared to the other leather shoes on our list. 
Softfoam sock liner has two layers with different densities that adds extra comfort, cushioning, and a good fit. You will feel instant comfort as you step into the shoe. The fit is pretty snug and hugs your feet from all sides. With a thick EVA midsole and a stretchy outsole, there is adequate cushioning to support your feet throughout the day.
Overall, it delivers the same kind of comfort to women as the Reebok Harman does to men. With a lot of intricate detailing and a chunkier shape, this pair of sneakers is also one of the best-looking ones on our list.
Best for Street-Styling – PUMA Women's Cali Sport Sneaker
Puma Cali Sport sneakers are incredibly stylish and modern. If you want a modern twist on the AF-1 aesthetic, then this shoe is perfect. 
9th Pick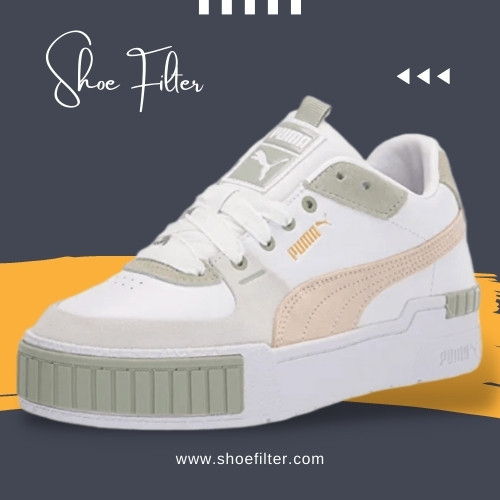 PUMA Women's Cali Sport Sneaker
Leather upper with stylish visible stitching
Perforation on the toe-box for breathability
Raised EVA midsole for superior cushioning 
Pattern on the front and back of midsole for an edgy look
Treaded rubber outsole for durability and friction
The upper is made of beautiful high-quality leather that holds up pretty well. You can get these sneakers in a variety of different colors and all of them are absolutely stunning. Ofcourse, there is an all white option. 
With a raised midsole, these kicks are chunky and fashionable. There are perforations on the upper. The detailing on the upper and on the front and back of the midsole is nice. Overall, a good-looking pair of sneakers.
They are also made to be functional and sporty. Made with a thick EVA midsole, your feet will be well cushioned without a doubt. This shoe is tennis-inspired and has a very similar silhouette to a tennis shoe. Perfect for moderate physical activities, these shoes are meant to accommodate an active lifestyle. We love both the style and performance of these shoes.
Buyer's Guide – How To Choose The Perfect Air Force 1 Alternative?
There are a few things that you should look at if you want AF-1 look-alikes. The AF-1s has an iconic design that has made them stay in fashion even now. Here's how you find your next closet staple.
All-White Shoe
What makes AF-1s so classic is its all-white color, which fits in perfectly with most ensembles. So, the first thing you need to take a look at is that the sneakers have a uniform white color all-over.
Leather Upper
AF-1s come with good-quality synthetic uppers that get chunky creases on them after some use. Honestly, we are not a fan of how AF-1s crease. If you feel that way too, you should look for premium leather upper shoes that endure better and form gentler creases.
Perforations On The Toe-Box
You will notice prominent perforations on the AF-1 upper at the toe-box and around the sides. This makes the sneakers more breathable and it is now an undeniable part of the classic look. So, any AF-1 knock-offs you are taking a look at should have tiny perforations, at least on the toe-box, if not the sides.
Comfortable Insole
Look for dual-density, Ortholite insoles or memory foam insoles that will provide you with additional comfort. Memory foams are incredible as they mold to the shape of your feet. They give you a snug fit and more support. Ortholite is also plenty supportive. 
Thick Midsole
The thick midsole on the AF-1s give them their chunky appearance that we love so much. Chunky shoes are all the rage now. Not to mention the added support you get from a thicker, comfier midsole. Look for EVA midsoles. They are very comfortable and hold up pretty well even when used regularly.
Airy Feel
Air Force Ones utilize Air technology and they are somewhat lightweight and allow free movement. Look for a pair of shoes that feel light and comfortable with good ventilation. 
Patterned Outsole for Traction
The outsole of AF-1s have a unique spiral pattern and stars detailed at the front and back of them. This pattern offers very good traction. Although you may not need such a unique and stylish pattern, ensure that the outsole is treaded to give adequate traction.
FAQs
Are there any Vans that look like Air Force 1?
You can take a look at the all-white options of Vans UltaRangr EXO, Skate Authentic, and ComfyCush Old Skool. They don't look like AF-1s that much, but they are as close as you can get with Vans.
What was special about the Air Force One shoe?
Air Force Ones are the most noteworthy for being the first to use Air technology in basketball shoes. Other than that, the aesthetics of AF-1s made it a classic that is worn even decades after. Nike came up with so many variations of the original only because of its undying popularity. 
How long do Nike Air Force Ones last?
That depends on your use. With one year of regular use, the shoes start looking a bit beat-up and creased. But we have seen them last for as long as 3 years. So, if you take good care of them, they will last a long time.
Are Air Force One shoes and Jordans the same?
No, they are not the same. Jordans were introduced after AF-1s. The air technology used in AF-1 was borrowed by Jordans but with many modifications. The upper of Jordans is more stable and durable, while the midsole is thinner and refined, which makes them more suitable for sports than AF-1s.
What are some shoes similar to Air Force Ones?
Top choices for shoes similar to Air Force 1 include:
PUMA Women's Carina Sneaker
PUMA Women's Cali Sport Sneaker
Time and Tru Women's Platform Sneakers
Fila Men's Original Tennis Classic Sneaker
Final Verdict
Air Force Ones are integrated with American culture in a way that these shoes have more value than the material object itself. Moreover, they are incredibly fashionable and effortlessly go with anything you put on. Summer floral dresses, jeans, and crop-top, or jumpsuits, whatever you wear, these shoes are a perfect complement.
A lot of famous and smaller brands offer shoes with similar aesthetics. In a sea of AF-1 look-alikes, it can be quite confusing which one to go for. Hopefully, with our list, you found a pair that fits your taste and will meet your particular needs.