Being one of the most ancient footwear brands, Cole Haan has still been able to maintain its age-old supremacy in the fashion footwear field. What do you think is the reason? Yes, the absolute protection and alleviation you expect from a pair of shoes are provided by Cole Haan only. 
So, are Cole Haan shoes comfortable?- this is just a baseless question as the footwear brand is conterminous with the word comfort. 
As quality is on the top of Cole Haan's priority list, their shoes are made of premium-grade materials. That's why they are more than comfortable to let you feel you are wearing almost nothing yet they protect your feet fully. 
In order to bury all your concerns about this popular shoe brand once and for all, we have reviewed some of their best-known products below. Explore them to learn more!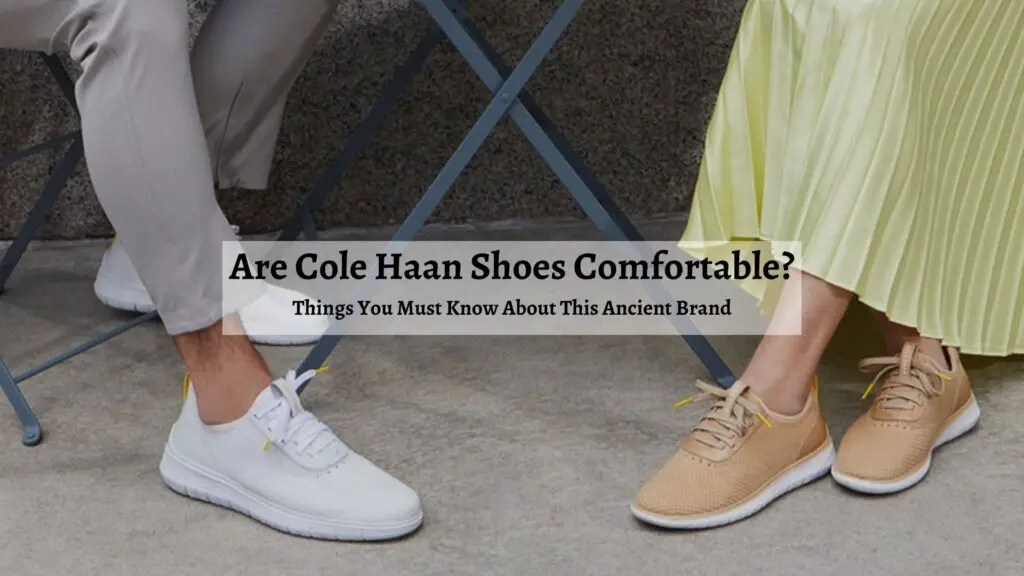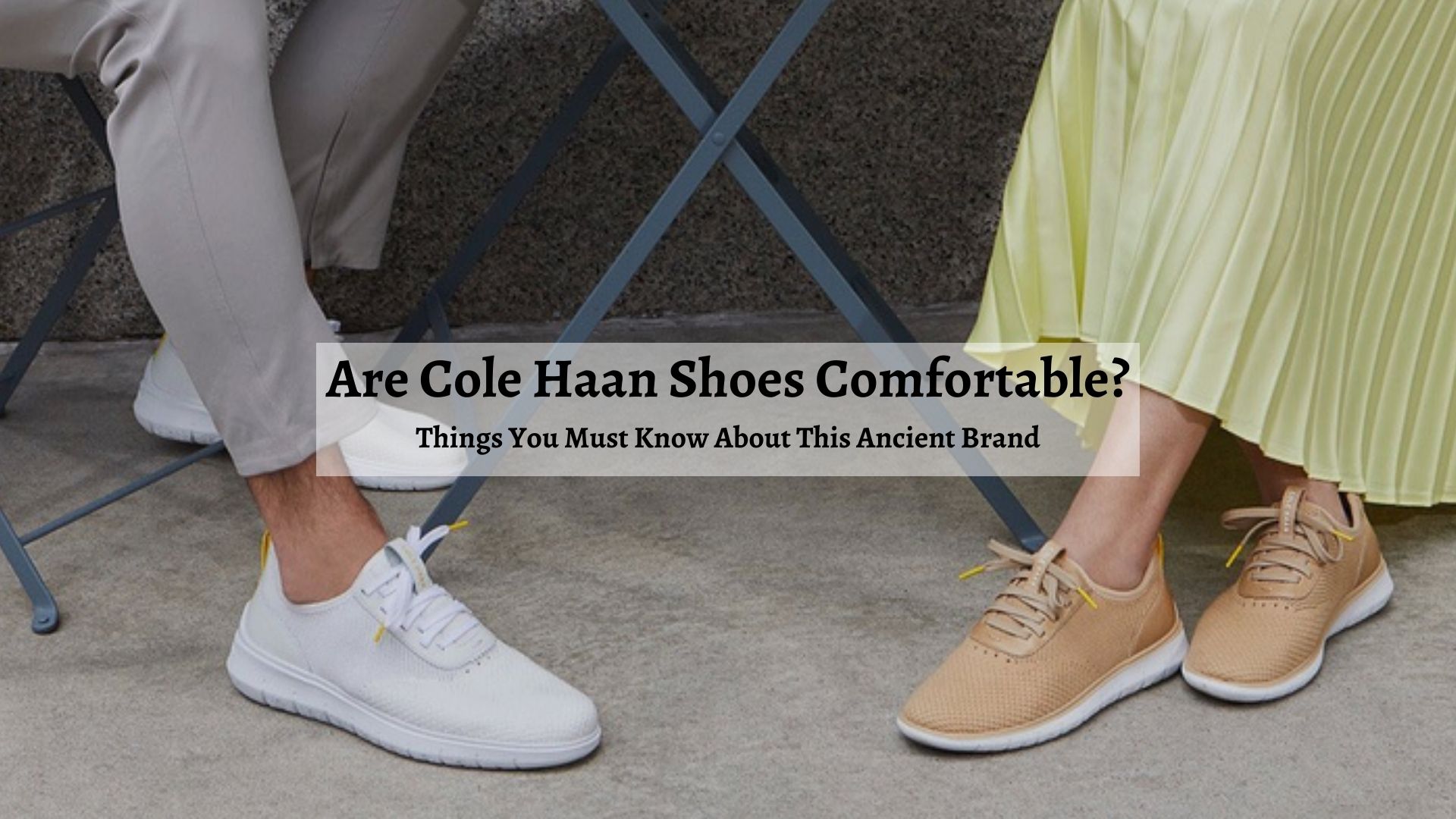 Cole Haan Shoes Review
1. Best Overall- Cole Haan Women's Tali Bow Ballet Flat
Look, what we have in store for you at the very first place of this review. Yes, it's Cole Haan's one of the most popular women's shoes that you will fall for at very first sight! Let's discover what core specialties this pair offers.
Specifications
100% pure leather material to completely protect your feet
Dependable rubber sole regardless of the surface conditions 
Lightweight PU midsole to maintain comfort and cushion 
Cole Haan's signature Grandfoam padded footbed provides sufficient stability 
The padded leather sock lining adds some extra cosiness when you're wearing socks
Suppose, you're someone who is a fashion terrorist when it comes to shoes as most of the modern women's shoes are not that comfortable and particularly, not flat. No worries, you're going to meet the best ballet flat from Cole Haan which offers an exclusive combination of comfort and style. 
One good thing about these shoes is that they are very very well-made. The genuine leather material makes them not only soft but also flexible. 
Another plus side of this amazing pair is the feminine bow on the front. Besides, the gold-tone signature hardware makes them look way more beautiful. 
You can try these shoes with both slim-fit trousers and tight-fitting jeans. In both cases, you'll look presentable, be it your workplace or a family function. 
Most importantly, you can carry these shoes anywhere, thanks to the half-inch micro wedge underneath. Moreover, the smooth and buttery leather upper represents Cole Haan's aesthetic engineering more than anything.
However, we recommend having them in your usual size as they won't stretch out over time. 
2. Most Stylish- Cole Haan Women's Juliana Pump
Secondly, let us introduce you to one of the most stylish yet budget-friendly picks, which is a pair of pump shoes. The salient features of this pair are as follow-
Specifications 
100% genuine leather doesn't let you feel any discomfort 
Reliable rubber sole for maintaining stability and traction 
Around 3″ of heel measurement makes the shoes stylish enough
Concealed with energy foam insole to ensure optimum easement 
The smooth leather upper shines bright with every outfit
A pair of pump shoes is a timeless beauty. So is this Juliana pump from the famous brand Cole Haan. The classic and elegant 3″ high heels will surely make you a style icon with every outfit. Besides, the elevated heel is designed in such a way that you won't be uncomfortable even for a second. 
As these shoes are made with soft Nappa leather, they are meant to serve you for years. Moreover, they are fully lined with padded sock lining which is a big plus if you wear socks. 
Being manufactured in a variety of colors, the beautiful blending of smooth leather with satin upper declares the supremacy of these pump shoes clear and loud.
Also, the 75 mm leather-wrapped heel is reliable enough to make your every step secured. And the rubber forepart works as an aid to sure footing too. 
However, the only issue you might find with sizing. A half size up will be too big and the usual size will run a bit narrow at first. To avoid this issue, you can try Cole Haan Women's Tali Bow Ballet Flat.
3. Most Comfortable for Man- Cole Haan Men's 2. Zerogrand Laser Wing Oxford
The first place in the men's shoe department reviews a pair of oxford. The core amenities it offers are-
Specifications
Ultimate comfort is provided with the fully padded sock lining
The Grand OS technology offers all day long cushioning 
Easy to wear rubber sole
Genuine leather material for smooth footsteps
Lightweight and comfortable to attend any casual or formal occasion 
We all know that Cole Haan was primarily a men's shoe brand. Later they expanded their field including women's shoes and accessories. Starting from its foundation, the brand was the best for its flawless craftsmanship and this Zerogrand oxford is just another proof of their claims. 
That being said, the 2.0 Zerogrand technology is the striking factor to add some more coziness to your shoes. If you need the most comfortable Cole Haan shoes ever, pick these laser wing oxford right away!
Particularly, doctors recommend these shoes who have issues with arch support. And the most amazing thing is that you don't need to wait until the shoe breaks in. In fact, they are ready to wear shoes that run exactly true to size. 
All we can say is if you invest in this pair, you're not going to regret it as these are the best comfy dress shoes to fight any adversity on the road.
Well, the only disappointing fact is that they are not waterproof. But they are breathable enough to let your feet dry quickly even if you get wet. So, try them out before they run short!
4. Most Breathable- Cole Haan Men's Original Grand Stitchlite Wingtip
Next,  we have a power-packed stitch lite from the Cole Haan lineup. The core specifications are as follow-
Specifications
Well-defined stitching attached to the welt for added efficiency 
Heel rubber pods offer some extra traction on tough terrains
Breathable upper with stitch lite knitting on the upper
Synthetic material architectured with wingtip technology for better airflow
The lace-up closure allows custom fitting
If you are a stitch lite lover, these synthetic soled shoes are undeniably the best pair to bless your closet.
The arch to low-top shaft measurement provides adequate foot support. On top of that, the forefoot pods are responsible for added traction and grip.
Also, the inclusion of Grand OS technology not only makes the shoes lightweight but also flexible enough to let you move freely. The innovative engineering of Cole Haan is strongly portrayed throughout the striking formation of these shoes. 
On that note, the EVA midsole is a brilliant add-on to retain the year-old reputation of the manufacturers. And the adequate airflow due to the wing detailing on the upper is more than commendable. You can walk freely during rain without facing any difficulty.
Most importantly, it does justice to your hard-earned money. The bucks it charges are completely worth the amenities it offers. You can wear them all day long and yet, rest assured no foot pain would bother you. 
Nevertheless, a slightly bothering issue is that the insoles are not entirely non-slip. If this minor flaw can be excused, it's the perfect pick as a professional stitch lite.
5. Most Flexible- Cole Haan Men's Howland Penny Loafer
Next, we have another leather loafer from the wide lineup of Cole Haan. Let's go through the prime specifications below.
Specifications 
Crafted with soft genuine leather to confirm absolute alleviation 
Original handsewn structure to make the shoes durable
The driving heel along with the split pod sole keeps you going with comfort and confidence 
Enjoy premium grip when needed, thanks to the reliable rubber sole
A deadly combination of classical and modern outlook with a vintage finish 
A very common question about this famous fashion brand is- is Cole Haan a luxury brand, might bother you often. To be honest, it is an expensive brand. But if you explore these particular shoes, you'll get the answer to why so.
To start with the features, this Howland Penny Loafer has a heel measuring approximately 0.25″ which is perfect for even the aged. The man-made sole is pretty reliable when it comes to maintaining balance and stability. 
Being designed with a classical inspiration, these loafers perfectly suit this modish generation's preference by the contemporary touch. Actually, the driving heels are the striking factor here. 
Whether you are home or on the road, these penny loafers will equally support you with the comfort you expect from your shoes. Besides, perforated arch support doesn't allow any blisters or bruises to affect your feet. 
Furthermore, the moccasin stitching along with the split pod sole makes the shoe sturdier. Resultantly, they are one of the most flexible creations by Cole Haan. 
However, we experienced a minor issue regarding the sizing. They run smaller and are suggested to order a half size up for snug-fitting. So, if you want your usual size, go for Cole Haan Men's 2. Zerogrand Laser Wing Oxford.
6. Most Durable- Cole Haan Grand Motion Woven Stitchlite Sneaker for Men
Are you looking for the best Cole Haan sneakers? Look no further and pick these out-of-the-ordinary stitch lite sneakers right now!
Specifications
A brilliant blending of textile and synthetic makes the sneakers assurers both comfort and class
Slip-free bottom for safe and secured movement 
Eye-catching design with a super flexible sole
The EVA midsole offers sufficient foot support to prevent blisters
Allows custom fit due to the lateral and medial leather overlay
Finally, you're going to meet a pair of shoes that offer you full customization authority based on your requirements. Around one-centimetre of heel, measurement is the next good thing you will be thankful for as it provides enough arch aid.
If comfort, cushioning, and customization are your priority, you'll not get any better pair of sneakers than these. The full rubber outsole not only blesses your feet with enough flex but also prolongs the lifespan of the shoes. As a result, they are one of the most durable sneakers you can purchase. 
Also, the integrated lacing system allows snug-fitting at any cost. And if you're going through some sort of foot injury, the padded sock lining can be an aid to this issue by providing ultimate support.
However, if the leather quality could be improved, the price point would be more reasonable. Other than that, this is a great grab though! 
And some customers complained you order them smaller as they run big. In this regard, we recommend Cole Haan Men's Original Grand Stitchlite Wingtip for better fitting.
Final Words
To conclude, it is evident that if comfort is your ultimate concern, no other brand can match the level of Cole Haan due to its uncompromising quality check. 
So, we guess you got your answer to the question- are Cole Haan shoes comfortable? To be exact, comfort is the most fetching feature Cole Haan has been ruling the footwear industry for so long. Their genuine material quality and professional craftsmanship have made this happen.
However, if you need expert suggestions for making a buying decision, we recommend Cole Haan Men's 2. Zerogrand Laser Wing Oxford is the most comfortable pick for men. And as the most stylish one, women can go for Cole Haan Women's Juliana Pump.
Hopefully, you can make an informed selection with the reviews above!
Related post:
Are Cole Haan Shoes Good