People with flat feet often suffer as they need a special kind of shoes. This deformity can be either by birth or due to diabetes, obesity, injury, aging, etc.
Whatever the reason is, it makes walking harder with regular shoes. So, you must choose sandals or shoes with ultimate comfort to fight back this condition.
Birkenstocks make some amazing shoes suitable for any foot condition, be it high arch or low arch. But the question is- are Birkenstocks good for flat feet? Are they really worth the hype?
To be specific, yes, they are. In fact, they make varieties of versatile shoes with the most flexible rubber footbed. Besides, the contoured toe bar makes sure to provide enough grip and keeps the feet in the proper position. But the flat feet must be flexible enough to avail this advantage. 
So, how do these shoes manage to provide adequate backing to the foot's arch? Let's learn more in this regard.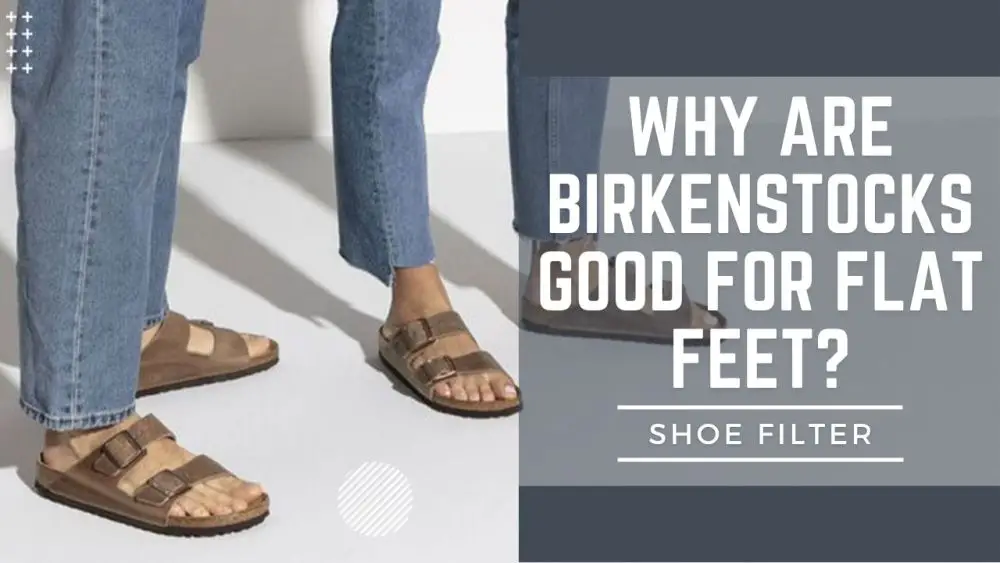 Birkenstocks are good for flat feet with their accurate spine alignment. Also, the better stability and contoured cork with a comfortable rubber footbed protect the flexible fallen arch.
As Birkenstocks started their journey back in 1774 by making comfortable sandals, they prioritise lenience over everything else. The secret behind their super comfortable shoes is the shock-absorbing bottom layer. Besides, there is a textured layer of moisture regulation. 
Now, talking of flat feet, they need more arch support than regular feet. Here, Birkenstocks sandals are a perfect choice as the rubber footbed backs the flat feet very well. These four-layered shoes are incredibly flexible to adjust any foot shape.
The outer layer is responsive enough to absorb any impacts to the fullest. And the following two layers keep you stable, spreading the body weight evenly. 
Talking of the last layer, it is a suede later to repel bacteria. So, no worries of having odor even if you sweat while walking. This suede lining also eliminates any chance of discomfort. 
Having a heel cup of around 8mm, these sandals are super supportive for your heels. Also, the high-quality material makes the shoes even more desirable, particularly for flat feet people without a natural arch.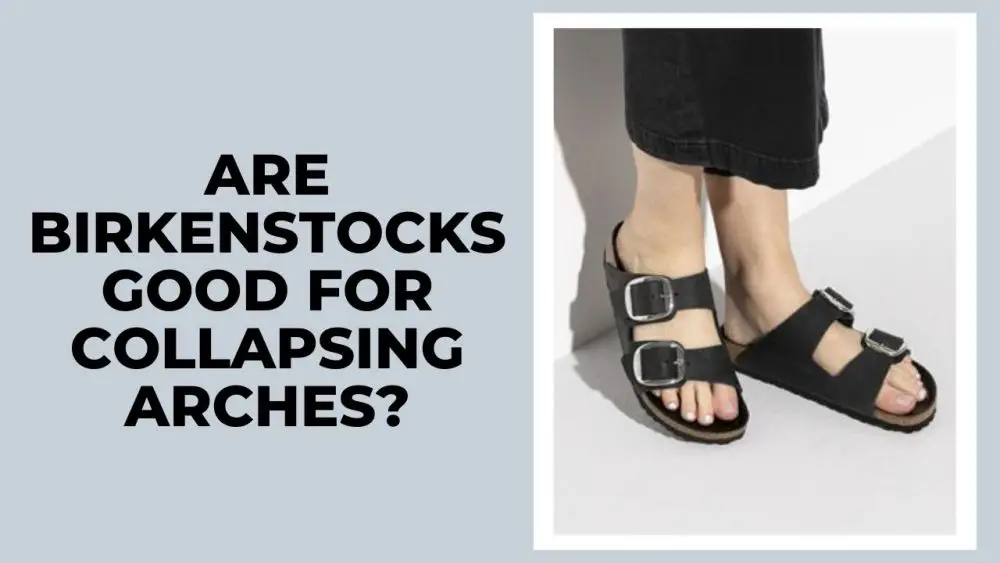 Yes, absolutely. The brand is best known for its lineup of long-lasting and lenient arch-supportive sandals. As they feature adjustment belts to determine how tight or loose grip you need, people with fallen arches love this footwear more.
When you have flat feet, you must go for the most flexible shoes ever. In that case, the shape of the shoes matters the most. The most impactful amenity Birkenstocks offer is that you can adjust the shoe's shape by bending them. 
Moreover, the belts let you adjust the cork. Tighten or loosen it based on your requirement. When the heels are within the heel cups and the toes are loosely connected, people even with flat arches can walk or stand comfortably without any foot pain. Of course, the strap should hold the feet snugly for a better fitting. 
On a general note, Birkenstocks help collapsed arches by distributing the body weight evenly. Therefore, they perform better in terms of stability to keep the flat feet more balanced.
What Type of Feet Are Birkenstocks Good for? 
Usually, Birkenstock shoes are designed for flexible flat arches. The natural foot shape they offer lets the toes spread out comfortably, resultantly reducing the foot pain eventually. 
That being said, these sandals are very good for long-term wear, even at your home. As they come with natural toe boxes, you can protect your fallen arches from all those nasty blisters and cramps. 
Furthermore, the zero drop construction of their sandals is an exclusive feature that balances the overall alignment. It shapes the heels with the same elevation of the toe. So, if you are suffering from acute foot pain due to the flat arches, rely on Birkenstocks once and you will be thankful forever!
Do Podiatrists Recommend Birkenstocks? 
Yes, podiatrists highly recommend these shoes with comfortable cork soles with deep heel cuts. Moreover, they have a podiatrist-suggested architecture for patients with plantar fasciitis, foot pain, etc.
As Birkenstocks are manufactured with super soft footbeds that too are anatomically contoured and adequately cushioned, podiatrists labeled these shoes as orthopedic solutions.
Of course, they come with some other exclusive features as well. The additional depth and roomy interior make the shoes extra supportive. Besides, the wider breadth and seamless upper effortlessly fulfill an ideal podiatrist shoe's demand. 
On top of that, podiatrists always suggest shoes with adjustable straps so that they fit different foot shapes. Likewise, Birkenstocks come with adaptable buckle closure for custom fitting. And most of the shoes are architectured with latex and cork to restructure your foot shape. 
Above all, they are shock-absorbing sandals with the best traction on any trail, thanks to the slip-free outsoles. Resultantly, they successfully made a place on the list of podiatrist recommended shoes for flat feet.
Who Should Not Wear Birkenstocks? 
Although Birkenstocks are made for average people with ideal arches, those who have too rigid low arches should avoid wearing them. In the disguise of arch support, they can cause foot pain in the long run. 
Basically, these shoes are not suitable if your feet are not flexible. In that case, you might find the support too high to adjust your fallen arches. As a result, the support might make the feet weaker over time by affecting the natural strength. So, it's better to eliminate Birkenstocks from your closet if you have uncompromising collapsed arches.
Are Birkenstocks Considered Orthopedic Shoes?
Thanks to the orthopedic insoles Birkenstocks come with, they are, indeed, one of the best orthopedic solutions for people with foot issues.  
Being engineered with soft, supportive, and cushioned footbeds, the shoes offer outstanding stability. So, you can depend on the latex footbed if you have foot pain, calluses, ingrown toenails, etc.
Moreover, the shoes speed up the blood flow around the foot area. Therefore, your muscles are relaxed, and that's why you remain stress-free. 
However, as orthopedic footwear, it outperforms others preventing your foot muscles from getting strained with amazing ankle aid. And thanks to the premium material, the shoes don't let the feet get swollen.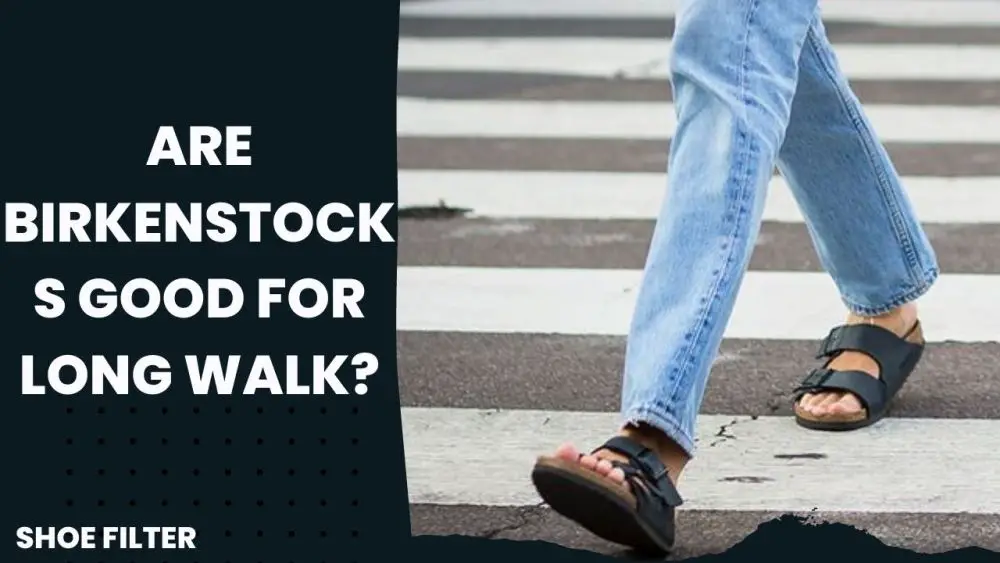 If you go for a long walk on the beaches, then yes. In fact, they are perfect for walking after the break-in period. But you should not go hiking with them. 
Truth be told, you might feel a bit uncomfortable while walking if you wear a new pair of Birkenstocks. But after a break-in period of two or three weeks, they will be the comfiest sandals ever. 
For long-distance walking, you need enough support and cushioning. Here, the contoured footbed plays a vital role to keep you balanced. If you can pick up the right fit, the soft footbed would certainly back you up on any terrain. The firm ankle support would not let you down.
However, these are made for relaxed walking only. We don't recommend them for jogging or exercising. You can wear a pair of Birkenstocks all day long on the streets or around the beaches, but not off the shelf.
Are Birkenstocks Good for Plantar Fasciitis? 
Absolutely, they are. People who have plantar fasciitis, that too with flat feet can go for indomitable shoes like Birkenstocks. The contoured footbed structures the foot relieving foot pain and muscle strain. 
Apart from arch support and flexibility, these sandals are also responsive to natural body warmth. As a result, you eventually develop mobility and strength to fight common foot problems like plantar fasciitis. 
Will Birkenstocks Fit Wide Feet?
Yes, they will as the manufacturers designed them with both regular and narrower footbeds. For wider feet, you should go with the regular fitting offered by Birkenstocks. 
On that note, Birkenstocks should be selected in the correct fitting like any other regular brand. Otherwise, you may encounter misalignment which will lead to foot aches. So, you should be careful enough to pick the right-fitted footwear to protect your foot health.
Final Words
To wrap up, it's pretty evident that Birkenstocks are made to fit all types of feet. It was a great comfort for soldiers returning from world war II as well. If militaries liked them, you could easily guess how well-made they were. But are Birkenstocks good for flat feet?  
Well, for flexible flat feet, they are more than perfect. The extreme arch support is meant to stabilize the fallen arches pretty well. But for extremely rigid feet, you can find the arch aid too high.
However, if you have flat feet without having severe pain, these podiatrist-approved shoes can give you an easy walking experience. In fact, everyone with flat arches should try these super supportive foot-friendly shoes at least once. Surely, they won't regret it.
Read also:
Top Running Shoes For Morton's Neuroma
Are Memory Foam Shoes Good for Flat Feet