Hip replacement is one of the surgeries where the precautions after operation have some movement restrictions. To fully recover from the surgery will take a few months. So you need to follow some guidelines, which include wearing the right type of footwear. 
But what type of shoes are ideal during this crucial time?
The shoes should be such that they are easy to slip on and slip off, give proper support to maintain correct body posture, and provide relaxation to the feet. With features of such type available, today, we've gathered a list of the best shoes for hip replacement surgery patients. Let's check them out!
Best Shoes For Hip Replacement That Will Provide Sheer Comfort
To ensure maximum support and comfort with the movement, some of the best shoes after hip replacement surgery have been reviewed.
Best Women's specific Lightweight Shoes: Skechers Women's Go Walk Joy Walking Shoe
As recommended after hip replacement, these walking shoes by Skechers are super comfortable and extremely lightweight, making them the first one on today's list!
Top Pick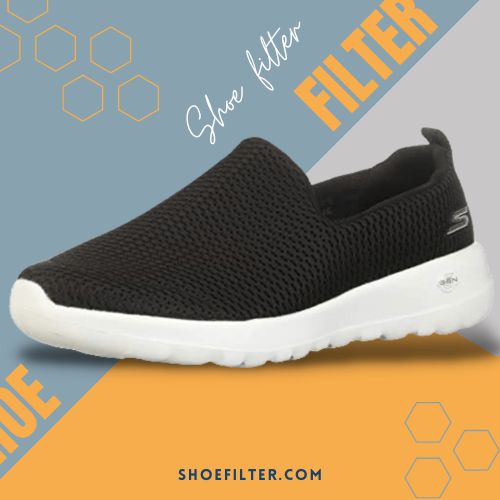 Skechers Women's Go Walk Joy Walking Shoe
Prepared with 100% textile fabric
5 Gen cushioning with high responsive capability
Has a padded collar, soft fabric lining, and breathable mesh upper
Goga Max insole with high rebound capacity
Weighs approximately 5.2 ounces
The easy-to-wear shoes have got a good number of highly appreciated features. Here, the flexible outsole has a tread pattern designed to improve your traction and help you walk on tough terrain. 
Meanwhile, the Goga Max insole with a high rebound capacity enhances your foot comfort. And the springy 5Gen cushioning is highly responsive to shocks which protect your feet against impacts.
Specially designed for women, the slip-on design on the Go Walk Joy is easy to wear or take off. Although there are no laces to customize the fit, the material is designed to snugly fit the foot. And the upper chamber being permeable keeps the foot chamber cool!
As the sneakers don't compromise with the style and maximize support and comfort, they can surely be considered one of the best women's walking shoes for hip pain or replacement!
Best Walking Shoes For Men: Skechers Men's Equalizer Persistent Slip-On Sneaker
For men who have undergone hip replacement surgeries, these Equalizer Persistent sneakers from Skechers can be a good balance between comfort and fit! Let's look at some of its specifications.
Runners Up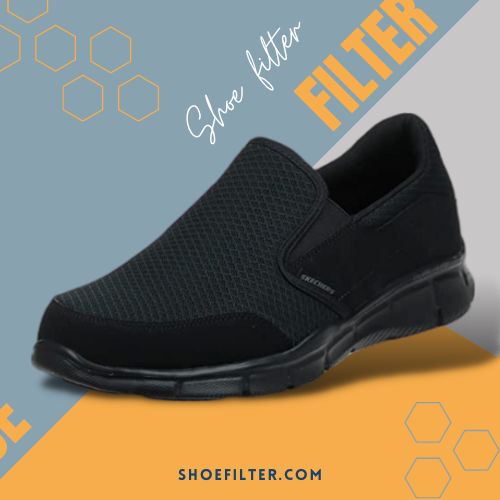 Skechers Men's Equalizer Persistent Slip-On Sneaker
Constructed with 100% textile and synthetics
For easy slip-on, there are dual side elastic panels
Memory foam insole and rubber outsole
Flexsole midsole with the high shock absorption capacity
Has a weight of nearly 1.8 ounces
The memory foam footbed technology in these sneakers increases the soft underfoot sensation in the foot chamber, ensuring all-day comfort. Moreover, the Flex Sole midsole protects the foot from strains or injuries alongside helping shock absorption. Meanwhile, the flexible outsole helps in giving proper traction eliminating any sort of slippage!
These shoes have a simple design that can be worn with practically any outfit. Your toes will be enveloped within the shoes pretty well, owing to the breathable composition of faux leather and mesh upper material and the padded collars. And the sneakers won't show any significant wear even after months of use.
The supportive structure and comfortable slip-on factor make these shoe ideal for men who have undergone hip replacement surgeries.
Best Traction Shoes: New Balance Men's 481 V3 Trail Running Shoe
Next up are the Men's Trail running shoes from New Balance, which are slightly heavier than the previous one. However, the solid construction only makes the shoes usable for a more extended period of time and won't cause any difficulty in movement at all!
3th Pick
New Balance Men's 481 V3 Trail Running Shoe
Outer material is 50% synthetic leather and 50% mesh
Rubber made non-marking outsole 
Injection-molded EVA midsole and EVA footbed
Padded collar for an ankle hugging fit
Has a weight of 1.78 ounces
Developed for rough use, these 481v2 shoes have a pretty substantial heel that will handle the load and provide extra support for those who require a little height under their heels. Another likable feature for them are designed to be worn all day; they won't scratch, rub, or create any other discomfort over time.
The comfort collar here prevents discomfort and hugs your ankle for a better fit, while the ultra-soft midsole cushioning provides all-day comfort without losing support. And, despite the fact that they are not waterproof, they can give sufficient traction and grip on slick or wet surfaces.
For people who have to do a fair amount of running on a daily basis, you can switch from the Skechers Men's Equalizer Sneaker to these ones; they are one of the best running shoes after hip replacement!
Best Cushioning Shoes: Brooks Men's Adrenaline GTS 20 Running Shoe
To keep you moving comfortability after hip surgeries or knee injuries, the next one is the Men's Adrenaline running shoes from Brooks with extra protective cushioning. Let's see what features it has!
4th Pick
Brooks Men's Adrenaline GTS 20 Running Shoe
Engineered mesh upper with 3D fit print
DNA Loft crash pad cushioning for support
Rubber outsole with traction and midsole with shock absorption capacity
Guiderails for comfortable movement
Approximate weight of 1.5 pounds
While the previous 481 V3 running shoes used EVA footbed cushioning, this one has a blend of EVA, rubber, and some air too, which has been named DNA Loft! In this technology, the extra air contributes to making the shoes lightweight, and the rubber helps increase durability. So you will get soft comfort miles after miles!
Again, the 3D Fit Print here provides sophisticated design details making the shoes look chic. Moreover, the significantly improved mesh upper helps your feet to breathe, the support strips running in heels and midfoot help maintain stability, and the protective outsole gives you traction.
Altogether, these shoes are for long-distance running or walking or cross-training; men can rely on these flexible and supportive sneakers!
Best Secure Fit: ASICS Men's GT-2000 7 Running Shoes
A slightly different and reinforced upper than the previous ones, these GT 2000 7 running shoes from ASICs have two layers of engineered mesh that create a smoother forefoot and spacious toe box!
5th Pick
ASICS Men's GT-2000 7 Running Shoes
Manufactured with 100% textile fabric
Guidance line midsole technology for increased gait efficiency
Get padding technology on the barefoot and forefoot
High abrasion outsole for durability
Weight 2.4 pounds
Talking about the materials used in the outer part, high-quality material, and a blend of Jacquard mesh adapt to the foot for unrivaled comfort; you can wear them barefoot if you will! Also, the Duromax support system keeps them lightweight. And thanks to the abrasion-resistant outsole, the whole system turns pretty durable!
Gel padding technology in the forefoot and heel and the Flytefoam Lyte material cushioning technology in these sports shoes work together to allow for a total bounce back and shock absorption. 
Again, the foot is stabilized by a robust medial post and a shank under the midfoot, which prevents extreme torsional bending.
To provide you with stability and a secure fit, you can surely rely on these pairs of advanced-technology shoes!
Best Running Shoes For Women: Nike Women's Air Max Oketo Sneaker
For those who prefer laced sneakers, they can switch from Skechers Women's Go Walk Joy Walking Shoe to this one. Other than stylish color variation, let's look at some of its other features!
6th Pick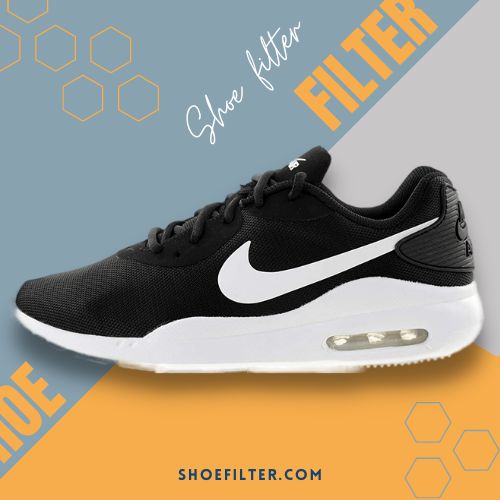 Nike Women's Air Max Oketo Sneaker
Synthetic overlays and breathable mesh on the upper
Underfoot comfort provided by Air Max unit
Foam midsole cushioning and flexible rubber outsole
From the arch, the shaft measures approximately low-top.
Nearly 0.5 pounds in weight
The visuals of these sneakers are inspired by two of Nike's Air Max shoes. You will find that the notches in the midsole idea came from Air Max 1, which gives you enhanced underfoot comfort. Moreover, the Flywire technology and full-length soft cushioning allow for midfoot lockdown. And the Air Max 90 inspires the embossed flexible heel of the shoes.
The super cool Nike Oketo can be worn for a variety of casual occasions thanks to its airy mesh top with synthetic overlays. Here, you will get max comfort through the breathable mesh fabric. And for increased comfort, the padded tongue and collar come of great help!
Durable synthetics with subtle design and applaudable comfort factors make the pair ideal for hip replacement surgeries!
Best Running Shoes For Men: Nike Air Max Invigor Low Top Men's Running Sneakers
The last pair of sneakers on today's list to give a breathable and super-light feel on foot alongside assisting the smooth movement. It is the Air Max Invogor from Nike!
7th Pick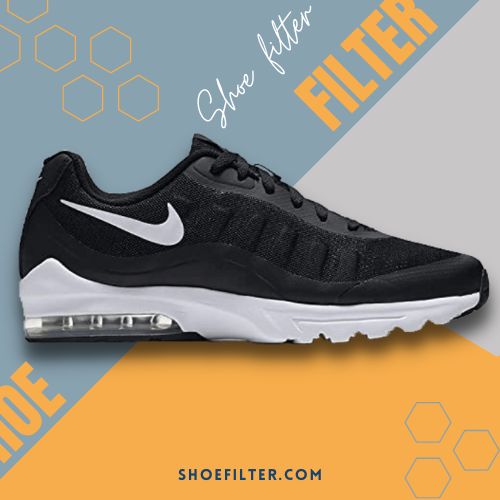 Nike Air Max Invigor Low Top Men's Running Sneakers
Light and breathable mesh structure on the upper
Lightweight Air Max cushioning for underfoot comfort
Outsole made of flexible rubber
Padded ankle collar and unsewed overlays on the sides
Approximate weight of 1.61 pounds
The Max 95 inspires the embossed graphic print on the sneakers and also no-sew patches on the sides. A cushioned insole, a breathable mesh upper, an Air Max heel unit, and a padded ankle collar- all these combine together to help to make the shoes a perfect fit!
It has a high-tech mesh material that allows for optimal air circulation, helping you to stay in comfort. On the interior, a Max Air unit delivers a bouncy and lightweight cushioning, which is quite supportive for hip pain. And the anti-slip rubber sole provides enough traction on the ground, which will keep you safe.
Like the Nike Women's Air Max Oketo Sneaker, these shoes have also gained praise for 
Their comfort property, breathability, and varied lifestyle activities!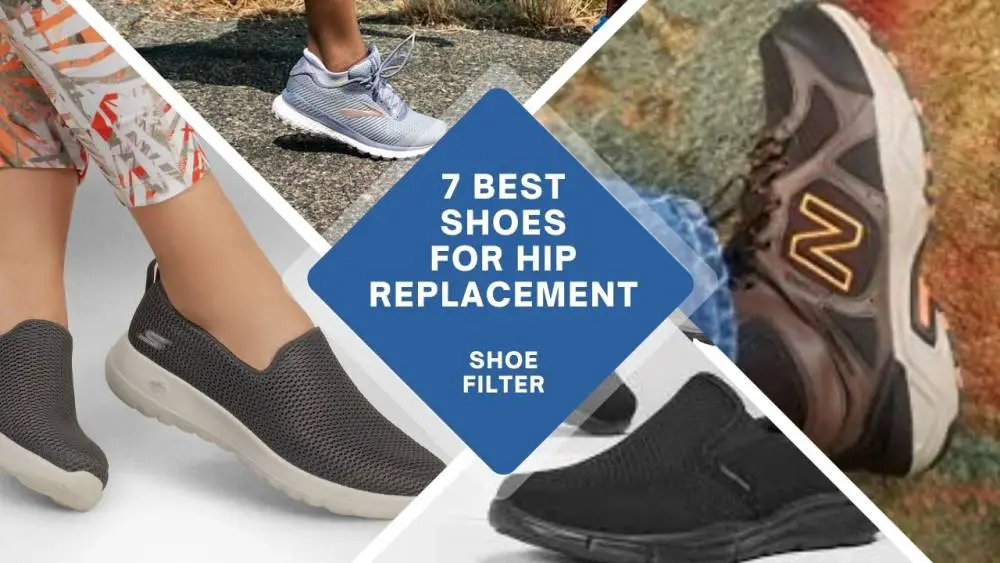 Important Features of Shoes after Hip Replacement
After undergoing hip replacement surgery, you have to bring some changes to your lifestyle, which might include the change of the regular shoes you have been wearing so far. Let's see what the important feature of shoes is during this time.
Your shoes should have a wider toe box, a wide heel, and a flat or low surface, which will ensure maximum comfortability and support during walks.
The sneakers should be lightweight to keep the walking pattern strain-free. And if there is added flexibility, then you can enjoy free movement of the feet too.
Insoles of the shoes should be such that it has comfortable cushioning and a high rebound capacity. This way, the foot will have a lesser impact on unwanted circumstances.
The outsole tread should have great traction and a tight grip, as you can't afford a trip or fall in this situation.
The midsole of the shoes should have a shock absorption property to block trips from sudden shock and reduce the chance of further damage.
Tips for Buying the Perfect Shoes for Hip Replacement
To cope with the newly replaced hip, will take you some time. During the recovery time, you have to follow some restrictions with everything, including shoes. Some tips for buying the right shoes for comfortable walking are shown above.
Comfort and Breathability
When it comes to buying shoes after hip replacement, the construction of them matters a lot. The correct shoes must be designed in such a manner that they provide the most comfort possible. 
You should avoid buying anything that would hinder your natural movements. And if they have breathable mesh to keep your feet cool, it will be great! A good option is the Skechers Women's Go Walk Joy Shoe
Arch Support and Heel height
The height of the heel should obviously not exceed an average flat shoe height because it can induce pain and discomfort. 
And to spread the weight of the body equitable, proper arch support is a must; it helps with the posture and lessens the risk of tripping. A great option is the Skechers Men's Equalizer Persistent Sneaker
Shock Absorption
To stand against sudden trips or falls, the shock-absorbing property in your shoes will come of great help. The heel construction must provide adequate shock absorption and good grip too. All the shoes reviewed today come with this feature.
Shoe Sole
The sole's outer layer should be robust enough to withstand abrasion while also providing additional arch support for your feet. 
And the insole and midsole have to be cushioned so that they can provide maximum rebound. This way, your feet won't feel the impact, and subsequently, your hip muscles will be safe too.
Lace Or No-Lace
It will take you some time to resume your normal activities after the surgery, maybe 1.5 to 2 months. During this time, you should be careful about activities like bending down, tying laces, etc. 
Those who have done anterior hip surgeries, they'll recover faster than those who have undergone posterior hip replacement. So the former can engage in mild activities like tying laces, while the latter has to take help before they fully recover. 
FAQs
What can I wear after hip replacement surgeries?
After you have undergone hip replacement surgery, you can switch wear shoes with flat heels and a wide toe box, which have an easy slip-on slip-off feature. It will help to provide maximum comfortability.
When can I tie my shoelace after the hip replacement surgery? 
If you have gone through posterior hip replacement surgery, it will take 6 to 8 weeks before you can start the bending activities. But for anterior surgery, the recovery time is a bit faster.
Are hip replacement shoes worth it? 
Hip replacement shoes are definitely worth it for those who have been experiencing difficulties with their daily activities after the surgery. They give you much more comfort than normal shoes and reduce the chance of further mishaps. 
Can I lose my ability to walk after hip replacement? 
Walking abnormalities are normal until some time after the hip replacement surgery. After weeks you will slowly regain the ability to walk again, though you might need the help of a walker. But you will recover eventually.
Can I run or jog again after hip replacement surgery?
After discussing your activities and their right level with the doctor, you can start running or jogging after you recover from the surgery.
How to treat hip pain from running?
To deal with hip pain after a marathon, you can use an ice pack or do some hip exercises; you can also take medications as prescribed by the physician.
Final Words
And here we are at the end of today's discussion on the best shoes for hip replacement surgeries!
If you are a woman looking for a lightweight pair of easy slip-on sneakers, you can go with the Skechers Women's Go Walk Joy. and if you are a man looking for a comfortable pair, the Skechers Men's Equalizer Persistent Sneaker is a great choice. And for a secure foot-hugging fit, you can rely on the ASICS Men's GT-2000 7 Running Shoes!
Here's hoping you find the right pair of sneakers to ope with the hip replacement surgery without any discomfort!