Black shoes- the go-to footwear that looks good on every undertone and can be paired with almost anything. Blue ensemble-a significant portion in men's fashion, makes you look classy and sophisticated. These two consist of a huge portion of menswear, and there are good reasons why. The question, however, is, do they go well together?
 More specifically, can you wear black shoes with a blue suit?
To your relief, the answer is Yes! Though this combination is often underestimated and outweighed by the blue-brown combo, black shoes actually go well with blue suits. In fact, if paired in moderation, you can actually look dapper in this.
Let's know some more about the color coordination of black-blue, which accessories elevate this look and more in this article!
Does black really go with navy blue?
Yes, the medium to darker colors in the blue spectrum actually complements the color black; the low contrast between navy and black makes the visual harmonizing. When you pair these two colors, the navy color steals the show, while the black helps you pull the whole outfit together; both blend well into the aesthetic.
This combo works well on professional occasions. In fact, while attending significant events, it is more appropriate to wear black shoes with your navy suit instead of any other color. Talking about the style, black Oxfords, Derbys, or Monk Straps should be your formal wear choice, while loafers will do with casuals. And for the suit, it should be perfectly tailored, slim -fits are highly appreciated.
Which socks should you wear with black shoes and a navy suit?
Since both navy blue and black are neutral colors, dark-colored socks will go well with them, particularly navy or black. According to the conventional menswear rule, you should wear socks that match your pants, so navy dress socks are the best option for navy suits.
Consider wearing simple, dark-colored socks to a funnel, client meeting, or business lunch. But if the occasion is casual, you can wear something in subtle patterns and colors like gray. And, if you want to be experimental and go funky, you can try loud colors.
What color shirt should I wear with a blue suit?
A clean and crisp white dress shirt is mostly chosen to be worn with a blue suit, and you can never go wrong with it. A great alternative to a white shirt is a pale blue one; it also exudes a classic vibe and makes you look stunning. 
Moreover, colors like pink, light blue, and gray look incredibly stylish when paired with this cool-toned suit. You can give your suit a trendy twist by adding a printed shirt with it. Shirts with a white base color and stripes, checks, or polka dots on them are good options.
What color do shoes go with a royal blue suit?
Brown formal shoes harmonize pretty well with a royal blue suit, while black or burgundy shoes are the next best option. Brown shoes will give your ensemble the much-needed fashion lift. And going with black shoes is a simple and classic approach to finishing your outfit.
A royal blue suit might be a little extravagant for officers or business meetings, but it's great evening casual wear. A tan loafer or brogue with this suit is preferable for less formal gatherings. But for formal meetings, you can go with chocolate, coffee, or camel brown Derbys.
What color belt goes with black shoes and a blue suit?
Make sure your belt matches the color of your shoes if you are wearing formal shoes. So irrespective of the suit color, your belt should be black since you are wearing black shoes. 
And the next thing to follow is, don't mix casuals and formals together. If you want to dress formally, wear a black leather belt and black formal leather shoes with your blue suit. You should not wear casual shoes and dress belts, otherwise, you can end up looking less fashionable.
Can I wear black shoes with navy pants?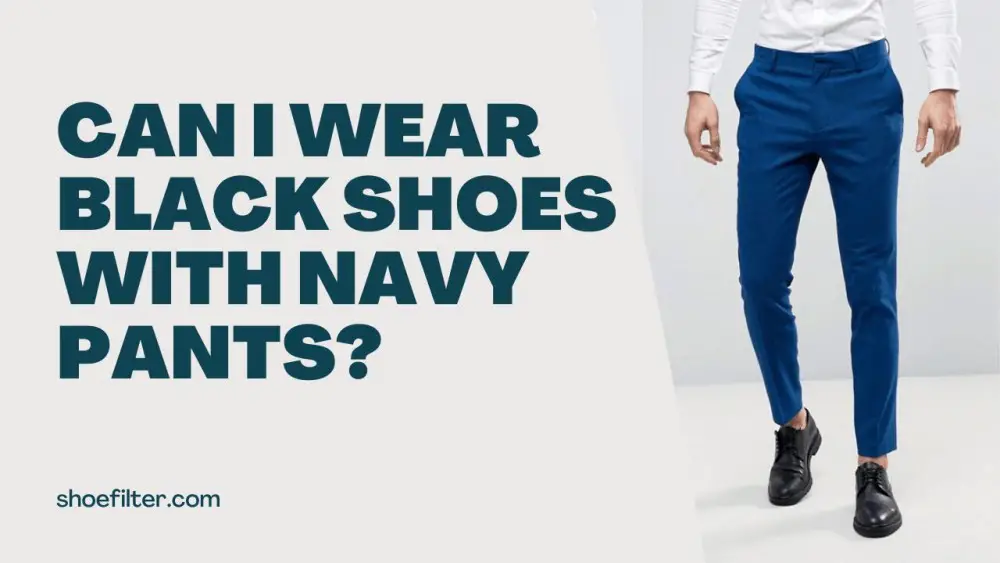 Yes, black shoes and navy pants can work together. If you are going for this combo, ensure two things. One-your shirt is light-shaded, white, or maybe pale blue, and two- your belt color matches your shoe color. Otherwise, it can be a fashion faux pas.
The rule for matching pants and shoes is that the darker the pants, the darker the shoe. So, black shoes are appropriate for navy pants.
Can you wear black shoes with blue jeans?
Black shoes and blue jeans go well together and appear casually elegant, so the answer is yes. However, no matter how dressy the black shoes are, wearing blue jeans and black shoes to an event that is more formal than smart-casual is a no.
Dressier black shoes like Monk Straps or Derbys look better with blue jeans that have a more formal appearance. And for a more casual event., boots and sneakers will look best.
Will a blue tie go with a blue suit?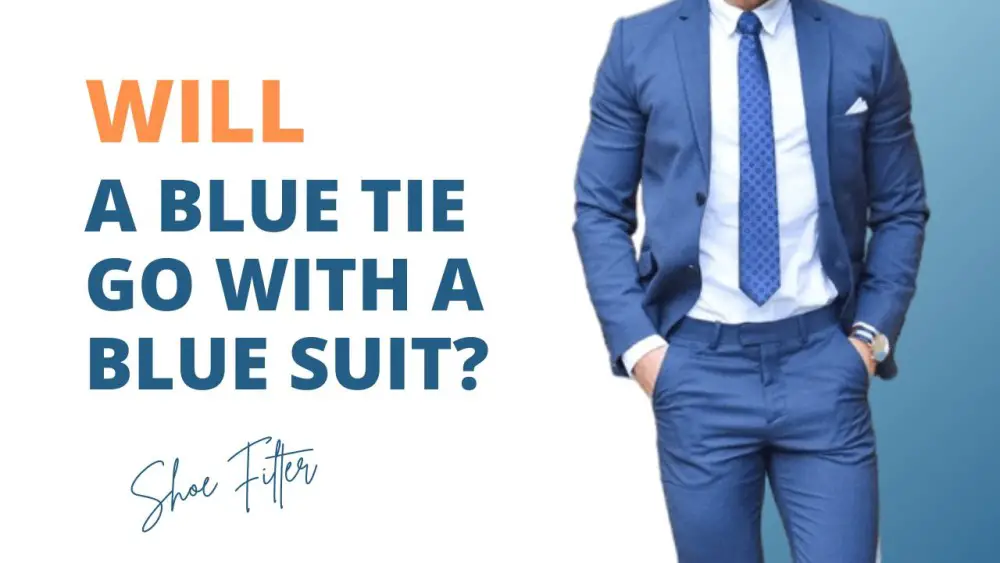 Blue suits are pretty versatile; they go well with almost any color tie. So, yes, a blue tie will go with a blue suit. 
In this ensemble, you need to vary the tones. Consider wearing a tie in a deeper shade of blue with a light blue suit. a light, powder blue tie with a dark blue suit; on the contrary, a light blue tie coordinates a dark blue suit. If you want to keep the colors of the suit and tie identical, then choosing a patterned tie will be an amazing approach.
Can you wear black shoes with light blue jeans?
Yes, you can wear light blue jeans and black shoes together. Due to the high color pairing adaptability, black shoes can be combined with almost any color; light blue is one of them.
The occasion must be casual, given that the jeans are light blue. Shoes that are appropriate for casual settings include sneakers, moccasins, loafers, or boots. And for dress shoes, the simple rule is to get shoes that shine, whether they be leather or faux leather. 
Can you wear black heels with a navy suit?
Yes, you can wear black heels with a navy suit, and it's better to stick to closed-toe heels to appear fashionable. A particularly good choice is a white shirt, black heels, and a slim-fit navy suit. It gives off a sleek and sophisticated appearance.
It's best to keep things simple when going for black heels and a navy suit. A little ornamentation, neutral color coordination, and simple fabric will rather help you look stylish.
Final thoughts
Hope you won't be any more hesitant to try out experimental color combinations like black and blue, which are generally considered two mismatched colors according to the so-called fashion rule.
Before ending today's discussion, here are a few tips for you to rock any suit ensemble. Firstly, pay attention to the fit of the suit because it influences how the outfit looks and how well it accommodates your body. Secondly, whatever shoes you wear, try to keep them clean and polished. And finally, keep in mind that the outfit should look good as a whole, so choose the colors wisely.
Hope you select the best combination for yourself!