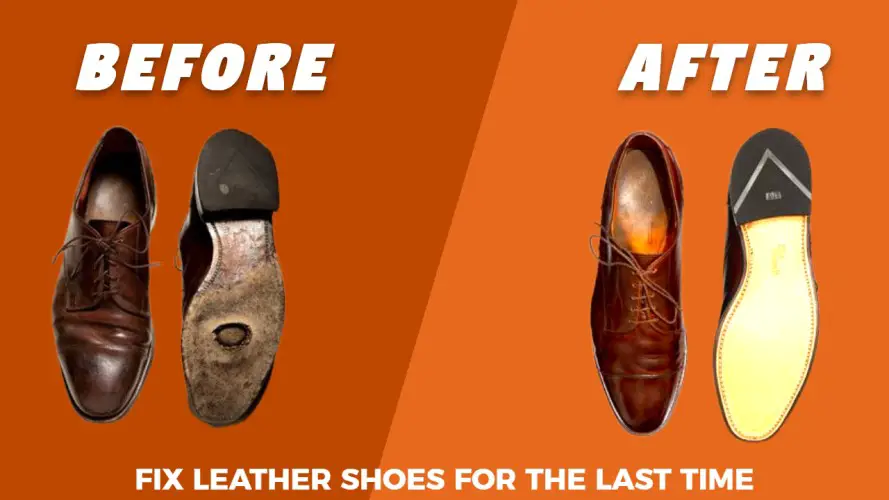 When you find your leather shoes drying out, you will start seeing cracks in them. If not for dried-out shoes, you would certainly see these in overworked pairs. 
Although these cracks are not downright fixable (unless you talk of entirely new shoes or a changed skin), you can always try and recondition your leather.
But how should you do it? In the process of learning how to fix cracked leather shoes, you will find that it begins with cleaning to remove debris, using leather filler(s), and taking advantage of conditioners to keep the shoes thoroughly moisturized. 
With a decent amount of care, you can get rid of the cracks and successfully blend them in. So let's learn how!
How To Fix Cracked Leather Shoes?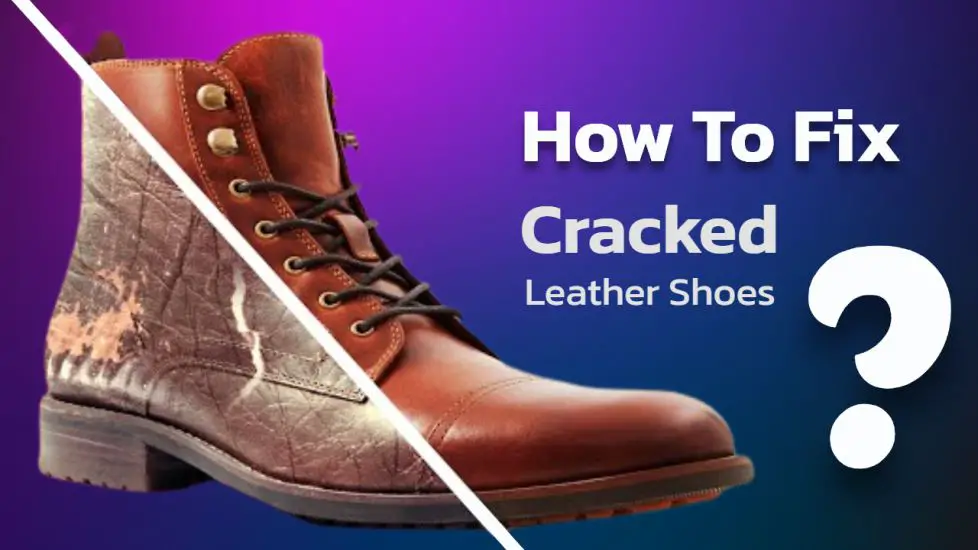 If you have cracked your leather shoes or have made any holes/rears in them, you need to fix them by performing two broad steps: cleaning and repairing. 
In order to clean and repair the shoes, you will need a leather repair kit, one pair of scissors, newspapers, soap/soap water or leather cleaner solution, shoe polish, and a clean cloth, color-matching leather dye kit, leather sealer (matte/glossy), 1200-2000 grit sandpaper, disposable cups, and a plastic knife.
How to Clean Leather Shoes?
By optimizing one or more of the steps below, you can clean your leather shoes:
If you see green spots on your shoes, you should first take the shoes outdoors to prevent the formation of mold/mildew spores in your home. Now, you will scrub the areas with a toothbrush/dry cloth after dampening them with some warm water. Remember to throw away the brush/towel to avoid the spread of mold spores. After that, you should dilute bleach and water and spray it in the storage area of your leather shoes to neutralize all present spores.
Use a microfiber or cotton cloth to scrub your shoe. Dampen this lightly in a warm soapy water solution and wipe all of the shoes removing any visible grime that you see. At the same time, remember not to moisten your shoes with a dripping wet cloth as so much water doesn't fare well with leather. 
When restoring damaged leather, it is common to use saddle soap. You can dip a cotton cloth into this concoction of soap and scrub your leather shoes in circles. If you see the leather lighten, don't panic, as it simply means that the soap is drawing out all the dirt. Keep scrubbing the shoes until they dry. Remember to avoid cleaning the shoe with a cleaner that has lye, as it tends to be harsh on the leather.
You can also invest in a leather maintenance kit to have all the cleaners, conditioners, fillers, and applicators in the same place.
Read also: How to Make Shoe Non-Slip for Work
How To Fix Scuffs on Leather Shoes?
To fix the scuffs on leather shoes, restore the cracks, and get rid of all these unwanted inhibitors in the beauty of your favorite pair, here's what you can do. 
Remember, these steps come only after you have cleaned the shoes in the ways mentioned above.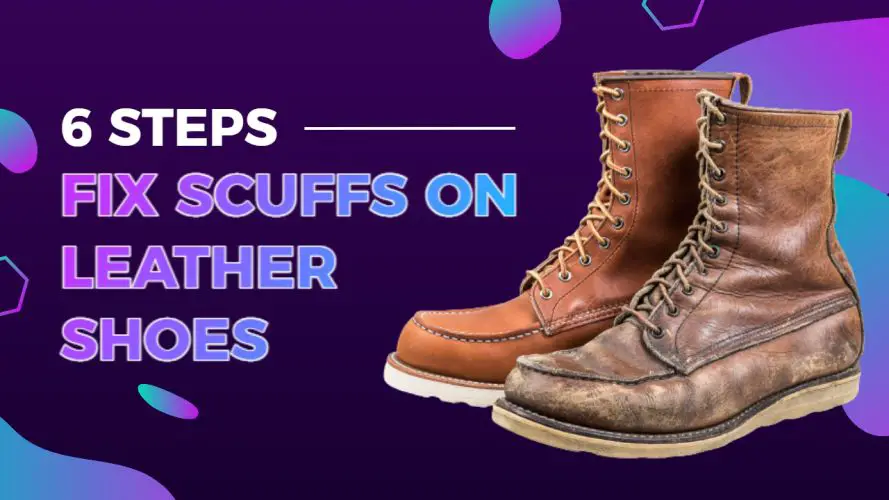 Dyeing
For this, you will need access to leather dyeing kits. In the kit, you will find a tint color and a base color, with the latter being black/brown and the former coming in varieties. Most commonly, a brown shoe is given a yellow tint. 
Now, after you have mixed your dye, you will need to apply a little of it on a brush and use it to dab the area of the leather shoe that you want to fix. 
Start from the center of the shoe and work your way out. You will dab, not brush, to remove apparent strokes in the finishing of the shoe. Then you can air dry the shoe.
Filling
Now you will take a plastic knife and use it to fill the crack with a leather filler. You will press the filler of your choice into the cracks and crevices of the damaged shoe and smooth it out with the knife to save your time in the next step. 
Let the filler dry as directed. Keep repeating till the uppermost layer of the filler matches with the surrounding areas. Don't worry if the filler appears a little darker, as it will eventually be sanded.
Sanding
After the application of the filler has been successful and completely dried, now is the time to sand the filled spaces using low-grit, 1200 sandpaper. While you are sanding, keep wiping down the crevices periodically using a clean cloth and touch the surface with your fingers to find imperfections. 
If your shoes are made of patent leather, you may follow up with higher grit, 1500-2000 sandpaper to remove the imperfections. Finally, you will clean with a leather cleaner.
Dyeing Again
Once the cracks on your shoe have been totally filled and sanded, you will apply the colors. Start by using a dye matched to the particular color of your leather shoe, dab it on and blend the colors. 
Remember that even in this case of the dyeing process, you will start right from the center of the shoe, repairing the area, and then work your way out to the exterior edges. How does this help the shoe fixing process? 
When you start from the center, you put the highest concentration of the dye on the repairing area and gradually feather it out to the adjacent areas to blend perfectly. Now, you will again allow the area to dry and apply another coat of the dye.
Sealing
You will find 2 kinds of leather sealers in the market, glossy and matte. You can also mix them in different ratios if you want to get the exact level of the sheen your leather shoe has with them. Whether it is a satin finish or a tender shin you are after, a gloss to the matte ratio of 1:1 with subsequent adjustments as you apply the sealer is always a great way to do it.
One thing that you need to make sure of is that you have to apply the said sealer onto the repairing areas using a new brush. You won't use the same brush you used in the dyeing process. Now here, too, you will dab the sealer from the center and work your way out. Next, allow your leather sealer to dry completely.
If you find that the sheen of the rest of your shoe is unmatched to the repairing areas, adjust the previous ratios of gloss and matte sealers that you had used and then repeat the process. 
Make sure that you are applying a minimum of 2 sealer coats, allowing them to dry completely between each coat. Once you have applied the last coat, apply any of your choice liberally onto the shoes.
Drying and Polishing
In the final step, you will need to apply a bit of neutral shoe polish to protect the pair and make a last hit on the shine. Allow the leather shoes to air-dry completely for at least 24 hours after the end of all the processes before you choose to wear them. 
How To Prevent Cracks and Tears Forming in Leather Shoes?
If you want to prevent future cracks and holes in your favorite pair of leather shoes, and let them look as good as new for years to come, one thing that you need to do after the repair is cleaning and polishing them on a regular basis. 
You can also keep in hand a decent leather conditioner that can keep your pair of shoes moisturized. This will prevent them from cracking pretty easily and are very easy to use, as all you need to do is rub the conditioner in circular motions on the shoe.
Can you put olive oil on leather boots?
Yes, you can. Putting walnut oil or olive oil on your shoes work great as you can use these oils to smoothen the leather.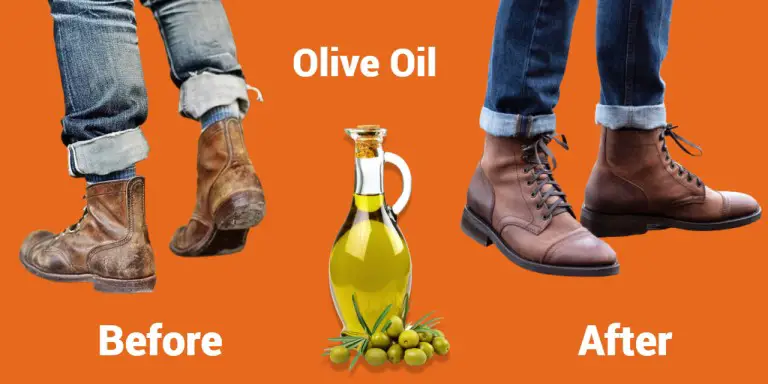 These happen to be a great alternative to conventional shoe polish, which sometimes may or may not be compatible with your leather shoes. With the oils, all you have to do is use a little of it and polish the shoes with a cotton cloth. 
You can try it at the heel of your shoes to check for compatibility before going all out on the entire shoe.
Can You Super Glue Patches on Tears or Holes in Leather Shoes? 
No. It is a really bad idea to use super glue on your leather shoes. 
This super glue or gorilla glue is not flexible but hard when dried; it can be damaging to your shoes and may even discolor the leather.
However, if your leather repair kit has a kind of glue inside, you will find it safe to use as it has been tried and tested on leather.
Can Scratched Leather Shoes Be Repaired?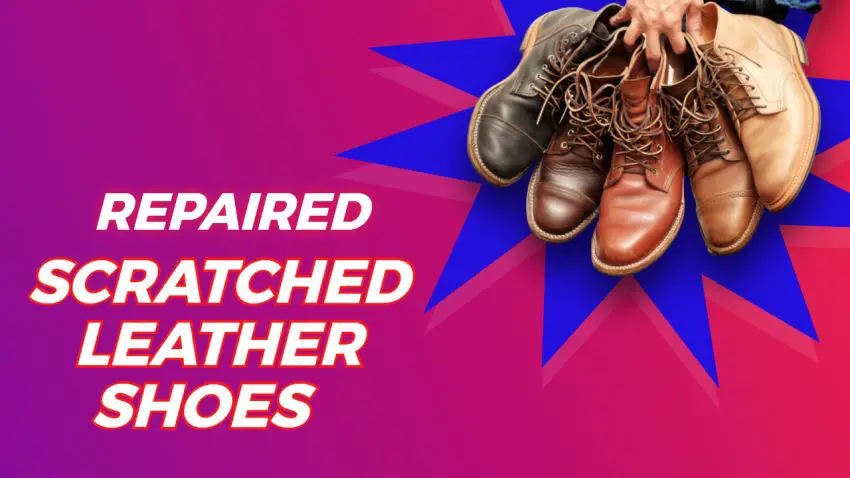 Yes. Just like cracked leather shoes can be fixed, the scratched ones can also be fixed using a leather recoloring balm or some similar leather paint. 
You will need to apply only a few drops of one of these on a cloth and rub it all over the scratched surface till the scratch is not visible anymore. For deeper scratches, you can use the same process as that of cracked leather shoes mentioned above.
Read more:
can you spray paint leather shoes
Can I Put Shoes In The Dryer?