Gray suits are by far the most adaptable suits available, coming in a variety of colors and with numerous ways to dress each one. When done successfully with proper accessories, this ensemble can make you look seamless and natural. 
Many of us will agree that shoe color is one of the main elements that can't go wrong when wearing a suit. Gray is a neutral tone, so experimenting with the shoe color rather than going for the same-old black leather shoes can make you look stylish and bold.
Now, the question you are here for. Can you wear brown shoes with a gray suit?
The answer is YES! You can never go wrong wearing a pair of brown Oxford Derby shoes with your brand-new gray suit. Camel, burgundy, and lighter brown these colors complement gray suits very well.
Before investing in brown shoes for your gray suit, let's learn some more about the correct shade, dos and don'ts for the gray-brown, correct styling according to the formality of the event, and more! Here is some useful information for you! 
Gray Suit, Brown shoes: What Color Shirt?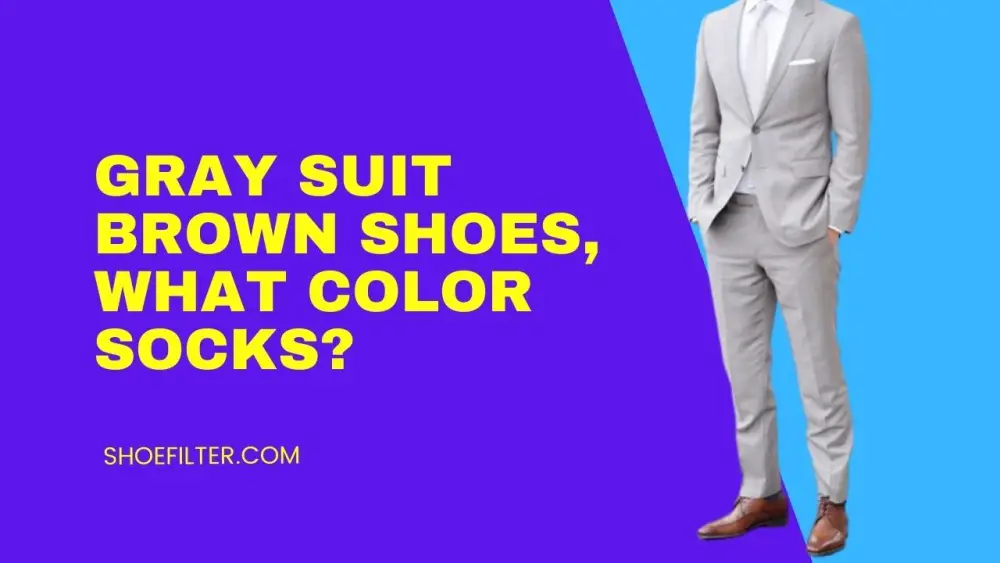 A classic white shirt will actually complement your gray suit-brown shoe ensemble, making you appear appealing without going overboard. Light-colored shirts like pastels, maybe with light patterns, can also look great. But you need to be careful about how balanced your entire outfit looks.
You can pick an oxford shirt in white or light blue if your suit is in the medium to dark range, provided that the shoes are in the dark shade too. This will bring a subtle contrast, making you look attractive. And for light gray suits, lighter shirts like linen look good; you can choose tones like pastels for the shirt, which are appropriate for casual or summer settings. 
Gray suit, Brown Shoes: What Color Socks?
According to conventional thinking regarding men's fashion, you should always coordinate your socks to your pants, so if you can find decent gray dress socks that exactly match your gray pants, go for it. It will create a smooth visual that will make you look professional. However, if you can find the exact shade, try going one or two shades darker. 
The next best option is the navy dress socks; they can be worn with literally any shade of gray. This gray suit-brown shoes-navy socks ensemble goes well with both formal and semi-formal events and makes you look chic.
What Color do Shoes Go With A Gray Suit?
Though you'll see most men opt for a class black oxford shoes with almost any suit, the ones that actually stand out with gray suits are brown shoes. Since gray suits are a little less formal, colors like burgundy or dark brown bring about a casual and flexible look.
The charcoal suit is the most formal of all the colors of gray. With this one, you can stick to darker hues like black and burgundy and choose Oxford shoes for the style. And for light to medium gray suits, brown shoes seem more affluent and more intriguing. Tan or brown suede loafers are good choices for casual business events.
Why Do Men Wear Brown Shoes With Gray Suits?
Whilst most of us subconsciously pick out the black pair of shoes from our shelf for pairing with almost any suit, brown shoes with a gray suit are surprisingly a striking combination. This combination complements a range of complexion tones and undertones effectively. And helps you to stand out from the crowd without being over the top. 
It's not as daunting as it would seem to wear a gray suit and brown shoes. Brown shoes actually provide balance and uniqueness to your gray outfit. You just need to choose the perfect shades to look perfect. Don't go overboard with either the patterns on your suit or the color of your tie; keep it monochrome, and you can rock this look!
Can I Wear A Gray Suit To A Wedding?
Gray suits are an absolute yes for a wedding. If the event is semi-formal and not a black-tie one, a gray suit can look dapper. You can level it up with different colors to give it a more sophisticated and contemporary style, flaunting yourself at the event.
You can pick a lighter shade of gray if the gathering is informal or during the day. And a deeper charcoal gray suit would be appropriate for an evening wedding. Also, ensure that the suit fits you precisely; a slim-fit suit is always appreciated. Add some flair to your ensemble by pairing it with non-striped ties, silver accessories, jetted pockets, or maybe a vest, and slip on a pair of brown or burgundy shoes.
Do Black Pants Go With Brown Shoes?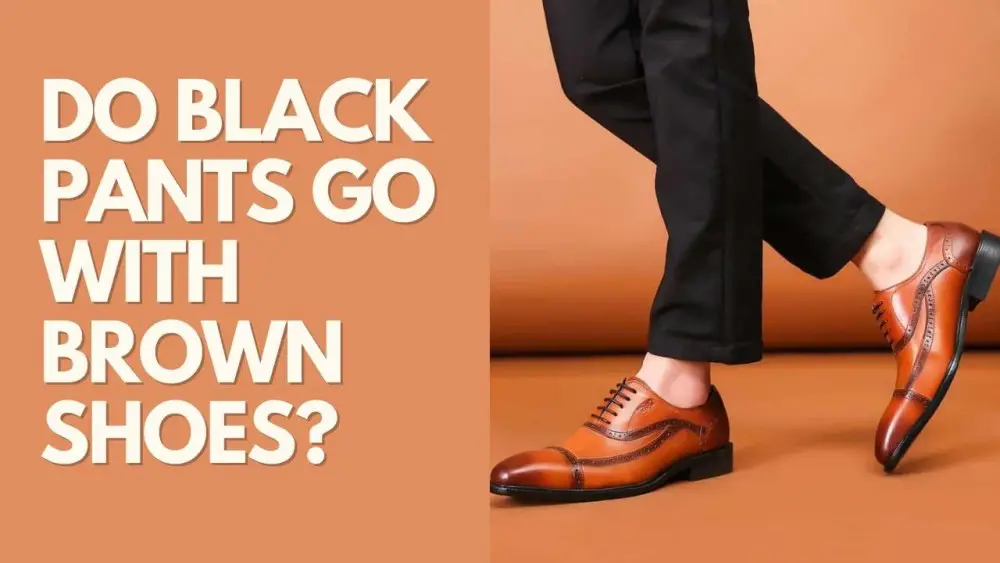 For casual gatherings or semi-formal events, the black pant-brown shoe combination is fair game. However, pairing them with the rest of the ensemble can be a little bit challenging as they don't naturally coordinate the way any blue suit and brown shoes do.
Keeping it casual and maintaining the contrast is what will help you pull off this look. One of the most stunning and elevating casual combinations is a white or navy shirt, black pants, and dark brown shoes. Again it is also feasible to make this outfit suitable for formal occasions. For it to work, stick to shiny brown leather Oxford or Derby 
What Color Belt Goes With A Gray Suit?
A wonderful option for a casual yet fashionable outfit is a gray suit paired with a brown leather belt. Gray suits in a variety of tones, notably mid and pitch grays, go well with brown belts and shoes. And the second best option is a black leather belt.
All leather must match, according to one of the basic rules of fashion. Therefore, if you are wearing black leather shoes, your belt must likewise be made of black leather, and the same holds true for brown leather.
What Color do Slacks Go Well With Brown Dress Shoes?
No matter what shade your brown shoes are, navy blue looks wonderful with all. And, regardless of the gray's hue, brown will also go well together. So gray and navy blue slacks are the finest slack options for a pair of brown shoes. White, olive, and burgundy these colors will also harmonize well with brown dress shoes. 
If the color of your slacks and shoes lacks any contrast or has too little contrast, then it won't work that well. Like, tan slacks with tan leather shoes won't pair as well as they will with dark brown shoes.
Can I Wear Brown Shoes With A Black Purse?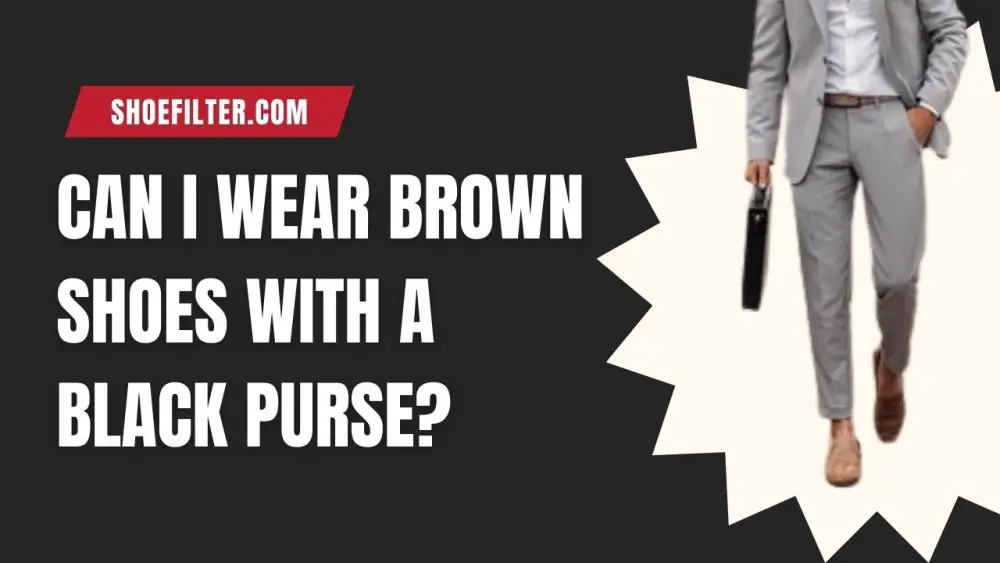 Although black shoes-brown bags pair pretty well, you can't say the same thing for the black purse-brown shoe combo. But if you still want to try this look, go with tan shoes, they are considerably easier to match. Pure black leather accessories can be worn with great elegance without having to worry too much about coordination, so you select a leather purse for your outfit.
Handbags and shoes should be viewed as accessories and elements of your overall outfit. As long as they complement your ensemble, you can harmonize with both the colors and materials in purses, shoes, belts, or watches fine.
What To Avoid When Wearing A Gray Suit And Brown Shoes?
Something you'd want to avoid when wearing a gray suit and brown shoes is, keeping the shoes lighter than the suit. 
And, if you're choosing a gray suit as an office dress, it's best to avoid the lighter shades and go for something from the mid-gray spectrum. Otherwise, you'd run the risk of looking less formal. 
The gray suit still exudes a classic appearance when worn with brown shoes, but it's somewhat bold. You need to pick the color of both the suit and the shoe based on the formality of the event and the season of the year. The trick to following here is darker colors for colder seasons and lighter ones for summer and spring. And the lighter the suit and shoes, the less formal the event.
Final Words
The unusual pairing of brown and gray actually works magnificently if done the right way. It's an interesting variety to your wardrobe, which is quite versatile. Before ending today's article, we have pointed out some factors for you to consider if you want to pull off the gray suit-brown shoes that look perfect! 
Firstly, don't play too much with the contrast if you are unsure about wearing the gray-brown ensemble; try matching your outfit as a whole. Light brown shoes with a light gray suit, mid-tone brown for a mid-gray suit, and dark brown for charcoal. Secondly, keep the event and season in mind. And finally, don't go overboard on the patterns and colors; a patterned suit or a loud colored tie may clash with the overall subtle look of your outfit. That's it!
You might get a lot more use out of your gray suit than you ever imagined with a few wardrobe adjustments. Best of luck with that!