For your information, Yeezy's pair of shoes are not cheap, so it's not a shoe that you buy often. That is very often I get questions like, is Yeezy 380 fit true to size? It's not a tough thing to answer, but for the right size shoe from Yeezy, most of the time, it fits perfectly. Still, there is a lot to tell you about Yeezy, because everything about this expensive shoe is not plain and simple. 
Everyone needs a different pair of shoes or silhouettes from the collaboration of Adidas and Yeezy. So one thing you guys should understand: brands like Adidas wouldn't collaborate with Yeezy if it had any size issues. Here I am to give you the idea, do Yeezys run small or big?
Furthermore, you'll have ideas about different models of Yeezy shoes and their size and wearing experience from me. So stay tuned here.   
Are Yeezy 350 Comfortable
Yeezy 350 is the most popular silhouette from Yeezy. Are Yeezy boost 350 v2 comfortable? Yes, it feels comfortable enough for running and other activities. But there is a concerning thing that you guys may not know. Yeezy 350 fits a bit smaller. It means compared to other brand's standard sizes like Adidas, New Balance, etc. it feels half a size smaller. So be careful; If you need room for your toes, then try a half-size larger silhouette from Yeezy otherwise, your toes may touch at the end of the shoe. 
But in terms of comfortability and flexibility, there is nothing concerning. It feels light and soft from the inside. Although you can see your toes pushing the side of the silhouette from outside, the shoe is absolutely perfect if it doesn't bother you. 
Do Yeezys 700 Run Big or Small
How does Yeezy 700 v3 fit is a burning question right now? Yeezy 700 has a true size that is not smaller than Yeezy 350 true size. It maintains the true size like Adidas, New Balance, etc., brands. But for Wide feet, you may feel a bit snug wearing this sneaker. So no need to get tensed thinking about if Yeezy 700 v3 run big or small. 
In terms of comfortability, the midsole of Yeezy 700's colossal Boost midsole is extremely comfortable to wear. And this sneaker style matches with baggy trousers and a loose jacket or shirt. 
When it comes about Yeezy 750 sizing, it comes in unisex sizing, and don't make a mistake in converting the size to the proper EU or US size. I would like to suggest you to use spray for cleaning the outside of the shoe other than using soap or detergent. 
How Do The Yeezy 450 Fit 
Yeezy 450 true to size? I would like to answer this question in a different manner. You have to be brave enough to purchase the 450 models. There are a few concerning things about this silhouette, but I never think these concerning things can be an issue. If you know how to deal with the sizing and other issues, then you shouldn't miss this beautifully designed model. 
Surely Yeezy 450 doesn't look like a traditional sneaker at all, but it is really a beautiful one. Yeezy 450 is one of the most comfortable wearing sneakers among other Yeezy models. It looks like a wildflower, but wearing it on any occasion will make you look absolutely blinder, no matter what you wear, jeans, gabardine or trousers.
The Sneaker feels a bit snug because it has a knit fabric upper portion. That's why I suggest you get a half-size bigger 450 sneakers for matching with your feet. But same as other models, for wide feet, even upper size may feel snug to you. And you know the knit fabric is more breathable for passing air, so this pair of shoes are pretty comfortable to wear.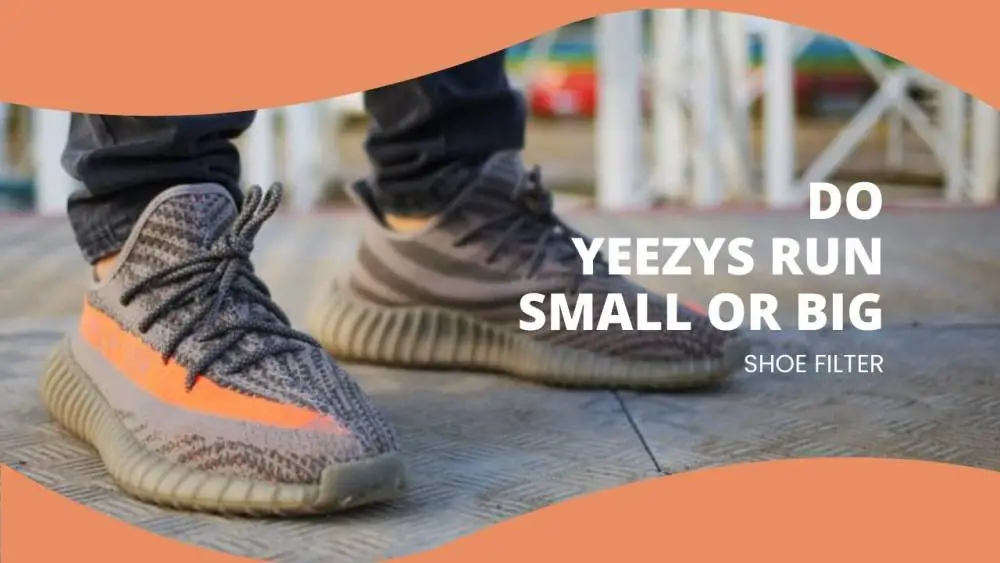 FAQs
Should I size up or down for Yeezy?
 – For the Yeezy silhouette, most of the models are not true in size. Most of them fit smaller than other Adidas true-size shoes. So it will be okay if you get a half-size smaller shoe than any specific true-size shoe.  
What size is a woman's 7 in yeezys? 
 – like men, Women's 7 US size is half a size smaller than Adidas's size. So if you want women's 7 in Yeezy, then you may try to get the 7.5, it means half size larger. 
How small do yeezys run?
 – Yeezys run half size smaller for most of the models. However, for Yeezy 700, you can have the exact size like Adidas shoes. 
What do you do if yeezys are too small?
 – it's not comfortable to wear small sneakers or shoes no matter which brand it is. If you find any Yeezy shoe attractive but not comfortable to wear, you should find the right size. The right size means your toes will have a box room in front of the shoe. 
Should I go half a size up for yeezys?
– You should go a half size up for most of the Yeezys shoes. Most of the Yeezys shoes have kit fabric on the up, so it takes a bit more room inside. Also, if you wear thick socks and wide feet, then it's better to have one size up. 
Why do Yeezys run small? 
 – Because it's originally for slender feet and made of thick knit fabric on the upper side. Furthermore, the midsole is the curvy one, so it has to fit perfectly for slender feet. For flat sole, you may feel a bit lose even in true size.  
Final Note
Most of us are not good sneakers. But these kinda expensive shoes deserve to be cleaned exquisitely and perfectly. You can wash the shoe by putting it in the washing machine, but you should be careful about detergent or other chemicals you use. Make sure you are using a crep protect solution to clean the shoes.