Do you have a severe injury in the leg, ankle, or anywhere close to them? You surely suffer a lot as it is not allowing you to walk smoothly or move swiftly as before. A walking boot can primarily realign the fracture and help you be normal in no time.
What would be the best and most effective tips for wearing a walking boot? This is the most relevant and crucial question as everything depends on how correctly you choose the boot, wear it, and do other activities following experts' advice. 
The list of tips starts with the confirmation of whether you really need a walking boot. Then you must know how to wear it accurately, how long you can wear it continuously and so on.
Mere putting the shoe on cannot help you get well in the expected time. Observe this effective guideline sincerely and apply the tips to recover magically!
Tips for Wearing a Walking Boot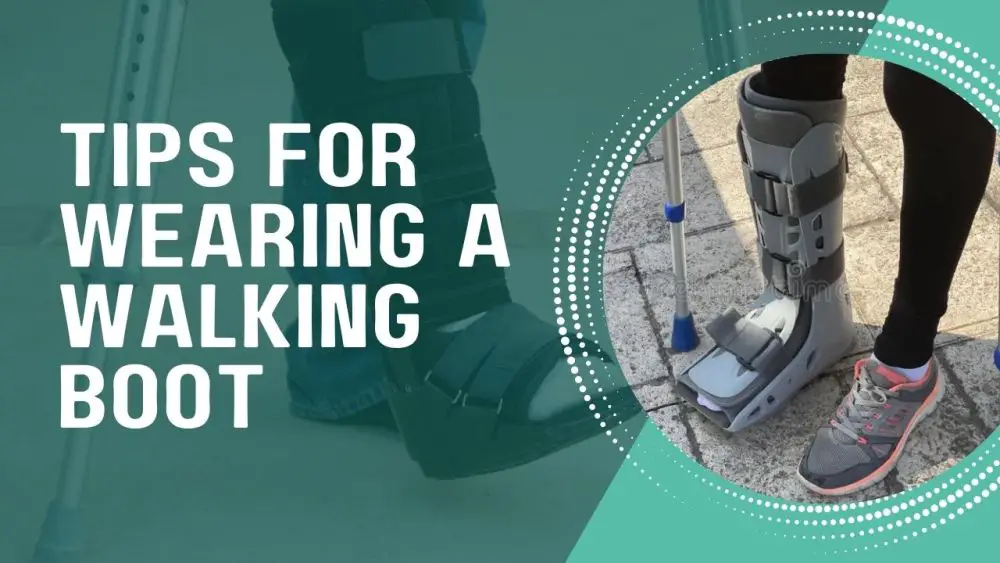 Before you wear a walking boot, you must educate yourself on all the ins and outs of this matter. We understand how much it means to you. That's why our experts studied the world of walking boots to ring in invaluable tips for you.
So, don't miss the guidelines here to get everything right soon!
When Should You Wear a Walking Boot?
Definitely, carrying a walking boot on the leg is not any popular fashion. Nobody would be a fan of this genre of footwear unless they are bound. So, you must know when or which situation makes a walking boot mandatory.
For a normal or minimal pain or fraction, you need not wear this boot. But when it is severe and doesn't show any symptoms to get well even after a long time, you can go for walking boots. If it is more painful and restricts you from moving, take a crutch as well.
But take nothing without the advice of doctors or experts.
How to Wear Walking Boots Properly?
Once you realize you should go for walking boots for getting the fracture realigned, you must then learn how to wear them properly. To reap the best of these remedial shoes, you must know the accurate process of tying them properly with your feet.
First of all, have a comfortable seat to deal with the boot and the entire process easily.
Now open the Velcro straps to enter your heel into the boot. Some may suggest taking the liner out of the boot, but it's unnecessary.
While placing the leg inside the boot, make sure that your heel has touched the very back of the boot.
Close the liner now; don't worry if the toes don't touch the edge.
In case you find it loose after wrapping both the bottom and top liners, push the required foam pads to fill the gaps in and make it comfortably tight.
Now fasten the straps, starting from the very bottom. Make sure that the wrapping is neither too loose to displace your leg nor too tight to stop blood circulation there.
Follow the instructions to pump the air chamber/s up. Again, when you put the boot off at night, you must let this air out.
As you are near to completion, stand and move some steps to be sure that the boot fits the leg perfectly.
Until and unless you wear the walking boots accurately, you can't hope to recover soon. Instead, conditions might deteriorate unexpectedly, as any misplacement of the boot may unsettle the fractures. So, follow experts' advice to wear, use and put off the walking boots.
Should You Take Crutches in a Walking Boot?
Before deciding whether to take crutches, meet a doctor or an expert. Crutches are not for any minor injuries or pain.
If you feel intolerable pain in the lower part of your body that makes it impossible to walk holding nothing, then you can think of crutches. Besides, when you have fractures or troubles on both feet, you might be in need of taking this tool.
Lastly, if you have been suffering from leg pain or any other trouble for a long time but observing no development, you should then try crutches and the doctor's advice to expedite the recovery.
Never take crutches, while the problem is not so severe. You should also stop walking holding this stick when you see much improvement.
What Should You Do to Maintain the Balance of the Feet?
When you wear only a boot, the leg you wear the boot will rise from the floor. Oppositely, the other foot will be lower, which will affect your smooth walking. 
In that case, insert a shoe balancer that will equal the height of both legs. Whether or not the pain or fracture is severe, you must use this balancer to make your movement easy and trouble-free.
On the other hand, if you wear walking boots on both feet, that would be so unfortunate and pathetic, then you need not worry about maintaining the balance. Boots on the two feet will increase the height equally.
How Many Hours a Day Should You Wear a Walking Boot?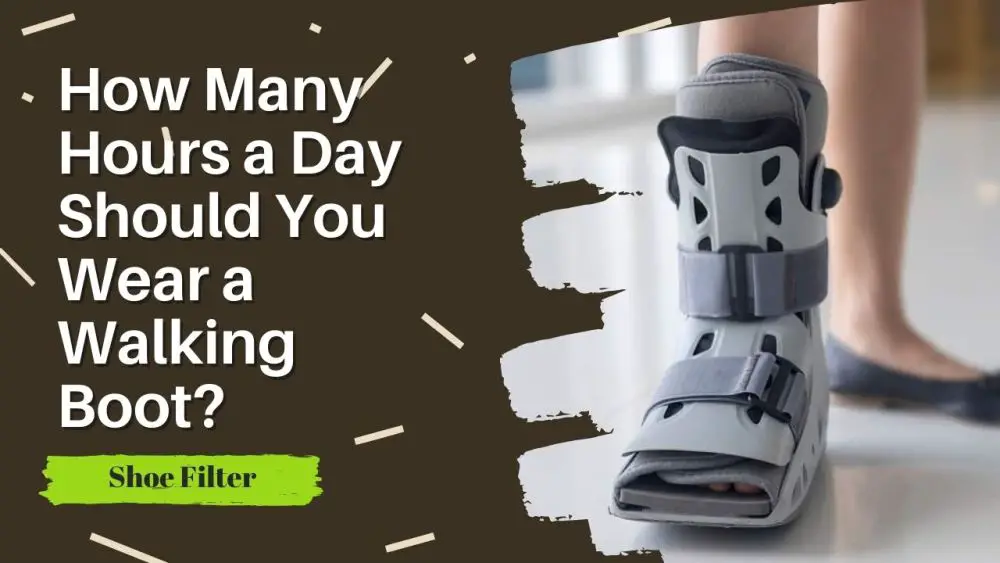 During the first one or two weeks, you must put the boot on all the time. Otherwise, the fracture won't come back to its normal condition.
But when you see some development, you can then lessen the duration. This time decreases gradually and at one point you can wear the boot only for 2 to 3 hours a day.
So, you see, things actually depend on the condition of the fracture and its development.
Should You Wear And Walk With Wet Boots?
Whatever you do, never ever wear a wet walking boot, let alone walk with it. In fact, you should never soak the shoe to protect the injured foot from further damage. Soaking boots or socks encourages more infections and makes it difficult and time-consuming to recover.
So, never wet the boot you are wearing to exaggerate your pain or fracture. To avoid water, wrap the shoe with a plastic bag while taking a bath. Try your best to avoid going out when it rains.
In case your feet sweat a lot, wear sweat-absorbing socks to keep the inside always dry and safe.
What Are the Other Areas to Be Careful During Wearing the Boot?
Mere using a boot or holding crutches cannot make things normal. For the quickest and perfect recovery, you need to maintain some particular matters strictly.
When you are getting shoes, especially walking boots, size matters most. The boot/s you are choosing shouldn't be smaller or bigger, tighter or looser. So, try to pick up the fittest one to recover soon.
As you are dealing with an injured or fractured leg, you must be careful while entering it into the boot. You cannot move the foot randomly; instead, deal with it carefully to avoid any further danger.
Un-open and then close the liner systematically, i.e. from the bottom to the top. While you fasten the straps, you will also follow this same toe-up way.
Sometimes, the shape of the boot may not catch your leg perfectly. Enter some sock liners to fill the gaps if you find it loose even after fastening the straps. It will hold the leg in place and avoid any unwanted movement.
As the sock liners absorb your sweat, they become dirty frequently. Keep them clean to stay away from all infections.
As walking boots are for realigning your fractured legs, they require much care and attention. You must ensure all these prerequisites to reap the maximum benefit.
Do Walking Boots Have Side Effects?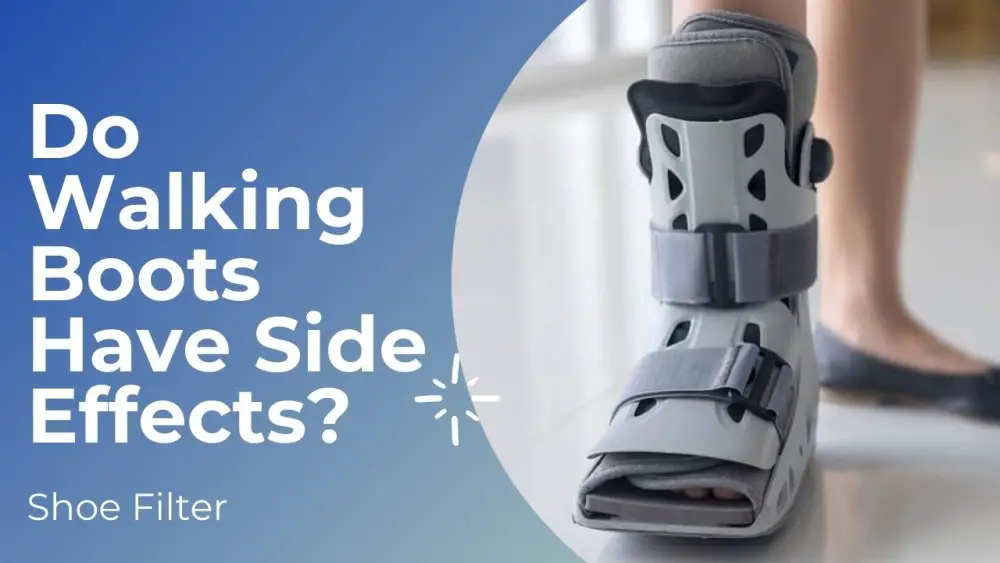 There is no unmixed blessing, neither is a walking boot. The very boot you wear to remove the pain or realign fracture sometimes becomes the cause for further pain.
Many wearers claim that they feel additional pain in the hip, back, or knee while putting this boot on. For carrying the weight and structure of this boot, many users feel its painful impact even for months after stopping putting it on.
No doubt, walking boots have some minor pain-generating issues. But the wonderful service this shoe gives deserves to tolerate that pain smilingly.
Related Posts:
1. Can You Drive With A Walking Boot?
2. Do You Need Crutches with a Walking Boot
3. How to Walk in a Walking Boot without Crutches
Final Thought
This guideline tried to ensure you all the relevant and effective tips for wearing a walking boot. This remedial job requires you to accomplish lots of activities at different stages. For example, first of all, you must manage the perfect size to fit it accurately.
While putting the boot on, do the task step by step. At first, untie the liner and straps from the bottom to the top; then enter the leg confirming that the heel touches the far back; now fasten the liner and straps, and if found it loose between the leg and boot, put some foam pads to make it comfortably tight.
When you wear the boot on one leg, you must find the other slightly down on the ground. So, insert some sock liners into it to balance the two legs. You must be cautious to avoid wet boots by any means. At the same time, you shouldn't put the boot off, particularly during the first few days.
So, don't forget to apply these tips in case you need to wear a walking boot.