Shoes are one of the most important accessories human bodies rely on. But you must wear a ring-fitted pair for safe and sound movement. 
But what if your new pair doesn't fit your feet being way bigger than you need? Don't worry, there are some clever hacks to shorten the width and length. Using elastic bands, heel strips, inserting new insoles, wearing socks or footies, etc. are some of the easiest solutions. 
On that note, we came up with this detailed guideline on how to make shoes smaller that comprises the 10 best DIY hacks you can try right at home! Moreover, they are pretty economic as well.
So, stay tuned till the end to learn more about these low-cost solutions! 
Can You Fix Shoes That Are Too Big?
Yes, you can. If you buy a new pair of heels, sneakers, boots, or dress shoes that run bigger than your actual size, you can fix it by following some DIY techniques like wearing thick socks, spraying water, and then blow-drying the fabrics, inserting a cushion at the back heel, etc.
Shoes can run bigger either from the beginning or they can stretch over time due to multiple usages. Whatever the case is, you can always fix the issue by following some handy hacks. 
On top of that, you don't need to run to a cobbler instantly. Instead, try the hacks at home all by yourself as the accessories needed are readily available. Moreover, they don't cost a fortune. So, why not try to make shoes tighter that run loose to avoid leg injuries and discomfort?
How to Make Shoes Smaller? (10 DIY Hacks)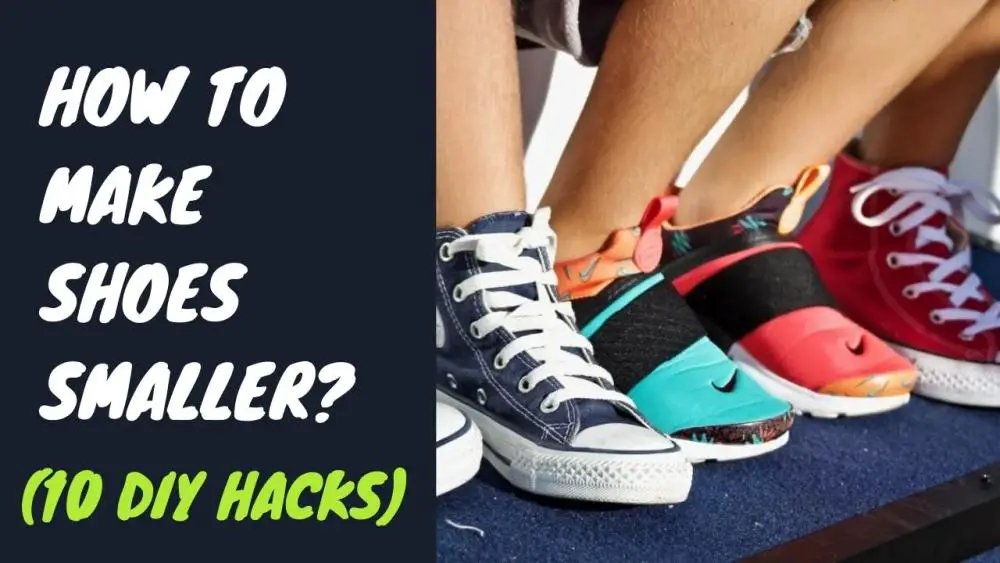 Sometimes you need to repair your shoes, be them flats, heels, or sneakers to make them fit perfectly when they run loose.
Although socks and shoe inserts are the quickest possible solutions to this common problem, there are some other great ways of shortening and narrowing your shoes as well. 
Below, you are going to get ten instant hacks to fight back this unexpected situation. Let's dig deeper!
1. Using Heel Liners
Use heel liners to shorten your favorite pair of heels. Though this is a more popular way of keeping blisters away, it works amazingly well when it comes to reducing the length of the heels. Basically, heel liners are 3″ thick strips that are mostly known as heel inserts. They also protect your feet from slipping out in case you are walking fast. 
Buy these little strips. Then place them at the back of your heels and see the magic. Your larger shoes will considerably lose some length resulting in a better fit.
2. Wearing Socks
The next easiest way of making shoes smaller is wearing socks. You can prefer either thick socks or wearing multiple socks at a time. Naturally, they will bulk up your feet making them a perfect fit even for looser shoes. Not only is it the easiest way but also the cheapest possible solution to turn your loose fitted shoes into a snug fit.
But don't try these on hot summer days as you'll end up having heavy sweating. Also, the hack doesn't work for open shoes where socks are not necessary. 
3. Shoe Shrinking
Shrinking your ill-fitted shoes is quite a clever trick, although you need to be careful enough not to damage the fabrics. 
However, all you need is to use water in this process. Get yourself a spray bottle and fill it with water. Then spray water all over the shoes, not letting the shoes get fully soaked. 
Although drying the wet shoes under the sun is preferable, you can use a hairdryer as well. Just be sure not to hold it too closely. Several repetitions of the same way will eventually turn your shoes tighter. 
Besides, you can try the drying process while wearing the shoes. This will lead the shoes to adjust your foot shape perfectly. 
Also, don't forget to use conditioners for leather and suede shoes. 
4. Stitching Elastic Bands
Using elastic bands to tighten shoes is an effective way. But it needs some time as you need to sew them inside the shoes. First, stretch them with some safety pins and then stitch them. After that, release the safety pins. By pulling the shoe materials together, this method will compress the shoes to close-fitting.
5. Using Insoles
Another easy-peasy way of making bigger shoes fit right is using full insoles. Not only do they provide better support while running or walking but also add some extra cushioning. 
Most importantly, they fit most of the shoes, be they heels or open-toed ones. By covering up the extra space inside the shoes, insoles easily make bigger shoes fit snug. Furthermore, they are available everywhere in a reasonable price range. 
6. Filling In the Empty Space
Looking for the fastest solution to make shoes smaller within a minute? Try using some cotton pads, toilet paper, or soft old cloth to fill in the empty space at the tip of your favorite footwear.
Well, this method is particularly suggested when you are in a hurry. But male sure you use comfortable things to stuff the toes. Otherwise, you cannot walk naturally which will result in leg aches. Besides, you need to remove the stuff regularly after every walk as it will be smelly soon. 
7. Inserting Big Shoe Filler
Are you having a hard time fitting your shoes that run larger? Rely on shoe fillers to fill in the toe box and have a more comfortable fitting right away! 
Similar to the shoe inserts, shoe fillers are little in shape but very impactful to reduce the shoe length. You need to buy quite big fillers and insert them inside the toe box. 
Also, remember that this process is only applicable when the shoes run a half or one size bigger at best. To fit one-size larger shoes, extra large shoe fillers are the best option. 
8. Wearing Footies
Those who literally hate piling on the socks can wear footies. They play the same role as socks by tightening your shoes but in a more fashionable way.  
Actually, these are known as hidden socks which offer numerous styles and colors. If you combine it with your shoes perfectly, it will be unnoticeable even by you. 
9. Using Ball of Foot Cushions
Sometimes placing a full insole can be uncomfortable. In that case, try the ball of foot pads for cushions that work pretty similar to the full insoles. In fact, they offer the same cushioning and grip but do not create any discomfort. 
As they sit right under the balls, you can hardly see them from outside. Besides, the foot cushions will elevate your feet a bit more to adjust to the toe straps. 
Moreover, you can use them to narrow flats, heels, boots, etc., more preferable for open-toed sandals though!
10. Visiting a Professional
If you cannot succeed by following any of the above methods, repair your shoes with a professional cobbler. Also, a new pair of shoes need more cautious mending. So, cobblers will be more efficient to do the job accurately. 
But professionals are more expensive than any other sector. So, visit them if only your shoes are new or highly valuable. 
What Happens If Your Shoes Are Too Big?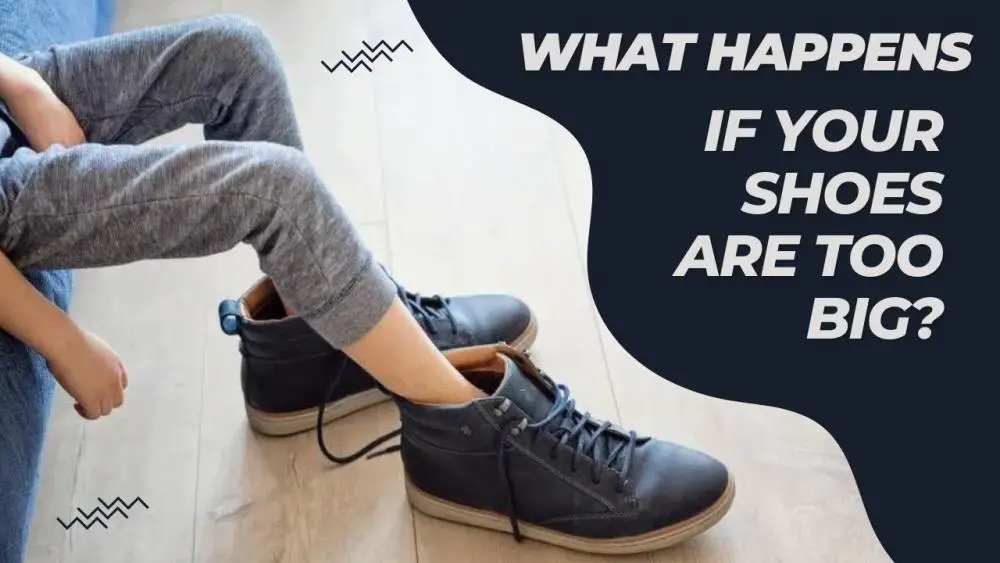 Although bigger shoes can be made smaller, too big shoes are not preferable in any way. They can affect your legs negatively causing injuries and posture issues. In fact,  a single misstep can lead to serious injuries as you cannot maintain balance wearing oversized shoes.
With that being said, shoes that are too big either should be repaired to fit appropriately or stop being used. Because if it's a misfit to your feet, prolonged walking and running might lead to the feet being dysfunctional.  
How Can You Make Wide Shoes Tighter?
Suppose, you've bought a wide pair of shoes but your feet are narrow. No more worries as a quick and easy DIY way is out there to get you out of this mess. 
On that note, inserting heel liners would be of great help to tighten the spacious inner area. If your feet are too narrow, you can even place liners on both sides. In the case of shoes with laces or straps, tying the strings compactly makes oversized shoes smaller and narrower.  
How to Make Shoes Smaller Without Insoles?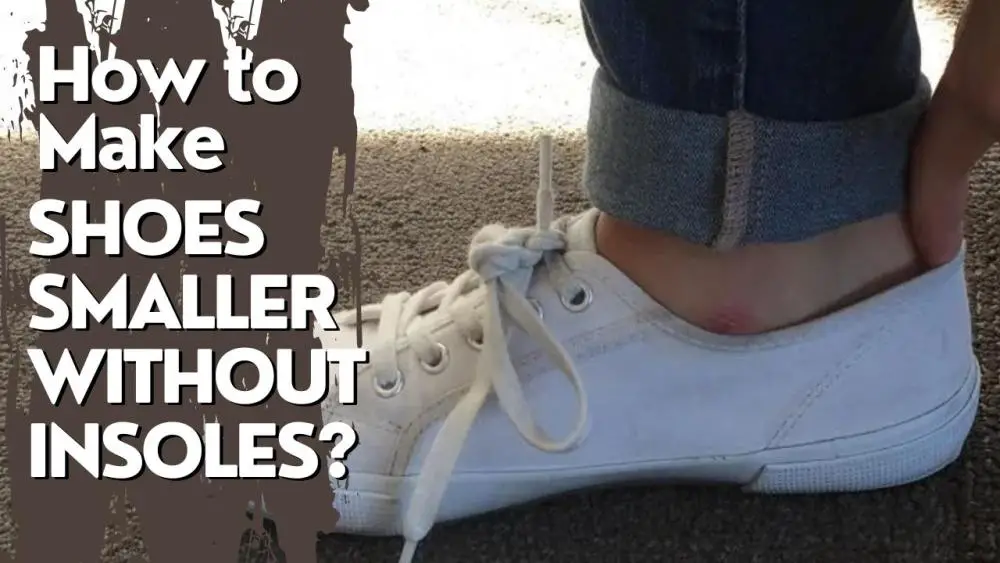 As you all know, insoles are unfailingly effective to tighten your shoes. But you can also make big shoes small without them. 
In order to do that, you can adopt several methods such as using cotton balls or paper towels in the toe box, blow-drying the inner side of the shoes, wearing socks after soaking them into the water, etc.  
Similar to the insoles, these steps also conceal some space inside and make the shoes smaller. 
Can a Cobbler Make Shoes Smaller?
Being professional in this sector, cobblers are the most reliable persons whom you can depend on to fix your bigger shoes. As they have the right tools and accessories, it's easier for them to resize the larger shoes into closed-fitting ones. 
So, put your trust in them to shorten your favorite shoes without any marks. 
Final Words
To sum up, all we can say is that getting the right size shoes is always preferable. But life doesn't go as planned sometimes. So, you can end up buying bigger shoes and it's completely okay. If you cannot change the shoes, try the simple hacks above and let them fit tighter. 
However, to make your shoe-shrinking journey smooth and spontaneous, you need to be careful enough. Please follow the steps exactly described in this how to make shoes smaller (10 Hacks) guideline. Any exception might lead you to get injured. 
If you don't find the shoe tightening tricks convenient enough, try visiting a cobbler fast to make the best use of your favorite shoes.