Do you find wearing wetsuit boots unpleasant only because they produce a disgusting smell? It's not only your problem; almost all the wearers suffer this same odd situation. But the good news is you can protect the outfit from this unwanted and embarrassing odor!
How to stop wetsuit boots smelling? The first task you need to do to stop the smelling is destroying the amicable environment for its growth. So, wash them with clean water so that no bacteria can find their home inside. Use some washing materials specially made for such wetsuits. And follow the proper ways of hanging and drying them up.
As you wear these booties in the rain or water, naturally they will spread some smell. You can reduce its extent following the effective guidelines of the experts.
How To Stop Wetsuit Boots Smelling?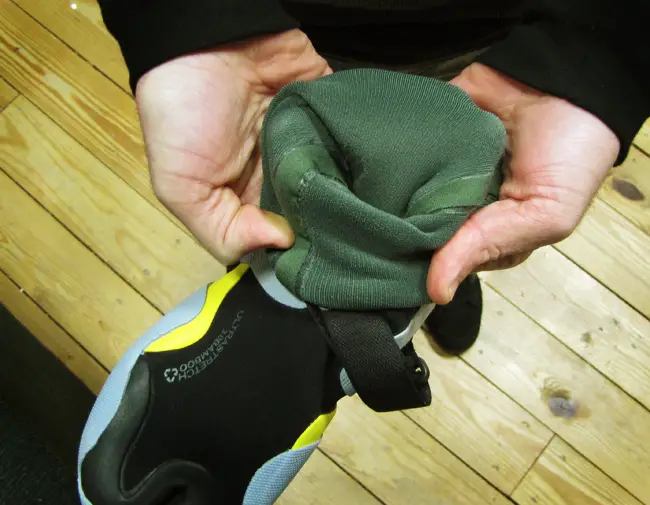 How To Stop Wetsuit Boots Smelling?
You must be looking for ways of getting out of the odd smell your wetsuit boots emit. We understand your need, so our experts started studying this issue extensively to find out its remedy. Let's look into their suggestions to make wetsuit wearing enjoyable.
Stop Putting Them on Continuously
If you wear shirts or pants ceaselessly for several days, they spread an unpleasant smell. When you do this with boots that soak water all the time, you can easily imagine how terrible it would be. So, the best step you can take is not to wear the same boots for a long time.
In case you dive or work with wetsuit boots for too long without putting them off, all kinds of bacteria get the possibility to grow fast. To kill the ideal atmosphere for bacteria, you should put off the boots after your task is done.
Then follow the latter steps to achieve your goal.
Wash the Boots Properly
Washing the boots regularly and keeping them clean always is the most important task to keep the boots from smelling.
After you take them off, you should not put them off for a long time. Instead, you must wash them in cold water so that all the dirt, germs, or bacteria get washed away. If possible, apply the powder solely made for this outfit.
You must keep this information in mind that the later you wash the boots, the worse they will smell.
Dry the Washed Boots Systematically
Mere washing won't work unless you dry the boots properly. To ensure the best result, you should turn them completely inside out. This will help dry them quickly and kill the bacteria in no time. You may find many opposing this idea, but for the best and quickest outcome, you have no choice to bring the inside out.
To deal with the cuff, roll it down and then hang it upside down. This will drip the water gradually and dry it out in the quickest time.
Things You Must Avoid While Washing the Boots
For making the task easy and quick, you might think of throwing the boots into a washing machine. You know that you can never wash wetsuit boots in such a machine. The materials of these boots are not washable with this machine.
Secondly, while washing, never use soap or other normal washing powder. Some special non-detergent soap or cleaning products are available in the market. Try to use them to protect the boots from the odd smell and use them for a long time.
For drying the boots rapidly, you should not keep them in the direct sun. It would eat up the water, but at the same time, will affect the materials that cannot tolerate the heat much.
Should You Wear Socks Inside Wetsuit Boots?
As you are supposed to be in the water with wetsuit boots for a long time, you should wear socks to keep your feet warm and protected.
While you walk or in any activities in the water, your toes, sides, or tops of the feet might get rubbed frequently against the neoprene. This may cause pain or even more severe sores. But when you have socks, you are 100% safe from these threats.
At the same time, staying in the cold water for a long time may affect your feet. These are some special wetsuit socks with breathable materials that keep your feet warm and safe.
How Do You Store A Wetsuit When Not In Use?
As wetsuit boots are much more expensive, you wouldn't surely want to spend on them each year. So, store them properly to use them as long as possible.
First of all, before storing them, you must wash and clean these boots properly.
Store the boots in a box or cupboard where they will be free from cockroaches or rats.
You cannot put them in the sun or close to extreme temperatures. This will utterly affect the neoprene.
Don't throw them randomly. Keep them either flat or upright.
Never keep anything, especially something heavy, on the boots to save them from getting bends.
Enter materials like newspapers or unused clothes to fill in the hollow space inside. This will help maintain the shape as you are not wearing them during this time.
In case you store wetsuit boots ensuring these above things, they must protect your feet for years. Why don't you then store them properly?
Final Thought
So, to make wearing wetsuit boots enjoyable and safe, you must keep them clean and smell-free. How to stop wetsuit boots smelling? You must be ecstatic to learn that it requires just some simple activities and awareness.
For keeping your boots odorless, you cannot wear them ceaselessly. After you put them off, don't delay washing them with suitable washing materials. Then you need to dry them properly. During this process, you are neither allowed to use normal soap nor put them in the washing machine or dry them in the direct sun.
To store them, you must keep these boots in a dry place, filling the hollow inside with papers or anything else to protect their shape. Besides, ensure that they stand flat or upright with nothing heavy on them.
Are you still afraid of wearing wetsuit boots for their odd smell?
Related posts:
Can You Store Shoes In Plastic Bags