What would you do when you cannot accommodate your overgrowing footwear collection within the regular boxes? Easy-peasy! Think about storing them in a plastic bag.
But can you store shoes in plastic bags without affecting them? Does it really work to protect your shoes from dirt and dust?
Yes, plastic bags work pretty well as shoe storage. They are transparent, affordable, and work great as long-term storage solutions. Besides, they save your time as you don't need to open each bag to find your favorite pair. 
But you need to follow proper steps to turn the cost-effective bags into shoe holders. Wondering how? Let's get straight to the point then!
Is It Okay to Store Shoes in Plastic Bags?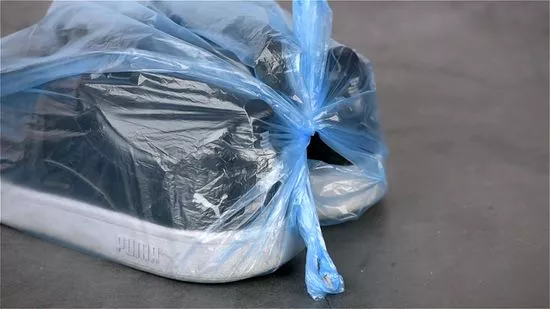 Yes, it's absolutely okay to store shoes in plastic bags. In fact, it's a wonderful alternative to using temporary shoe boxes or expensive plastic containers. 
Plastic bags work as vacuums to keep the shoes well-maintained for pretty long. If it's a ziplock bag, then close it properly and keep your shoes away from any dirt or dust particles. 
On top of that, these bags are very cheap compared to other shoe organizers. And they require less space to store the shoes. What you will like the most is that it's time-saving. Being transparent, they clearly show you which pair is kept where. 
On the same note, people prefer plastic storage more as they are inert. Nothing can pass through a closed bag to make the shoes filthy.  
So, if you prefer finding your footwear the same as you stored them, use affordable plastic bags and ensure their longevity.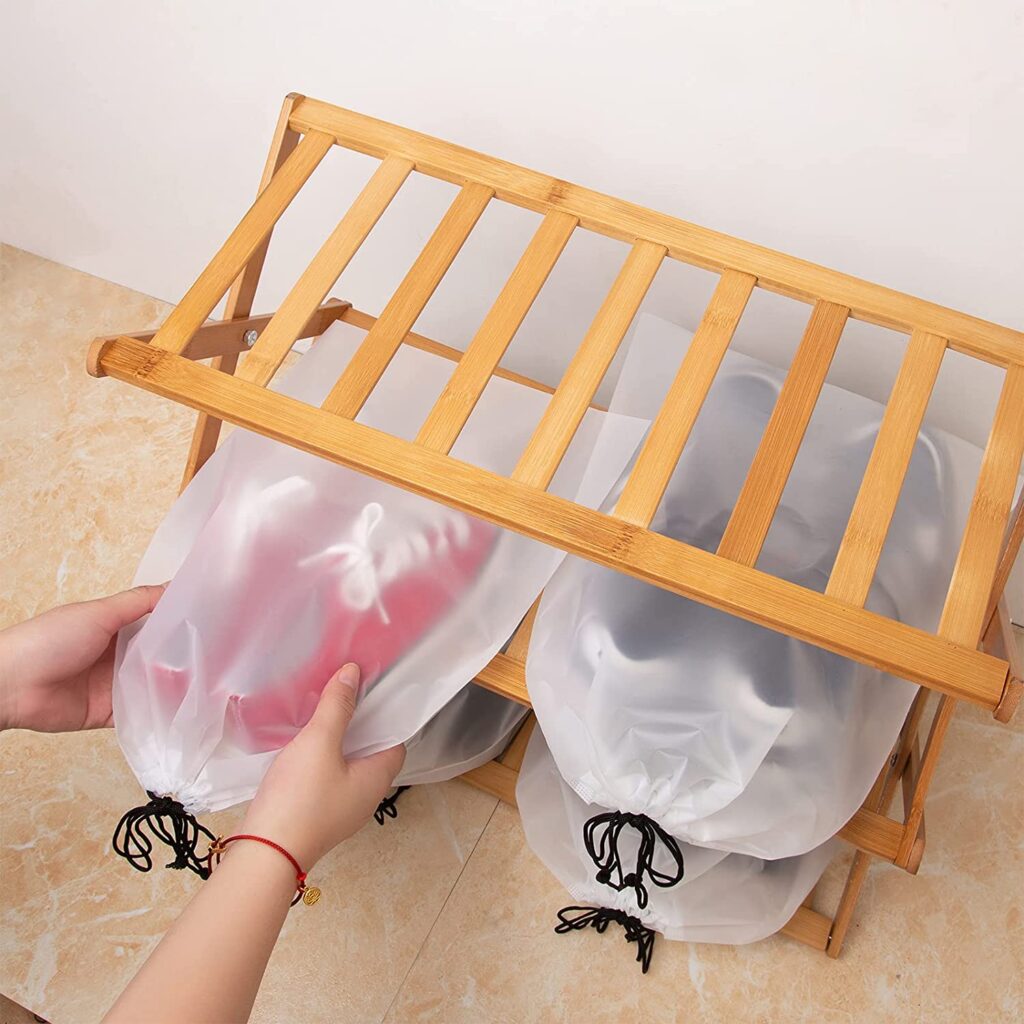 How to Store Shoes in a Plastic Bag?
Well, there are a few steps you must follow while using a plastic bag as shoe storage. You must thoroughly clean the bag and also make sure there's no leak or hole. Most importantly, close the bag entirely to make them airtight. 
Now, let's dig deep into the detailed steps below-
Step 1
First, find a tough and sturdy plastic bag that is leak-proof. Make sure it can hold the shoes without getting shredded.
Step 2
Dust the dirt, mud, or debris off the shoes with a shoe brush. Then wash them with mild soap or detergent. After that, you must air-dry the shoes. 
Nevertheless, the shoe washing process depends on how dirty they are. Also, shoe materials matter. For example, you should wipe leather shoes with a soft sponge. Suede shoes require suede shampoo for cleaning. 
Finally, the shoes shouldn't trap any hidden moist inside out as it will build fungus and bacteria. If you are not convinced that the air is dry, place them under the sun. 
Step 3
Insert squished tissue papers or shoe stretchers into the shoes to hold down their shapes. Then you must cover them with a tissue or paper towel so that you don't experience any color transfer.
Most importantly, covet the heels, buckles, etc. carefully to prevent any distortion.
Step 4
Now carefully place the shoes within the bag. Make sure you close the bags properly and snugly. And of course, you need to store them high so that the shoes remain safe. 
What we mean is that there shouldn't be anyone stumbling on the bags or you shouldn't place anything heavy over them. This could lead the shoes to deformation. 
On the same note, put your shoes upright inside the bag to maintain their original shapes. 
Can You Store Leather Shoes in Plastic Bags?
Truth be told, you can keep your expensive leather shoes in a plastic bag but for a short time only. For instance, you can carry them for a day trip wrapped in a bag. Or for one week at best. For a long-term solution, it's not recommended to use plastic to store leather, be it shoes or anything else. 
Plastic can create a vacuum which eventually affects leather or suede shoes and damages them. Moreover, leather shoes are sensitive to even a bit of moisture. So, you shouldn't keep them sealed within a bag.
How to Store Shoes Long-Term?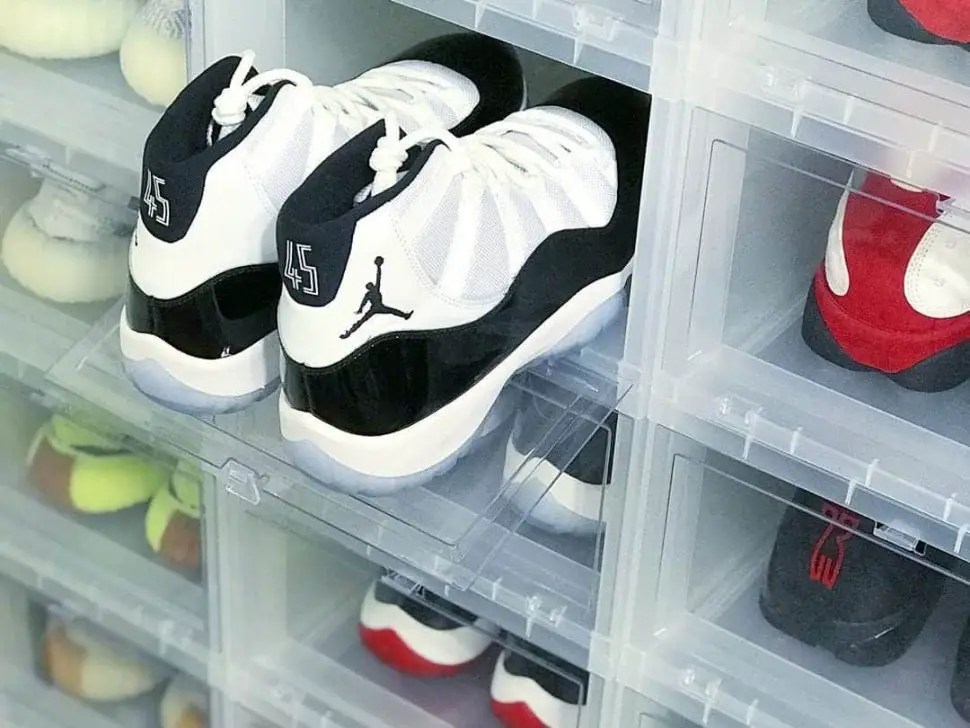 If you are an avid shoe collector, you must know how to expand the longevity of the footwear. Otherwise, they will turn into nothing but junk within a few days. 
To store shoes long-term, you must clean them properly before packing. Aside from choosing suitable storage, it should be made of high-quality material as well. And make sure the shoes are not wet when you wrap them for storing. Otherwise, the moisture will lead to mold and mildew build-up.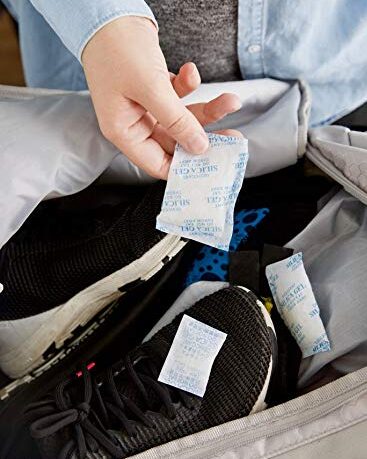 However, there are some other precautions as well. A few silica gel packs come quite handy to keep them well-protected. As silica eradicates dampness, there's no chance of the shoes getting exposed to moisture. 
In the case of plastic storage, keep them far away from any sharp materials. Otherwise, they will be pierced which will create holes.
And most importantly, you should maintain the exact tempers and humidity level to prolong the lifespan of the shoes. To do so, keep the storage unit away from the walls. Also, place them on wooden pallets for better protection. 
Final Words
If you are tired of opening innumerable boxes to find your favorite pair of shoes, plastic bags are more preferable for you. It's getting more crowd-pleasing day by day to store many other things as well. 
However, we tried to answer one of the most asked questions in this regard- can you store shoes in plastic bags? Is it bad or good for your footwear? 
The answer is a straight yes. Being less expensive than any other regular shoe storage, plastic bags are highly recommended to maintain shoes. Furthermore, they take care of your collection of kicks pretty well. 
On that note, follow the steps above if you consider storing shoes in plastic bags and keep them fresh, clean, and well-maintained as long as you want!