At present, you'll find more than enough winter boot and snow boot styles around you. Amazingly, along with your favorite color and style, you can select the warmth level you want in your boots too!
Based on the temperature of your surroundings, you can decide whether you'll need an insulated or non-insulated boot. A range of insulated boots is available for workdays, late-season hunts, or when going through snow. Similarly, there are also some uninsulated boots for early-season hunts and mountain sports! 
While insulated boots provide warmth to your feet, uninsulated ones are lightweight and easy to handle. Which boots will actually be right for you in what weather condition?
In today's article, you'll get to know about insulated and non-insulated boots, the advantages, their uses, and an insulated vs uninsulated boot chart to help you select the right pair of footwear! let's have a look!
Insulated Vs Uninsulated Boots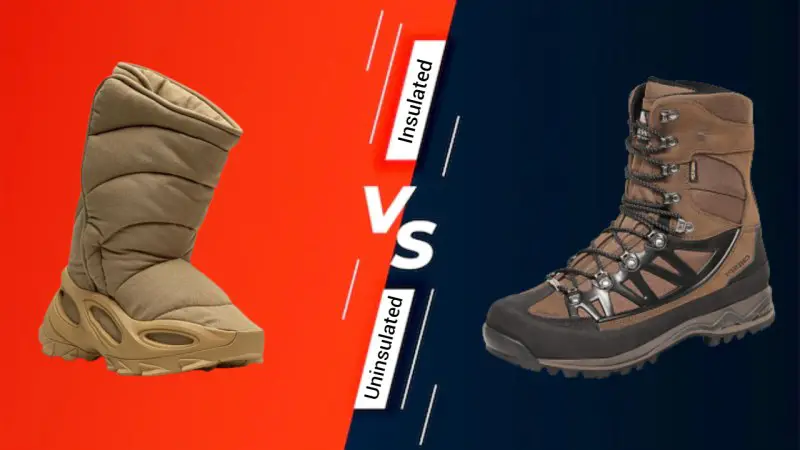 Below is a guide to help you know about insulated and uninsulated boots before you decide on the right one for yourself!
Insulated Boots And Their Types
Insulated boots are similar to conventional boots, with the exception that they incorporate some extra elements to keep your feet warm during cold weather conditions. In today's winter and snow boots, there is a truly astounding array of insulation options.
3M Thinsulate:
3M™ Thinsulate™ is a synthetic fiber-based thermal insulation, where the microfibers trap heat while taking up little room, and the thermal characteristics remain effective even when wet. 
Because it is made up of threads, this insulator can trap more air in a smaller space. Also, it doesn't hinder your normal movement as the material is easily bendable and isn't too heavy.
All of these make it a popular and favorite choice for outdoor work boots and hunter boots. 
Primaloft Insulation
Originally developed for the US army, the easy-to-store, and lightweight Primaloft is another prime brand in the synthetic insulation industry, known to retain the body heat quite well. 
The fibers here are treated to repel water, allowing you to stay dry even when it's pouring outside. And the insulating materials are also highly permeable, allowing moisture vapor to escape. This implies that the insulation will keep you warm even if you sweat a lot.
Shearling Insulation
A shearling sheepskin is leather-like material formed by the skin of a shearling lamb, that has been tanned, treated, and colored. The sheepskin is well known for controlling temperature and keeping feet warm in cold weather, but it's also surprisingly good at keeping feet cool in hotter weather because it evaporates moisture well.
However, the problem with boots designed with these shearling insulations is that they'll wear out when used for rough outdoor adventures for extended periods of time. 
Zylex Insulation
Zylex is a prevalent material used in footwear, which is generally designed for harsh weather conditions and is made up of numerous layers of varied thickness insulation.
This insulation is known for its ability to survive blizzard conditions, snowfall, and even sub-zero temperatures. Apart from providing warmth, a useful feature of this insulation is that the liner can be removed and cleaned.
How Much Insulation Do You Need In Your Boots?
The thickness of the insulation and the warmth of the boot are measured in grams of insulation. Simply put, the warmer the weather gets, the less insulated the boot is. However, a 400g Thinsulate boot means that the insulation weighs 400 grams per square meter and not that the boot has 400 grams of insulation, which would make the boots extremely heavy.
200G Insulation: For mild climates, when you're occasionally exposed to cooler conditions
400G insulation: For fairly colder weather when doing moderate activities
600G insulation: For colder weather when the temperature starts to drop.
800G Insulation: For fall hunting and moderate activity in very cold weather, unless you're in moving through frigid water or snow
100G And Up Insulation: When you are dealing with extreme cold weather conditions and need zero breathability and 100% warmth for your foot.
Benefits And Disadvantages Of Insulated Boots
Running shoes are practically hard to wear in the winter, especially for people who spend a lot of time outside. In such situations, insulated boots come in handy. However, there are some disadvantages too. Let's take a look at them.
Advantages:
They retain the warmth of the feet by trapping heat
Most of the synthetic insulation is flexible and lightweight, and they don't detract from the boot's overall comfort.
Keeps your feet secured from frostbites
Last for a long period of time, even when used for rough weather conditions
Most of them are weather-and-water-proof, so you can enjoy dry feet in the wet conditions such as frigid water or snow
Disadvantages:
If you wear the heavily insulated boot in mild weather, it can affect the foot health
A little more expensive because of the use of extra material
Comparatively heavier than normal boots
Useless during the summertime because of too less breathability
Uninsulated Boots
They are your regular boots without additional insulating layers to trap heat inside the boots. They are ideal for hunting or trekking throughout the summer or rainy season.
Advantages And Disadvantages Of Uninsulated Boots
Advantages:
They are lightweight and more flexible.
The materials used here offer proper breathability to prevent sweaty feet
You can use them in rainy seasons alongside the summertime, as they have the waterproof benefit.
If you want, you can utilize them in the winter season as they have the potential to increase some warmth too. You can incorporate a pair of woolen socks with these boots.
They are super durable.
Disadvantages:
Won't give much warmth against cold weather conditions
Cushioning is not so thick
Comparison Chart: Insulated VS Uninsulated Boots
| | | |
| --- | --- | --- |
| Features | Insulated Boots  | Uninsulated Boots |
| Warmth | More | Less |
| Padding | Padded with soft cushioning | Thin padding, not so soft on the foot. |
| Longevity | Comparatively lesser | Greater |
| Breathability | Almost zero | Yes |
| Weight  | Much heavier  | Lighter |
| Summertime | Unsuitable  | Suitable |
| Suitability | Frigid and extreme cold weathers | Mild weather like spring and fall, or summer |
| Water resistance | Only some of them have this feature | yes |
Do You Need Insulated Or Uninsulated Boots?
If you're going to be outside in freezing weather for a prolonged period – winter hiking, snow shoveling, or long journeys through the frigid snow – you should definitely insulate your boot.
For summer, it goes without saying, non-insulated boots are the way to go. And, during the rainy season, if your work requires walking around often, you'll generally want to go with non-insulated boots, as they're more waterproofing.
However, in milder temperatures, by the end of winter or during fall, a pair of thick socks, rather than insulation, will generally suffice. During this time, insulated boots may be overly warm, and thick padding can cause your feet to overheat and sweat during activities, which can be a nuisance.
Final Thoughts
Before ending, a surprise awaits you!
Those who are worrying that they'll have to buy a number of boots for different weathers, fortunately, some brands offer removable insulation layers. So, you can tackle the winter with your regular boots and stack in some extra linings for warmth. Or, you can also use a pair of heat-trapping socks, such as woolen ones, too!
So,  in the insulated vs uninsulated boot battle, none of them actually wins. Both have their own perks and downsides. it's up to you to decide the right pair for you!