Most adventure lovers nowadays prefer trail runners to conventional hiking boots while trekking or thru-hiking. Still, some of us do feel as if our feet are suffocating while trekking in trail runners in hot weather. How about switching to a pair of sandals to relieve your feet, then?
You might have heard of Chaco sandals, which are designed to be lightweight, have a comfy build, and are durable. Now, the question is, are Chacos good for hiking? 
Yes, once you get to break them in and are comfortable walking around with them on, you'll find that they are actually more than doable for hiking and trekking.
Let's talk in detail about how and why these sandals are a good option for hiking!
Read also: Sandals Like Chacos (off brand chacos)
Are Chacos Good For Hiking?
Yes, Chacos are a wonderful sandal option when it comes to hiking! Once you get used to wearing them during adventure rides, you'll find them super comfortable.
For many people, the strap configurations of Chacos have proven to be an excellent choice for hikes. The Z1 (no toe loop) and the Z2 (toe loop) are the strap configurations offered by Chaco, which are adjustable, and provide your feet a solid and secure fit for hours of pleasant wear. These straps come in a variety of styles, including toe loop, single, and double straps.
Also, these shoes sport a sticky rubber outsole that provides traction in wet and slick weather too! They have the 'Classic' ones, which are the regular tough soles, and the 'Cloud' ones, a little more comfy version, to choose from.
Moreover, 'MyChacos' custom sandal builder by Chaco offers abrasive outsole options and customized color patterns for people who are passionate about sandal hiking.
Generally speaking, the protection you get from a pair of leather boots can't be outweighed by Chacos. However, giving your feet a free and comforting feel, shifting from rocks to cool creeks without switching footwear, and not without having to worry about removing dirt stuck inside your shoes – these are what you'll love about The Chacos!
Why Are Chacos Good For Hiking?
There are actually a number of reasons to love Chacos. Refreshing cool breeze experience on the feet, lesser blisters, better foot health, and water tolerance are a few to name.
It's worth mentioning how unpleasant a lengthy journey can be when you have heated and sweaty feet. Chacos, since they keep your feet exposed, will bless them with a cool breeze and prevent them from stinking. 
Again, tiny pebbles, twigs, or any other kind of debris can get trapped in your footwear. If you are on hiking boots, it can be difficult to move, and removing them can be a hassle too. For Chaco or other sandal users, a good shake of the foot is usually enough to eliminate these troublesome tiny rocks.
Moreover, drying sneakers or boots after trudging across water bodies can take too much time. And if you keep them on, your feet might be infected with fungal infections or blisters. However, with Chacos on, you may trek across any body of water with them, and it will take a maximum of 40 minutes for them to dry.
These ultra-breathable, super durable sandals with more than enough arch support are there to help you with almost any sort of terrain!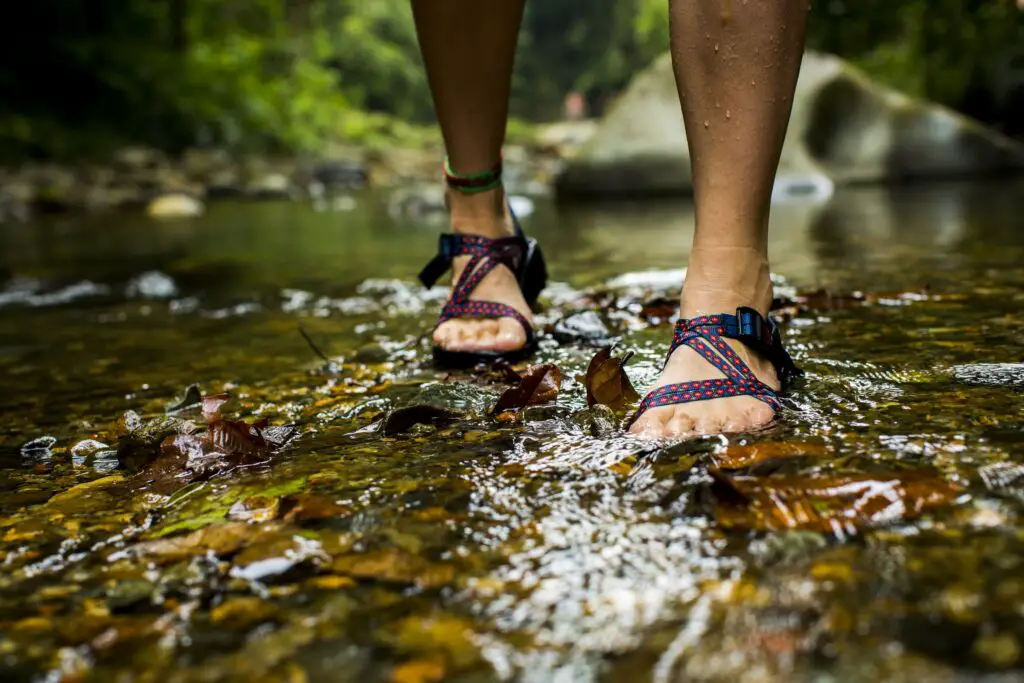 Are Chacos good for walking in the water?
Yes, pretty much any Chacos are suitable for walking in the puddle or underwater. You can go with the ZX3 model from Chaco if you have to trudge across water terrain quite often during the journey.
Chacos have a non-slip footbed which ensures that you get enough stability, and their outsoles are non-marking, which will give you great traction underwater. And the ones that have toe loops will give you a more secure fit. More importantly, the straps here will dry out in almost no time, as they are not too thick.
If you're wondering if these sandals can be worn in the rain, the answer is a resounding yes! from the moment you step out of the puddle, it will take 30-40 minutes for the feet to dry up completely. Now, if you are worrying about blisters and little rubs from rocks, you can wear socks to avoid them. 
What Are The Risks of Hiking In Chacos?
Exposure to the surroundings and lack of proper protection against debris-these are the risks you have to face when you are in Chacos until you decide to bring in a pair of socks with you.
As long as you are climbing over large rocks, it's acceptable. But exposing your toes to a loose slope is bad for your feet; it can cause abrasion, and there is a slight risk of injuries too.
Again, these sandals leave you vulnerable to sunburn and tan lines because the straps cover only some part of the tops of your feet. So, don't forget to wear sunscreen.
And in colder terrain, you'll definitely need neoprene socks or waterproof ones since Chacos alone can't save you from the cold.
Read also:
are chacos good for plantar fasciitis
what size chacos should i get
are chacos worth it
Final thoughts
Chaco offers a variety of trendy footwear with an outdoor theme, so you'll have a lot of options to choose from. Here are a few tips for you.
When you are ready to give it a try, go with the ones that are lightweight and comfortable, with a plausible amount of arch support. The comfort and support level will help you understand whether Chacos are good for hiking.
Again, since Chacos won't give you full-proof protection against dirt and debris, wearing a pair of socks with them is good. Plus, water or sand can cause significant discomfort in the sandal strap area. So, it's advised to pat your feet with a dry towel after water crossings.
Happy hiking!