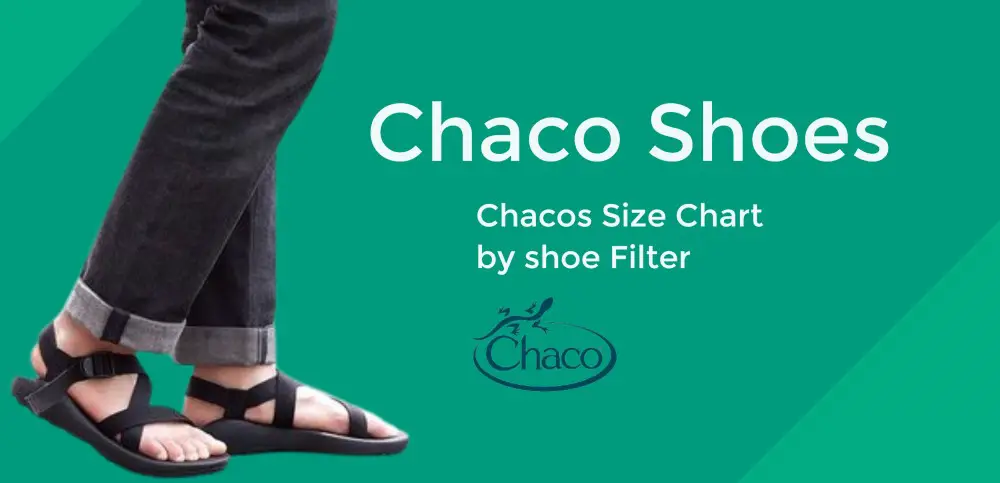 Chaco is a world-famous footwear brand that manufactures slippers, sandals, boots, sneakers, and all sorts of outdoor shoes. They are immensely popular for their summer-friendly shoes that are soft, substantial, and stylish. 
But the confusion arises when it comes to the size. Usually, Chacos follow a different size chart and don't make any half-size shoes. That's why it's a bit difficult to find the exact fit for your feet. 
However, the manufacturers provide Chacos size charts as an aid to this issue. Below, we are going to discuss the chart in detail to make you understand how to get the right Chaco fit using the super serviceable size chart.
Must Read: Knock Off Chacos
Chacos Size Chart: A Detailed Guideline to Find the True Size
Due to the different designs, Chaco shoes follow an exceptional size roll. Below is the official Chaco size chart before getting into the detailed discussion. 
Combined Chaco Size Chart for Men, Women, and Kids
| | | | |
| --- | --- | --- | --- |
| JPN (cm) | USA | UK | EUR |
| 25 | 7 | 6 | 40 |
| 25.5 | 7.5 | 6.5 | 40.5 |
| 26 | 8 | 7 | 41 |
| 26.5 | 8.5 | 7.5 | 41.5 |
| 27 | 9 | 8 | 42 |
| 27.5 | 9.5 | 8.5 | 42.5 |
| 28 | 10 | 9 | 43 |
| 28.5 | 10.5 | 9.5 | 43.5 |
| 29 | 11 | 10 | 44 |
| 29.5 | 11.5 | 10.5 | 44.5 |
| 30 | 12 | 11 | 45 |
| 30.5 | 12.5 | 11.5 | 45.5 |
| 31 | 13 | 12 | 46 |
| 32 | 14 | 13 | 47 |
| 33 | 15 | 14 | 48 |
Chacos Size Chart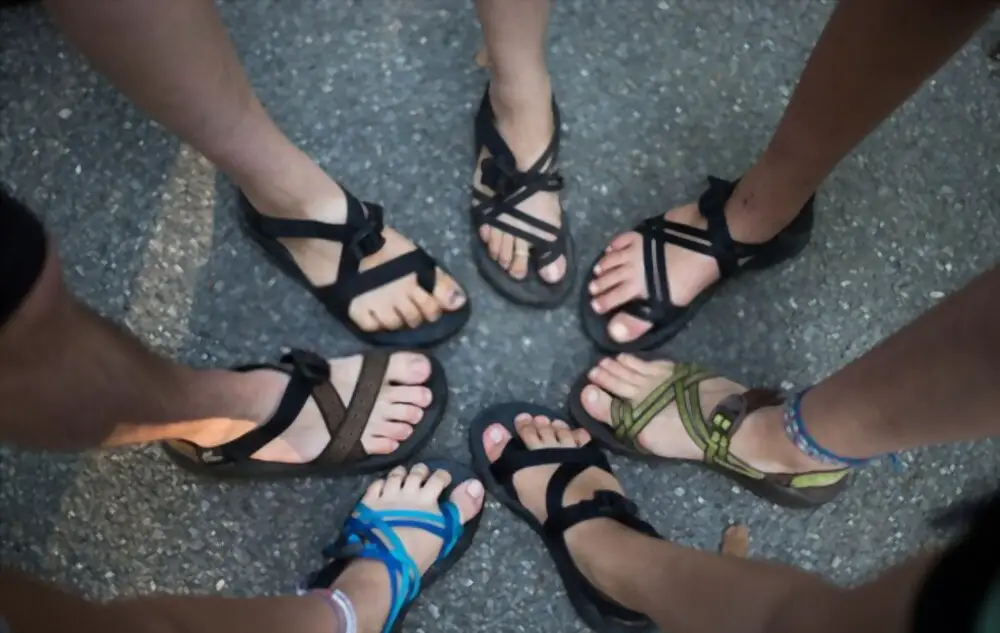 In terms of sizing scheme, Chacos follow the distance of arch length instead of heel-to-toe measurement. So, you need to be a bit tactful to get the appropriate Chaco fit. Consider the things below to clear the confusion-
If you need a half-size shoe, order half size up as Chacos come only in whole sizes.
Usually, your two feet will differ in length. Once measured the feet lengths, choose the longer one to find the exact Chaco match. 
If you usually need a medium pair of shoes from other brands, you probably need a wide pair of Chacos instead of shoes with medium width. This is because the brand originally produced shoes with a medium and narrow width but later labeled them as Wide and Medium fits.
As Chacos come with adjustable straps which are highly recommended add-ons, they provide better fit regulations throughout your foot.
To adjust the strap according to your requirement, start adjusting from the belt to loosen the leash. Then adjust the outer edge and toe respectively. For tightening the strap, reverse the whole process. 
For customers' convenience, Chacos come with either no loop design or with toe loop design. The no loop(Z/1)sandals are for people with big toes who need a more relaxed fitting without the extra hassle of a strap. And sandals with toe loops (Z/2) offer additional support and security on irregular terrains. 
Apart from these two types, there is another shoe type featuring a dual criss-cross strap known as ZX sandals. However, they are available in both with or without toe loops versions. 
Following the Chacos size roll, you can easily enumerate your exact Chaco fit by looking at the heel of the shoe. The dots at the heel indicate Medium size and the dashes refer to Wide shoes.
Here are 3 Chaco's Review
We believe in Chacos supremacy whenever we talk about any durable outdoor shoe with a dashing design. Below, meet three bestselling Chaco sandals that are all-time popular among users.
Top Pick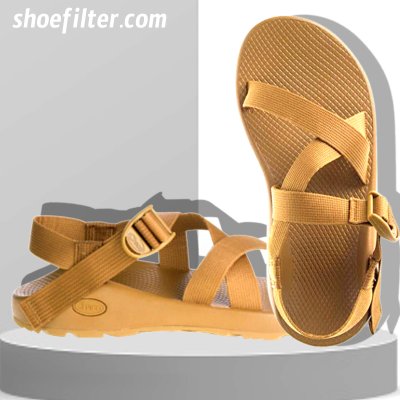 Chaco Men's Z1 Classic Sandal
Durable and dependable rubber sole
The luvseat PU midsole provides contoured arch support 
The polyester jacquard webbing allows customized fit 
Features Chaco grip rubber outsole to perform better in extreme condition 
100% polyester material with careful construction makes the shoes long-lasting
First, on the list, we have an out-of-the-box Chaco sandal from the crowd-pleasing classic series. Let's explore what core specifications it has to offer.
These men's sandals in Olive Night color steal the show by their effulgent appearance. Featuring a vegan-friendly construction, the podiatrist-certified luvseat polyurethane footbed provides the ultimate all-day comfort.
Moreover, these classic shoes are manufactured with a timeless design to adapt to every outdoor adventure. The adjustable straps make them even more convenient to fit any shape of your foot.
Unlike disposable foam, the PU midsoles aren't compressible, therefore, don't break down easily. So, you can make a cost-effective purchase with this perdurable pair of sandals. 
However, the only issue we found is the too-long adjustable straps. You can cut them anytime though!
Runners Up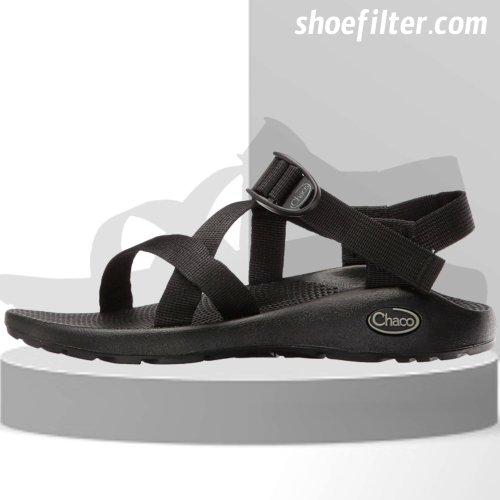 Chaco Women's Z1 Classic Sandal
Women's specific luvseat PU midsole for better support
The antimicrobial application allows odor control 
The Chaco grip rubber outsole permits non-marking movement 
Reliable rubber sole assures all-day-long comfort 
Adjustable polyester straps for customized fitting
Secondly, meet a pair of athletic sandals for women by Chaco.
Being available in a wide array of colors, these women's athletic sandals are way ahead of their competitors in terms of reliability. The 100% textile material not only makes it a perfect pick for hiking but also wearable in water.
Perhaps, the most notable landmark this pair would offer is the ability to battle with plantar fasciitis. The adaptable high-tensile webbing heel risers offer incredible arch support which leads to rescuing foot fatigue and pain.
Any shoe will smell bad if you wear them regularly. But no worries as Chaco includes an antimicrobial application for odor control with these shoes. 
Another remarkable add-on with this excellent pair is the sticky outsole. Besides, the no-mark movement makes it a better choice for any adventurous situation. 
However, a slightly bothering issue is the medium width of these shoes. If you are wide-footed, go for Chaco Men's Z1 Classic Sandal for blister-free footsteps.
3rd Pick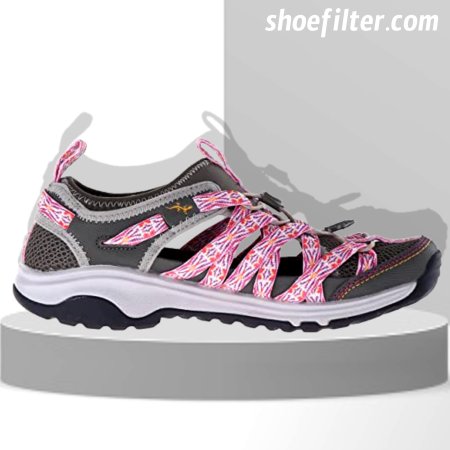 Chaco Women's Outcross Evo 1 Hiking Shoe
Non-marking eco tread outsole for hassle-free movement 
Women's specific PU luvseat footbed for extra cushioning
Adjustable webbing heel lock for a custom fit
The synthetic leather rand and toe bumper provides better foot protection 
The breathable mesh integrated with webbing upper design permits adequate airflow 
Last but not the least, we have the best hiking shoes from Chaco which come with a plethora of fascinating features. Let's look at its notable specifications below.
In the field of outcross footwear, Chaco Evo 1 has created history by coming with a plethora of exclusive features. 
Firstly, the webbing upper design allows easy on and off. And the 25% recycled rubber outsole offers non-marking movement. 
As these shoes are architectured for hiking, better balance and adequate arch support are assured by the inclusion of the semi-collapsible heel structure. Moreover, the adaptable heel lock with a lacing system gives added protection while hiking.
Featuring breathable mesh and having openings upper, these are the perfect summer shoes for any travelers, campers, or outdoor aficionados. 
Despite the positives, this pair might disappoint you with the strong stink caused by dirt and debris. In this regard, Chaco Women's Z1 Classic Sandal is a better option for its odor control capability. 
FAQs
Do Chacos run big or small?
Neither actually. Instead, they are true to size. As Chacos don't come in half-sizes, it's better to go for the nearest whole size for the right fit.
How do you know what size Chacos to get?
By looking at the size chart provided by Chacos, you need to determine what size would be the right fit for your feet. Then look at the back of the heel to know whether the shoe has medium width or wide width.
How do I know if I need a wide Chaco?
If a pair of Chaco sandals have dots at the heel, then it's medium-sized, if dashes are there, then it's wide. Usually, you need a wide pair of Chacos even if you need medium size of other brands.
Do women's Chacos run true to size?
Yes, all Chacos are true to size, be it for men, women, or kids. But we suggest ordering up a half size if you cannot find the right fit.
Are Chacos better with or without the toe strap?
As Chacos are basically made for the outdoors, we think they are better without the toe straps. Because you can wear them on and off easily without the straps. 
Final Words
This is all about the Chacos size chart. Hopefully, we have been able to clear the air regarding the endless debate on Chacos unusual fitting and sizing. 
Surely, it's a bit tricky to figure out the true Chaco fit, but it's no rocket science at all. If you study the official chart carefully, half of your hesitations would disappear. To eliminate the rest half, follow the instructions we stated above and you're certainly going to grab the suitable pair that suits you perfectly.
Read also:
Are Chacos worth it
shoes similar to tevas