One of the most revered footwear brands in the UK and talking its popularity to the US, Clarks is a brand that needs no introduction. Reasonable and fashionable are 2 solemn properties of Clarks. 
But the bigger question is, are Clarks shoes good quality? Yes. Clarks doesn't just sell stylish shoes at affordable prices, but ensures a durable pair with its assurance of quality. 
Of course an affordable and fashionable shoe is a great combo. But when you add comfort and quality to it, any shoe becomes unmatched, just like Clarks! So in this article, you will find why Clarks shoes are adored all across the US, and answers to more questions that you might have regarding Clarks footwear.
Are Clarks Shoes Good For Your Feet?
Yes, Clarks shoes are good for your feet. These are high-quality shoes because they are perfectly comfortable for you to wear them enough every day and are highly durable.
You can be sure of their performance and feel in your feet if you take a look at the functionality and comfort of these contemporary shoes. Clarks has more than 200 years of experience in making high-quality shoes in innumerable fits for both men and women. So it is not just good design and good aesthetics that you get for your feet, but a great snug companion all in all.
This is why you can wear these pairs for a whole day without feeling discomfort. What's more, they even took their comfort one step further by inventing a technology called Cloudsteppers. With the orthotic insoles and their customizability, the arch support, and the gentle cushioning, you can suit your needs with Clarks quite easily.
Another feature that makes Clarks so good is their durability. Be it the famous Desert boots or other shoes made of leather, their signature craftsmanship makes sure that they last long. The well-known stitch-down construction, with its characteristically beautiful curve further adds to the days you can keep them looking as good as new! How? 
This stitch-down construction uses thread in the upper instead of glue-like fasteners to join the sole and the upper. Since the leather upper is stitched without a welt, both maintaining, cleaning, and washing it is much easier than gluing together components of the upper and the sole.
Are Clarks Shoes Big Fitting?
No. Clarks shoes fit you just right.
These manufacturers totally get the concept of fitting shoes according to the age of the users. 
You don't just get whole or full sizes, but also halves, giving you a better fit in your shoes than the need of going one whole size up or down, even if you don't want it.
Related post: Do Clark Shoes Run Big
How To Clean Clarks Shoes?
To clean your Clarks shoes, you have to follow the instructions detailed by Clarks to keep your shoes safe and serve you well. For this, you not just need good cleaning products, but the right after-care products designed particularly for the shoe materials in question.
Following are the ways in which you can clean the leather, suede/nubuck shoes, and canvas shoes from Clarks.
Leather
For this purpose, you will need brushes, shoe cream in the color of your shoe, leather balm, clean cloth, sponges, leather protector, and stain protectant spray.
Start by using a dry brushing technique to remove the loose and dried-out dirt stuck on your Clarks gently. There is no need to scrub if you have dried out the wet dirt well.
If you don't need to get rid of such dirt, using a leather balm, you need to apply rehydration to simply dry leather shoes first. Don't worry about the balm staining the shoes, as it has no color.
Now, take a clean cloth and work it well on the pair. Using a buffing motion, keep cleaning the shoe. 
To bring the shine and color of the leather back, use black/brown shoe cream polishes (leather-suitable) or neutral shine sponges. Test in an obscure area on the shoe and then use the spongy applicator to apply, dry, and then buff with your polishing brush.
Add future protection to the shoes by using the same manufacturer's leather protector. You just need to hold the bottle at a 30 cm distance and spritz and dry the pair before wearing them.
If you want to protect your shoes before you wear them the next time, you should apply the Clarks Water and Stain Protectant beforehand. And if you want to protect the shoes while you are wearing them, you can use the Clarks Leather Polish applied and dried to polish and perfectly moisturize the leather shoes.
If you want to clean your Clarks shoes based on the type of leather they are made of, you can take the following steps.
For waxed, oiled, or Aniline leather shoes, you can take the following steps:
First start by rubbing a dry, clean cloth on the shoe upper. Then use a damp, clean cloth and do the same.
Let the shoes dry without placing them under direct sunlight or without using an air dryer. 
Take the cream polish on some cloth if you have an aniline leather shoe. For oiled or waxed ones, take polishing wax and apply it lightly on the upper. Keep buffing with force till you find the shoes restored to their previous shine.
For patent leather shoes, you can take the following steps:
Take some warm water and wet clean cloth. Take the most gentle detergent and work it up to make mild suds.
Dip a cloth in this soapy mixture and rub it onto the leather upper to get rid of the dirt
Use a damp cloth to wipe the shoes clean and let them dry naturally.
Suede/Nubuck
For this purpose, you will need the Suede/Nubuck Foaming Cleaner from Clarks or a Cleaning Bar, a rag/cloth, suede protector, and horsehair brush.
First, start with the cleaner and then scrub it on your shoes.
Next, wipe it off and let the solution dry on your suede shoes for as long as 30 minutes.
Once the shoes have been dried, spray the suede protectant.
Another method for cleaning suede or nubuck shoes is as follows:
Using a horsehair brush, work along the same direction as the grain of the shoe.
You can then use a cleaning bar to remove the stains by rubbing it gently till you see the blemish vanish.  
Follow step 1 one more time, and you're done.
Canvas
Cleaning Clarks canvas shoes takes some no-fuss steps as follows:
To clean the Clarks canvas shoes, start by applying an all-purpose protectant.
Next, dry brush the shoes to loosen the dirt away.
Take some colorless and mild detergent and a brush to get rid of stains on your canvas shoes.
Lastly, rinse the shoes with clear water and leave them out (not in the sun) to dry.
How To Clean The Rubber Soles
Cleaning the rubber soles of your Clarks shoes is pretty simple. All you have to do is use a dry brush to scrape off the dried dirt, use a soap water solution with a toothbrush to scrub off stains, and dry them naturally.
Remember that while cleaning the rubber soles of suede shoes, the soapy mix should not touch the suede upper as it takes a toll on the material. To be safe, the detergent/soap should be the mildest you can find.
How to Clean Inside of Clarks Shoes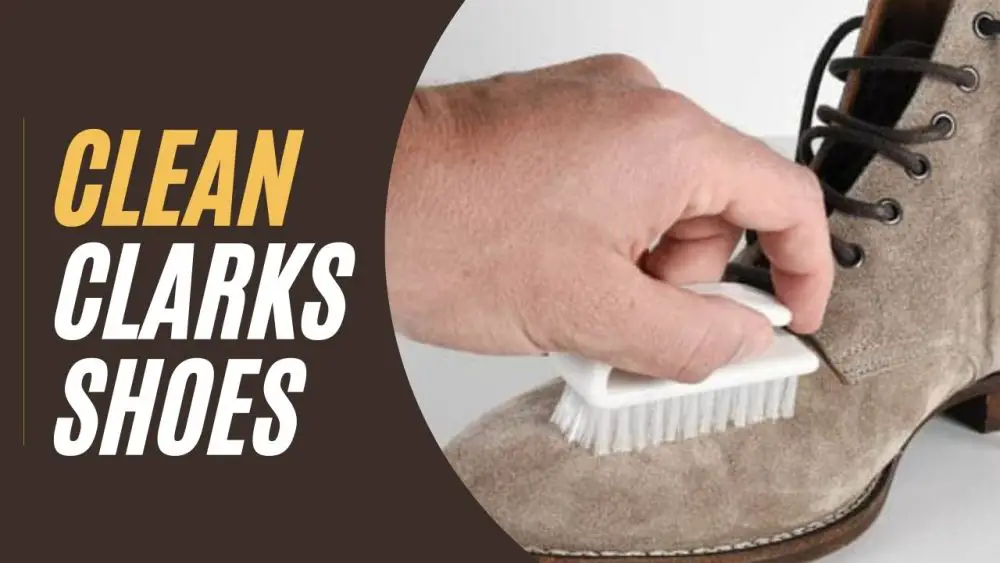 Since little to no ventilation reaches these heavily-made shoes for a good amount of time, cleaning the insole and the inside of your Clarks should be an important step to prevent odor and dirt accumulation. Here are the 5 easy steps that you can follow:
Start by sprinkling a good amount of baking soda, creating a heavy coat on the inner sides of your Clarks shoes.
Then, take your shoes in hand and tap them sidewise to let the baking soda coat spread out in all the inner compartments and nooks, covering the entire insole as you keep tapping.
Now, let the shoes sit like this overnight. The next morning, pour out the baking soda inside in the trashcan by holding your shoes upside-down.
Now, take a white vinegar and water solution in a bottle and spray the insides of the shoe. This is when only the soda is not solving the odor and germ-building issue inside the shoes for you.
Let the shoes dry for as long as an hour before you wear them. Through this process, you have killed the odor-causing bacteria as well as the future chances of smell for a good amount of time before you need to repeat the process again!
Final Words
You can purchase the trustworthy and well-delivering Shoe Care Kit sold on the Clarks website if you want to care for your shoes after you clean them each time. 
The Water and Stain Protectant, Leather Polish,  Suede/Nubuck Foaming Cleaner will all help you to save your shoes from damage for many years to come!
So, why are you waiting for? This article comes at the end to let you know why you should go for Clarks shoes.
Related post:
Do Clark Shoes Run Big