Do you need a pair of shoes to get into the running track? Then you must then be calculative to spend for them. You have no alternative to choosing the best pair to make your everyday running comfortable, easy, and painless. 
Are air max running shoes? Simply put, NO. Nike Air Max isn't good running shoes. Even though you can, however, run with them, these aren't the good ones you look for. 
They are comfortable but not secure for running over rough, rocky, or watery surfaces. All the designs of this incredibly popular model are best for walking or working.
In case you are in dire need of a good pair of running shoes, our experts got the best of the day for you. Keep enjoying the best findings of our experts; you will get the clue of the running shoes somewhere in your study!
Related posts:
Best Road Ultra-marathon Running Shoes
Are Air Max Good Running Shoes?
So, air max shoes are not good enough for taking them into your track. Not that you cannot run on them, but while you have better options, why shouldn't you try the alternatives?
Air Max is one of the best designs by Nike. Though not best for running, they can still serve you tremendously better than their competitors for other purposes. Let's know some incredible aspects of these extremely popular shoes.
What Makes Nike Air Max Different?
Assembling authentic materials and technologies, especially air units in the midsoles, Nike introduces air technology in footwear for the first time in the shoe industry. 
They adapted this idea of air units from the great NASA engineer, Frank Rudy.
The airbags ensure premium cushioning to the foams, lessening the weight. Besides, they maintain flexibility for a long time by reducing the pressure your feet always put on them.
Every issue of air max is popular generation after generation. Their colorwork is considered iconic. For example, the Persian Violet Air Classic BW creates an unprecedented stir in the market.
From the Tailwind of 1978 to the Air Max 2090 of 2020, all the designs under this model are comfortable, durable, and flexible enough to pass the taste of many generations. 
What Are The Main Features Of A Running Shoe?
As you've been looking for the best running shoes, you should have a considerable understanding of the features of this genre. They are as follows.
Must have a removable insole so that you can take it out and clean it at times.
Will have flexible lacing to deal with them easily and quickly.
High-quality materials will make them durable and weather resistant.
The shoes must reflect at night to make you identifiable from a distance.
So, before lightening your purse, make sure that the shoes you are paying for have these features.
Best Running Shoes For Men And Women
A wrong pair of shoes cannot withstand the pressure and harsh weather while running, especially on tough terrains. So, you must not compromise with getting the best pair before starting running.
Under Armour Men's Charged Assert 8 Running Shoe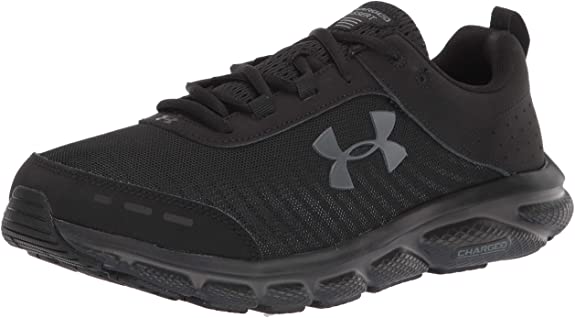 Our list starts with one of the most popular shoes marketed by Under Armour, a trusted firm in the shoe industry. Let's zoom in on some of their specifications to know them better.
Specifications
Its synthetic sole encounters all odd conditions and serves you longer and better.
For a balance of flexibility and cushioning, these shoes are neutral.
The digital color print lasts as long as you wear them.
The leather used in the midsole shines for the longest time.
The compressed and molded foam ensures comfort and durability.
As Armour 8 Runner is imported, only the trusted people are selected for the deal. So, about quality, you are always 100% secure.
You must always be looking for the most durable and comfortable shoes. Then Men's Charged 8 is made for you. It's incredibly durable leather in the midsole allows you to run as fast as you can without getting hurt.
When talking about the outsole, it is made of solid rubber. So, the whole footwear is unbelievably light, which helps you advance forward like a speedy car.
ASICS Women's Gel-Venture 7 Runner Shoes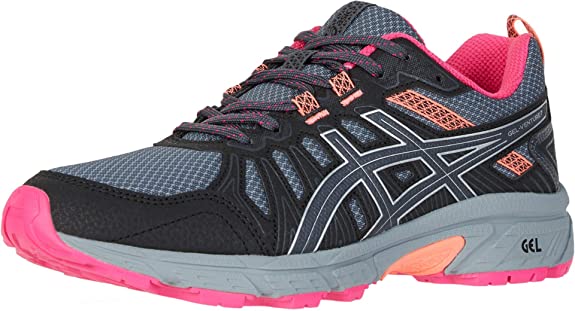 When you search for the best running shoes for girls, ASICS has got the solution for you! Firstly, observe their specifications to evaluate their claims.
Specifications
The shoes have a rubber sole, so they don't hurt your soft feet at all.
As-built on EVA midsoles, anybody can run with these in the great outdoors.
The sturdy upper with synthetic leather provides you with additional support.
The internal heel helps your feet remain in their natural line.
The sole is made for making your run a smooth one, even if you are a novice.
The matchless benefits you can enjoy from ASICS Gel-Venture must make you fall in love with them. The crafted upper from synthetic leather gives these shoes an incredible look.
Moreover, their EVA midsole protects your feet against impact and increases rebound, giving you an energetic feeling while clocking up the miles.
Wearing Women's 7 Runner shoes, you are able to advance with an efficient stride in all conditions because the heel supports you everywhere.
Final Thought
We brought all the ins and outs of air max shoes precisely but authentically. Are air max good running shoes? For obvious reasons, these are not a better choice for running. Yet, you can wear Nike Maxes for other purposes. 
Nike Air Max brought so many different designs, all of which created an unimaginable craze among the shoe-loving people. Their models, designs, coloring, materials, and above all, services are second to none anywhere in the world.
If you attempt to find the best running shoes, you must know that these shoes have removable soles, easily operable laces, sturdy materials that reflect at night, and above all they are durable and comfortable.
Studying the markets, Under Armour Men's seems to possess the best qualities for men's running. While for women, ASICS Gel-Venture is the best.
So, which one are you planning to put on?
Related posts:
Best Running Shoes With Wide Toe Box
Best Running Shoes For Morton's Neuroma