Converse is widely popular all over the world. They are chosen for casual style, durability, and versatility. It can go well with any outfit and can be customized to increase comfort if required. The fabric covered chuck Taylors are breathable and you can comfortably roam anywhere for a few hours with them.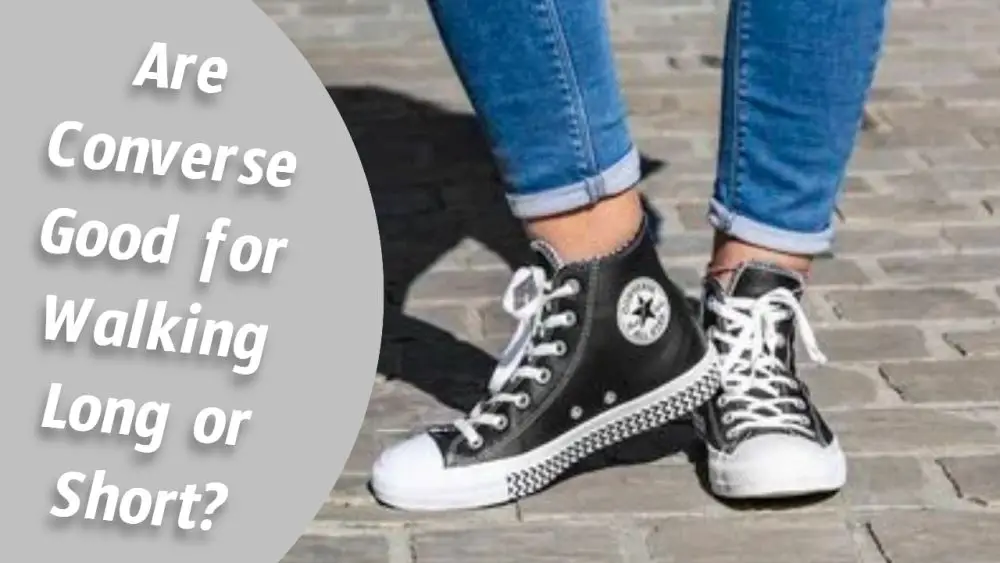 But the common question is heard about converse 'are converse good for walking. Yes, they are if walking short distances. Converse has drawbacks in some aspects, for instance, it has thin footbed that doesn't provide the necessary arch support. Therefore, it isn't considered good walking for longer period.
Converse is made of breathable rubber, leather, or suede and its excellent build quality is what makes Chuck Taylor so popular. But if you're looking for all-day walking sneakers, converse doesn't make the best sense. Why? Let's get it from the discussion below,
Are converse good for walking all day or not?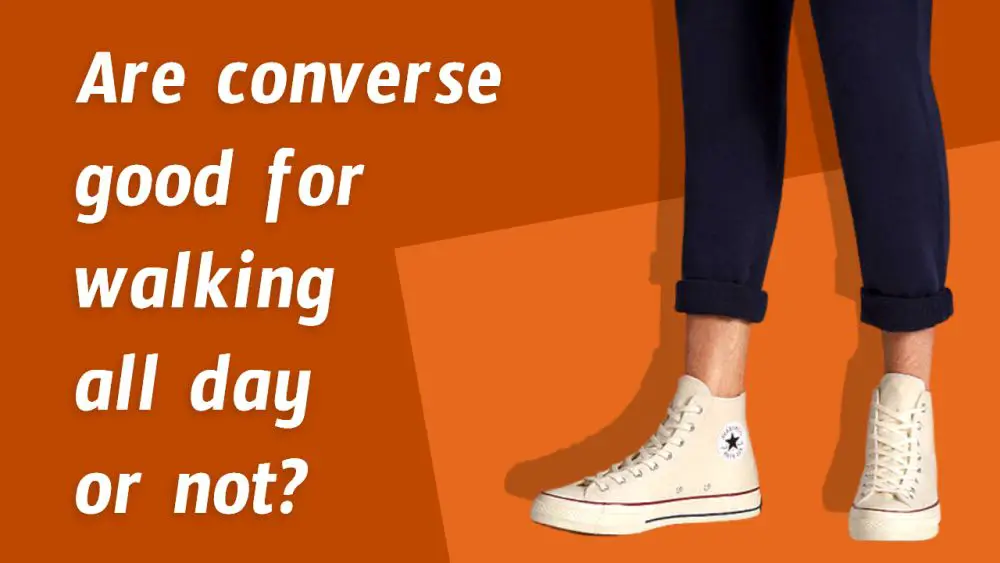 The answer is negative which means converse isn't ideal for all day walking. Shoes that provide proper arch support and do not cause discomfort even when worn for long periods of time are considered good for all day walking. 
For example, you can opt for Birkenstocks, Toms alpargata, Teva sandals, Skechers, etc for long distance walking as they provide the best footbed with required support and cushioning. Converse works great in slippery conditions and for heavy exercises such as weight lifting. If you are highly preferring converse to use all day long, it will be better to upgrade the insoles for better cushioning and arch support.
Why converse aren't good for walking?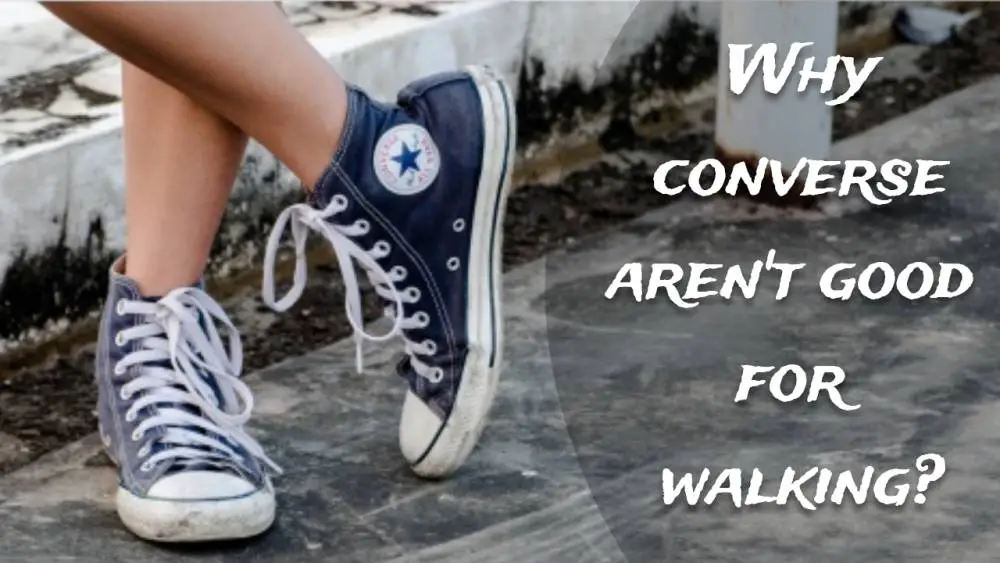 There are some reasons that put converse out of the choice when it comes to shoes for all day support. It is simple that you probably love to wear converse and consider purchasing the second pair because they look fashionable and trendy. However, not all people have the same intention when purchasing shoes. Here are the reasons why converse isn't good for walking long distances,
Lack of arch support
If you have high arches or flat feet, converse won't be a good option for you. For flat feet, it requires necessary arch support to make comfortable footwear experience. Chuck Taylors lack arch support which means if you have arched feet it will cause pain and discomfort on long walks. Although, you can use arch support insoles for this to remove the pain and discomfort or you have to find an alternative.
Lack of thick insole and cushioning
Walking with converse isn't so comfortable because the rubber sole is thin and they lack thick insole and proper cushioning. In terms of comfortability, you need to ensure that the shoe has thick insole and good cushioning support. Unfortunately, chuck Taylors are durable but due to the lack of these properties, they aren't good for long walks.
Can cause blisters
Converse shoes were designed to be worn tight around the ankles. Therefore, using it for a long period can cause blisters. Therefore, it is recommended to wear loose fitting socks with them to avoid this problem.
How to make your converse more comfortable?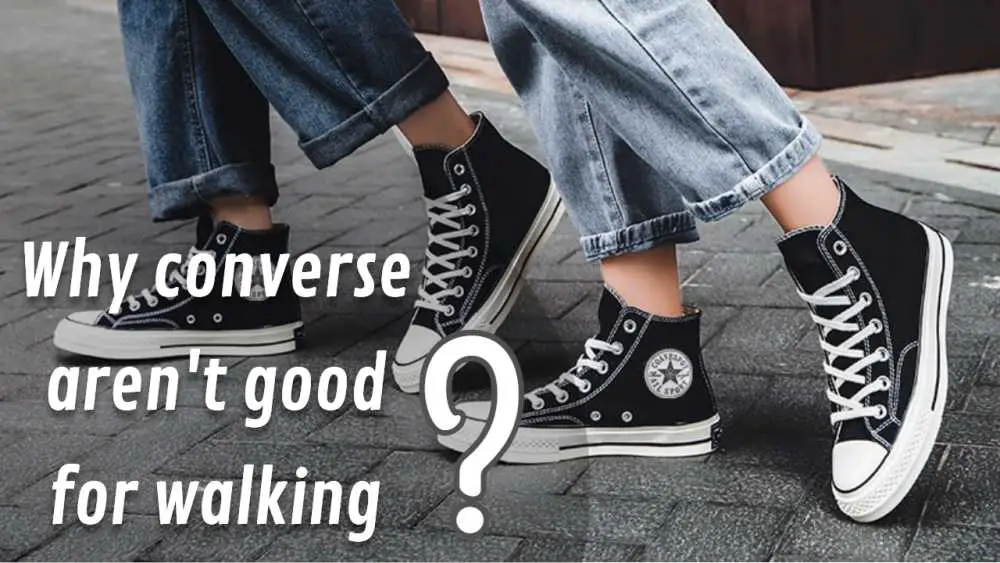 If you are going to buy a new pair of Chuck Taylors, the first thing to make sure is that the shoe is comfortable for you. Not all shoes fit comfortably on all feet. Some have neutral arch, low arch, and high arch. 
Therefore, you need to understand which shoe type is perfect for your foot. People mostly buy converse for style purposes. Whatever the purpose, it needs to ensure that your converse provides the maximum support you need. 
Choosing the perfect size comes first in this regard. If still seems uncomfortable, you can give the following treatment to make it comfortable,
Break in the shoes
Shoes need to break in first before starting to use, especially if it fits tight. It is necessary because if the shoes don't break in, it will cause blisters and discomfort. When you break in your shoe, it will be stretched and become comfortable for your feet. Therefore, after buying Converse you should do some experiments at home to break in the shoe.
Buy insoles
Adding new insoles or arch support inserts is one of the common solutions that can help you to make converse more comfortable. Since converse lacks proper arch support, adding thicker insoles will prevent foot pain for high arches. Also, you can try thick socks to keep away from unwanted blisters.
Wash converse
Another trick is to quickly break in your converse with detergent water. Using mild detergent water can loosen up the shoe material. You can simply dip the shoes in water for 15-20 minutes to get results. You can use hairdryer instead to stretch the shoe material and turn the compact shoe into a comfortable one.
How to break in converse?
All the specific shoes have a limited break in period. For instance, converse may need to be worn for up to six weeks before they are properly broken in. That's huge you know and it isn't always possible to wait for the natural stretching process. In such a situation, we will need to opt for manual process to break in the shoe. You may be familiar with tools that are used to break in boots, canvas, and sneakers. So, how to manually break in converse? There are several methods for this and some of them are given below,
If you are using leather or suede converse, heating will stretch up the material and help to break in.
By stuffing old clothes, paper, or socks into the converse overnight, you can stretch a little to break in the shoe.
Use heel pad, or thick blister proof socks with shoe regularly to speed up the process. 
Are converse good for running?
No converse isn't good for running. They are best for morning walks and you can do little jogging with them. Because of their less arch support and lack of cushioning, they aren't a good option for running. 
In addition, you shouldn't use converse for jumping activities like playing basketball.  
Are converse good for exercise?
Yes and no, it depends on some factors such as what type of exercise you are planning to do and what type of converse you own. Undoubtedly converse is so good for certain gym exercises like weight lifting and other hand exercises. 
Since we knew that converse isn't a reliable option for running and long walking, it provides another solution which is Chuck Taylor All-Stars. It becomes a perfect choice for doing exercises like weightlifting, running, and cross-training.
Final verdict
So the answer to the question 'are converse good for walking' is yes, converse is good for walking short distances. You can use them all day long as they aren't comfortable enough to go through all day. 
Here it needs to mention that there are several types of Converse shoes including the Chuck Taylor All-Stars, Hi-Tops, and All-Star II. Among them, all star Chuck Taylor is designed with excellent cushioning and required support. 
So, you can consider it for walking long distances or running. Converse shoes are a great idea for anyone who wants to stand apart from others while still remaining comfortable and stylish.