Do you know about the new Adidas Yeezys? It's a recent franchise brought in by the leaders in the shoemaking industry Adidas. One of the unique features of this incredible trendsetter is its futuristic design, that'd turn a few heads for sure! 
But are Yeezys true to size? Well, you can pretty much guess the quality you may get from the top-notch manufacturing giant. 
But, our guide will offer you a better understanding based on real-life experiences. 
Read also: Best Knock Off Yeezy Slides
Are Yeezys True to Size?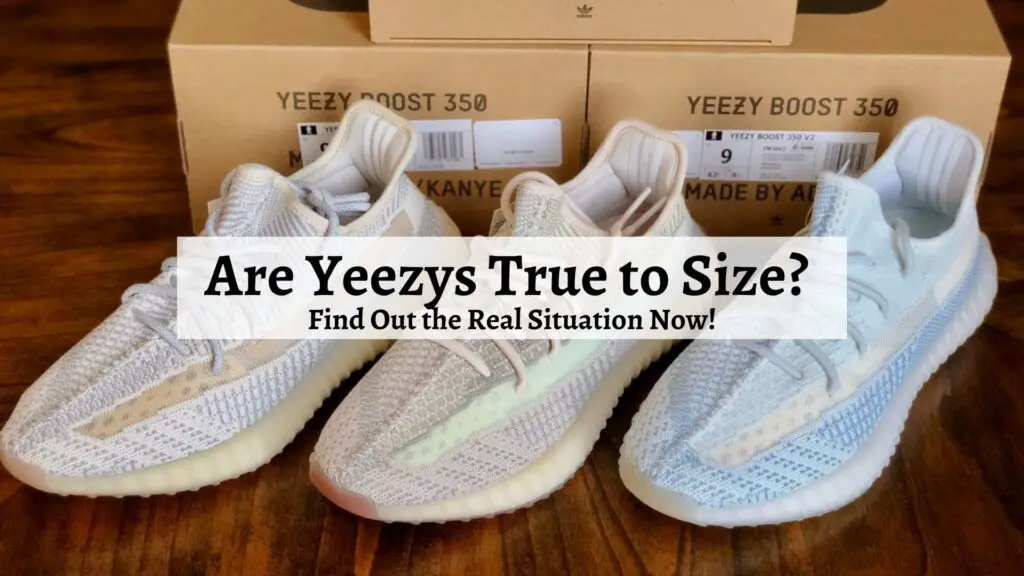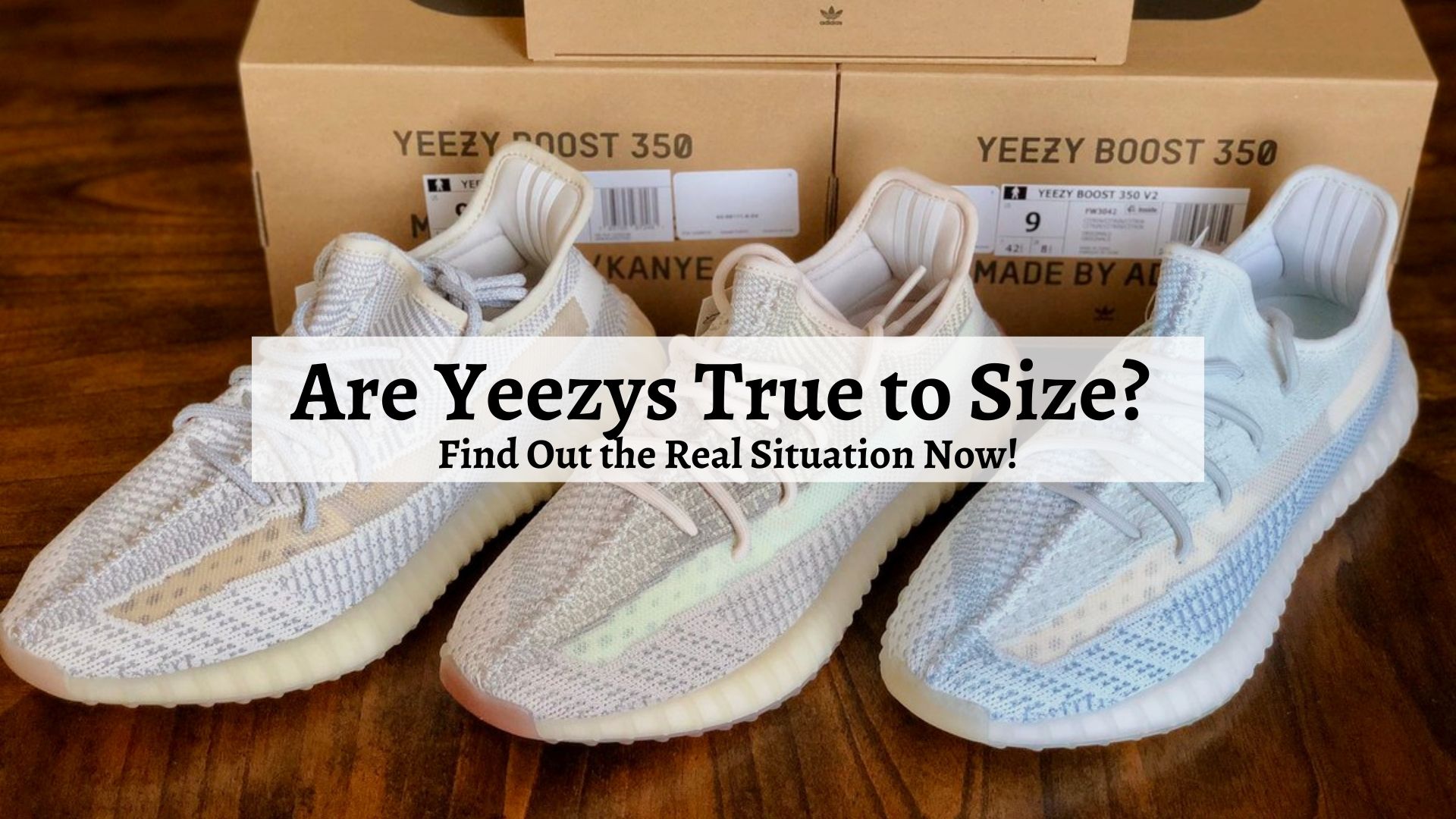 Well, in our guide, we'll look at various factors related to these particular sets of shoes. We'll offer an in-depth view that helps you understand the size-related factors that can help you get a fuller view of the overall shoe quality. So, let's begin our inspection!
Do Yeezy Desert Boots Run True To Size
Yeezy's new shoe Desert Boot is something you may want to try out for an extra bit of fashion and elegance. 
The Desert Boots are pretty snug, which means they can seem slightly tighter if you have wide feet. 
So, you may consider slight size adjustments in case you have a larger feet size than average. You may consider going a full or half size up in this case. 
Are Yeezy Slides True To Size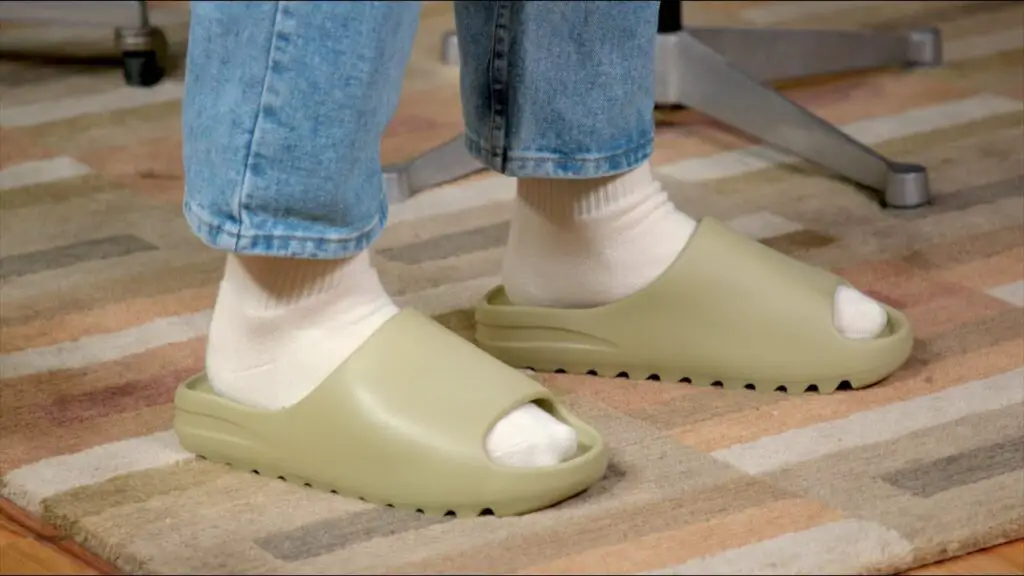 Are Yeezy Slides True To Size?
Well, Slides are another of the Yeezy variants you may want to go for. If you're going for the slides, here is something you should consider. Much like the Desert Boots, the Slides may also seem a bit snug if you're getting it from online (as you won't be able to fit them in physically). 
In this case, we'd suggest you go for a half size up if they're available. If not, then go for a full-size up. Because going TTS (true to size) may result in an extremely tighter fit and hurt your feet in the long run. 
Are Yeezy 700 True to Size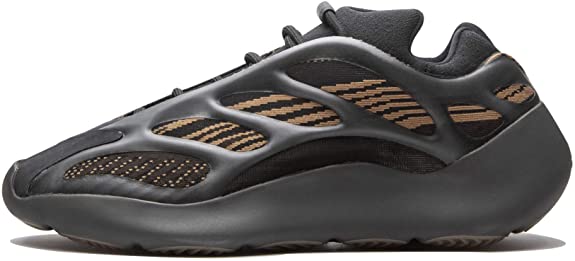 Are Yeezy 700 True to Size?
Now, we'll be looking at the Yeezy 700. Coming with a futuristic design, this is something many may consider going for. So, if you're worried about the fit, here's your helping hand! 
700 is built slightly larger than the other two mentioned, namely, Desert Boots and Slides. 
So, for regular individuals going TTS should just be fine. If you think you have wide feet or feet size is slightly larger than average, going half size up would be a good choice. 
If you like to have some room while wearing shoes, you can also go a half size up. But we won't recommend going a full size up under any circumstances; it'd seem a bit too loose as a result. So, stick between TTS or and half size up. 
Do Yeezy V2 Fit True to Size
V2 is undoubtedly one of the most highly received Yeezy shoes you can find right now. The tremendously stylish shoe variant has become a quick hit for Yeezy lovers. 
In terms of sizing, V2 comes with a more or less exact fitting potential. So, you can go true to size. 
For people with wide feet going half size up won't be a bad idea. 
Yeezy Sizing Charts
You can check out the Yeezy sizing charts for men here:
| | |
| --- | --- |
| US Men Size | CM |
| 3 | 21 |
| 3.5 | 21.6 |
| 4 | 22.1 |
| 4.5 | 22.5 |
| 5 | 22.9 |
| 5.5 | 23.3 |
| 6 | 23.8 |
| 6.5 | 24.2 |
| 7 | 24.6 |
| 7.5 | 25 |
| 8 | 25.5 |
| 8.5 | 25.9 |
| 9 | 26.3 |
| 9.5 | 26.7 |
| 10 | 27.1 |
| 10.5  | 27.6 |
| 11 | 28 |
| 11.5 | 28.4 |
| 12 | 28.8 |
| 12.5 | 29.3 |
| 13 | 29.7 |
| 13.5 | 30.1 |
| 14 | 30.5 |
| 14.5  | 31 |
| 15 | 31.4 |
| 16 | 32.2 |
| 17 | 33.9 |
| 18 | 34.8 |
| 19 | 35.6 |
If you're looking for Yeezy women sizing chart check it here:
| | |
| --- | --- |
| US Women Size | CM |
| 4.5 | 21.5 |
| 5 | 22.1 |
| 5.5 | 22.5 |
| 6 | 22.9 |
| 6.5 | 23.3 |
| 7 | 23.8 |
| 7.5 | 24.2 |
| 8 | 24.6 |
| 8.5 | 25 |
| 9 | 25.5 |
| 9.5 | 25.9 |
| 10 | 26.3 |
| 10.5 | 26.7 |
| 11 | 27.1 |
| 11.5 | 27.6 |
| 12 | 28 |
| 12.5 | 28.4 |
| 13 | 28.8 |
| 13.5 | 29.3 |
| 14 | 29.7 |
| 14.5 | 30.1 |
| 15 | 30.5 |
| 15.5 | 31 |
Are Adidas Yeezys True to Size 
Adidas is undoubtedly one of the biggest shoe manufacturers in the entire world. Coming with spectacular qualities, Adidas' Yeezys offer out of the world design and tremendously sporty outlooks. 
That's why Adidas Yeezys are the new trendsetter becoming extremely popular among young people right now. 
If you're considering getting Yeezys, one thing you should remember is that they may not always fit true to size. 
Despite the tremendously enhanced futuristic designs, the Yeezys may fit a bit too snug. As a result, you may need to consider going for half or a full-size up with most of its variants. 
However, some of the variants like V2 may fit true to size. 
We recommend you research each variant before heading for it. It'll give you a clearer understanding of whether it fits True to size or you need to size up. It'll also help you determine how big you should go; going a full size up can often become a difficult issue as they can fit loose. 
Are Yeezys Worth It?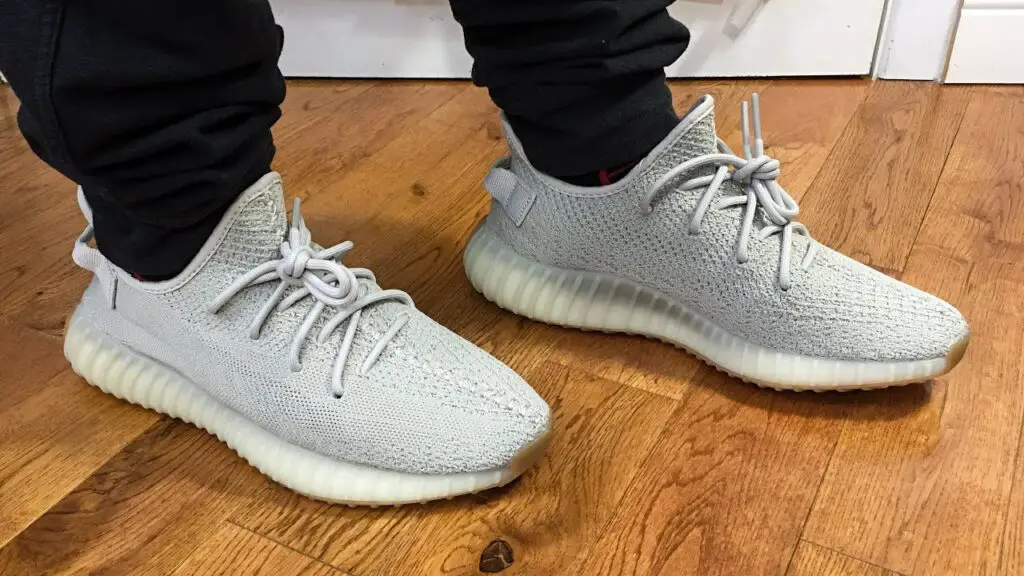 Here is a tricky question. Whether a shoe is worth the investment depends solely on the users' individual experience and personal likings to that particular shoe. So, from an objective point of view, are they really worth the hype? 
Style 
One thing that people prioritize the most nowadays is the style and the outer appearance of their shoes. The main factor they look at is if the shoes can set them apart or not. 
And if that is your main criteria too, Yeezys are worth big time because they come equipped with tremendously attractive and stunning design outputs which will surely light up your feet and make you stand out from the herd. 
Comfort 
Along with style, users usually love to prioritize the level of comfort the shoes are going to provide. Despite the beautiful looks, if the shoes aren't comfortable enough for long-wearing sessions, walking and running, they won't be a viable option for long term use and will lose user satisfaction right away. 
Yeezys are tremendously comfortable for those who wear them. If you're looking for a pair that can provide you outstanding wearing ease throughout the day without tiring up the legs, then going for the Yezzyes should be a good decision. 
Overall Performance 
Yeezys offers a tremendous performance on the whole. If you want to have both performance and style at some time, this is where you should start your journey. 
If you're looking for a shoe to wear while going out with buddies and presenting yourself in the most sophisticated manner possible, Yeezy should be worth big time! 
So, based on the categories mentioned above and the user reports, Yezzyes are undoubtedly one of the best new launches you can go for right now. The range may seem a bit too high, but they should be an incredible add-on to your daily life for the outstanding performance output! 
Can You Wear Yeezys With Jeans?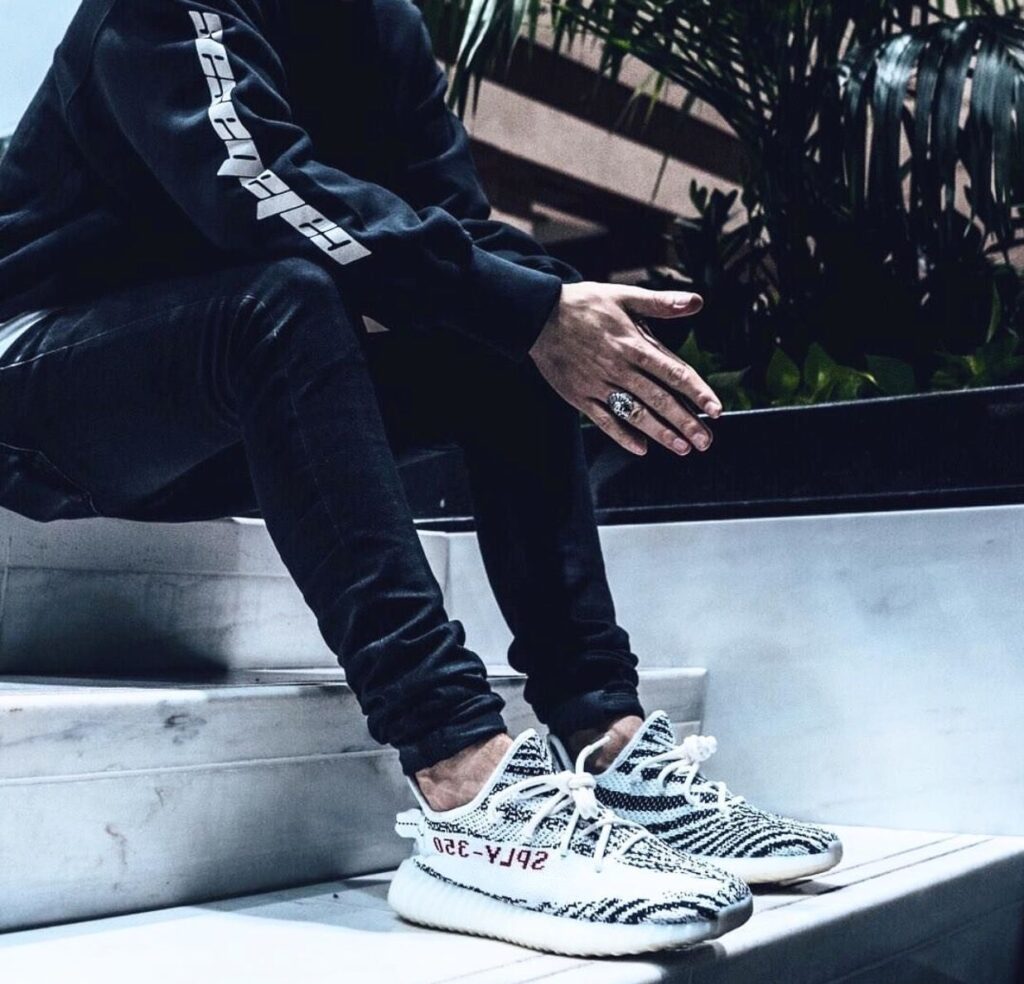 Can You Wear Yeezys With Jeans?
Absolutely, If you're looking forward to getting quality shoes that can go well with your jeans, then Yeezy is something we recommend you to go for. 
One of the things that makes Yeezys completely different from the rest of the shoe manufacturers is their uniqueness in appearance. Coming with top of the world designs and stylish appearances, Yeezys are some of the most versatile-looking shoes out there right now. 
Because of their trendy looks, Yezzyes can go along pretty well with all sorts of outfits, jeans being one of them on the list. 
So, if you're wanting to pair up your jeans with a nice Yeezy variant, you're pretty much clear to move ahead without any hesitations whatsoever. 
Which Yeezy is the Most Comfortable?
If comfort is what you're looking for, Yeezys can be a good pick. Most of the variants in this line would offer you a tremendously comfy shoe wearing experience. 
But if you're still trying to single out one particular model from the many you can go for, the Yeezy Boost 380, Yeezy 350 V1 are some of the most comfortable Yeezys you can go for. 
Now we'll be going through some of the Yeezys themselves. So, you can get a clearer understanding of their performance. Let's start! 
Yeezys Shoes Review
Adidas Yeezys Slide 
Are you looking for something out of the ordinary? Well, getting these Yeezy slides can completely transform your looks in this case. Let's look at what you're getting with this premium item. 
Specifications 
Comfort-enhanced performance output 
Lightweight touch 
Incredible design 
Ideal for summer weather 
Exceptional grip technology 
The thing that makes it stand out is it's a slide. Made lightweight because of the unique design. Being slip-on sandals, you won't be very irritated while getting them on and off. 
Coming fitted with an EVA foam construction, this is something you should go ahead with if you prioritize comfort over anything else. 
Finally, the lightweight build quality of this uniquely amazing item will add tremendous value to this one. 
Analyzing the overall performance related output of this item, it's somewhat pretty sure that if you're looking for a highly comfortable sandal to wear throughout the day, then this slide by Adidas' Yezzy would be the ideal item you can go for. 
Fitting issues may persist, and you may have to go a half size up as a result with this one. But on the whole, this is undoubtedly one of the best slides in the world right now.
Adidas Men's Yeezy 700V 3
At the second spot on the list, we have the highly discussed Yeezy 700. Coming with a trendsetting appearance, this is something that gets you noticed in the crowd. Let's look at some of the features it comes equipped with. 
Specifications 
Futuristic design potentials 
Trendy appearance 
Increased traction
EVA foam technology 
TPU cage construction 
The thing that we'll talk about first is the rubber outsole that comes underneath this premium item. Being a tremendously comfortable grip enhanced sole, this shoe should offer you excellent traction while walking and should prevent you from sleeping to a certain extent. 
On top of that infinity, the lacing mechanism would offer you an incredible fit adjustment for wearing outside. 
If you're looking for a futuristic design on the shoes that sets you apart from your buddies in the group, this is something you should bring in every time.
The monofilament upper with a mesh-like construction should provide you with a breathable sensation for long walks without feeling tired or excessive sweating. 
Fitting, as always, can be an issue much like the Adidas Yeezys Slide,  which we talked about earlier. But on the whole, this should be a great add on to your cabinets! 
Adidas Yeezy Boost 350 V2
Finally, we have the Yeezy Boost 350. Coming with unbelievable variations, these shoes are the ultimate versatile options you can go for today. Let's find out some of the key offerings of this incredible item. 
Specifications 
Exceptional comfort 
Stupendous design output 
Maximum overall performance 
Rubber outsole 
Internal toe box 
Comfort is the first thing we like to mention about this one. It'd offer you a tremendously comfy sensation upon wearing. As a result, you'd be happy to wear it all day long for different tasks without much difficulty. 
Wearing ease is one of the key areas we're going to look at. How easy it is to take it on and off contributes highly in terms of determining the overall quality of the product. 
Well, coming with a highly versatile design output, it should be extremely easy for you to slip it on whenever you want to.
Style is what it stands for! If getting a modern, fashionable shoe is your prime target, we'd highly recommend this beauty! This is something that'd get you noticed without a doubt! 
A slight colour mismatch can occur as you're not getting it from a physical shop, but all in all, this should surely be an outstanding add-on for the shoe rack any day! 
Bottom Line 
Throughout the entire series, we've provided highly researched insights on the Yeezys. Yeezys are by far one of the most advanced shoe variants in the world right now. Keeping aside the issue of affordability, these shoes come with tremendously advanced technologies that define the shoemaking industry today. 
We also added full-length guides on 3 different shoe variants from the Yeezy line, apart from generalized information. 
After much discussion and thorough-going analysis, the outstanding quality of these shoes is plainly evident. 
The issue of sizing and fitting is perhaps the issue is. Despite the tremendously unique design and performance output, if you ask, Are Yeezys true to size?, we'd have to say that it's a no. 
Just like many other variants in the market right now, you may find them a bit snug, and in most cases, you may have to go one or a half size up. (some of which are mentioned in our guide itself). 
So, when are you getting your Yeezys?