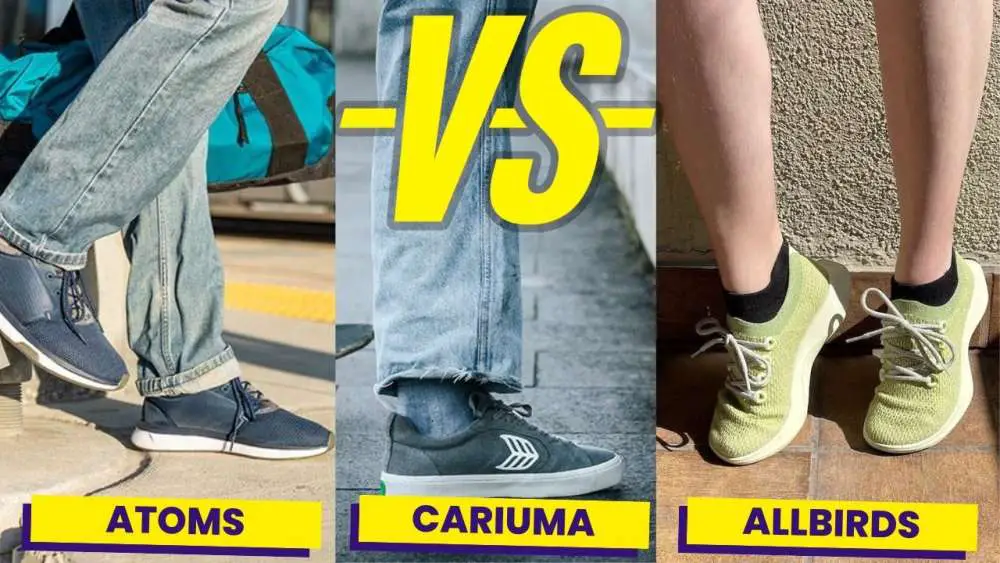 Suppose you have thrown away a pair of shoes, and after ten years, you suddenly notice that shoes are still in the corner of your backyard, staying almost the same. How awkward will that be? This happens in the case of many shoes.
 Shoes are not usually auto-degradable and environmentally friendly. Many of us need multiple pairs of shoes in a year. But have you thought about the final destination of your damaged shoes? 
Footwears are made of rubbers, chemicals, and artificial materials that stay on the ground for thousands of years and can cause a significant amount of damage to the environment. For reducing the carbon footprint from the earth and making our world more sustainable, looking for sustainable alternatives for our footwear is one of the most critical factors.
If you want to have environment-friendly and sustainable options in hand, brand names will pop up in your mind like Cariuma, Atoms, or Allbirds. These brands use environmentally friendly materials that can be recycled and reused. 
You don't need to worry about damaging your environment and making a lot of waste. Also, you will find different styles and comfort in your favorite pair of shoes.
These brands have different values and focus on their products. So let's learn about them and find out which one is the most suitable for your needs.
Why Should You Choose Cariuma?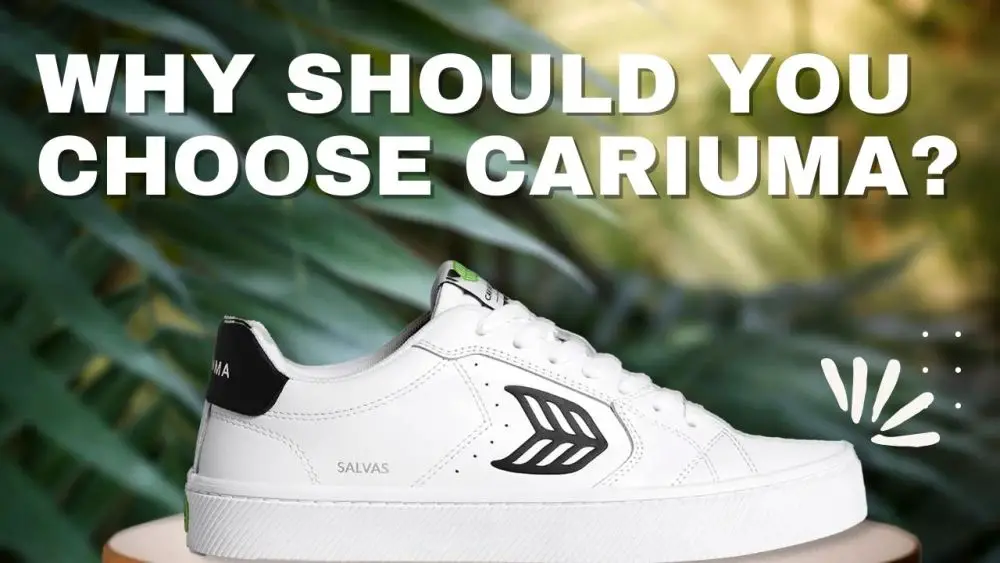 The reasons why Cariuma shoes would be great are as follows:
Cariuma shoes use bamboo and cork as their base material which is very environmentally friendly and recyclable.
The timeless and variety of designs will help you to be on top of your fashion and style your outfit as you wish.
The shoes are very comfortable and flexible. You can run and walk at your own speed without any difficulties.
Why Should You Choose Allbirds?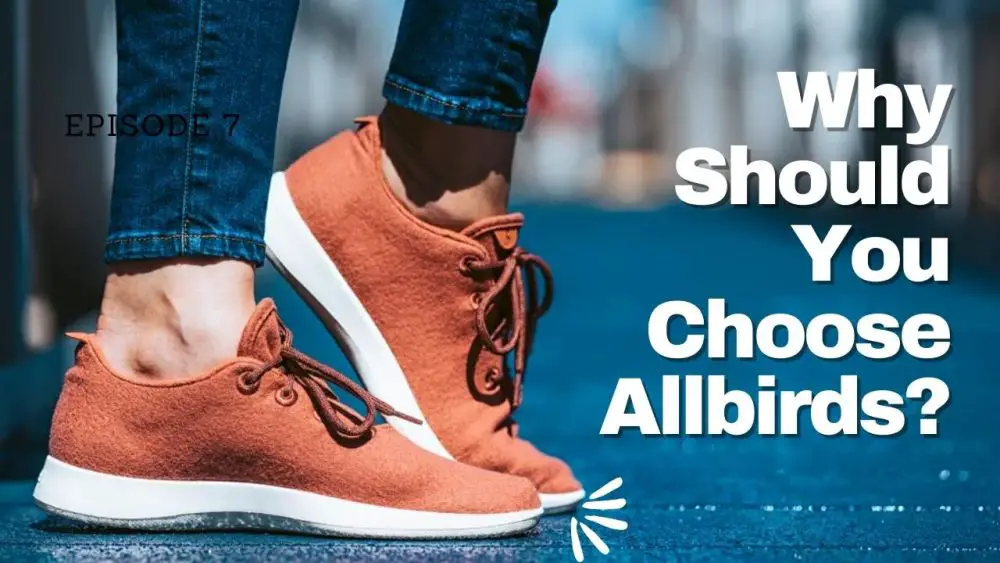 The main reasons why Allbirds is desirable are as follows:
You can make your sustainable shoes fashionable and style your footwear as you want. Allbirds has one of the widest varieties of shoes in the market.
The raw materials are comfortable and environment friendly. The "Merino Wool" is quite refreshing for your feet.
Why Should You Choose Atoms?
The following reasons make atoms shoes popular and the best choice among the users:
The comfortable and timeless silhouette of the atom shoes will give you an elegant and standard look.  
You will find item shoes available in various sizes so you can find sneakers that fit you perfectly.
Cariuma vs. Allbirds vs. Atoms Comparison Table
| | | | |
| --- | --- | --- | --- |
| Characteristics | Cariuma | Allbirds | Atoms |
| Best Features  | Timeless and fashionable options for your style. | Wide variety of designs among sustainable choices | Available quarter sizing for perfect fitting |
| Popular Models  | OCA High | Tree Dasher | Model 000 |
| Materials  | Bamboo and cork is used as raw material | Merino wool and eucalyptus are used for upper material  | Recyclable and vegan materials is used |
| Design  | comfortable and flexible designs | one of the largest design lines for footwear | simple and smart designs |
| Comfort  | one of the highest quality sneakers | Called "The World's Most Comfortable Shoe" | Perfectly fit and comfortable for all sizes |
Key Features of Cariuma
Some of the significant additional features of the Cariuma shoes are mentioned below:
Comfortable and long-lasting sneakers. 
The beautiful sneakers will keep your footwear fashionable and help you move comfortably.
The wide selection of varieties of designs will give you the opportunity to choose your style 
The eco-friendly and sustainable measures will reduce the footprint of the product and help the environment recover fast.
You will get a better option for your footwear at an affordable price.
Some Good Things Of Cariuma
The Cariuma shoes are designed to replace short-term sneakers. You will find modern and stylish sneakers that will last quite a long time and give you comfort in this brand. These sneakers and shoes of Cariuma are perfect for jogging or a long walk. So wear your eco-friendly footwear and ensure your comfort at the same time now.
Whenever we think about environment-friendly options, one thing that goes back in our heads is that the choice might not be that beautiful. But the varieties of shoes and their designs that Cariuma offers you will mesmerize you. You'll find shoes in different colors and styles that are suitable for different occasions.
If you are a climate warrior, you will try to reduce the carbon footprint of the products you use, and Cariuma gives you an excellent opportunity for that. The raw materials that are used to make Cariuma shoes are mainly cork, bamboo, and other materials that are very sustainable and do not harm the environment. So, don't worry about hurting planet earth or destroying its beauty.
Many high-end footwear companies do not care for waste production and the damage caused to the environment. Also, caring for the environment is not cheap or easy work. So, the total cost of production skyrockets very quickly. But Cariuma is handling it quite swiftly and offers you sneakers in different styles and designs within an affordable budget.
Some Bad Things of Cariuma
The only disadvantage of Cariuma shoes is their sustainability and long-lasting life span. If you are trying to follow a short-term trend or style, you might not find suitable sneakers for that.
You might not find materials like rubber, artificial leather, or plastic in Cariuma shoes. So, if you feel comfortable with plastic soles or want a long-lasting pair of sneakers that you can use in damp places and don't need to take care of them much, then this brand might not be your favorite one.
Key Features of Allbirds
Some essential features of the Allbirds sneakers have been listed below:
Stylish sneakers for people of all spectrum.
High-quality merino wool will make your footwear comfortable and sustainable.
Sustainable production line up from the beginning to end.
Customizable designs, especially for every individual wearer.
Comfortable and eco-friendly footwear within an affordable price range.
See also: Shoes similar to allbirds
Some Good Things Of Allbirds
No matter which spectrum you live in, Allbirds has the perfect footwear for you. You will find comfortable running shoes, trainers, and sneakers for both males and females of different ages. Allbirds allows you to explore a wide range of footwear designs and choose your own comfort zone.
Oftentimes, we find various long-lasting yet harmful materials in footwear. Allbirds came up with the concept of using merino wool and eucalyptus as the raw material for sneakers. The high-quality merino wool will give you firm protection around your feet and keep your feet warm yet comfortable while running. Also, these eco-friendly materials will help you to take care of your feet and footwear at the same time.
The production cycle of your shoes needs a lot of raw material and elements that will not be part of the final product, and all these can go to waste if not handled properly. Allbirds has developed a sustainable production lineup so that these environmental resources do not go to waste and can be reused.
Wouldn't it be a blast if you could pick the specific details or color of your shoes, and the brand can customize the unique shoe for you? Allbirds give their customers this outstanding service and allow them to choose the color and small details on their basic designs. So, for spicing up your sneakers and making them unique, Allbirds is the perfect choice for you.
Once again, if you want your footwear at an affordable price and don't want to add to the massive dump for the earth in the future, Allbirds is here to assist you. You will find footwear sneakers in quite an affordable price range that will last longer and give your feet support and comfort while needed.
Some Bad Things of Allbirds
All birds are known as the world's most comfortable shoes for some reason. But if you are looking for 100% recyclable and vegan production, then it might disappoint you. You will find the use of artificial materials in Allbirds once in a while. Also, if your skin is sensitive to wool, then you should be careful before choosing your sneakers from Allbirds.
Related post: Allbirds vs Baabuk
Key Features of Atoms
Some key features of Atoms sneakers are as follows:
You will find sneakers available for quarter-sizing that will fit you perfectly.
The copper thread lining of the shoe will help to fight unpleasant orders.
The simple design and high-quality material will give you comfort and elegant look.
The most recyclable production lineup and 100% vegan inventory. 
The packaging and shipping are environmentally friendly.
Some Good Things Of Atoms
Producing footwear of different sizes needs molds and equipment, which is quite expensive. Considering this fact, Atoms is doing a great job making quarter-size shoes. It allows the customers to find the perfect size for themselves. 
You will find a wide range of sizes in Atoms' shoes and choose the shoes that will fit you perfectly and keep your feet comfortable.
If you are having a sweaty foot or are worried about the smell of your sneakers after a long walk, these shoes are going to solve your problem. Atoms shoes have a copper thread lining that helps the shoes to remove the unpleasant smell and give you the scope to relax without worrying about it.
The simplicity of the design of atom shoes is quite eye-catching and elegant. As per Vogue, atoms sneakers are considered the most thoughtfully designed sneakers. The silhouette and simple design will help you to look perfect and elegant in any environment. Also, it adds another dimension to your outlook and weight on your personality.
If you are an environment enthusiast, then Atoms is the ultimate footwear brand for you. They use 100% vegan inventory. So, there is no animal cruelty or abuse. And their product lineup is quite impressive as well. 
The shoes are 99% recyclable which leaves an almost negligible footprint behind, and it allows the world to breathe a little. So whenever you throw away a pair of Atoms shoes, you are contributing to the production of a new pair.
Sometimes even when the product is environmentally friendly, the packaging and shipping process creates a lot of mess. Atoms try to reduce that as much as possible. The shipping and packaging are done by using carbon offset so that the damage can be reduced and there is less waste to handle.
Some Bad Things of Atoms
You will not find as many variations as you get in Allbirds as in the Atoms' shoes. Also, the shoes can be a little more pricey than other brands. If you are looking for a sneaker that will be of vibrant color and stand out in the crowd, then Atoms is not the perfect choice for you. 
Atoms shoes mainly focus on fitting and comfort. So, sometimes you will struggle to find the stylish and funky look on your sneakers.
Similarity & Difference Between Cariuma, Allbirds, and Atoms
As all three brands are popular for their eco-friendly footwear; there are many similarities among them. Also, you will find some dissimilarities that differentiate their brand value and priorities. 
If you want to feel comfortable moving around in your casual sneakers, then you must know about the features that define them. Here are some differences and similarities between these three brands that will help you to understand them better.
Sustainability 
For the last few years, footwear has been changing its style very rapidly, and these sustainable alternatives are a challenge against those fast fashions. Atoms, Allbirds, or Cariuma, all these footwear will last and stay in good shape for a few years if you take care of them. You don't need to change your sneaker every year or struggle to find the sneaker that fits you perfectly.
Among all these three brands, Allbirds will give you the most long-lasting and sustainable footwear that will help you be stylish and elegant at the same time. Cariuma shoes degrade quite fast, but if you take care of them, they will stick to you for a long time.
Vegan Shoes 
In the fashion industry, animal cruelty is one of the most debatable and controversial topics. Creating a new and beautiful piece of dress, shoes, or bag without hurting any animal is a difficult task. 
But our sustainable footwear brands are working on that and doing a great job. You will find various vegan shoe lines in different brands nowadays. In this race, Atoms is one step ahead. Their inventory is 100% vegan, and they ensure zero tolerance against animal cruelty. 
Cariuma is working on that ratio too. Almost 50% of their products are 100% vegan, and they use cork and bamboo as their main raw material. For the summer shoes and sneakers, all birds use eucalyptus to make comfortable footwear out of them.
Design 
Now, you can enjoy your eco-friendly movement with styles and colors. You will find various footwears that are of vibrant design. You will find various aesthetic footwear that will add a different dimension to your look, and in that race, Allbirds wins. 
Allbirds offers a wide variety of shoes and sneakers from where you can choose the most suitable style for you. Cariuma also offers elegant and bright-colored shoes that will brighten your spirit and highlight your personality. 
In the case of Atoms, they focus on the sizing and fitting of the shoe more than the colors. You will find simple and gorgeous shoes perfect for any size with atoms.
Quality 
As your shoes support your whole body while you are standing or walking, the quality of your shoe must be good to keep yourself healthy. Our eco-friendly friends here are very comfortable and made of high-quality materials. 
The insoles of Cariuma shoes made of cork and bamboo sheets are very soft and comfortable against your feet. These materials don't create any chemical reaction with your sweat or scratch your skin. Also, you will feel comfortable and warm around your feet. 
If you are looking for specifically warm shoes, the merino wool body of Allbirds shoes will help you to keep warm and provide you protection from cold weather. And for summer shoes, you can also buy Allbirds shoes that use eucalyptus to give you a comforting freshness. You will also find 100% vegan shoes in Atoms or Cariuma that will make you feel more attached to the environment and give you strong support.
Sportswear
One thing that our environmentally friendly footwear industry is still lagging behind is high-quality sportswear. You will find different sneakers and casual shoes of different styles but finding good quality sportswear that is sustainable and comfortable at the same time is a bit difficult. 
Nowadays, some sustainable brands are taking the initiative to produce high-quality sports shoes also. You will find trainers and running shoes in Allbirds that will help you to run for a long time and move your legs swiftly while you are playing.
FAQs
Are Allbirds shoes good for sensitive skin?
Allbirds' shoes use merino wool as their raw material. The wool is very soft and delicate and does not create any itching or discomfort against your skin, but if you are highly sensitive to wool or other materials, then it is better to check the raw material before buying your shoe and consult with your dermatologist. 
As there are various types of sensitivity among people, we cannot say for certain that Allbirds shoes will not trigger any of them. But commonly, Allbirds shoes are not harmful to any specific skin type.
Are eco-friendly footwears economically feasible? 
Many people think that environmentally friendly products are very expensive. But that is not true all the time. Of course, when you try to run your production in an eco-friendly way, it will take a little more effort, and it will add up to your budget, but there are many footwear companies that provide high-quality eco-friendly sneakers and shoes at an affordable price.
How to take care of eco-friendly sneakers?
You do not need to go through a lot of hurdles to keep up your environmentally friendly footwear in good shape. As the footwear is sustainable and eco-friendly, if it stays under the sun or in damp weather for long, it will degrade comparatively faster than other shoes. 
If you can keep your footwear clean and in a dry place, it will stay for a long time. Also, you can follow the instructions of the manual that comes with your shoes to make them last longer.
Which one is better among Atoms and Allbirds shoes?
Both Allbirds and Atoms shoes are environmentally friendly and have a sustainable lineup. It varies based on what you want to focus on in your footwear. If you are looking for versatility in the design of your footwear, then Allbirds will be perfect for you. They come up with comfortable footwear that will match your style. 
You can choose from a large variety of shoes. But if you want to contribute to the environment more, Atoms is more suitable for you. Atoms shoes are 99% recyclables that reduce a significant amount of footprint, and it's 100% vegan inventory will also help the environment to heal.