Crocs are much more mainstream and popular than Amoji. While Crocs produces some of the best higher-end clogs on the market, Amoji makes them much cheaper. So, does Crocs provide enough extra comfort and durability to justify the extra dollars you will be spending on them?
We think it does. However, some people swear by Amoji being more comfortable than Crocs. But that has not been our experience. Crocs are made of higher quality material known as Crosslite. They also come in so many different patterns and styles. Amoji doesn't offer such variability. Even so, Amojis are great value for money. In case you are on a budget, Amoji is a great option.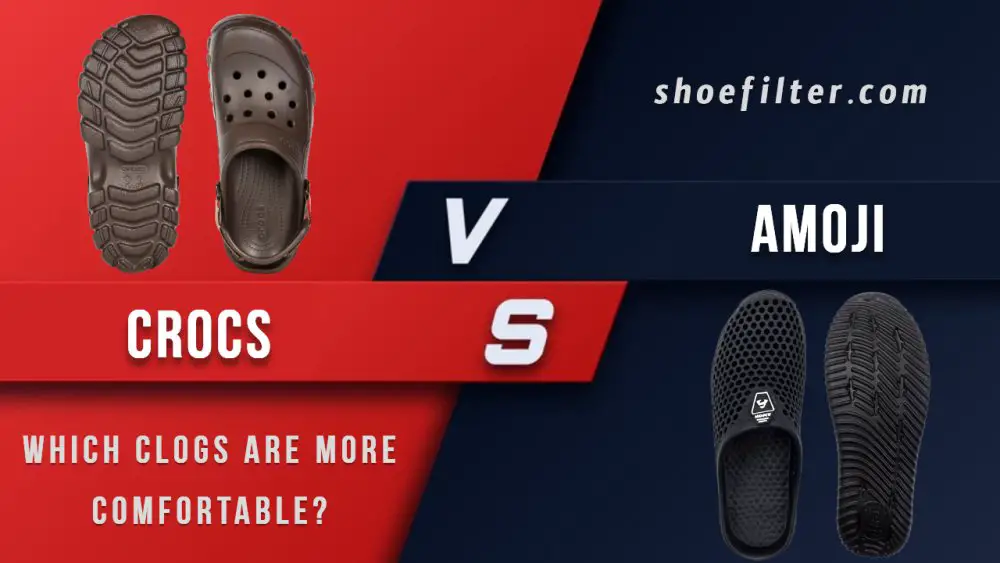 Let's now take a look at a more detailed comparison between the two brands. Keep scrolling to learn some of the fine points of the Amoji Vs. Crocs debate.
Why Should You Choose Amoji?
If you are someone who loves to wear clogs, giving Amoji a try is a must. Here are some wonderful aspects of Amoji that make it so great.
You get a clog that is very similar to Crocs in construction at half-price.
Low to neutral arch support for those who don't enjoy having a higher arched clog.
Made entirely of lightweight synthetic rubber that provides ultimate comfort.
Easy to clean and wash because of the material used.
Casual look to fit many leisure activities.
Why Should You Choose Crocs?
Crocs have been a sensation for quite a while now. Even so, the craze for them hasn't died down. A lot of people still swear by Crocs being the most comfortable shoes ever. So, what is Crocs doing right?
Crocs are made of a material of their own creation called Croslite. It is incredibly soft and molds to your feet's shape making it extra comfortable.
These shoes come with non-slip outsoles.
Anti-bacterial treatment prevents bad odor coming from your feet. Easy to clean.
Good arch support for people who like to have extra cushioning around the arches.
Crocs are a fashion statement and not to mention super trendy. There are so many designs to choose from. 
Amoji Vs. Crocs Comparison Table
| | | |
| --- | --- | --- |
| Characteristics | Amoji | Crocs |
| Material | Amojis are made of lightweight, soft, synthetic rubber.  | Crocs are made of their proprietary material named Croslite. It is a resin material, not rubber or plastic as one might think.  |
| Shoe Type | Clogs, flip-flops, and sandals. | Clogs, sandals, slides, flip-flops, boots, platform, wedges, and sneakers. |
| Arch Support | Less arch support is provided than a standard pair of Crocs. | It has good arch support and a comfortable footbed. |
| Durability | They are very durable. Each pair should last more than 1.5 years of regular use. | Can easily last up to 2 years of regular usage. |
| Sole | Treaded rubber outsole for good traction. Soles are extra thick for added comfort. | EVA sole for maximum support and shock absorption. Non-slip outsole. |
| Variations of designs | Amoji has a very limited collection of clogs. Much less to choose from in terms of style and color. | You can find Crocs clogs in more than 100 different designs. Not to mention they make other footwear.  |
Key Features Of Amoji
Although shoes usually differ from model to model, most Amojis have the following key features.
Made entirely of synthetic rubber that is soft, lightweight, and comfortable.
The upper has perforation for breathability and air circulation.
Thick around the sole for extra cushioning.
Easy to clean and waterproof.
Treaded rubber outsole for maximum traction.
Some Good Things About Amoji
Amoji has to be the best Crocs alternative in the market. It is most similar in style and quality. If you don't want to invest in Crocs and want something cheaper, we recommend Amoji. It provides adequate comfort and costs half as much as Crocs. So, in that sense, Amoji is better value for money.
Their clogs are made of high-quality, durable rubber material that is comfortable and soft. They don't feel stiff like other Crocs alternatives. The footbed is thickly padded to provide additional bounce and coziness. Your feet will be comfortable throughout the day.
These are super easy to clean, waterproof, and heavily treaded so you don't have to worry about slipping. Overall, Amoji has a very casual look to it. So, if you will be lounging around the pool, vacationing, or just staying indoors, Amoji is a good choice.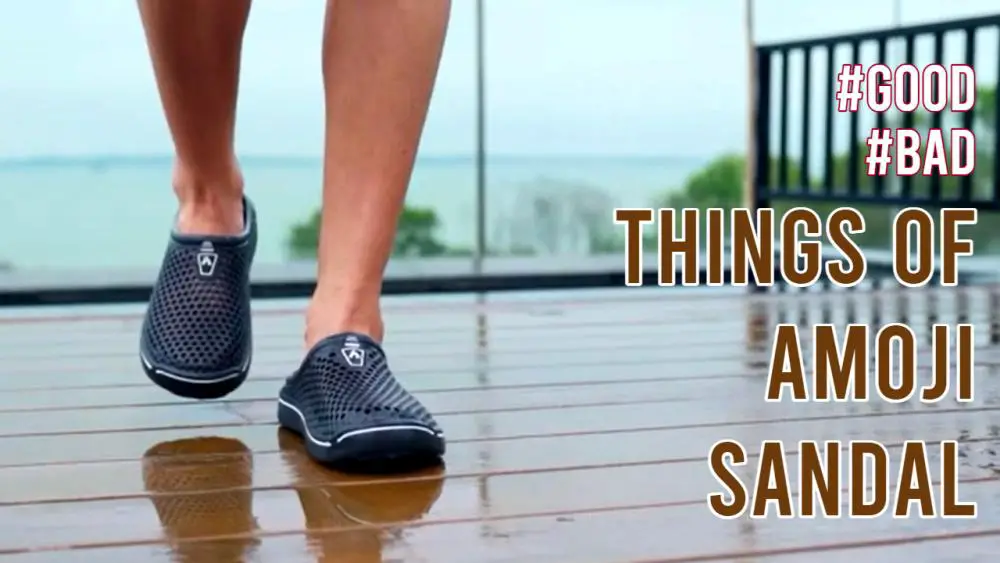 Some Bad Things About Amoji
Shopping Amoji clogs can be restricted as there aren't that many different designs and variations to choose from. Their options are especially limited when it comes to clogs for kids.
Another issue with Amoji is that they mostly make clogs. Their collection of flip-flops and sandals is unavailable most of the time. Amoji is also less durable than clogs and the material used is comparatively less soft.
Key Features Of Crocs
Although Crocs makes some other footwear than clogs, we will focus on clogs here. Some key features that appear in Crocs clogs are given below.
Made of their signature Croslite material that is basically closed-cell resin. It has benefits such as; slip-resistant, antimicrobial, insulating, UV-resistant, recyclable, and ergonomic.
Comfortable cushioning that conforms to the shape of your feet.
Perforation on the upper for breathability
E.V.A. outsole for extra support and protection to the muscles, bones, and joints from impact.
Easy to clean and waterproof. Made of durable material.
Some Good Things About Crocs
Crocs are extremely comfortable, and their material is designed to conform to the shape of your feet for better fitting. This is a unique technology Crocs has come up with and they call this Croslite. As we have already mentioned, this material is what makes Crocs what it is today.
The lightweight, comfortable, and ergonomic design of Crocs are their own creation and we love it. Crocs have a very good collection of work shoes for people who stay on their feet all day. With E.V.A. cushioning, their feet stay supported even after standing all day.
They are easy to clean and antimicrobial, which means they don't develop a bad odor. Apart from all these amazing features, Crocs are also durable and last at least two years easily. Moreover, you get to choose from so many variations, colors, and designs. There is a Crocs for every taste.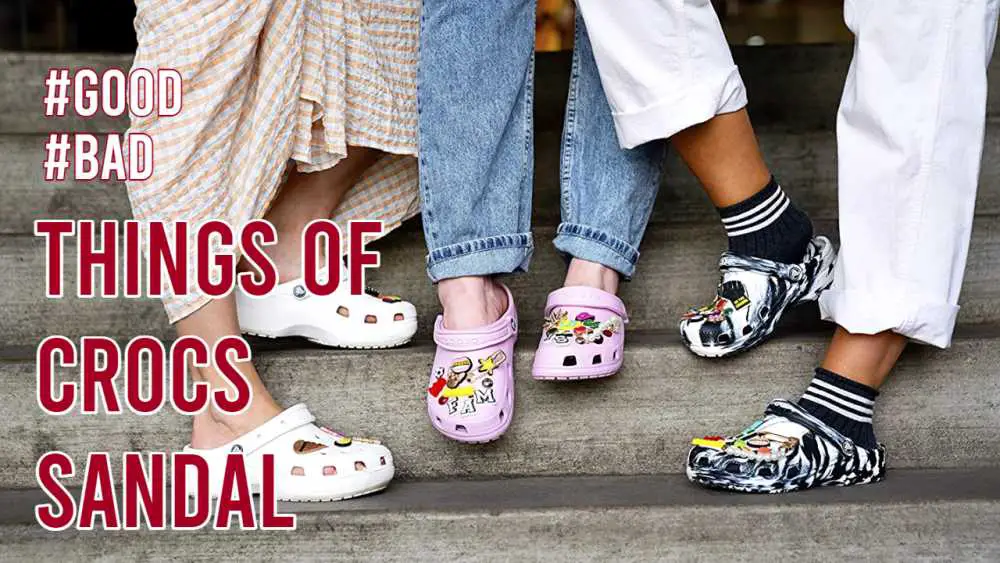 Some Bad Things About Crocs
Well, the number one bad thing about Crocs has to be how expensive they are. But if you can afford it, the comfort of Crocs is superior to any knockoff in the market and worth paying for.
Crocs aren't meant for physical activities. They also don't offer the best heel support. So, mostly Crocs are only good for when you are enjoying some leisure time or working at someplace like a medical practice, where a lot of sitting, standing, and some walking is required only.
FAQs
Is it okay to wear Crocs in water?
Crocs water shoes are designed to be worn in the water. They protect your feet from sharp objects hidden under the water surface. Moreover, they are easy to slip in and out of. You get quick water drainage and Crocs aren't damaged by water.  
What are Crocs meant for?
Crocs were meant to be boating shoes. That is why they are waterproof entirely and have perforations for quick water drainage. With that in mind, if you think of the design of Crocs, their intention becomes much clearer and less obnoxious. 
Why do doctors wear Crocs?
Doctors love Crocs because of the easy cleaning experience. Crocs clogs can be cleaned and sterilized within minutes, which is pretty handy for doctors as they are regularly exposed to blood, urine, and other bodily fluids.
Do Crocs give you foot fungus?
You have nothing to worry about as long as you clean your Crocs often. However, if you have left your Crocs unclean for months and let the bacteria fester there, you will risk getting foot fungus. So, clean your Crocs once a week if you wear them regularly. It will only take about 5 minutes anyways.
Related articles:
How Long Do Crocs Last
Are All Crocs Non-Slip Shoes
Do Crocs Run Big Or Small
Shoes Similar To Crocs