Are you ready to experience the super comfy walking experience with quality lightweight footwear solutions like the Allbirds? Well, getting quality shoes similar to Allbirds can help you achieve that. 
Allbirds is known for offering a highly comfortable wearing experience along with a soft and lightweight shoe construction. Moreover, the easy slip on and off makes them more desirable for anyone 
So if you're able to get shoes that mimic the exact qualities of the Allbirds, you can enjoy the same level of comfort within your budget. 
Shoes Similar to Allbirds to Cut Extra Cost!
Now we're going to discuss some footwear options which may offer a similar experience as the Allbirds. Let's find out more about each one of them! 
LeMouton Classic Men's Wool Shoe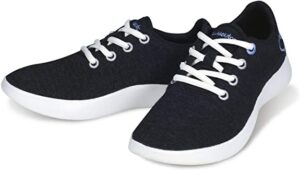 First on our list, we have the outstanding LeMounton Classic Men's Wool Shoe. Time to learn more about this one now! 
Specifications
Merino Wool is used both inside and outside for comfort.
Synthetic rubber to ensure excellent traction.
Footbed can be changed easily for high convenience.
Can be easily washed in machine whenever necessary.
3d stretchable wool to keep up with your daily movements.
The sole of this shoe is made of rubber. This means you can perform a wide range of high-impact movements without the risk of hurting your feet.
This footwear also features a 3d stretchable wool which helps your shoe go through different flexes without breaking down. The tight build of this shoe helps contain odor and sweat while at the same time protecting from outside water splashes. 
Many shoes can withstand normal movement but break down easily in the face of complex movements. The Lemouton Classic Men's Shoes do not suffer from such issues. 
The footbed, the shoelace, etc. are also interchangeable. This means you are never really stuck with the original parts that your shoe comes with and the same feature can be found in LeMouton Classic Women's wool shoe.
You might run into some tearing issues but considering the myriad of benefits the shoe offers, you will probably not regret getting this product.
Urban Fox Men's Parker Wool Sneakers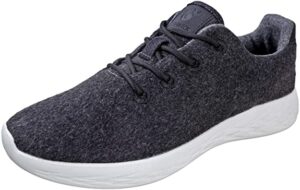 For our second place, we have the Urban Fox Men's Parker Wool Sneakers. We recommend this product for both casual and sports purposes.
Specifications
Stylish design for standing out in the crowd.
Solid construction for heavy use.
Slips on easily and saves you from annoyance.
Can survive both casual walks or running sessions.
Good quality wool for comfortable movement.
The Urban Fox Men's Parker Sneakers come with rather sturdy construction. This means you can casually walk around town or go for running sessions. If you are looking for comparatively better gym shoes then this product can also be a good option for you.
While focusing on good construction, Urban Fox did not forget to come up with unique designs almost to the level of Hey Dude Men's Wally Loafer. So not only will you have a good experience during movement, but you will also look good while you are doing it.
One of the issues many sneaker users complain about is the arduous process they have to go through while putting on a shoe. Such annoyances often deter them from using a sneaker altogether. 
Urban Fox has also paid attention to this issue and implemented an easy slip-on feature so you can put on these shoes without going into much trouble.
The construction of this shoe can be a bit poor in quality at times but it still can perform great as a cheaper alternative to Allbirds.
LeMouton Classic Women's Wool Shoe

Next, we have the LeMouton Classic Women's Wool Shoe. This product is specially made for our female crowd so they don't feel left out. Let's look at some of its' features. 
Specifications
Spacious construction that provides breathing room to legs.
Sole has a synthetic rubber construction so you can expect excellent traction.
Very light in weight for a comfortable wearing experience.
Insole comes with wool padding and provides OK level of arch support.
Specially designed to function without using socks.
The LeMouton Classic Women's Wool Shoe is made with the needs of women in mind. The shoe comes around a shockingly low weight of 4.9oz similar to the LeMouton Classic Men's Wool Shoe. This means you will probably not feel any burden on your legs while moving around.
Another issue women face is their feet sweating and smelling under intense use periods which causes discomfort to them and the people around them. The LeMouton shoes are designed to dry out your feet moisture quickly and to keep your feet as dry as possible.
LeMouton has used rubber as material for their soles which ensures high level of performance during heavy traction periods. So for the ladies looking to engage in sports while rocking their shoes, this can be a great option.
You might run into fitting issues but these shoes come with a lot of great features of their own to justify your purchase.
KEEZMZ Men's Running Shoes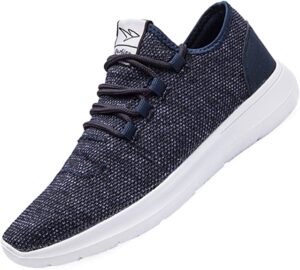 For the Men out there who are looking for a running sneaker that also offers breathing space, we have the KEEZMZ Men's Running Shoes. These are probably one of the best shoes similar to Allbirds tree runners. 
Specifications
Fabric sole for high comfort.
Breathable design that keeps feet healthy.
Outsole made with high elastic makes the shoe resistant to slips and suitable for sports.
Good quality environment-friendly materials used for construction for nature preservation.
Soft mesh sole for maximum athletic performance.
Despise being the entry-level running shoe option from KEEZMZ, these shoes offer enough features to be considered like Allbirds. It offers running performances similar to the Urban Fox Men's Parker Wool Sneakers.
The shoe has a fabric sole. This means you can run around, jump or do cardio while feeling high levels of comfort. We understand that compound movements can be taxing but these fabric soles should lower the strain on your feet.
Another common issue with buying shoes online is the fitting issues that unfortunately can occur rather frequently. KEEZMZ  offers a shockingly high amount of fitting options as well as a lot of necessary information aiming to provide you with the shoes that fit you best.
These shoes might not be able to survive some highly taxing sessions but considering all the great features they offer, they can still be a great budget option for you.
Joomra Men's Minimalist Barefoot Zero Drop Sneakers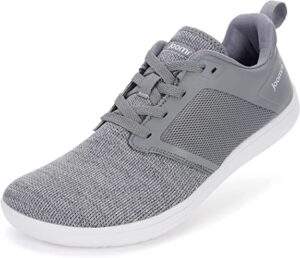 Minimalism is trending in almost all things fashion in recent times. Joomra now aims to bring minimalism to your feet with their Joomra Men's Minimalist Barefoot Shoes Zero Drop Sneakers. Let's learn more about it. 
Specifications
Minimalist design for maximum freedom of movement.
Unique toe box for a breathable room for toes.
Insoles are removable and are designed to take pressure off the feet.
Zero Drop feature for replication of a barefoot walking experience.
Designed flexibly to withstand different kinds o movement.
While not exactly Allbirds dupes, you will probably get some flashbacks of using an Allbirds shoe if you have prior experience. The comfort in offer pretty much mirrors the Dr. Scholls Shoes Men's Elwin Sneaker.
Anyone who has worn a shoe that lacks breathable space knows how uncomfortable it can feel. The Joomra Men's Minimalist Barefoot Zero Drop Sneakers have a unique toe box that is wider than most average toe boxes and thus keeps your toes healthy.
The minimalist design is aided by the Zero Drop feature. The Zero drop feature recreates the feeling of walking barefoot. Your feet will obviously be protected from the downsides of walking barefoot but the flexible feeling you will get will keep you feeling comfy.
Unfortunately, the arch support offered by this shoe can be quite weak but for most other day-to-day tasks, this shoe should work just fine.
Dr. Scholls Shoes Men's Elwin Sneaker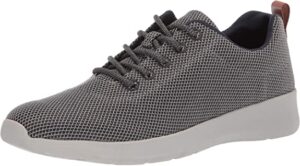 In 6th place on our list, we have Dr. Scholls Shoes Men's Elwin Sneaker. This product offers some very unique features for an affordable price. Time to learn more about it.
Specifications
Handmade sole for a personal touch in shoe design.
Special temperature regulating fabric for comfort during all seasons.
Super lightweight build for stout movements.
Mixed material design for high benefits.
Can be washed via machine for emergencies.
A feature commonly seen in high-end shoes is handmade construction. The sole that this shoe uses is handmade so you too can get that premium feel even if you are on a budget.
The Dr. Sholls Shoes Men's Elwin Snicker features a one-of-a-kind temperature regulating fabric. This super rare fabric can keep the shoes cold during the scorching summer and warm during the shivering winter. This feature is not commonly seen in most shoes, especially in this budget.
The shoe has a super lightweight build which allows athletic and swift movements with barely any impediments as seen in the likes of Joomra Men's Minimalist Barefoot Shoes Zero Drop Sneakers. For anyone looking to freestyle or perform sporty moves that require shoes that won't hold them back in any way, this shoe is a great pick.
The soles of this shoe can be a bit slippery, especially on smooth surfaces like tiles. However, if you are on a budget and appreciate unique features like the temperature regulating fabric, then this shoe will probably be worth your hard-earned money.
Hey Dude Men's Wally Loafer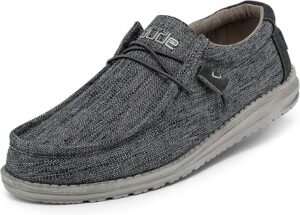 Anyone who keeps up with the shoe market probably has heard about Hey Dude shoes at some point. Their Hey Dude Men's Wally Loafer keeps up with their reputation let's find out why! 
Specifications
Memory foam cushion used insole for adjusting to feet pressure and also to keep bad smell contained greatly. 
Outsole is light in weight for fluid movement.
Cotton fabric materials give the feet breathing opportunities.
Elastic material construction for a better fit. 
A huge variety in offer to cater to the taste of different people.
Are you looking for shoes like Allbirds for wide feet? The Hey Dude Men's Wally Loafers offers feet adjustment features like the  Men's Nichlas Lishear Oxford shoes.
Coming at a featherweight of just around 6 ounces makes it one of the lightest shoes in the price segment. While moving around in these shoes you will not feel any weight bringing you down.
The shoe has a rounded design to provide you with toe space so you can say goodbye to cluttered toes. It also uses elastic laces for construction which not only keeps the weight of the product light and allows the product to bend, twist and turn however you find necessary.
During long use, many of us face feet sweating issues. The sweat not only makes our feet slimy but also can create a bad odor which can be very embarrassing. The insole is designed to soak up all your sweat and keep the smell at a minimum.
Sizing issues can persist but all the benefits that Hey Dude offers make it a no-brainer.
Read more: Hey dudes alternatives
LeMouton Classic Men's Wool Shoe Walking Lace Up Sneaker

As for our 8th product, we have the LeMouton Classic Men's Wool Shoe Walking Lace Up Sneakers. This product comes with all the regular Hey Dude features along with some added benefits.
Specifications
Signature Merino wool construction for high comfort.
4.9oz of weight replicates the feeling of walking on clouds.
Designed to restrain your feet odor and keep it as dry as possible.
Footbed can be changed conveniently.
Semi-modular design for easy cleaning.
The industry-standard design and the superior features allow LeMouton to fall in the same category as many high-end shoe brands and considering their cheaper price, they can even be called knock-off Allbirds.
Despite crafting eco-friendly shoes, LeMouton has not compromised on the quality of its shoes. 
The LeMouton Classic Men's Wool Shoe Walking Lace Up Sneakers come in a staggeringly low weight of 4.9oz. This means you can move around feeling barely any weight pulling you down. This level of low weight can be found in the likes of LeMounton Classic Men's Wool Shoe.
This product uses LeMouton's unique 3d stretchable wool. So any harsh twists or flexes will not affect your shoe very much. If you like going hiking or moving around the jungle then you will probably appreciate this feature a lot.
Regrettably, the overall build quality can be underwhelming in some cases but for the price, it is difficult to find any other product so rich in features.
Skechers Men's Nichlas Lishear Oxford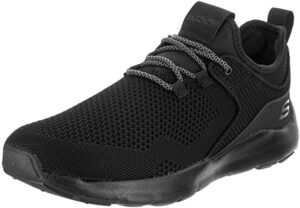 Finally, we have the Skechers Men's Nichlas Lishear Oxford shoes. This is a great pick for anyone looking for a good shoe on a budget.
Specifications
100% textile materials for a unique look and feel.
Memory foam for easy adjusting to feet measurements.
Synthetic sole for flexibility in movement.
Arch protection for high-impact activities.
Stretchy material for adjusting to wide feet.
The SkechersMen's Nichlas Lishear Oxford is crafted with 100% textile material. This not only makes your shoes stylistically stand out but also makes them really comfortable.
It also has memory foam so after the first few times of wearing this shoe, your feet should adjust automatically. Such features can are offered by reputed products like Hey Dude Men's Wally Loafer. It is also easy to put on which only adds to the overall comfort.
The usage of quality materials aided by expert craftsmanship means the shoes will probably last a good long time. Anyone on a budget looking for a lasting shoe can give this product a try.
The synthetic sole allows for a lot of flexible movements without damaging the shoe or the feet. The shaft is measured just around the low-top from the arch which means the heels don't take high damage on impact.
The flexible fabric might be too flexible at times resulting in unwanted holes. But considering all the positives, this product still deserves a strong recommendation.
Vessi vs. Allbirds shoes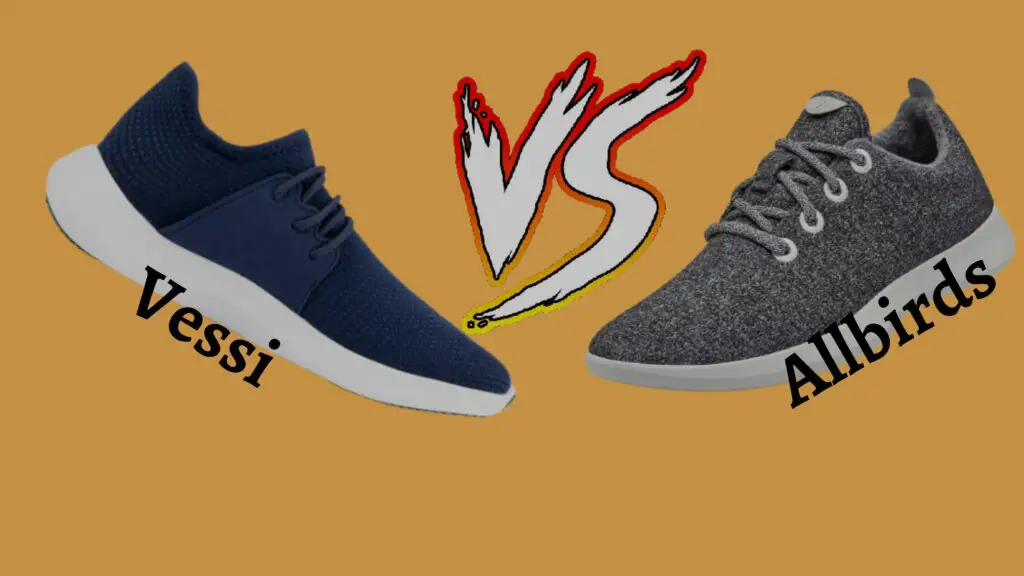 Allbirds shoes are made from merino wool, which is a natural material that provides insulation during cold weather while the Vessi shoes are made from a combination of synthetic materials like rubber and cotton.
Here are some of the key differences that you can consider: 
Water resistance 
One of the best things about Vessi shoes is that they offer quality water resistance in many of their special footwear options. While the Allbirds do provide water resistance in their shoes as well. But Vessi shoes stay ahead compared to Allbirds. 
Physical Issues 
Vessi shoes may not wearable for people with latex allergies. Because their constructions possess this material which can give rise to allergic reactions. On the other hand, latex allergy warning isn't present in Allabirds shoes, so they're safer. 
Material
As said, Their shoes are made of an amazingly lightweight mesh knit from an in-house designed vegan, no-leather polyurethane which is known as Dyma-tex. 
On the other hand, Allbirds uses merino wool which adds a gentle warmth while keeping the shoes lighter. 
Why Should I Consider an Alternative for Allbirds?
There are some issues like sweating, lack of durability, and break-in period, which may make you go for an Allbirds alternative. Here are some of the main reasons why you may not want to go for an Allbirds and go ahead with an alternative:  
Sweating 
They're made of merino wool so, you may notice is how much your feet sweat in them. If you're working out or walking around in these shoes, they will get wet—and then they smell terrible!
Durability Issues 
They also don't last very long. The soles start to wear down after a few months of use (even if you take good care of them), so if you're looking for a pair of shoes that will last for years, look elsewhere!
Not Comfortable Until They Break-in 
Allbirds shoes have serious breaking-in issues. And when you get a new pair, it may get extremely painful or uncomfortable to wear them. 
You may need to go through some painful weeks and wait for the shoes to break in properly before wearing them without discomfort. 
Sole Receding 
Another reason why you may want to switch to another manufacturer is the sole issue. The soles of the Allbirds shoes have a bad reputation. They tend to wear down pretty fast. 
When the soles of shoes are worn away, you'd experience extreme heel ache as your heels aren't getting enough cushioning. The sole wearing can reduce the shock absorption capabilities, so the running or walking capabilities can be greatly reduced. 
These are some of the main reasons you may want to consider a better alternative within the budget. 
FAQs
Which Shoes are the Best Allbirds Alternative?
Vessi shoes are often considered quality alternatives to Allbirds. 
Is Allbirds owned by Adidas?
Allbirds is owned by Tim Brown and Joey Zwillinger. However, in 2020 Adidas became partners with Allbirds. 
What Is So Special about Allbirds?
The best thing that makes Allbirds so popular is the level of comfort and gentle warmth they provide. 
Are Allbirds shoes good for walking?
If you're able to find out quality Allbirds shoes, they can indeed be good for walking. 
Final Thoughts 
After a highly detailed discussion on some of the quality shoes which can offer similar qualities like Allbirds, we're at the final parts of our guide. 
We've detailed many features of the shoes in the discussion and highlighted some of their issues that you should consider before going ahead. 
As a result, you should get a more or less overall understanding of the footwear options we discussed. 
So, what are you waiting for? Pick the best shoes similar to Allbirds and start enjoying the outdoor experiences right now!