As both pumps and stilettos are two forms of women's heels, people often think that they are interchangeable. 
But that's not actually true. There are some basic differences between pumps and stilettos.
The key distinction lies in their heel sizes. Pumps are usually flat to low-heeled shoes whereas stilettos are notably high-heeled. Pump shoes can have a maximum of 1 inch of the heel but in the case of stilettos, that's the minimum heel height. They have thinner and longer heels that can measure from 1 to 10 inches.
However, there are some other differences too. Let's look forward to them below to differentiate these two popular women's footwear.
| | | |
| --- | --- | --- |
| Criteria of Comparison | Pumps | Stilettos |
| Types  | These shoes have low-cut fronts and usually don't have fastening straps | Longer and thinner-heeled shoes measuring 1-10 inches |
| Known As | Pump shoes are also called court shoes in British | 5 cm or shorter stilettos are known as kitten heels |
| Occasion  | Can be used both for casual and formal occasions | Usually worn in formal and festive occasions |
| Materials | Pumps for dancing use satin whereas men's pumps are made of patent leather | Mostly use patent leather but can be made with other materials as well  |
| Heel Height | 1 inches or less | 1 inches or more |
| Comfort | Very comfortable to wear | Less comfortable than pumps |
What Are Pumps?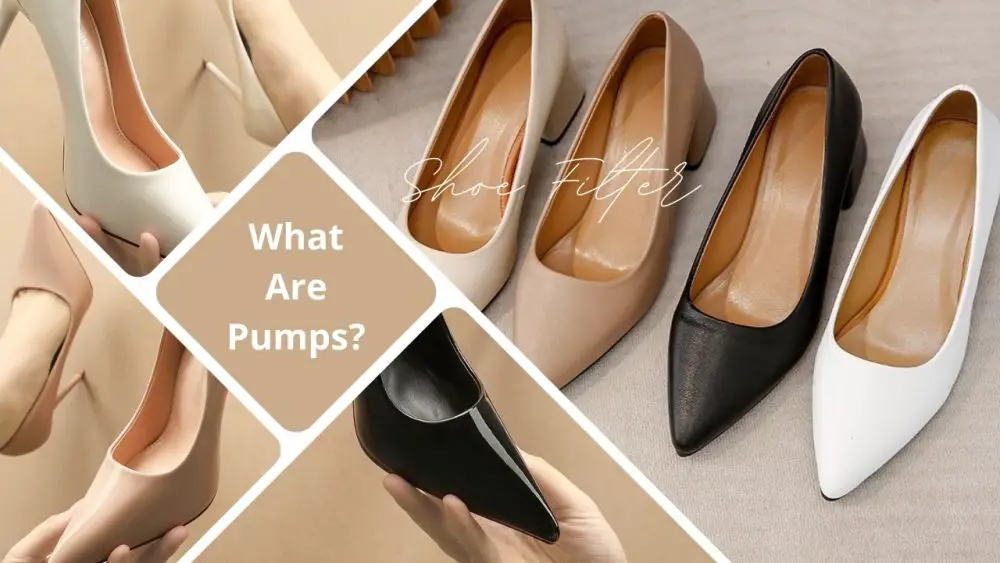 The most notable feature of a pump shoe is the low-cut front. Being manufactured from low-cut leather, they are usually used as formal footwear for women.
Although you can style them to get a casual outlook too. Just pair them up with jeans or skirts and you are good to go. 
However, pump shoes are made in two models, closed-toe and peep-toe. On top of that, they don't necessarily have ankle straps in most cases. 
Another noticeable feature of pumps is the wide heel measurement. Unlike the stilettos, they don't come with narrower heels and that's why they are way more comfortable to walk in.
Although pumps do vary in heel heights, none of them are as high-heeled as stilettos. Also, the wide heel tips work as a blessing for pregnant women. It keeps them safe. 
Usually, women's pump shoes have round cut toes or peep-toes.
To be honest, a pump is a timeless footwear type that has been being used over the past 100 years. If you want to stick to the classic pump shoes, go for the laceless, buckleless, and strapless ones. 
Advantages
Lets you feel warm in the winter as they keep the foot mostly covered 
Very comfortable to wear
Can be worn both casually and formally 
Disadvantages
Less fashionable than stilettos on fancy occasions like clubs or parties
Causes several issues like swelling, muscular pain, lower back pain, etc
What Are Stilettos? 
To be precise, stilettos are a special form of pumps with a specific heel type. They are longer and thinner-heeled shoes with a stylish outlook. 
Although pumps do come for men as well, stilettos don't. That's why they offer a more feminine look which women love. 
In fact, stilettos are one of the most stylish high heels for women who love to create a classic appearance.
Whether you are attending a fancy wedding or a party, pair up a stiletto with your skinny jeans and see the magic. 
Talking of the materials, a stiletto can be made of varieties of materials. But usually, patent leather is the most-used property for these fancy footwear. And the tip of a stiletto heel is made of pure steel or alloy to maintain the balance. 
Most of the stilettos have 4-5 inches of heel height. And they are notably narrow, adding some extra height. Resultantly, you look slimmer and sexier. 
But they can have heels as long as 10 inches.
Although they came into the market long after pump shoes, stilettos are the latest sensation among women who prefer classic shoes over comfortable ones. 
Advantages
Wearing stilettos make you look taller
The most fashionable shoes for fancy occasions
Attributes a more feminine outlook
Disadvantages
Not so comfortable like pumps
The narrow heels are very accident-prone
Not for casual use
What Are the Key Differences Between Pumps and Stilettos? 
After analyzing the two remarkable heel types for women, we see the following points of dissimilarities between pumps vs stilettos. 
Stilettos must have 1 inch or more high heels, generally up to 10 inches. But a pump shoe is not that high having 1 inch or less heel length.
As stilettos have higher and narrower heels, they create pressure on the ball of the foot to balance the thin heel properly. So, they are not so comfortable. On the other hand, pump shoes are either flat or low-heeled shoes and are extremely comfortable to wear.
You can get a formal look with a pair of pumps but stilettos will make you more feminine. Moreover, they are more versatile in their seductive ergonomics. 
A pump can be worn mostly with formal attire whereas stilettos can change your style statement if paired up with skinny jeans or cocktail dresses. In fact, they are suitable to wear with a wide variety of cloth colors.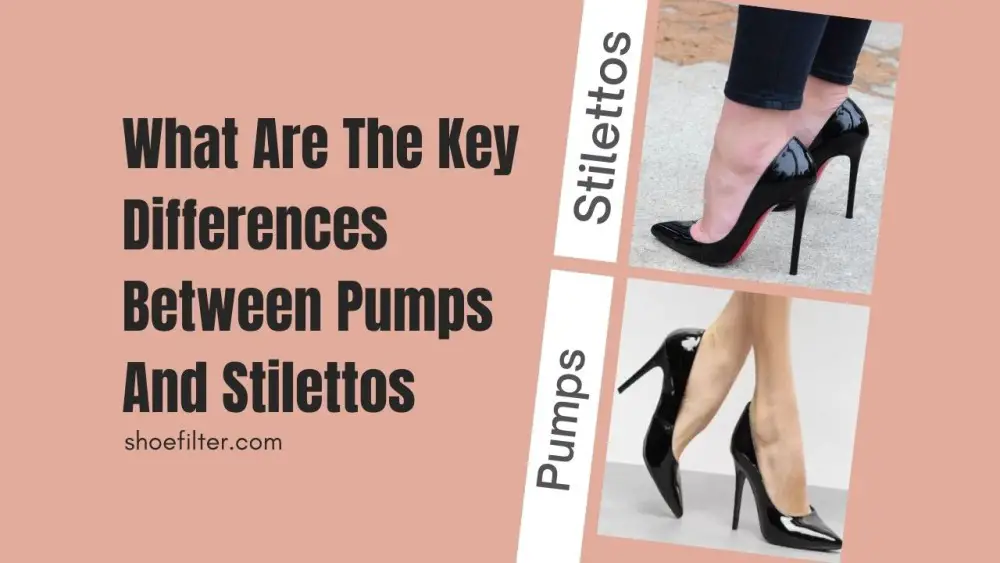 Final Thoughts
Hopefully, we have been able to clear your queries on the difference between pumps and stilettos. Both the shoe types are equally popular among modern women.
But stilettos are more celebrated for their slim and appealing ergonomics. They make you picture-perfect with the elongated heels. On the contrary, pumps are a timeless choice for women as formal footwear. Though they don't add many inches, stilettos don't come closer to them in terms of comfort. 
So, what's your favorite footwear between these two? If you are still in confusion, consider where you are going to wear them. Events like galas or fancy parties appreciate wearing high-heeled stilettos. But a conservative office meeting will require wearing pumps.