Have you been keeping your eyes peeled on the technologies currently being used in making popular shoes? Of course, there have been numerous ones over the past decade. But if you were to call one the absolute, basic genius, it would be the use of memory foam. 
Using memory foam in the insoles of the shoes is what combines proper foot health and better fitness through the shoes into your daily routine.  Your foot successfully molds to the contours of the foam due to its temperature sensitivity and gives you the snugness you deserve!
But what if you combine the beauty of this technology with the shoemaking maestro that Skechers is? Do all Skechers shoes have memory foam? Most do. And here's why they make the best of your choices.
Read also: Are Skechers Good Shoes for the Everyday Walker?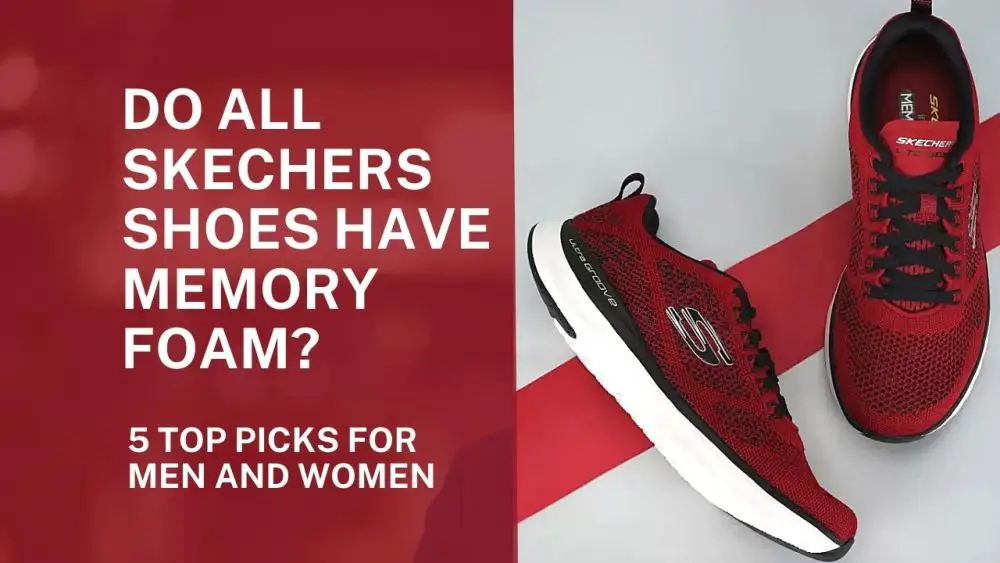 Characteristics of Skechers Memory Foam Shoes
If the inclusion of memory foam wasn't enough already, here are the advantages that the Skechers memory foam hold for you:
Non-Slip Shoes
Are Skechers non-slip shoes? If you buy model-specific shoes, you can find the Skechers that are industry-tested and wearer-approved for slip resistance. These are almost always made for professionals who need to stand long hours and may need to work on slippery surfaces or be on the go, quickly. 
For example, take nurses, construction workers, and bartenders. These men and women need safety shoes and boots that can offer protection and comfort, like the Skechers Performance Women's Go Walk Slip-On Walking Shoe.
Waterproof
Are Skechers shoes waterproof? Not all of them are. But if you get the Skechers Women's Go Walk 5-15901 Sneaker, you can get better protection in drizzles and pours than using shoes with waterproofing sprays! 
So if you need to work in a wet environment frequently or have outdoor work in the monsoon, these can be helpful.
Wide Width
A popular question that new users tend to ask is, does Skechers have wide-width shoes? They do. This is one of the reasons why Skechers is so popular. The Skechers Performance Women's Go Walk Slip-On Walking Shoe is a popular, wide-fitting slip-on shoe for women that can be the most comfortable one you ever put your feet in. 
You can also choose from different colors and width options for wider feet if you want a more flexible fit! So the next time someone asks, does Skechers make wide shoes? Simply answer, yes, and even better!
Multifunctional
Does Skechers make good running shoes? Yes. For both men and women, the running or walking shoes from Skechers are quite friendly for the feet. But what if you want shoes that require more aggression? 
For example, does Skechers make basketball shoes too? 
Of course, they do! The collection for kids particularly utilizes premium materials such as leather/ knitted upper with lightweight midsoles plus rubber outsoles that offer you great grip and decent durability.
What are Skechers Memory Foam Shoes Good For?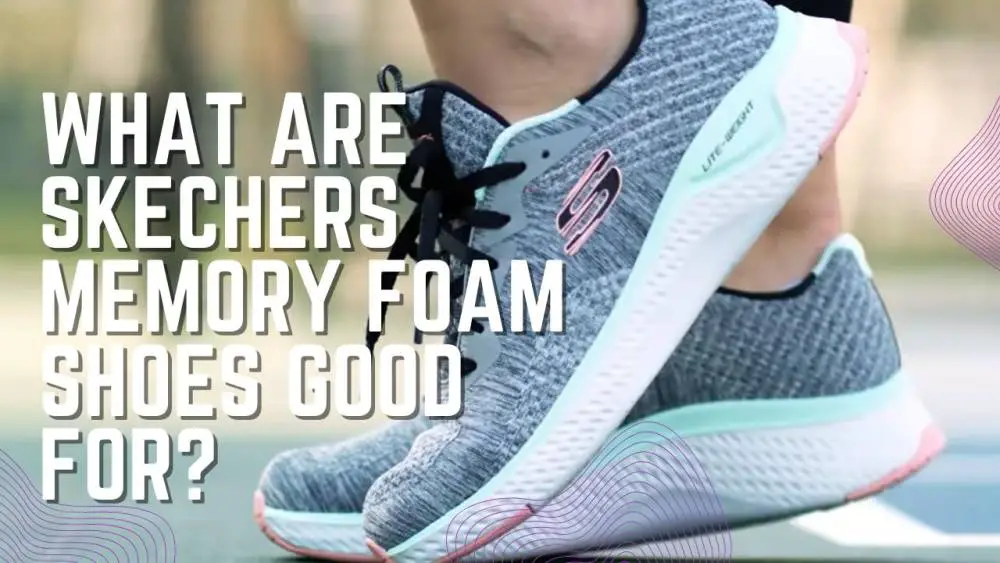 Like you read already, these shoes are thought to be multifunctional. But there are two areas where Skechers shoes particular excel. What are they? Let's see!
Walking
Are Skechers memory foam shoes good for walking? You bet! Skechers make some excellent walking shoes; so much so that they even dedicated a line to it: the Go Walk range. 
These are made to be comfortable and always fit your feet such that there are no blisters, calluses, or shoe bites. You will find them to be quite lightweight and shock absorbing. And what's great, the shoes also come in great colors! 
Plantar Fasciitis
Okay, they are good for a run down the road. But what about dealing with painful foot problems? Are Skechers memory foam shoes good for plantar fasciitis? 
Yes. If you didn't know, one of the best choices, when you plan to treat and prevent Plantar Fasciitis, is to invest in proper footwear. Since these are directly related to your foot pain and in certain cases, Plantar Fasciitis,  the right footwear may be just the answer you need.
So what makes the right shoe for Plantar fasciitis? You need to have good Arch Support. This can help you to relieve the pain by supporting the arch, reducing the chances of overpronation, and cutting down the tension created on the Plantar Fascia.
Again, it is important to have Flexibility. Your shoes should be able to bend (but not too much) and at the same time offer a little resistance to protect your feet. Cushioning also plays an important role to protect the heels of your feet to be safe from shock during impact. As a result, you are safe from running/walking pain and discomfort.
So do these features match with those of Skechers shoes? Yes. Skechers can offer a relaxed fit with its popular combination of flexible and breathable uppers, shock-absorbing midsoles, Goga Max responsive cushioning, and Air-Cooled Memory foam Footbed. With the support and stability, you can take Plantar Fasciitis off your list of feelings!
---
Product's Reviews
Below is a list of top 5 picks for the best Skechers shoes with memory foam that you could use. Suit yourself!
Top Pick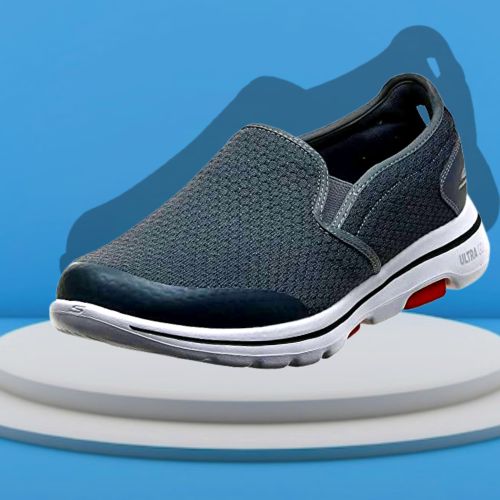 Skechers Women's Go Walk 5-15901 Sneaker
This Go Walk shoe features 100% mesh construction.
You get a synthetic outsole in the pair.
There are no applicable shaft measures here.
You can machine-wash and air-dry the Go Walk 5.
The total weight of the pair is 5.6 Ounces.
Do you want a comfortable shoe out of the box? If you need to wear shoes for 9+ hours at a time and still feel like you're wearing slippers, here is a pair that is comfortable and at the same time, weatherproof!
This shoe is full of specialized sports technology for you. First, you can expect right from the get-go a lightweight and flexible feel throughout. You can also find a stabilizing heel panel in here that helps with a built-in finger grip for added traction when you move.
And with the trademark Goga Max insole, you can easily keep your heel secure and safe! Lastly, the Squish components in the underfoot, combined with the 5GEN cushioning midsole, provide you with a walking-on-ai feel every step of the way!
For those who want a weather-compatible, slip-resistance, and slip-on walking shoe, this is a dream come true. If you have arthritis in your knees, this is also a great pick.
Runners Up
Skechers Men's Go Walk 5
This Men's Go Walk 5 shoe features 100% synthetic construction.
You get a synthetic outsole in the pair.
The shaft measures are also not applicable for the arches here.
You get an Ultra Go midsole cushioning here.
The total weight of the pair is 2 Pounds.
This has all the goodness of the  Skechers Women's Go Walk 5-15901 Sneaker, but for the men. For those who struggle with fitting, these fit perfectly. You will find them very comfortable. And with the machine-washable feature, they are easy to clean too!
The best about this shoe, and many other Skechers is the ultra-breathable mesh upper. You get 7 color options here that can complement your casual/fitness fashion needs! As you would expect, it also has a memory retention midsole.
With the help of it, you can get shock-absorbing benefits while the GO Pillar sensors along with grip tread help you to maintain balance. Add to this the Ortholite Eco-Friendly foam that contains 5% of recycled rubber and offers you long-term cushioning and epic moisture management.
This shoe is great for anyone who wants fully responsive, modern walking shoes. If you have, injury and need shoes with more cushioning and shock absorption, this can be helpful. 
3rd Pick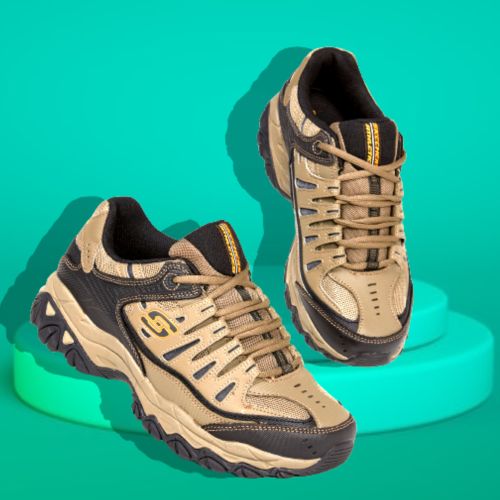 Skechers Men's Afterburn Memory-Foam Lace-up Sneaker
This Afterburn shoe features 100% leather/synthetic construction.
You get a rubber outsole in the pair.
There is a 2-inch heel on this shoe for height support.
It also features a metal top eyelet in the pair.
The total weight of the pair is 12.24 Ounces.
Are you looking for something more lightweight than the  Skechers Men's Go Walk 5 above? If you happen to be of a large build and you need to stand 10+ hours a day at work or walk a lot of miles daily these Sketchers are excellent to hold you up nicely and very comfortably throughout!
With the triple combination of leather, mesh, and synthetic materials, this shoe features a strong, stylish, and stable upper respectively. You have just the right amount of breathability and durability.
And since these are multi-terrain walking shoes, you can comfortably tread pitch roads and run downhill with them. The thick synthetic grip on the soles will provide you with stability and the essential tread depth you need.
If you need an extra-wide aka 4E size as someone who is dealing with arthritis or similar foot issues, the pair can provide you the right comfort and support that is necessary to create your active lifestyle.
4th Pick
Skechers Sport Women's Breathe Easy Fortune Fashion Sneaker
This Breathe Easy shoe features 100% soft-knit mesh construction.
You get a rubber outsole in the pair.
It comes with a soft and removable insole.
These shoes come with wide memory foam for the feet.
The total weight of the pair is 12 Ounces.
When it comes to finding shoes for Plantar Fasciitis, you can't go wrong with Sketchers. Made to be cute and comfortable this pair for women is a little heavier than the Skechers Women's Go Walk 5-15901 Sneaker. So if you wanting a little bulky, more supportive shoe, this is it!
Featuring a classy construction of suede and tight-weave mesh upper, this shoe contains the warmth of a snug fit and stretches perfectly as you wear it. You get a criss-cross and non-tie lacework here that adds a stylish flair to the shoe.
With that, the low-drop, minimalist style featured in the rubber sole promptly absorbs the shock while the grip tread ensures that you can safely glide in your all-day-long work shifts or take a brisk neighborhood walk!
Since one of the most important needs for Plantar Fasciitis is arch support, this shoe proves great for women suffering from the same or arthritis and other serious foot gait problems.
5th Pick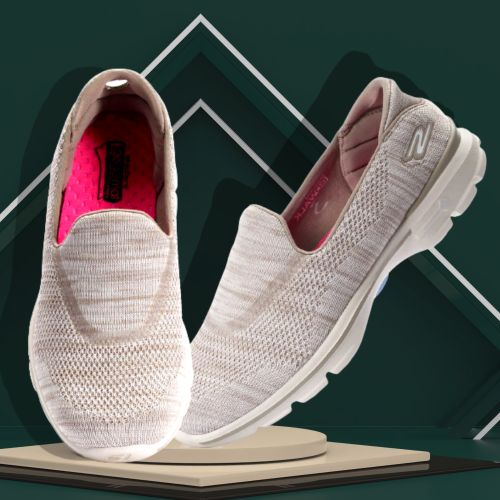 Skechers Performance Women's Go Walk Slip-On Walking Shoe
This Performance shoe features 100% mesh construction.
You get a synthetic outsole in the pair.
It features a soft Resalyte cushioning for the feet.
The style of this shoe is of the slip-on variety without laces.
The total weight of the pair is 12 Ounces.
And the last one on the list is for the women. Made of a combination of synthetic and canvas upper, you can find this pair in 5 color options that can meet your lifestyle demands. With a wide toe box and easy slip-on style, these make a pair of super flexible walking shoes!
Like the Skechers Sport Women's Breathe Easy Fortune Fashion Sneaker, this one also features a rubber sole. But the better part is that it has circular traction sensor discs that ensure a shock-resistant and slip-free stride.
And since they're available in both narrow or wide widths, you can benefit from the ease of these for all-day walking! Also, the memory foam footbed creates a cloud-like walking experience where you can be on your feet for hours!
This pair of Skechers is a favorite with teachers and health care professionals, and if you are one, you will like the cushioned midsole that helps to create a natural stride.
---
Final Words
Do all Skechers shoes have memory foam? The important ones do! You saw that there is no doubt that the right footwear is important when you are dealing with foot issues. The inclusion of memory foam just makes it so much better! The shoes on the list today have been chosen by a lot of males and females for the convenience and comfort they provide.
So if you are a woman, you can check out the  Skechers Performance Women's Go Walk Slip-On Walking Shoe for the finest comfort in shoes yet. And if you happen to be a man, there's nothing better than the Skechers Men's Go Walk 5 for its durable, everyday-use construction for those who need regular walks to the park.
And if you need more specific shoes, you can always go back to the list and choose the most suitable option for yourself!