If you ask anyone what is one of the best footwear/shoe brands in America, Skechers is sure to meet the list. A pro at delivering top-quality casual and work shoes, Skechers never shies away when it comes to providing a wide range of varieties. Be it stylish shoes or comfortable ones, you have it all for women, men, and kids!
Putting aside the availability and accessibility, the bigger question is, are Skechers good shoes? 
Yes. Known for their excellent performance and comfort generation, these shoes have a combination of modern technological features, commendable craftsmanship, and 3 other things that make Skechers the top of the game in these categories. 
Let's find them out!
Why Skechers Shoes Are So Popular?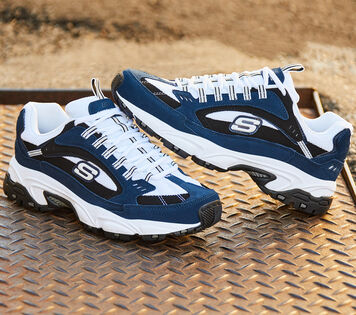 By this time you are already aware that Skechers shoes are part of a popular company. In fact, it is the go-to solution for many people who want a combination of quality and affordability. 
So it is no surprise that these pairs receive some great consumer ratings! This trusted shoe brand has its focus on fitness, fashion, and even orthopedics, creating shoes for men, women, and children, this is why they are so popular.
Below, you will find the 3 most popular characteristics that make Skechers worth it.
Slip-Resistance
Are Skechers shoes slip-resistant? Yes. One of the most important characteristics of this brand is that they have a collection of sock-like, slip-on sneakers that give you the support of going anywhere and doing your job without slipping.
Take, for example, the Skechers Women's Ghenter Bronaugh Food Service Shoe. It is crafted using a lightly-cushioned footbed and a soft and synthetic upper that gives you daylong comfort. 
So if you are bartending, doing your nursing job requires running and walking on tiles and cement floors, or if you are a pregnant mom, the slip-resistant outsole provides you with added traction to keep you steady and comfortable on your feet.
True to Size
Are Skechers shoes true to size? Certainly. If you take a look at the Skechers Go Golf Men's Torque Waterproof Golf Shoe or the Skechers Men's Afterburn Memory-Foam Lace-up Sneaker, you will see how these shoes not only give you durability and support but also feature a pull-through lacing mechanism that offers you a custom fitting.
Even without the laces, Skechers hold to size. They have the classic fit option that comes in medium width (B width for women, D width for men) that fits the average foot. As the foot gets longer, the width options tend to accommodate the foot size. However, Skechers realizes varying foot sizes, so they provide various fitting options as well.
Meets Requirements
Skechers meets the requirements of almost everyone. You could be an aspiring athlete or an everyday runner; you could be a nurse, a food service worker, a bartender, or a teacher that needs to stay on foot for long hours; or you can be an at-home person who just needs something comfortable; Skechers will deliver to everyone.
For example, if you happen to be a nurse who needs comfort and support in your long-hours grueling workdays, you will appreciate the cushion and comfort of Skechers. The Skechers Women's Ghenter Bronaugh Food Service Shoe even takes it up to some degree by being both a wear and house shoe. You will find the pair of Skechers so comfortable that they will almost feel like slippers!
So, are Skechers shoes good for your feet? Yes!
Are skechers good walking shoes?
Yes, Skechers definitely make good shoes for walking as consumers demand who would like to walk for a long day, to provide feeling comfort and ease on foot. However, preventing injuries on the feet is another feature Skechers offer to be healed. 
Actually, quite lightweight and flexible shoes for walking this renowned company produces that last a good deal of time than your expectation. 
So, multi-colored printed shoes let you choose the proper and adjustable pair for the weather you want to walk on. 
For a long day walking, these shoes' durability may make you astonished and feel peace in your mind.
Read also: How to Clean Skechers Shoes?
Are Skechers Shoes Good for Running?
One common question that new users of the brand keep asking is, "Are Skechers running shoes good?" You will hear the regular and long-term ​Skechers Go shoe-users saying that these may be one of the most comfortable Skechers you'll ever get for your feet. 
These often feature a wide toe box, are easy to slip on, and have great style, making running in these lightweight and flexible shoes a breeze. On top of that, the memory foam footbed in these shoes creates a cloud-like experience while you run, even if you are on your feet for hours!
Product Reviews
With so much love for the brand, we thought you might like to know a little more about them. So, here's our guide to Skechers shoes.
Best Zero-Maintenance Shoe: Skechers Men's Afterburn Memory-Foam Lace-up Sneaker
Do you want your shoes to hold up comfortably when you are working or running errands? Here's an option from Skechers for the men that can help you walk comfortably without adding shoe inserts or gel. 
Specifications:
You will find your shoe made entirely of leather/synthetic.
It features a rubber outsole in the pair.
The heels of the Afterburn measure approximately 2 inches.
The shoes weigh nearly 0.765 pounds.
You get a cushioned mesh tongue here. 
This pair is a functional shoe that will last long. How can you believe that? For one, the construction is outstanding. It has a mesh upper that consists of supportive overlays and a padded collar and cushioned mesh tongue which make sure that your walking experience is phenomenal. And they remain clean even after miles of walking!
If you are a large male or a heavy user who weighs above 300 pounds and at the same time needs to work for long hours, this shoe can be your greatest solution to comfort and support.
Most Comfortable Shoe: Skechers Women's Summits Sneaker
If you like to feel light on your feet, here's a pair that is half the weight of the Skechers Men's Afterburn Memory-Foam Lace-up Sneaker! Similar to the Afterburn, it also has a memory foam insole. What else? Let's find out!
Specifications:
This pair of Summit's shoes is made entirely of textile.
It features a synthetic outsole in the pair.
The shaft measure here is not for the arch.
You get a non-marking sole in the Sneaker.
The shoes weigh nearly 0.35 pounds.
Lightweight, flexible and comfortable is 3 words that perfectly describe this shoe for women. You get the extra comfort from the memory foam and don't have to drag your feet as you run or walk. With the no-tie/no-lace option, these are super easy to slip on and give you no blisters. That's the first time you will experience this with walking shoes!
If you work long hours as a teacher or if you are someone who has rheumatoid arthritis so your feet sometimes swell from overworking, this is a great solution with the right fit and comfort.
Best Shoe for Kids: Skechers Unisex-Child Wavy Lites Sneaker
Since this is a kid's option, it does not need to necessarily compare with the adult shoes listed here. But what qualities make them desirable for the kids? Let's take a look at the features!
Specifications: 
This Unisex children's shoe is made entirely of textile.
It features a synthetic outsole in the pair.
Your child can get a Hyperdot design on the upper side.
You also get a non-marking outsole in this shoe.
The shoes weigh nearly 0.1875 pounds.
If you get them for your children or grandchildren, these are cute and comfortable for them. These will hold up better than others kid's shoes. You can also let your kids wear this with virtually any type of clothes she wears and they will look good! And while they do look like laces, they're made of Velcro!
This shoe is recommended for when the playgrounds are tough on the shoes of your kids and you need something durable. Also, they are great for kids who don't want their shoes to slide up and down at their heels.
Best Golf Shoes: Skechers Go Golf Men's Torque Waterproof Golf Shoe
For anyone asking, are Skechers Go walk shoes slip-resistant, here's an answer that will give all the high-end solutions a run for their money. Lighter than the Skechers Men's Afterburn Memory-Foam Lace-up Sneaker but heavier than the Skechers Women's Summits Sneaker, here's a look at its prime points.
Specifications:
This Golf shoe by Skechers is made entirely synthetic.
It features a rubber outsole in the pair.
The shaft measures are till the mid-top.
You get soft and replaceable spikes on this shoe.
The shoes weigh nearly 0.5 pounds.
This Torque Golf Shoe is made to be lightweight with a synthetic upper. In this, you have a Goga Max insole that delivers an enhanced and high-rebound cushioning to your feet, while the molded rubber grip at the bottom plate and the uniquely replaceable soft spikes give you all the traction you will ever need!
If you need a Skechers shoe that can give you weather protection, these are hands down the best. The Skechers H2GO shield will give you excellent waterproof protection when the weather heads down!
Best Slip-Resistance: Skechers Women's Ghenter Bronaugh Food Service Shoe
So you are covered in the golf course with the Skechers Go Golf Men's Torque Waterproof Golf Shoe. But when your work requires you Do move more than stand, what do you do? Are Skechers good work shoes too? Let's find out!
Specifications:
This Ghenter shoe is made entirely synthetic.
It features a rubber sole in the pair.
You will find these shoes in c/d or normal than usual width.
These Food Service shoes are particularly made for slippery floors.
The shoes weigh nearly 0.75 pounds.
The biggest thing about this shoe is that you don't need to break in on these shoes! They will be comfortably hugging your feet from the get-go. And they are not even big and clunky like other no-slip shoes. These also keep your feet dry and remain planted on the ground, providing enough room for your bunions so you don't get any blisters or aches whatsoever!
If you need a non-skid shoe that can support you for 12+ hours in your work whether in the foodservice or nursing sector, these make a great pair for women workers.
Final Words
For many years, Skechers has been creating stylish, comfortable, and made in USA-shoes. Whether you are a recent nurse or a fashion blogger wearing them with your OOTD, Skechers makes it easier to be on your feet for hours. 
So if you need performance wear, you can check out the  Skechers Women's Ghenter Bronaugh Food Service Shoe at work if you are a woman or the Skechers Go Golf Men's Torque Waterproof Golf Shoe if you are a man.
They can support you in walking, running, training, or golfing for elite athletes and or first-time enthusiasts. So don't forget to get your hands (read: feet) on some of the most comfortable smart/casual shoes!