Are you ready to get a fresh pair of lightweight and super sturdy crocs? Well, then, do crocs run big or small, would perhaps be the question running through your mind right now. 
One good thing about crocs is they fit pretty well despite the slight differences in the sizes. 
You can go true to size, and it should fit well for the most part. 
You may need to go up or down half a size in some cases. But it gets difficult to tell as it's a matter of individual preference.
But again, going to TTS should be fine. As you can wear them slightly loose and if they're too snug, after wearing them for some time they should break in. 
Read also: Shoes Similar To Crocs But Cheaper
Do Crocs Run Big or Small?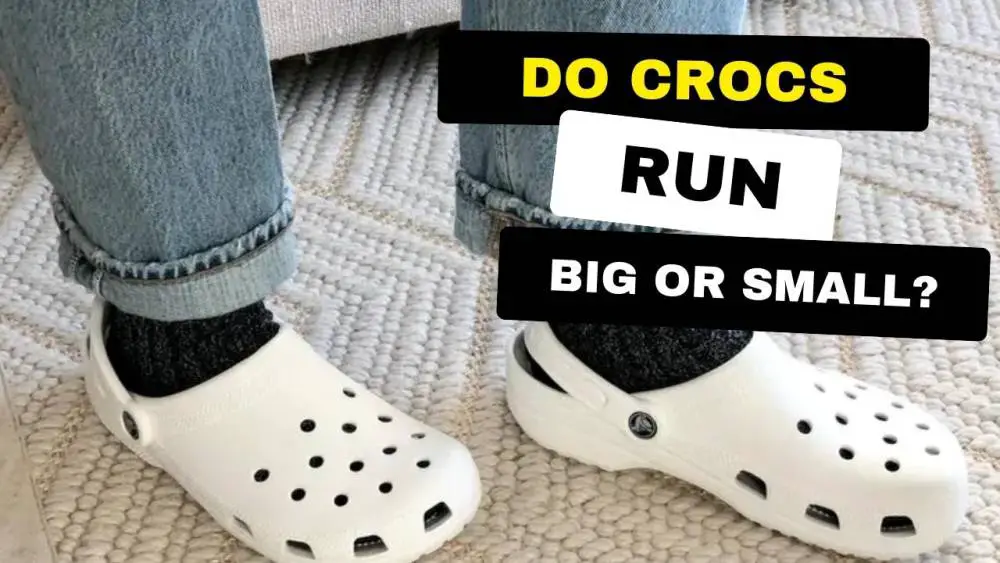 So, crocs are highly flexible sandals you can use without worrying too much about fitting. Right now, we're going to discuss more on the sizing for crocs in the following segments. 
Should You Size Up or Down in Crocs?
You can go to TTS with crocs. Clogs tend to possess a comfortable, spacious fit which makes them tremendously adaptable. Being made of rubber, you can wear them slightly bigger. You find it a bit difficult if they're a bit snug as the rubber may take some time to break in. 
Should I Size Up or Down in Crocs If I'm a Half Size?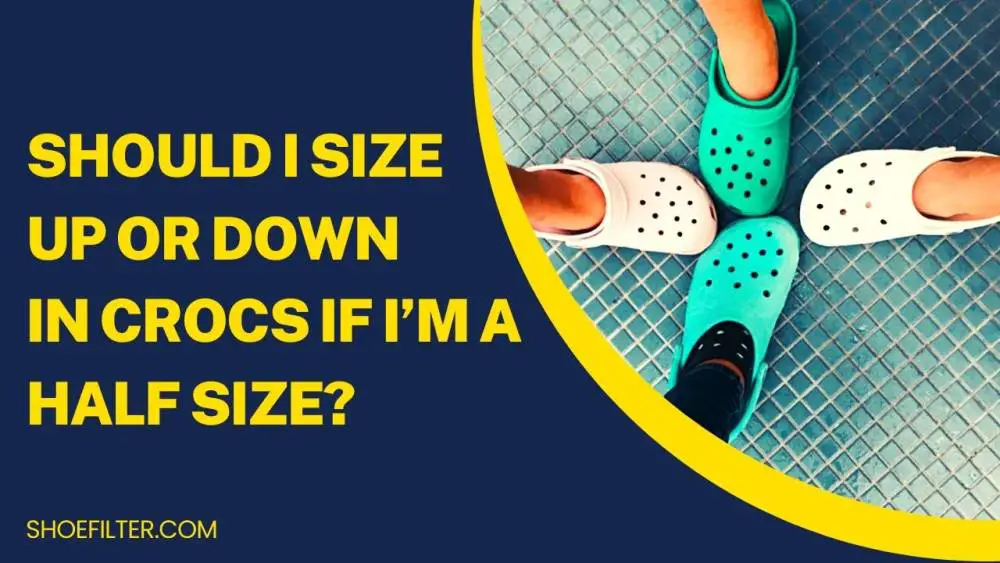 If you have a half size, order the round number and wear it as slip ons or strap down. Crocs may not always come in half sizes. In that case, strapping down the crocs will add an extra half. 
For instance, you're size 7.5 and getting only 7 or 8, then go for 7 and wear it as a slip-on. On the other hand, you can also go for the 8, but you'd have to wear it with the strap on. 
This is the fun part about crocs. One of the good things about these tremendously flexible sandals is that you can easily work out the sizing issues. 
If you feel that the crocs are too tight, just wear them without the strap to give your feet some breathing space. On the flip side, wear it with the straps for running or getting rid of the loose feeling. 
Do Crocs Stretch Out?
Just like any other shoes, crocs can also stretch out. But it may take some time. One of the key factors with rubber shoes, in general, is that they may not stretch as much as leather would. 
It'd take some time for your crocs to stretch out. This information can help you make better decisions while getting crocs in the first place. 
For instance, you're size 6, but you're finding sizes 5.5 or 6.5; in that case, it'd be much better to go for the larger 6.5 than 5.5. 
Why so? 
As mentioned earlier, crocs stretch out, but it may take some time. Further, they don't stretch as much as leather shoes do. That's why there will be a world of difference between wearing a rubber tight rubber shoe and wearing a snug leather shoe. 
How Do You Know If Crocs Fit?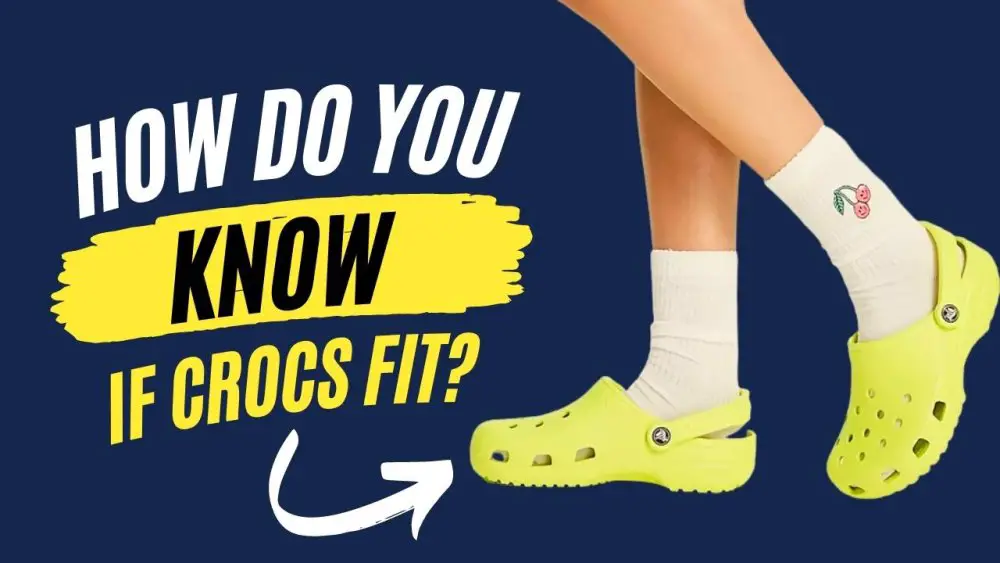 You can find it out easily by observing if the crocs match up to your feet in a secure fashion. If they're slipping while walking or running, it means it's not a good fit. 
Another easy way to understand croc fitting is wearing them without straps. Try wearing them strapless to see if the shoe is coming off while you're walking. If they fail to bite the toe while you're walking without straps, that means there is too much room in the toe box, and they're pretty loose. It gets even more difficult when you wear them for some time as they break-in. 
Why Do Crocs Shrink?
Crocs, being made with rubber materials, can shrink while you're using them under extreme heat. Don't worry if such things happen because it's a momentary issue. When the heat comes down, they will return to their original form. 
If you've left them inside your car, which was hot, or if you left them to dry under hot sun after washing, it's highly possible that they may shrink to a certain degree because of that continuous sun exposure. 
Related post: How to Shrink Crocs
Why Do Doctors Wear Crocs?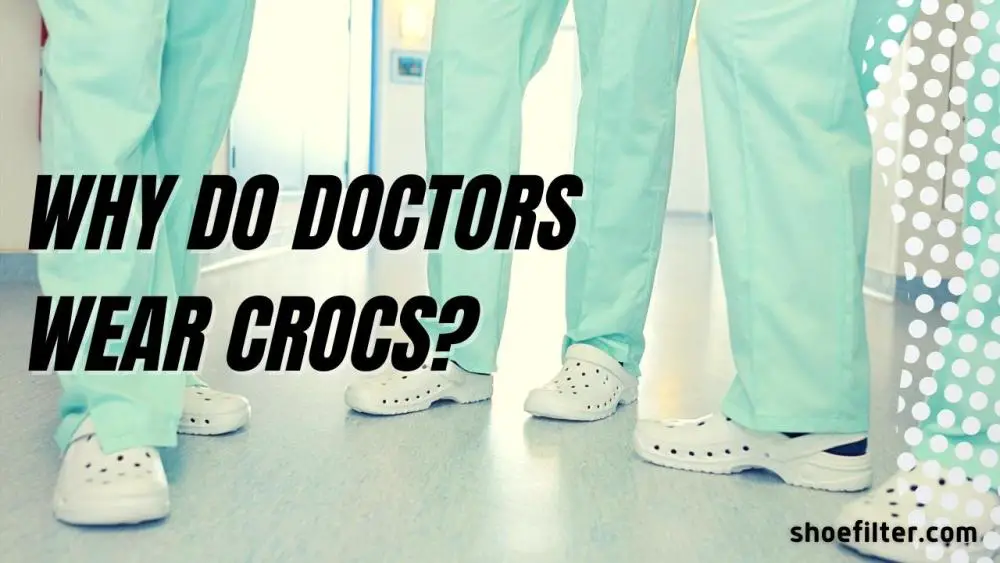 Doctors wear Crocs because they're tremendously easy to clean and exceptionally lightweight with enhanced comfort. Because of the nature of their work, doctors need to come in contact with blood and other physical emissions. 
Plus, dealing with germs, bacteria, and deadly viruses is common. That's why doctors require footwear that is easy to sterilize and keep clean. 
Being made using rubber, crocs are usually preferred for ease of maintenance. Being a clog user, I found them to be outstandingly comfortable and lightweight, which makes me choose these sorts of sandals for long term standing or walking tasks, which doctors need to perform every day. 
Medical professionals have a reputation for working on their feet for long hours. Crocs are highly versatile and provide superior support and light construction, making them the most appropriate option for health professionals. 
Are Crocs Long Lasting?
Yes, they're tremendously durable! I've been using the same crocs for over two years, it's still giving me outstanding service. And believe it or not, I managed to find the cheapest one from the stores! You can guess what a high-end croc would offer. 
So, yes, crocs are unbelievably sturdy and should stay with you for some time (if you don't throw them out for being too old). Despite the long use, they don't even feel old on my feet; I got almost the same sensation when I started using them first. 
These were my first crocs, and I've found them to be the best sort of footwear you can go for, especially if you're prioritizing durability. 
Crocs are one of those pieces which won't get damaged no matter however you use them. So, if you're looking for an indestructible pair, crocs should surely be the answer! 
Is It OK to Wear Socks With Crocs?
Yes, it's perfectly fine to wear socks with your crocs. 
Crocs would often have a holed design. Plus, an open design would make it difficult to wear crocs in colder regions. 
That's when you can add some protection using socks. I've worn my clogs with socks and even tried leather socks during the colder times. They can hold up pretty well. 
But make sure you're wearing crocs that are slightly larger and have slight breathing space on the toe box. It'll make it comfortable. 
When I used leather socks, it was a bit difficult to get them in properly (leather socks are pretty thick, if you didn't know). But you can use the strap; it will hold the feet inside if it gets a bit difficult to put it on using socks. I'd recommend using thinner socks for appropriate fit. 
Are Crocs Clogs Worth It?
Certainly, clogs are worth every penny without a shadow of a doubt. 
From unbreakable construction to unbelievably comfortable, stability and exceptionally lightweight touch, crocs are one of the best footwear you can go for. They're mostly preferred for their utility. You can use them for absolutely everything! 
From standing long hours to sprinting and sports. Recently, a runner won a marathon using crocs, proving how good they are at every aspect. 
One of the main reasons behind such outstanding results is their design. They're scientifically one of the most effective footwear that can do the job in all areas. 
Being a clog user myself, I'd always give them a higher marking because of the ease in taking them on and off and the comfort they offer while running or walking. 
So, if you're considering one, now is the time! 
Do Crocs Count as Closed Toe?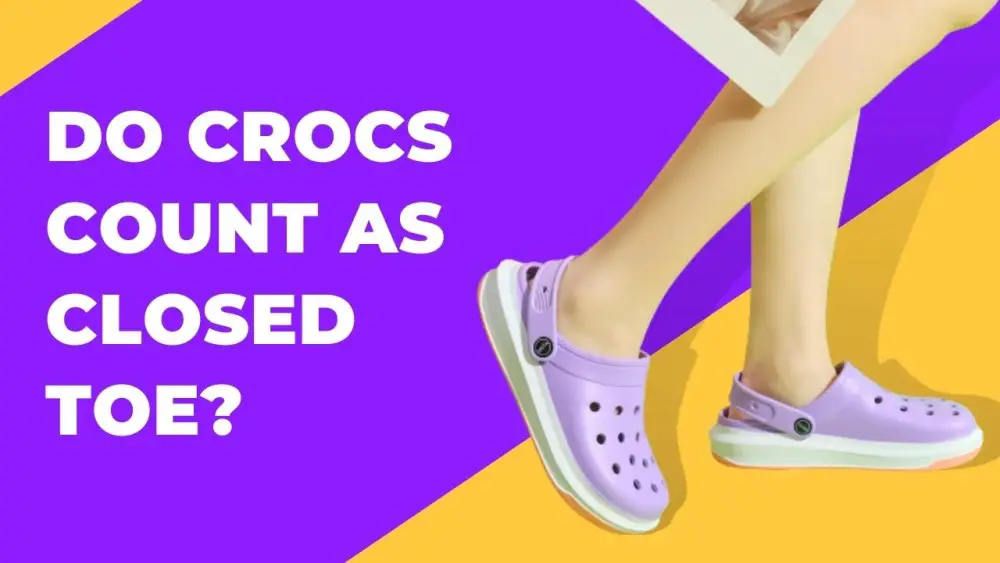 Crocs come in both closed toes and open toes. You can use the closed toes to wear in the winter times. On the other hand, the ones with open toes come with holes, making them extremely adaptable for hot and wet conditions. 
The closed-toed crocs will help you protect yourself from outer damages. If you happen to drop something heavy on your feet, the closed-toed crocs will offer substantial protection. 
Bottom Line 
Crocs can be an amazing option to go ahead with if you're targeting utility shoes. One of the issues with crocs is their appearance. The goofy outlook may not turn you into a trendsetter, but if you're looking for footwear that provides everything else except for the looks, crocs are your best bet. 
If you're still wondering whether do crocs run big or small, we'd say that you should go ahead with true to size. Later you can adjust the strap depending on the fit. 
With a lightweight construction, sturdy usability and comfort, Crocs are undoubtedly one of the most effective performers right now. So, when are you getting a fresh pair for yourself?
Related posts:
How To Stretch Crocs
Are Crocs Bad For Your Feet