Crocs are very popular around the world because of their simplistic approach, innovative design, comfort, and durability. They are customizable and come with vibrant colors and designs. So, you can go to the market and say show me some crocs no matter where you live. 
If you just brought a new pair of crocs and find it so compact that it feels uncomfortable and unbreathable, then don't worry about it. You can fix it in your home and can make the crocs fit perfectly on your feet.
Also, Crocs are made of Croslite, also known as foam resin. As crocs are available for people of all ages, you don't have to worry about the size that fits you. However, the problem is that it can be too tight and you can't walk comfortably.
In such situations, you will need to stretch the crocs a little to make them perfect for you. Need to know, how to stretch crocs? We have got you covered in the below article.
Related Topic: Shoes Similar To Crocs But Cheaper
How to stretch crocs? 3 DIY methods to apply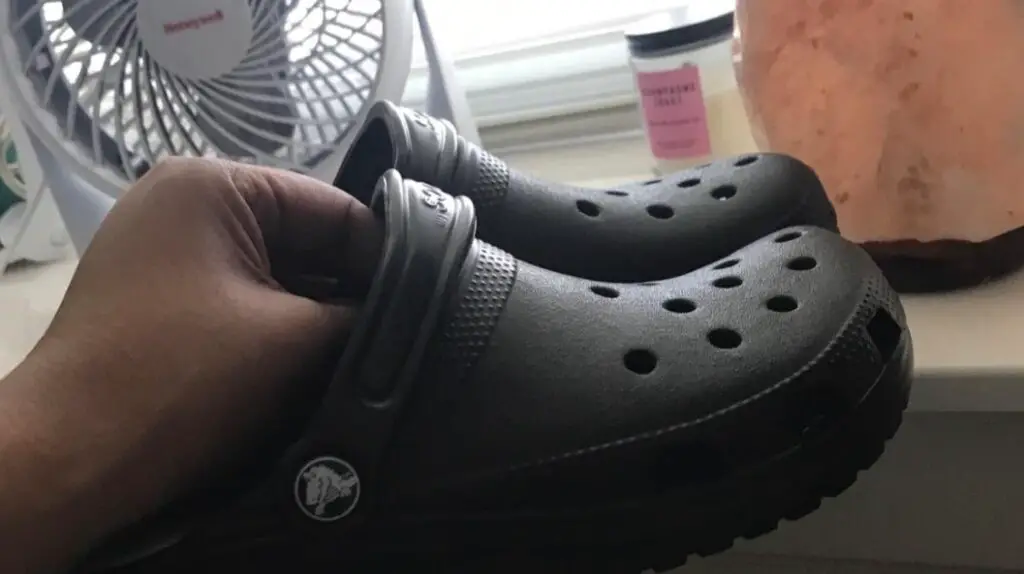 So, you need to stretch crocs to adjust your feet and move around comfortably. Stretching crocs are very simple, you don't need to go through hassle of this. 
Conversely, if you do not want to do this manually, you can carry on with the tight crocs and it will stretch automatically after one or two months of use. Here are three different methods that are given to help you stretch your own crocs,
Heat the crocs with a hairdryer
Due to their structural material, crocs are sensitive to heat and it is possible to make a little stretch in the structure by giving it heat. To do the job perfectly, you will need a good quality hair dryer with a high frequency of heat.
Keep the shoes on a table, get a towel and wrap it around the shoes so it receives the heat properly. You need to continue this for three to five minutes until it becomes soft. Put the dryer inside the croc and ensure that the heat is evenly distributed.
When done you should put on socks and wear the crocs immediately. It is because heat stretches the shoe's material for a few moments. If you wear the shoes and walk around for 5 minutes, it will help to stretch the shoes permanently. 
Also, you should test it without socks to see if the crocs get the exact shape. However, if required you can repeat the process twice or thrice to get the required shape on your crocs.
Wear thick socks
Crocs are comfortable because of their foam-like structure that molds the users' feet and gives the necessary support. Crocs are designed to help people with leg pain and to provide safe and comfortable walking for diabetics, both indoors and outdoors. Sometimes it can be too tight and compact that it may feel uncomfortable wearing on your feet.
In this regard, you can feel better if you wear thick socks and the shoes will stretch a bit if you do it regularly. Besides, you can give it 30 minutes of treatment wearing socks and moving around on the crocs to get required flexibility.
For this, you need to take two or three pairs of socks, put them on your feet, and then apply the crocs over them. Keep it for around thirty minutes and then see the result. It may work after multiple uses or you will need to apply the hair dryer method.
Hot water method
This method also uses heat but here the medium is hot water instead of a dryer. It is considered a good alternative if you don't have a hairdryer in your home. What you will need? All you need is a medium or large bowl depending on the croc's size and hot water.
First, boil the water and keep it in the bowl. Take the crocs and dip in the hot water. Keep it for two to three minutes and then remove the crocs from hot water. This will stretch the structure material of the shoes and so you need to utilize it by wearing the shoes for five minutes.
Go around for five minutes wearing the crocs after the hot water treatment. It is necessary because it can make the elements stretch permanently. Hope you will find the crocs fit on your feet after applying the hot water method.
Are Crocs slippery when wet?
There are differences between the crocs, which you can see by looking at the price ranges. In addition, premium crocs and crocs which are lower in price and quality aren't same. There are crocs soft and fluffy inside and Croslite soles outside. Those looking for extra comfort while roaming around the house usually search for this type of croc.
Besides, the other types of crocs you can see in the market are classic crocs usually seen, baya lined clog, work slip on, loafers, and so on. Traditional clogs tend to be slippery in rain and water. This can cause unwanted slipping on the wet surface. Therefore, you should choose slip-resistant crocs to get the best support.
Should Crocs be tight?
Perfect crocs shouldn't fit tight and compact, they should have a size that can give you maximum comfort. 
When choosing crocs, you should be careful about the fitting and the type of crocs. There are standard size charts available for men, women, toddlers, and unisex. You can find your perfect size from the charts available online.
In case the Croc seems to be squeezed on your feet, don't have to worry, you can stretch it and get the perfect shape you need from it. You can make it comfortable by applying any of the above stretching techniques.
Final thought
Crocs aren't good for heavy-duty construction and field work. They're suggested for good arch support, comfort, casual use in home, kitchen, yard, and medical use. 
However, they lack enough heel support because of the tenderness which may lead to some problems. To avoid it, you can choose hard sole crocs for regular use. 
Also, make sure your croc is slip-resistant. There are a number of different types of crocs available in the market. Pick one that best meets your needs and comfort.
Suggestive posts:
Do Crocs Run Big Or Small
Are All Crocs Non-Slip Shoes
How to Shrink Crocs