Crocs are exquisitely comfortable and made of stretchy, flexible, lightweight, and smooth Crossbite foam which is a unique innovation of Crocs. However, a lot of people think that Crocs are too expensive and not entirely worth it. But once you have tried Crocs, you develop a taste for similar comfy clogs and it's hard to go back.
So, the market is full of Crocs knockoffs to satisfy this segment. Between all the different brands, it does become really hard to pick out a good Crocs-like shoe at a much cheaper rate. Fear not because we are here for you.  
If you are looking for shoes similar to Crocs but cheaper, you have come to the right place. Check out our compiled list of the best Crocs alternatives. 
3 Shoes similar to crocs but cheaper
14 Best Shoes Like Crocs But Cheaper – Walk On Clouds All Day Long
We will now take a detailed look at all the best Crocs alternatives we spotted for you. In this section, we highlight the best features each shoe offers and our thoughts on them with a comparison.
Top Pick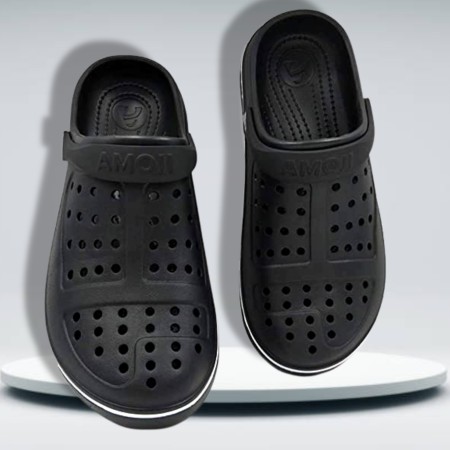 Amoji Unisex Clogs Gardening Shoes
The unique bump design makes you feel as if you're getting a massage
EVA resin sole for flexibility, lightness, and sturdiness
Replaceable insoles and good arch support
Well-ventilated to keep feet dry and fresh
Waterproof and easy to clean
Although dubbed a gardening shoe, you can wear the Amoji sandals indoors as well as outdoors. Made from lightweight rubber, the footbed of these sandals is very comfortable, just like Clogs. 
This shoe comes with the most Crocs-esque design. Holes on the upper and glossy-looking rubber as you would expect from a hard knock-off Crocs. The material the shoe is made of also is very similar to Crocs. 
It is made of lightweight, high-density rubber that holds your weight pretty well. As sturdy as the footbed is, it also feels comfortable and cushy against your feet. 
A lot of Crocs fans have switched to Amoji. Some find this shoe more comfortable than the original Crocs. That's some next-level endorsement. These shoes feature a thickly padded arch support. 
One of the most interesting features is that this shoe is designed to give you a massage-like experience. With strategically placed bumps on the footbed, every step will feel good. Overall, a great deal.
Runners Up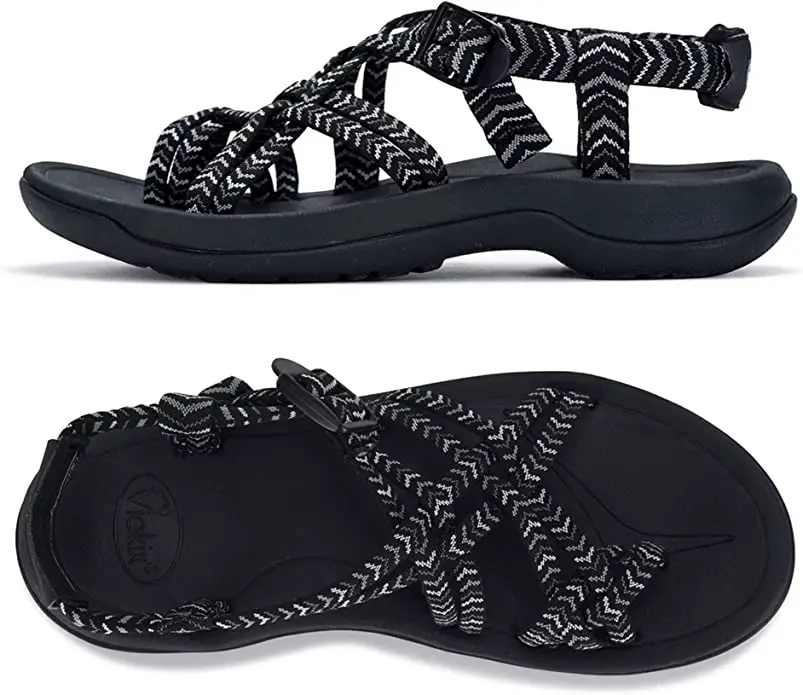 Viakix Siena Walking Sandals
Insole with contoured arch support and ergonomic design
Adjustable straps allow you to get the best fit for your specific foot
The webbing that is soft and stretchy and adheres to your foot's shapes
Handcrafted using the highest quality materials
wide widths can accommodate individuals with wider feet
Although this one looks nothing like Crocs, trust us, the footbed is just as comfortable as any old pair of Crocs. Designed for women, they look a lot more fashionable and cute though.
Viakix's goal is to provide you with sandals made of high-quality materials at an affordable price. They don't spend on aggressive and expensive marketing campaigns to keep their footwear affordable. So, that means you get handcrafted high-quality sandals that are just as comfortable as Crocs.
The toe straps and loops are made from stretchy material that feels comfortable and doesn't chafe at your skin. You also get a belt that comes with a buckle that snaps right away. So, the sandals are very easy to put on and take off. 
The footbed is designed to contour the shape of the feet and is made of flexible rubber that allows easy movement. Also, there's plenty of arch support to keep you comfortable on your feet. Although these sandals don't resemble Crocs like the Amoji clogs, they sure are every bit as comfy and much cuter.  
3rd Pick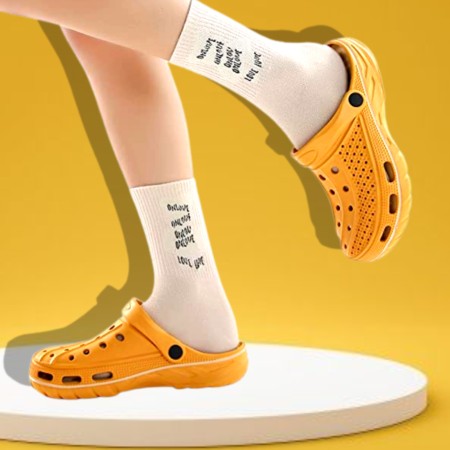 ChayChax Clogs Garden Shoes
The non-slip design ensures a secure grip
The insole supports the arch and absorbs the impact
Ventilation openings provide more airflow
The orthotic footbed offers excellent support
detachable insole design
ChayChax clogs are a pretty good and cheaper alternative to Crocs. They have a thick padded sole that is very comfortable. Designed like Crocs, but with ventilation holes of varying sizes, this shoe is sturdy and breathable.
With plenty of arch support in the insole and energy absorption, the footbed is one of the most comfortable ones. Your back, joints, and muscles will all stay protected from damage with over-exertion. However, if the thick insole isn't doing it for you, you can remove it and put in aftermarket orthotic insoles.
4.5cm thick, the sole can cushion impact excellently, even on hard floors. So, in case you need to do a lot of walking indoors on your job, this shoe is a great option. Medical practitioners, Dental hygienists, and 9-5 office workers who can get away with a casual dress-up will really benefit from wearing these clogs. 
Non-slip outsoles protect you from injuries when walking on smooth floors. They are grippy enough for all sorts of indoor and outdoor surfaces. You'll get your money's worth out of these shoes.
4th Pick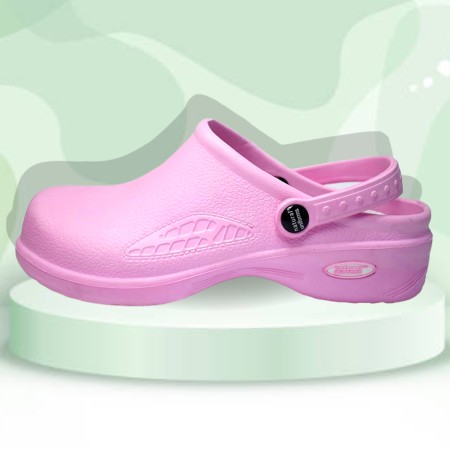 Natural Uniforms Ultralite Women's Clogs
Heel straps are adjustable for superior fit
High-arch shoes with adequate padding
Non-marking & slip-resistant shoe
EVA midsole for maximum support 
Lightweight & spongy for extra comfort
Built for nurses, this pair of clogs are excellent work shoes that keep your feet-fatigue free after long shifts at work. One of the most Crocs-like shoes with regard to looks as well as quality. 
Firstly, the Ultralite clogs feature a non-marking outsole that is great for walking on uncarpeted light-colored floors that easily get markings on them from dark soles. Also, the outsole is slip-resistant, so you don't have to worry about slipping when you're walking on tractionless floors.
The midsole made of EVA is just as comfortable as the original Crocs. You will get plenty of support even if you have to stand upright most of the day. The insole is well-cushioned and has a shock absorption quality. 
Comfortable for wide feet, expect this shoe to run wide. You can adjust the snugness of this shoe with the adjustable heel strap. However, the arches of these shoes are high. So, if you have high arches, this shoe will be the perfect fit. Otherwise, it will be uncomfortable. In that case, the  Amoji Unisex Clogs and ChayChax Clogs will be a better fit for you. 
5th Pick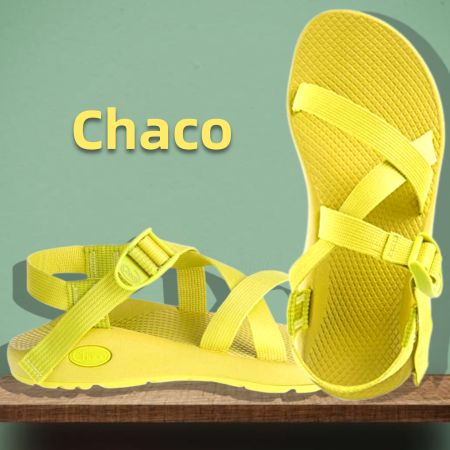 Chaco Women's Z1 Classic Sandal
The Upper is made of double-strapped polyester jacquard webbing
High-tensile webbing heel risers that are adjustable and robust
Chaco grip rubber compound is non-marking
Built for wearing in water as well as land
Dual-density midsole from Loveseat
Apart from being the most comfortable and lightweight beach sandals out there, they feel just as lux as Crocs. Like any pair of Crocs, these shoes can take a hit of water and hold up well.
As we have already mentioned if you will be adventuring near the water, these shoes are like Crocs comfort. You can walk on sandy beaches quite effortlessly with these sandals on. They are also good for hiking in warmer months. Overall, it has versatile usage.
The dual-density midsole is sturdy and firm. It offers shock absorption as well as support. Conforming to the shape of your feet, you get superior comfort and flexibility. However, the sole is thin, and if you stand on a hard surface for a long time, your feet will start to ache. So, we recommend these sandals to you, only if you will be taking them on a trip with a lot of walking near watery places. 
Read also: Shoes similar to Chacos But Cheaper
6th Pick
Clapzovr Mens Sandals Shower Water Shoes
Athletic water sandals with draining holes made of breathable PVC
Non-slip rubber sole for traction on wet surfaces
EVA sole for superior comfort and feedback
Quick water drainage for speedy drying
Easy to clean despite thick padding in the footbed
This one is a water shoe. Crocs make incredible water shoes but Clapzovr can give them a run for their money with these water shoes. Designed for men, and available in a range of sizes and various colors, this one is a must-have.
The upper is perforated with big holes. Albeit not the most attractive look, you will find that the holes make water drain much faster. When you are by the swimming pool or hiking near waterfalls, boating, kayaking, fishing, or anything that involves getting your feet wet, the quick drainage system makes the experience much more fun. 
Comfortable and feet-hugging, the footbed is built to provide you with aerobic massages. Constructed out of EVA foam, the soles provide a sturdy and responsive ride. You get good cushioning, considering how affordable the Clapzovr water shoe is. A good deal overall!
Like a well-made water shoe, this one is also super easy to clean, and the footbed is entirely removable. The traction is also good, which makes this shoe good for hiking on watery terrains.
7th Pick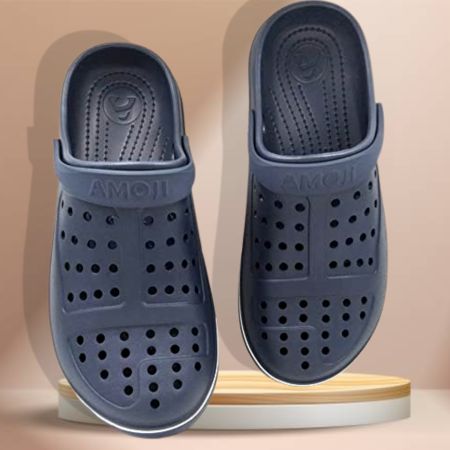 Amoji Unisex Clogs CL8818 Garden Shoes
The unique bump design makes you feel as if you're getting a massage
EVA resin sole for flexibility, lightness, and sturdiness
The non-slip construction of the EVA sole gives sufficient grip
Well-ventilated to keep feet dry and fresh
Waterproof and easy to clean
Amoji makes shoes similar to crocs like no other brand ever. You will see a lot of Amoji Clogs make our list. This pair is by far the most aesthetically pleasing and is pretty well made. It's got substance as well as looks.
The outsole, midsole, and insole are all made of EVA foam, which makes this shoe comfortable like no other. As you can see for yourself, EVA footbed is pretty common for Crocs knockoffs. Even so, this pair will stand apart in quality. 
Perforated with small and tastefully placed soles, the CL8818 is well-ventilated without looking hideous. It also comes with a belt like a standard Crocs. The upper is entirely made of rubber and is durable. You can use it outdoors and indoors, still the upper will hold up pretty well against scratches.
This shoe is perfect for regular use while running errands or at work. Just like the ChayChax Clogs or Chaco Women's Z1 Classic, this will make a great work shoe especially if you have to stand or walk a lot at work. 
8th Pick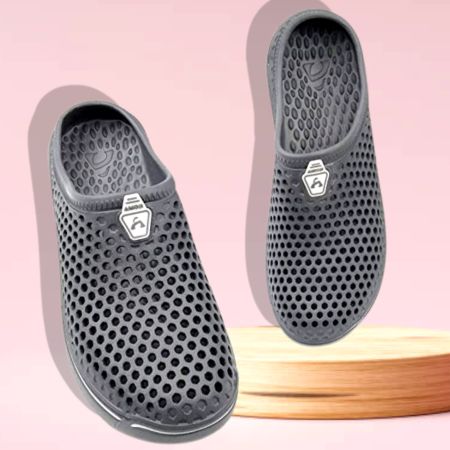 Amoji Unisex AM1761 Garden Clogs
Perforated upper for good ventilation
Lightweight, portable, and easily washable
Moderate arch support for people with normal arches
The cushioned footbed that accommodates aftermarket inserts
A non-slip outsole that provides grip both outdoors & indoors
Comfortable and offering a wide range of possible uses, these Amoji Clogs are one of the best Crocs Knockoffs out there in the market. Check out what's so great here. 
Every pair of Men's 10, and Women's 12 weighs 7.34 oz, which is ideal for hikers and travelers. Made of water, these shoes are entirely waterproof. 
The upper has a perforation that allows your feet to breathe. A great quality that impressed us is how fast they dry. You can use them as both shower sandals and camping ones if you go out for a camping trip.
With moderate to low arch support, this sandal is plenty comfortable considering its light weight. Its wide structure makes it look like Crocs. The inside surface has pea-sized nubby bumps to massage your foot while you walk. 
The center underneath the shoe's heel is recessed, and the step's weight never meets the surface but rather sinks into the airspace between the ground and the recessed heel, providing comfort during heel strikes. That's something we have never seen before. You can kick the comfort up a notch with aftermarket inserts like – Dr. Scholls. 
9th Pick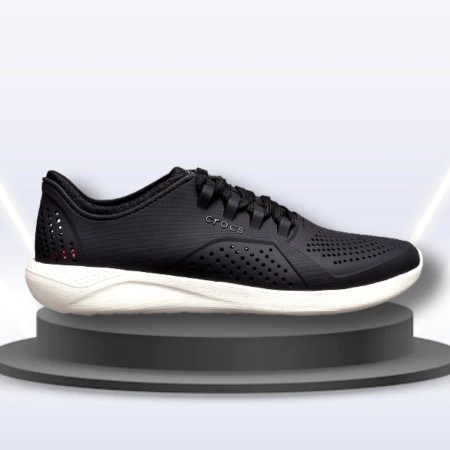 Crocs Men's LiteRide Pacer Sneaker
Upper made of Matlite, a rubbery and spongy material
Little air holes are located throughout the shoe for breathability
A slip-resistant tread makes it suitable for most surfaces
Water-resistant and dries swiftly when wet
EVA foam is used to cushion the outsole
So, we are cheating on this entry. Only because this original Crocs is nothing like a regular pair. The LiteRide Pacer sneakers are a sleek pair of kicks that look nothing like the chunky, wide-shaped Crocs, yet it is every bit as comfy.
Lightweight as the name suggests, the LiteRide Pacer has a unique aesthetic. Microfiber upper with mesh tongue and soles made of signature Croslite foam offers plenty of comfort.
EVA foam adds a lot of rigidity to the shoe's outsole, which is very cushioned. The term "LiteRide" refers to the foam used in the insole of the shoe. This insole provides sufficient support for your feet, making it simple to put on and use all day. The toe box is quite roomy, which adds to the comfort.
Water-resistant and fast-drying, these kicks are ideal for running on wet surfaces. However, you can't machine-wash them or remove the insoles. The Amoji Unisex AM1761 or the Clapzovr Men's Sandals are much easier to clean.  
10th Pick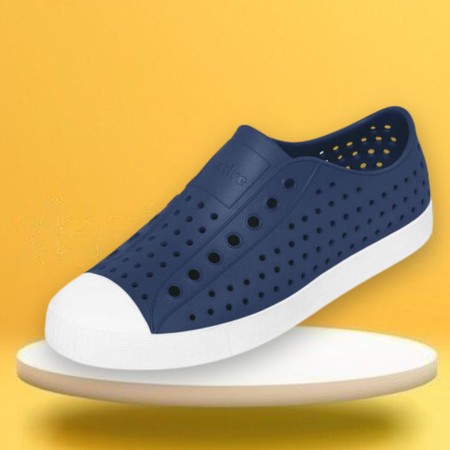 Native Shoes Jefferson Lightweight Sneaker
EVA upper, lining, and sole for lightweight comfort
Perforated upper for superior breathability
Shock absorbent cushioning system 
Built for narrow feet and hugs feet snuggly
Complete vegan construction 
Available for both children and adults, the Jefferson is the perfect croc-like shoe for toddlers. It is built with amazing construction and lightweight materials that provide the ultimate comfort ride.
These kicks are made mostly out of lightweight and high-density EVA foam. Even the lining features EVA. As a result, you get a sturdy pair of shoes with incredible shock absorption and responsiveness. Your feet will get adequate support even after long use, protecting your muscles, joints, calves, and back from unnecessary strain.
The upper has perforation just like a classic pair of Crocs. This feature makes these sneakers extra breathable. Your feet will remain dry and cool all day. It is especially comfortable for warm summer days. The arch support is moderate and people with regular to slightly higher arches should find them suitable. 
Looks-wise, The Jefferson is a hit. The sleek rubber upper and narrow design makes it look appealing. However, the Crocs LiteRide Pacer has this pair beat in the aesthetics department. Overall, a pretty good mid-range pair of sneakers. 
11th Pick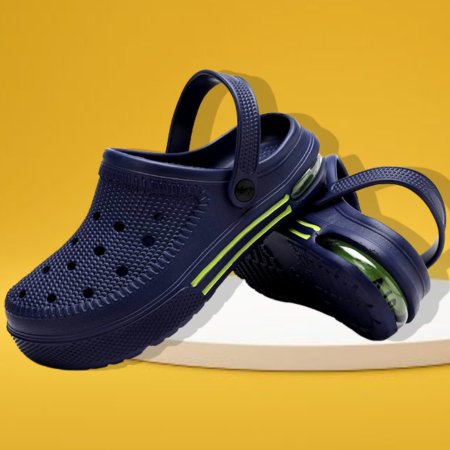 heyun Men's Sports Sandals
Perforated upper for additional breathability
Light injection-molded EVA material used in sole
Arch support is designed for stability and protection
The footbed structure provides added traction
The footbed uses massage balls, providing a springy feel
heyun men's sports sandals are built just like a Croc but sold much cheaper. These knockoffs follow the original design pretty closely. Most importantly, they are just as comfy. 
Made entirely out of rubber, with straps to tighten the sandal for a closer fit, and a perforated upper, you get the full Crocs package. The footbed is made out of injection-molded EVA material that makes you feel like you are walking on clouds. In case you have pain in your feet or heel spurs, these clogs will provide you with much-needed comfort.
The arch support is sturdy and built for normal arches. It's ideal for someone with regular arches. The footbed is responsive and sturdy, allowing an effortless ride. You can walk around the house in these or wear them to work as they are great for usage up to long hours.
Moreover, the footbed has massage balls that are a little bigger than the Amoji Unisex Clogs  or Clapzovr Men's Sandals. Have to say, these emulate a massage-like sensation better than the other clogs with the same feature. 
12th Pick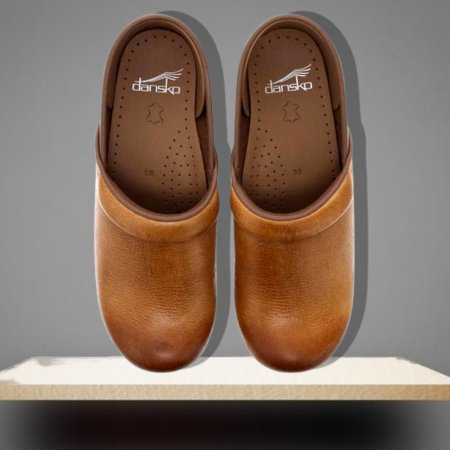 Dansko Women's Professional Clog
100% leather upper clogs for a sleek and professional look.
All-day comfort and support with exceptional arch support.
The padded instep collar makes walking more comfortable.
Breathable PU Foam Footbed for temperature control.
The Rocker Bottom relieves fatigue and provides shock absorption.
These clogs are the best option if you want a more professional look. They are comfortable and steady. The shiny leather upper looks pretty chic and fashionable.
As we mentioned, the upper is made of leather and also lacks any perforation like the rest of the clogs on our list. This compromises the breathability of the shoe. However, to keep your feet smelling fresh, the lining is coated with an antimicrobial solution. It is a nice touch for a leather clog that doesn't breathe the best. 
The footbed is made of PU foam and is heavily padded. Your feet will be well cushioned and protected from shock with each step you take. The footbed also features an arch support. For normal arches, the Dansko Professional clog will be exceptionally comfortable.
Designed with a rocker function, the bottom keeps your feet in a flexible position that relieves fatigue and keeps your feet from aching, which makes this pair an exceptional work shoe. So, in case your work requires you to have a more professional look, we recommend you get these clogs.  
Read also: Best Dansko Alternative
13th Pick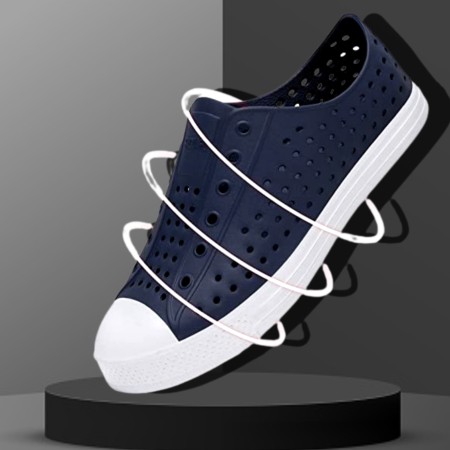 SAGUARO Garden Clogs
Breathability is improved via all-over ventilation apertures
Soft heel-cap that can be stepped on to wear as sandals
Extra comfort is provided by the super-light and flexible material
Non-marking and durable outsole made of EVA
Quick water drainage makes it ideal for water sports
Designed like a sneaker except featuring many perforations and made entirely out of rubber, these clogs make for one of the best water shoes. If you are someone who likes fishing, kayaking, boating or the beach, the SAGUARO is for you. 
The upper is made of soft and stretchy rubber that hugs your feet and expands to accommodate your feet as you walk. Featuring many air holes, the upper is breathable and drains water quickly. Made of quick-drying material, you will surely like how fast these shoes dry.
With adequate padding, the footbed cushions any shock from steps and protects your muscles and joints from pressure and overexertion. The outsole is made of EVA. 
Wear-resistant and non-marking, you will be pleased with how well-responsive the outsoles are. Overall, a flexible clog saves your feet from fatigue. You can also wear these around the house or outside for errands, meets, etc. But they shine as water shoes. 
14th Pick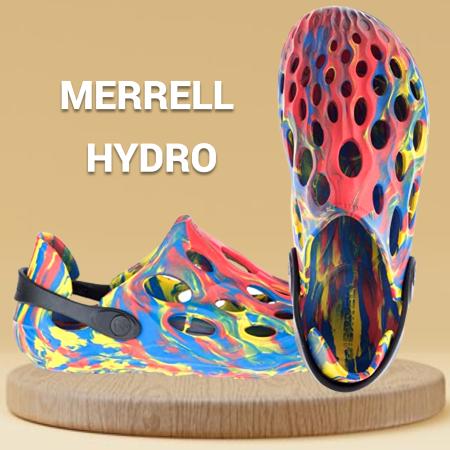 Merrell Women's Hydro Moc Water Shoe
Single-injection EVA midsole for support and cushioning
Large air holes for breathability and water drainage
Stretchy fabric upper that snuggly hugs feet
2mm lugs on the outsoles for friction
contoured arch for support & comfort
When performance isn't a necessity, the Merrell Hydro Moc is an extremely comfortable footwear choice for both wet and dry weather. Check out the features of this shoe.
These sneakers are easy to wear and take off thanks to their simple design. The heel strap offers a shoe-like fit, but it can also be flipped up for a sandal-like feel. The strategically placed holes allow for ample breathability as well as quick-drying airflow, providing all-day comfort.
Performance-wise the Hydro Moc is just like any other clog or garden sandals on our list. This shoe isn't built for exceptional sportsmanship but rather just a comfortable footwear option that can switch easily between dry and wet weather conditions.
The arch support and padding, while not great, are adequate for wearing around the garden, pool or outdoors for casual hikes. The outsole is pretty grippy. You don't have to worry about slipping even on wet surfaces. A good Crocs alternative at a cheaper range. It will last you a long time as well. The Hydro Moc is plenty durable and pretty hard to beat up. 
How to know if the shoes are Slip-Resistant?
It can be difficult to tell whether or not non-slip shoes are up to grade while shopping online. Learning what to search for is essential because you won't be able to put them on for a day at work before buying a pair.
While it may seem self-evident, the simplest method to identify if footwear is non-slip is to look for the word "slip-resistant" in the product details. Running shoes, clogs, and other sports walking shoes are popular among medical and service industry employees, but they aren't always anti-slip.
The tread pattern is another feature to look for in non-slip shoes. On the bottom of the outsole, you'll frequently observe small squiggles, circles, or hexagons. This is done to create traction, which aids in gripping the floor while preventing water from pooling underneath. In general, the smaller the design, the more slide resistance there will be.
Buying Guide – How To Look For A Comfortable Pair Of Crocs Knockoffs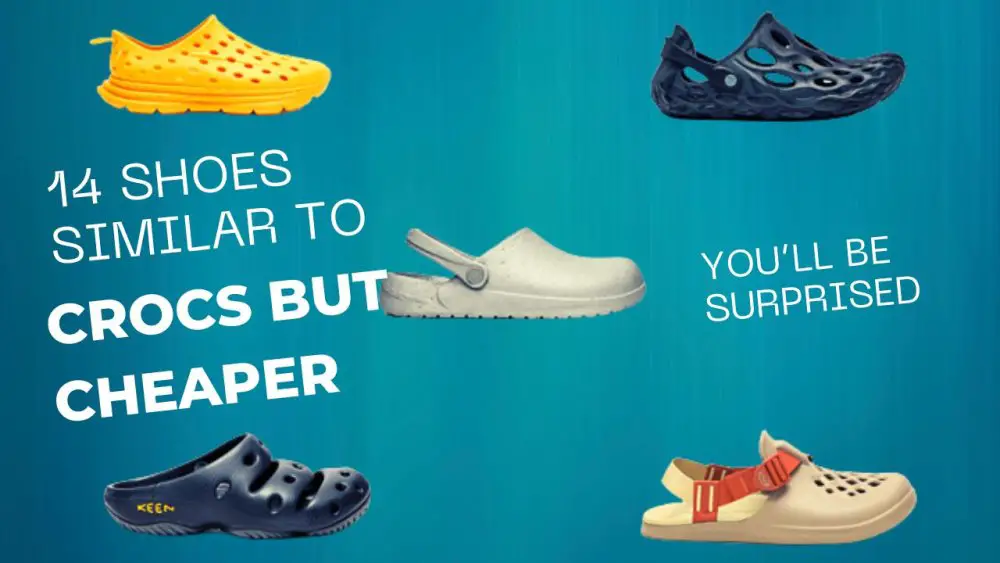 Getting the right pair of shoes can be a tough act if you don't know what to look for. Lucky for you, we are here to tell you exactly what features fake Crocs should have. Read our guide below before making a purchase.  
Perforated Breathable Upper
You want to look for a stretch upper that expands with your footsteps. Crocs feature flexible rubber upper with air holes for added breathability but also protects feet against the elements. 
If you will be using the clogs in wet weather or near pools, you should get uppers with perforation. That way, the water will drain out quickly and air ventilation dries your feet.
Highly-Padded Footbed
Padding can make or break the comfort of a shoe. A well-cushioned footbed is better for shock absorption. This protects your feet from overuse. If the cushioning is made of responsive, energy-returning material, even better. That reduces the effort it takes to walk so that your feet have to work even less.
Arch Support
Without effective arch support, standing for a few hours in a row can badly tire your feet up. Depending on the arches of your feet, look for arch support that fits you best. 
A shoe with a high arch bump won't feel good for someone who has low arches and vice-versa. So, check out the product details. Usually, you will find the arch-type in there. Otherwise, ask the seller for information.
Heel Straps
Now this one isn't as important as the rest. But a pair of heel straps make your sandals fit as snuggly as a shoe. A good fit adds tons to footwear's comfort.
Comfortable EVA Midsole
EVA is a high-density foam that feels sturdy as well as responsive. The more support you get from the midsoles, the longer your feet can hold up even during vigorous activities. 
Non-Marking, Non-Slip Outsole
A good Crocs knockoff will make for an excellent work shoe and also comfortable home footwear. So, with non-marking outsoles, you can protect the floors of your office or home. Again, a non-slip shoe is much needed on wet surfaces, indoors and outdoors. For your safety, it is best to get a shoe that is marked as non-slip.
FAQs
Are Crocs the most comfortable shoes?
In our experience, yes. Crocs now make a variety of footwear, although I believe most people think of the clog design described above when they think of Crocs. They are, without a doubt. 
Which are better: Crocs or Skechers?
That would depend on your usage. Skechers is better for athletic activities. Performance-wise Skechers come up on top. On the other hand, Crocs are more comfortable and fit for walking but not running or other sports.
What is the best shoe similar to Crocs but cheaper?
Well, we just made a list of all the best Crocs alternatives. We will list the top choices here.
Amoji Unisex Clogs Gardening Shoes
Natural Uniforms Ultralite Women's Clogs
Amoji Unisex Clogs CL8818 Garden Shoes 
Are fake crocs as good as real crocs?
Some of them are just as comfortable but most knockoffs aren't as comfortable. We listed the best ones and they are pretty comfortable so that most people will feel they are just as good. 
Final words
A comfortable shoe has to be made of the right material. But what's going to feel comfortable depends on the activities you will be doing while wearing them. Most people wear Crocs to work while taking walks or running errands, at the pool, or around the house. 
So, we focused on some Crocs-like water shoes, garden shoes, work shoes, and walking clogs meant for outdoors and indoors to provide you with a versatile list to meet every possible demand.  
We recommend you first pinpoint what you need out of your shoes and then choose the ones that satisfy your needs. Finally, choose one that best suits your budget after a cost and benefit analysis.