Are you confused about how many pairs of shoes a man should own? Well, there aren't any hard and fast rules that specify how many pairs you should go for; it's mostly a subjective understanding. 
But, if you ask a lifestyle expert, he can provide you with the exact guidelines in this matter as well. This figure can range from 7 to 12 pairs depending on your desired investment and management capabilities. 
In our guide today, we'll try to look at some of the key areas surrounding the question. 
How Many Pairs of Shoes Should a Man Own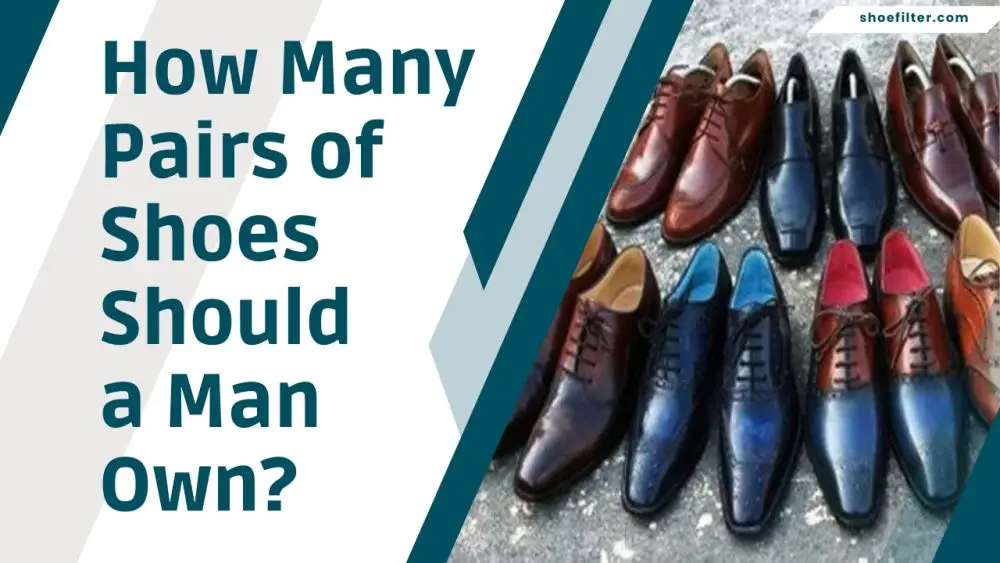 Although it depends mostly on your understanding, budget and shoe management capabilities to determine how many pairs to go for, here, we'd like to discuss what the experts recommend you to have in certain circumstances. Let's find out! 
Distribution of Shoes 
As said, you may need 7 to 12 pairs of shoes. If you're an avid shoe lover and love to collect different brands or types of footwear, the number can increase significantly. 
Anyway, back to our main area of concern. So, you now have an idea in terms of how many pairs you should target. But how do you distribute the amounts? First, you should prioritize your preference. If you're a sportsperson, you may go for more sport-focused footwear than other types. 
Or, if you're a hiker, you may have more outdoor hiking shoes. You can see that the choice of shoes can be different by individual choices. 
But in the small table below, we'll give a rough estimate on how many pairs you can go for based on the types. 
 Shoe Pair Distribution Table 
| | |
| --- | --- |
| Shoe Type  | Possible Pairs of Shoes  |
| Dress Shoes  | Have 1-2 Pairs  |
| Running Shoes  | Have one pair of running shoes  |
| Gym Sneakers  | Have one pair if you hit the gym frequently  |
| Casual Sneakers and Shoes  | Have at least 2 pairs each  |
| Outdoor/Hiking Shoes  | Two pairs or more if you're an avid traveler  |
| Sandals | One pair |
| Slippers  | One pair  |
| Flip Flop Sandals  | One pair  |
| Regular Boots  | Have 2 pairs of boots |
How Do You Know If You Have Too Many Shoes?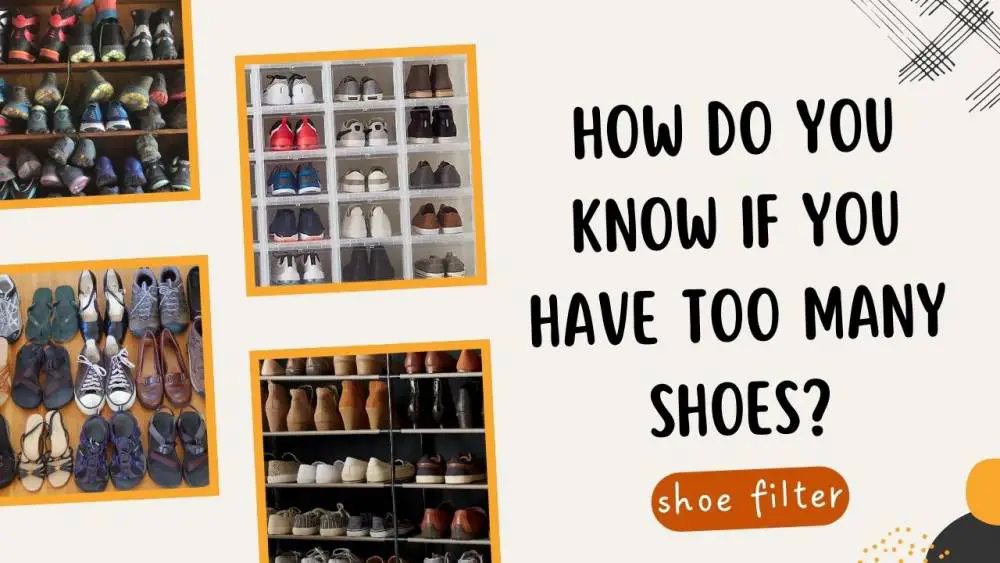 Well, in the table above, we've provided you with a rough estimation of the pairs of shoes you should aim for. If you want to minimize the scope and try to understand the exact number of shoes you need, check out the tips below: 
Lifestyle is Vital 
Any expert or 'Guru' can suggest you have 10-20 pairs of shoes. But, they're not putting themselves in your shoes, so they understand nothing about your lifestyle, which includes earning and tons of other relevant elements. 
If you're running short on budget or like to live a minimalist life, you can have 1 pair for each category. That'll do the job! 
Management and Space 
People opt for small studio apartments because of the tremendously increasing need for residential spaces inside the cities. Which, of course, would come with a significantly reduced space. Fitting all your things inside this tiny little house can become a complicated task, let alone bringing in a large shoe rack to fit all of them. 
Now, if you're 3 individuals living in a small studio apartment, that'd be roughly 36-40 shoes (if you strictly follow the given formula). You'd need an equally large shoe rack to get all those shoes fitted in. It'd be a tremendously challenging job to fit in all these footwear in this small space. 
Lower Down the Scope 
As we already said, it's a rough estimation. Just because it's said that you'd need 12 pairs doesn't mean you'd have to have the exact amount. 
You can, in fact, lower down your scope and keep only the essential shoes. 
Also, you can completely ignore one or two criteria based on your usage. For instance, if you don't go to the gym and focus more on home calisthenics, you can skip the gym sneakers. 
If you rarely do hiking, you can keep it aside. Well, you can use similar planning methods and reduce the number of shoes down to a certain extent. 
Consider the Temper Issue As Well 
Well, say you can easily afford the different types of shoes and have substantial space in the house to store them well, here too is an issue. You should only get shoes that are necessary. If you need to dress up for different corporate meetings and functions frequently, are a sportsperson, love to hike, go to the gym, only then you should have shoes from each category. 
We're recommending against getting shoes if they're not absolutely necessary because each shoe comes with a tempering period. If they cross that period, they'll lose their temper and deteriorate, meaning they'll wear down whether you wear it every day or showcase them in the shoe rack. That's why stocking up on shoes that aren't necessary is a bad idea. 
How many pairs of shoes do Americans buy a year?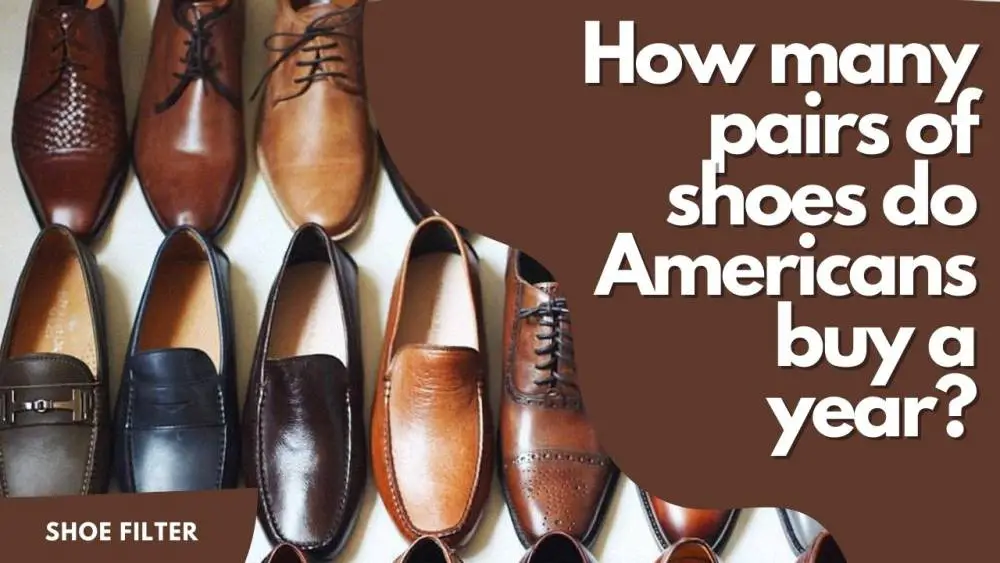 If you don't know about the buying trends, you may ask questions similar to this. Well, statistical reports show that an American buys 7.5 pairs of shoes every year. 
The United States ranks third in the global footwear consumer report, just behind the two most populous nations China and India. It goes to show the unbelievable fashion needs of the average American in terms of shoes. And when you compare the average shoe purchasing scenario, the US will definitely come on top! 
Bottom Line 
Well, we've provided a tremendously informative guide that explains how many pairs of shoes a man should own in the most detailed manner possible. We weren't just answering a simple question. Instead, we drove deep and looked at what an average individual would process that information. 
We also provided highly effective tips so you can pinpoint your needs and get the necessary pairs. 
Although it can be a bit difficult to get and maintain all the shoe types, adding variety in the shoe rack will aid you in terms of tackling different shoe needs. 
So, what are you waiting for? Bring in your desired picks and enjoy the comfort on the feet.