Some might think that flip-flops are only beachwear. You cannot wear this type of sandals to gatherings or casual events. In the old days, it would have been rude, and I would never wear sandals to outdoor events. But times have changed, so have people's perspectives. 
I do not have to feel shy about wearing flip-flops outside. And so, if you are looking for comfortable footwear for summer or thinking about how to get some stylish yet economical options for your holiday? 
Well, you don't need to worry anymore. You can wear flip-flops as a stylish and comfortable choice. Flip-flops are the overshadowed hero in the footwear world. Flip-flops are there to your rescue when you are worried about ruining your expensive shoes or need some comfort. Learn how to wear flip-flops with skinny jeans and make your whole attire stylish with us.
Read also: Best Over The Knee Boots For Skinny Legs
When is the Best Time to Wear Flip-Flops?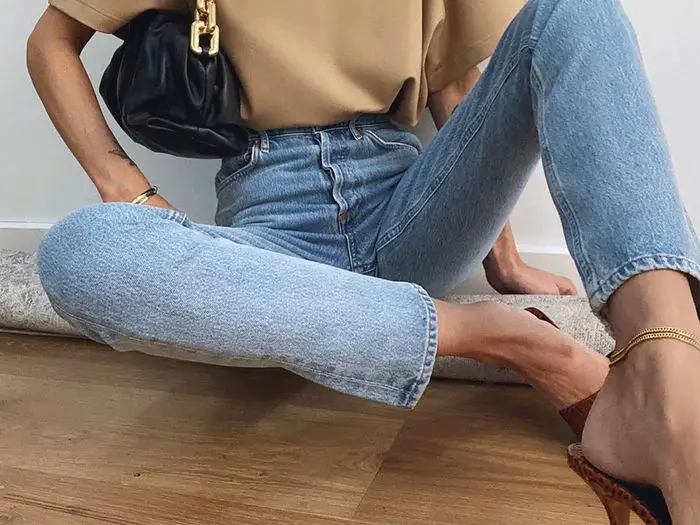 As flip-flops are quite liberating and let air pass through your feet, it is not suitable to wear in cold weather. You cannot wear flip-flops in winter or somewhere when you want some warmth around your feet. 
Usually, flip-flops are popular in the summer and rainy seasons. In summer, you need some footwear to cool down your sweaty feet, and in the rainy season, it allows you to explore without worrying about ruining your expensive footwear.
How to Style Flip Flops with Denim Wear?
Flip-flops with denim wear have been quite popular in the last few years. You can add a little bit of vibrant and different flavor to your denim outfit with the right pair of flip-flops. Jeans, skirts, shorts, or jackets, any type of outfit fits perfectly with flip-flops. 
First, decide if you want to highlight your footwear or not. If you prefer blending your footwear with your outfit, you can choose some plain flip-flops that won't stand out much. For instance, while wearing black jeans, you can choose a black pair of rubber flip-flops. But if you want your footwear to be highlighted, you can choose some floral print, vibrant colors, or patterns. 
You can also match your flip-flops with your top. If you wear a denim top, you can choose a pair of flip-flops that perfectly match your top. Or you can also select the total opposite colors to accessorize your feet.
How to Remove Focus from Footwear?
Footwear is an inseparable part of your outfit. But if you are not very comfortable wearing flip-flops outside, then you might want to take the focus away from your legs. You can follow some simple tricks. 
Choose the color that blends in with your outfit. Wear a simple flip-flop that does not attract much attention. If you're wearing a bright-colored dress or a heavy top, then it is much easier. You can also accessorize yourself with some jewelry pieces on your neck or upper body. That can attract the focus towards them. 
With jeans, you can wear black, or navy blue flip-flops that blend perfectly with your outfit and will not attract any extra attention towards your footwear. You can check the holiday flip-flop outfits of Kate Moss for inspiration and see how she has turned casual footwear into a style element.
How to Style Your Flip-Flops With Skinny Jeans?
As simple and casual footwear, Flip-Flops look quite comfortable with skinny jeans. If there is no plan to attend any official or formal program, then you can wear flip-flops and enjoy your summer evening. 
Skinny jeans are quite popular as they are comfortable and stylish. Wearing the right flip flops can make your summer fashion comfortable and highlighting. Many people think that flip-flops are only for wearing on the beach. 
But we have seen multiple uses of flip-flops and how that can make a casual look cool. You just need to choose the right type of flip-flops that goes with your outfit. If you don't want to attract attention to your footwear, choose a color that blends perfectly with your Jeans. 
If you are up to something fancy and stylish, you can use some beautiful and bright colored patterns in your flip-flops. Whichever you choose, try to make your footwear look comfortable and relaxing. You can always choose leather flip-flop sandals to have a little more classy look.
What are the Benefits of Wearing Flip Flops?
In the summer or rainy season, flip-flops can be a lifesaver for you. If your feet sweat a lot, it is very difficult to deal with shoes or boots in summer. 
A pair of flip-flops can be your savior in this type of situation. Flip-flops allow air to travel through your feet. So, if you sweat a lot, the air will help to dry them off and get rid of smelly feet. 
Also, it will give you more comfort in moving freely. In the rain, you can walk anywhere in your flip-flops without worrying about your footwear being damaged. So, comfort and economical choice at the same time.
Where Should I Wear Flip Flops?
The most important question comes, where can you wear flip-flops without any worry? It will be awkward if you wear flip-flops in the office or at a shareholders' meeting. But flip-flops are quite comfy for family gatherings, picnics, going for a walk, or Barbeque nights. 
Flip-flops add a jolly and damn care look to your outfit. So, if you want to show sincerity and seriousness through your attire, flip-flops will not be the best choice. But if you want to express the holiday vibe through your summer outfit, nothing can beat flip flops. 
For an outing with friends or a beach holiday, you can wear any type of flip-flops without any worry. While traveling, if you want to give your legs some freedom to breathe, you can wear a pair of comfortable flip-flops. It will help you walk freely and enjoy the summer breeze.
How to Look the Best in Summer with Flip Flops?
Sunbath, holidays, beach parties; summer is the best time for enjoyment. And the perfect footwear for these is the flip-flops. You will find different flip-flops that meet your requirements and keep you stylish. When boots or shoes can be quite suffocating and uncomfortable in summer, flip-flops will give you the freedom to choose fashion and move freely. 
You can wear matching plain flip-flops with your jeans or shorts. You can also match the footwear with your jacket or top. You can use some printed patterns for your flip-flops to highlight your footwear. You will find some fancy flip-flops also that have some flowers or other ornamentation attached. 
If you want to divert the attention from your legs, you can choose a vibrant outfit and moderately plain footwear. Whichever you choose, keep your legs clean and give yourself a good pedicure to make your look more gorgeous.
Final Words
The use of flip-flops is not limited to beachwear nowadays. If you are comfortable with flip-flops, style your flip-flops any way you want and enjoy the freedom. The fashionable choices of flip-flops are quite mesmerizing and can give you a confident look. 
Style your jeans differently by knowing how to wear flip-flops with skinny jeans and enjoy styling for summer a little bit more. When you are confident with your footwear, don't let others say it is not suitable. Find your comfort and style and rock your look with anything you wear.