If you are looking for the best shot put shoes, probably you already know how much grip and maneuverability they need to provide. 
Saying that we came up with the following 8 selections which are combined for all kinds of throwers, be it glide or spin. 
Certainly, you must focus on a very snug fitting for shot put shoes if you want to throw far from the circle. Besides, they must have smooth bottoms to execute the spinning properly. 
After hours of research, we narrowed down the long list and came up with a conclusion that our top 8 choices will help you achieve the farthest throw in any throwing environment. 
So, let's dig in!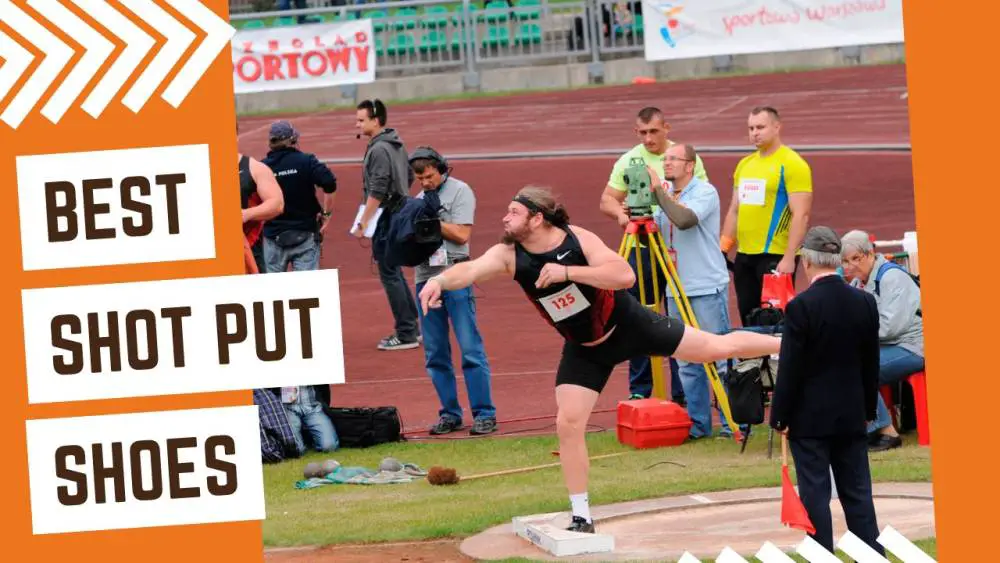 Best Shot Put Shoes for Throwing Environment
Out of so many alternatives, let us guide you in finding the most effective pair of shoes for your next shot put event. If you can pick the right pair, your throws will be incredibly improved than ever.
On that note, here we present our top picks with all their amenities and drawbacks to letting you decide neutrally.
1. Best for Beginners– Adidas Performance Adizero Shotput Track Shoe
We want to start our review with a decent pair of throwing shoes that are specially made for beginners. The key specifications of this pair are-
Top Pick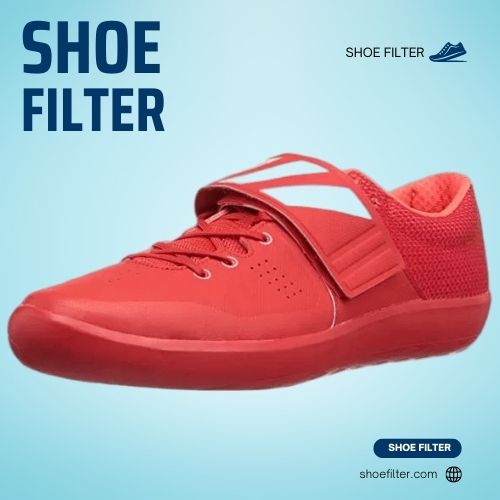 Adidas Performance Adizero Shotput Track Shoe
100% synthetic material with premium craftsmanship 
Solid rubber sole for better balance
Allows maximum ventilation with the air mesh upper
Locks down the feet properly with the hook and loop strap 
Their signature ADIWEAR outsole assures maximum durability 
If we dig deeper, these field and track shoes will surprise us with their well-built quality. All thanks to the special ADIWEAR outsole that offers the best grip possible.
A big plus for the shoes is their durability. Usually, throwing shoes tend to last shorter than regular shoes. But compared to other footwear, this pair lasts unbelievably long with all the comfort it provides as a new pair.
With that being said, comfort is the next big thing for this field and track footwear. This doesn't feel stiffer at all. Resultantly, you can practice for longer wearing them with no bruises or blisters. 
No wonder this is one of the best throw shoes for beginners, particularly those who are in the practice session.
Despite having a lot of positive sides, these shoes are not that great for competition. But it's a very good pair of practice shoes, we must say.
2. Most Durable– ASICS Men's Throw Pro Track Shoe
Up next in this review, we are going to meet another incredible pair of track shoes, this time from ASICS. To learn more, you need to check out the core features below.
Runners Up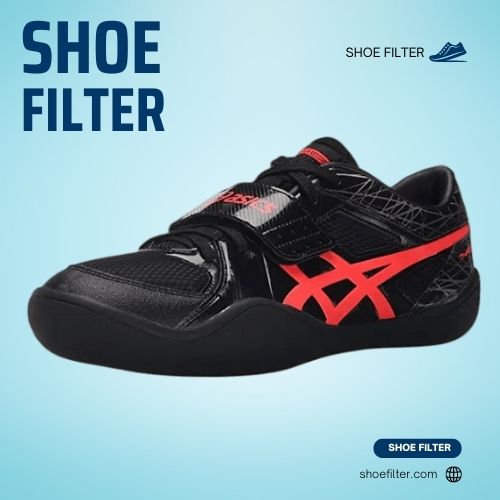 ASICS Men's Throw Pro Track Shoe
Being made of 100% synthetic material, they are super comfortable to wear
The synthetic leather upper is easy to clean
The SpevaFoam midsole lasts a long to prevent midsole breakdown 
Abrasion and tear-resistant shoes for incredible durability 
Reliable rubber soles are engineered with bounce-back characteristics 
As ASICS started back in 1949 with the motto of manufacturing quality footwear to maintain health and fitness, these shoes exactly live up to those expectations. Indeed, we found this pair a great deal for athletes. 
Being technically sound, the shoes last longer than any throwing shoes out there, all thanks to the RynoSkin synthetic leather. This provides wear, tear, and abrasion-free formula that gives the shoes a really long lifespan.
Apart from that, the premium synthetic leather upper is not only sleek and smooth but also is super easy to clean. 
Best of all, the vibrant color combination will draw anyone's attraction within seconds. They really have an elegant outlook altogether. 
Well, the thing to consider before buying this pair is the bottom. They have a slippery bottom for spinning around the circle which makes them a bad choice for rainy days. 
Other than that, this is a must-have pair for any throwers, especially those who need to do a lot of repetitions during those struggling days. So, give it a shot before it runs short!
3. Most Budget Friendly– Adidas ThrowStar Track and Field Shoes
Thirdly, we have another pair from Adidas, the name always lives up to the expectation. Let's check out what their ThrowStar series have in store to offer. 
3th Pick
Adidas ThrowStar Track and Field Shoes
Super flexible synthetic sole
Well-made textile upper
100% synthetic outsole with incredible texture
Made with recycled content and that's why eco-friendly 
The lace closure system assures proper fitting
Well, the best part of these shoes is you can use them on the meet day directly from the box. They need no break-in period to get adapted. 
Another great thing to praise is the unbelievable grip regardless of the weather condition. Whether it rains or shines, this Adidas pair is always there to help you score new records in your shot put, discus, or hammer throw events.
Considering the strongest grip, we highly recommend these shoes for beginner to intermediate throwers. And thanks to the locked-in lace closure, your feet feel secured throughout the event.
Above all, they are extremely affordable. So, you don't need to think twice before buying the shoes. 
Overall, it is one of the best throwing shoes for shot put to improve your skill to the farthest.
4. Best Overall- ASICS Men's Hyper Throw 3 Shoes for Shot Put
Next, we came up with a brand new design from ASICS yet again. With their Hyper Throw 3 series, ASICS literally outdid all their field and track shoes. Why so!!?? Let's find that out.
4th Pick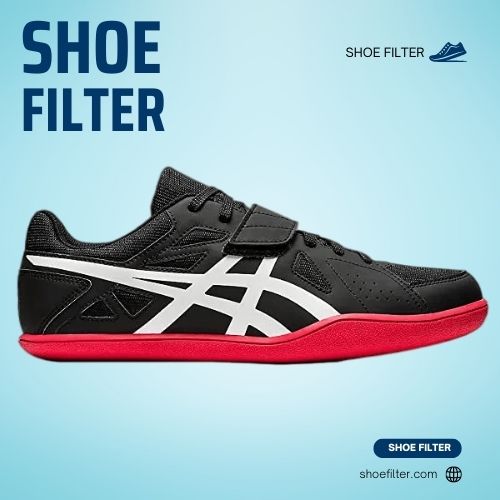 ASICS Men's Hyper Throw 3 Shoes for Shot Put
Suitable for shot put, discus, and hammer throw
Extremely flexible for free foot movement 
Very lightweight construction with an advanced level of security
Full-length rubber sole with shock-absorbing properties
ASICS' signature AHAR outsole ensures enhanced grip and traction
Do you know why this pair outperforms any other contemporary throwing shoes? Because of its extraordinary grip and fabulous flexibility. It's not wrong to say that it's the most flexible shoe ever made for athletes with this level of grip.
Therefore, experts recommend it both for gliding and rotational throws. In fact, they help maximize your throws to such an extent that you yourself will be surprised.
Most importantly, they are suitable for beginners to elite performers. So, rest assured that they will accompany you pretty well in any competitive throwing event.
If only it offered a bit more arch support, there could be no room to complain. But all things considered, they win the race pretty conveniently. 
5. Best All-Around– Saucony Unleash SD 2 Shot Put Shoe
Now, let's talk about an underrated name in the footwear field, Saucony. Unlike Adidas or ASICS, they are not so well known. But once you use their products, surely you will be astonished by their performances. 
So, let's take a look at the key amenities first.
5th Pick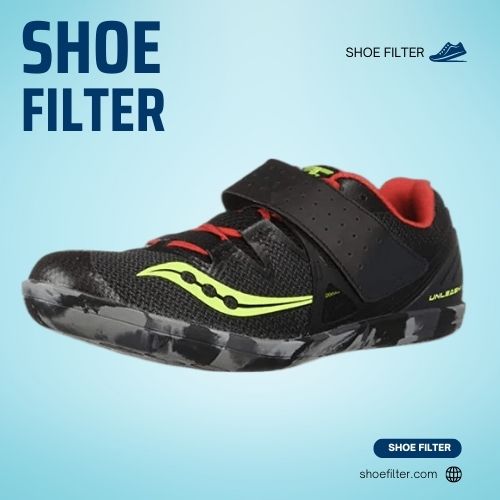 Saucony Unleash SD 2 Shot Put Shoe
Perfect for all-around use
Reliable rubber sole
Features a lightweight upper with sufficient support
Includes a midfoot cross strap for better balance
Offers adequate cushioning in the underfoot
Well, the very first notable point about this pair is that it's unisex. So, unlike the ASICS Men's Hyper Throw 3 Shoes for Shot Put, both male and female throwers can go for it.
Besides, they are usable on a variety of surfaces including concrete and asphalt. The arch to low top shaft measurement provides adequate comfort while you are attending a meet.
If you are someone who aims at grip and stability while performing, go for this pair right away. The EVA midsole always offers adequate flex and pull on the underfoot to be responsive to the track.
However, they run ½ size small. So, make sure to consider that before ordering.
6. Best for Advanced Throwers– Adidas Adizero Unisex Shot Put Shoes
If strength and stability are your concern as a thrower, you can never go wrong with such a nice pair of Adidas shot put shoes. Let's take a tour of its key specialties below.
6th Pick
Adidas Adizero Unisex Shot Put Shoes
Made of breathable material 
Offers adequate foot support and traction on the circle 
Comes with a secured lockdown fit
Withstands abrasive elements, thanks to the ADIWEAR outsole
The ethylene-vinyl acetate sole is supremely cushioned
If you need the best shot put shoes for glide, look no further and try this pair. Being composed of the gliding technique, this makes the perfect choice for elite shot put throwers out there.
Talking about other benefits, it enhances both the power and speed of the thrower being lightweight in construction. And the synthetic upper texture is truly commendable for offering optimum breathability.
In addition, the incomparable grip and traction it offers have literally no competition when it comes to being connected to the ground. Resultantly, the athletes could reach the peak of their performances in any weather condition. 
However, it would be better if they were less stiff. But that's the key requirement for gliding. So, the stiffness doesn't count as a disadvantage. 
7. Best Design– ASICS Throw Pro 2 Unisex Shoes for Shot Put
Next on the lineup, we have a premium pair of field and track footwear from ASICS that is a must-have due to its unique design. The salient features of the shoes are-
7th Pick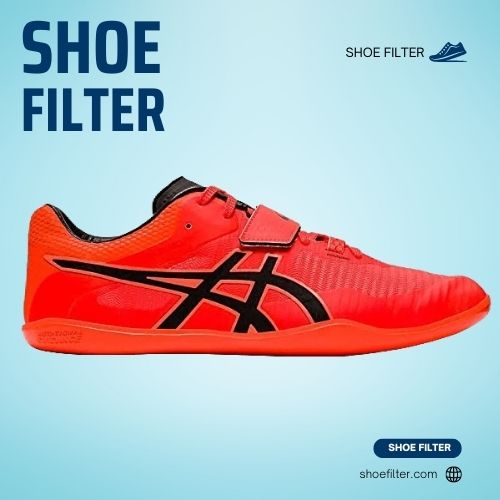 ASICS Throw Pro 2 Unisex Shoes for Shot Put
Very practical structure for shot put, discus, or hammer throwing
Improves the turning and spinning motion
Keeps the foot well-connected to the platform
Better stability because of the midfoot strap
Constructed with DynaWrap technology to keep the feet centered
Compared to the ASICS Men's Throw Pro Track Shoe, the Throw Pro 2 features an improved sole design. But they lack durability like the previous version of this series. 
Besides, the latter combines both synthetic and fabric while the first one came in 100% synthetic material.
What the Throw Pro 2  offers better is the practical design for throwers. They are very comfortable when someone is within the circle for throwing shot put. 
Despite the positives, a little disappointing fact is that they are not red in color as advertised rather fluorescent orange. So, beware if that's an issue.
8. Most Flexible– Nike Men's Competition Running Shoes
Lastly, we have the perfect pick for those who require the best throwing shoes for wide feet. This time we came up with Nike running shoes within a moderate budget range. Let's take a look at its prime specifications. 
8th Pick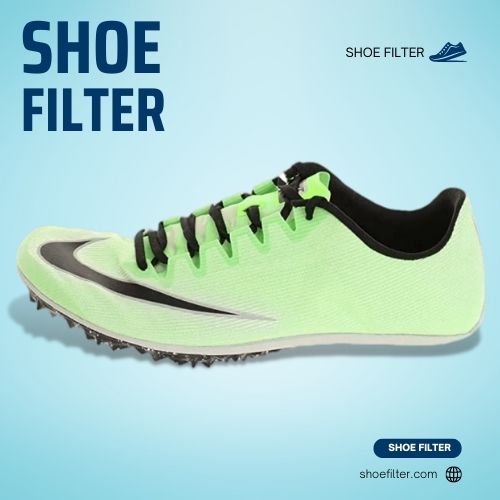 Nike Men's Competition Running Shoes
Snug and flexible fit
Flyweave upper construction for optimum level of comfort 
Incredibly adaptive synthetic sole
Provide aggressive grip and traction due to the seven-spike outsole
Phylon midsole helps absorb shocks and impacts
Although it's a pretty decent pair of shoes for athletes, to be honest, we liked the shoe color the most. In fact, the electric green black pure platinum color combination easily stands out from other contemporary shoes.
Aside from that, it comes with low-profile cushioning that counts as a plus for the shoe. Due to that, your feet stay focused while you are taking turns.
Moreover, they have shock-absorbing properties in the midsole which pay for every penny you spend for the pair.
And in terms of speed, we cannot but admit that it has the best speed as racing shoes. 
However, it would have been better if they had come in a bag. Though that doesn't make it a deal-breaker.
Buying Guide to Get the Best Shot Put Shoes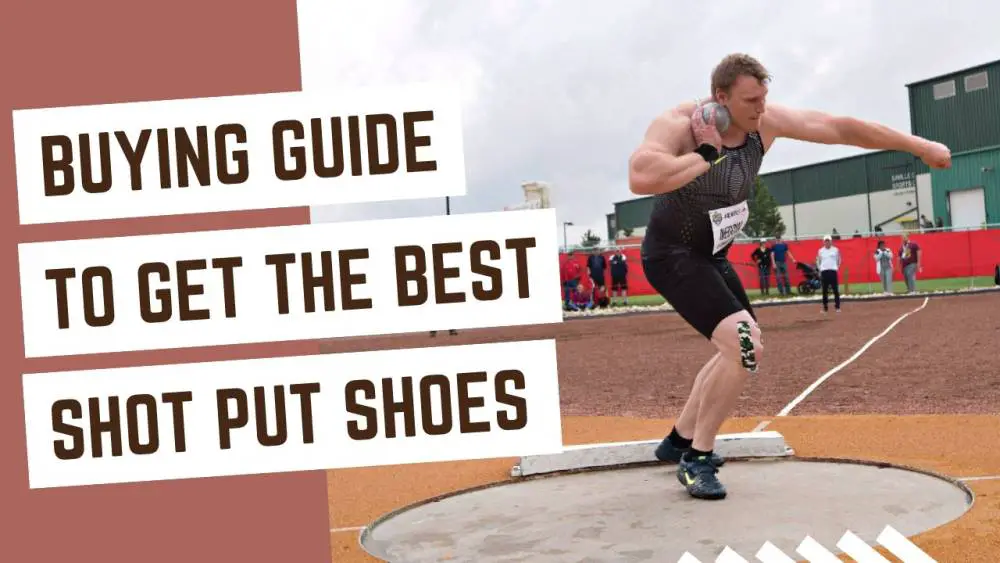 Here we came up with the important considerations before selecting the perfect shoes for your next meet. Let's take a look at them below. 
Grip and Traction
As shot put takes place in any weather, you must have shoes with adequate traction to deliver a slippage-free performance. On top of that, good grip and traction enhance the overall throwing distance to a great extent. 
Shoe Bottom
If you prefer the spin technique more, go for shoes with smooth bottoms. A flat shoe bottom without spikes is a must to perform spinning smoothly. 
Lockdown
You don't want to be out of the circle while throwing the discus, right? That's why lockdown is so crucial. It keeps the feet secured and centered on the shoe platform. 
Durability
As an athlete, you need to take part in the shot put throwing throughout the year. If the shoes aren't made of high-quality material, they are not going to last more than one season. And you certainly don't want four pairs of shoes for the four seasons of the year. 
So, check the materials first and make sure to buy durable shoes to withstand wear and tear.
Snug and Smooth Fitting
Aside from durability, fitting is also important for throwing shoes. Gliding requires somewhat stiff shoes. But still, they need to be comfortable enough.
On the contrary, spinning needs flexible shoes with better flex and arch support. In both cases, you should look for a snug and foot-friendly fitting to avoid injuries. 
FAQs
What is special about shot put shoes? 
Well, shot put shoes are specially made to enhance your throwing distance to the farthest. They offer better balance, more flexibility, and a solid base to push the shot put as much as possible.
Do you need spikes for shot put?
No, not at all. In fact, this is the basic difference between shot out and other track shoes. Rather, they should have smooth and soft soles so that you can perform spinning accurately. 
Do you need certain shoes for shot put?
Yes, absolutely. Regular track shoes are not the best choice for such events. They need to be more well-made and textured to let you perform better.
How long does a shot put shoe last?
Truth be told, shot-put shoes don't last that long. A decent pair of premium shoes can last a maximum of two seasons. After that, you should replace it. 
Final Words
As a final note, we would like to assure you that these are the best shot put shoes currently dominating the market. They can be your secret weapon to help you make new records while throwing. 
Also, you must pick the shoes based on your throwing style. If you are a multi-thrower, go for shoes that cover both sliding and spinning. In that regard, the ASICS Men's Hyper Throw 3 Shoes for Shot Put is an ideal choice.
Or else, try the Saucony Unleash SD 2 Shot Put Shoe that gives the best all-around performance even in rough weather conditions. 
In addition, all other shoes on the list will help you master the throwing skill to an unbelievable extent.
Suggestive posts:
Best Track Shoes Without Spikes
Best 400m Spikes