Have you ever seen the former royal, Meghan Markle wearing Rothy's flats? Don't those look pretty and comfortable on Markle? No doubt! From the moment you saw those Rothys, they made a place on your must-have list.
Okey-doke! What more could a fashion freak like you call for? Ultra-comfy, cruelty-free, versatile, machine washable, and even come in lots of stylish designs. These cult-favorite designer shoes are go-tos for a reason.
Sadly, they are somewhat pricey. We may not be able to help you with the price but help you get the knockoff Rothys. And, yeah, they are right out there. We've got some budget-friendly shoes similar to Rothys, only for you!
Before you look further, here is a glance at our best Rothy knockoff shoes.
10 Best Shoes Similar to Rothy's but Cheaper (Rothy's Alternatives)
Rothy's offers everything that a stylish gal could ask for. But, we don't have the budget like a princess. All can't afford the original Rothy's. So, you are possibly looking for shoes similar to Rothy's but cheaper.
You are in the right place. We have rounded up Rothys cheaper alternative shoes from brands similar to Rothys. So, read the article to find your best Rothys dupe.
Amazon Essentials Women's Belice Ballet Flat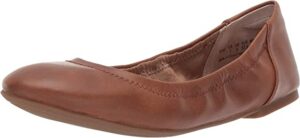 Amazon Essentials always have a less expensive option for everything. And these classic ballet flats are such a less expensive alternative to Rothy's. It is said that these are perfect for everyday wear.
These flats are versatile and fit with dresses and more. They are 100% synthetic. What's more, the shoes come in a range of sizes available from 5-inch to 15-inch-wide. All the sizes are true to size to get the perfect fit.
These flats have faux leather insole, which is eco-friendly, vegan leather. On top of that, it has a soft, faux leather upper with a slightly elasticized topline. Besides, it has a faux suede microfiber lining that brings life to the flats.
The shoes come in a rounded toe shape like Rothy's "The Flat." The flattering profile makes the flats perfect for people with bunions. The best part is you'll get these ballet flats at a 10 times lower price than Rothy's. Just get it.
Pros
It comes in a lot of solid colors
Made of vegan leather
It fits true to size
Perfect pair for daily wear
Classic and versatile design
Cons
Not ideal for wide feet
The insole is not removable
Less arch support
Skechers Women's Cleo-Sherlock-Engineered Knit Loafer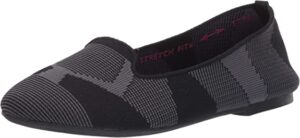 Skechers are pretty known for their comfy shoes. It is no surprise if you find good-quality, comfortable shoes like Rothy's in their store. However, these Skechers Women's loafers are pretty similar to Rothy's loafers.
These loafers are made with comfy stretch knit. The stretch-fit design offers maximum comfort. Besides, the loafers have a memory foam cushioned insole for added comfort. Like Rothy's, it is also machine washable.
The outsole has flexible traction for added grip. Moreover, you can wear these loafers with casual dresses. It comes in several sizes and colors to suit your attire. So, go, get your matching one.
Pros
Ultra-comfortable
True to size
Made with stretch knit
Suitable for wide feet
Machine washable
Available in a variety of colors and sizes
Less expensive than Rothy's
Cons
Not good for traveling
Not much support as expected from Skechers
Ollio Women's Ballet Comfort Flat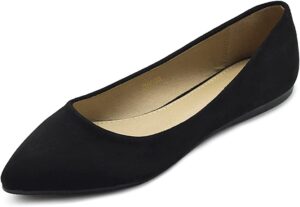 If you cannot afford to buy Rothy's pointed-toe flats, these Ollio women's ballet flats are for you. The Ollio ballet flats are pointed-toe shoes like Rothys but cheaper. Soft ballet shoes inspire the design.
The upper is made of 100% synthetic faux-suede, while the soles are rubber. The rubber sole offers added comfort. Besides, the flats have an ultra-slim heel, measuring 0.3".
The pointed-toe design makes it perfect to match your daily style. Many users appreciate these shoes for added comfort and appearance. Indeed, Rothy's pointed-toe flats are pretty unique, but the price is equally high.
Thankfully, there is an excellent alternative like the Ollio ballet flats of Rothy's. The good news is these Rothy's dupe is a worthwhile choice for your budget. Choose from 15 attractive colors and a wide array of sizes.
Pros
Stylish pointed-toe design
Comfortable to wear
Affordable
It fits daily style on point
Available in multiple colors and sizes
Cons
Not machine washable
Little arch support
HEAWISH Women's Ballet Flats for Women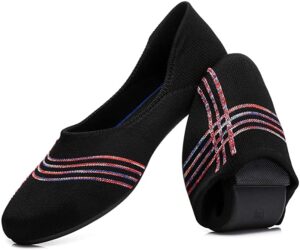 These HEAWISH ballet flats just have everything that is in Rothy's flats. It has a pointed-toe design, and it is breathable, machine washable, plus foldable. This pair of shoes has got many positive reviews for being similar to Rothy's.
Lucky you are if you buy it. These flats are made of 100% textile. The upper has skin-friendly mesh with added padding to give you long-lasting comfort. On the side, it has a linear design. It looks nice from any angle.
Since it is made of textile material, it is absolutely machine washable. The best part is that the shoes are foldable and flexible, just like Rothy's flats. You can fold it in half and put it in your small traveling bag.
So, get one from the 20 different colors.
Pros
Cute pointed-toe design
Breathable mesh upper with added padding
Available in multiple colors
Foldable and portable
Machine washable
Durable
Cons
A bit snug for half sizes
No arch support
Skechers Women's Plush-Peace and Love Flat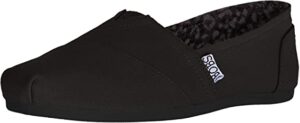 These Skechers Women's flats look like Rothy's "The Driver" flats. Like other Skechers, these flats are equally comfortable. The upper is equipped with 100% canvas fabric with a layered construction.
The flat has approximately 0.5″ heels with a memory foam footbed. It doesn't slip as it seems. Moreover, the flats have a classic slip-on with a flexible goring wedge insert for a snug fit. It is available in 20 colors and more than 25 sizes.
Pros
Very comfortable
Rubber sole
Stylish layered construction
Memory foam footbed for added comfort
Less expensive than Rothy's
Cons
Not suitable for wide feet
It may not be durable as others
Naturalizer Women's Flexy Ballet Flat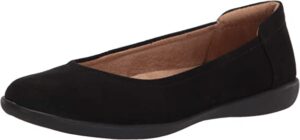 If it doesn't matter what the shoes are made of, these Naturalizer flexy ballet flats are perfect for you. This pair of shoes comes with a touch of traditional silhouette. It will add instant polish to your business or casual outfit.
Besides, they are perfect as an everyday classic flat. The soft padded collar and fabric insole offer non-stop comfort. This easy-going, comfortable flats are made of leather. It has a perforated upper that gives a stylish touch to the flats.
Moreover, the upper features a metallic leather body. The flats are made with comfort technology to ensure added comfort. The ¾" heel is perfect for anyone looking for a moderate heel. All in all, these flats are available in an inclusive size range.
Pros
Ingenious elegant value
Effortless mixing of comfort and style
Fit for all-day wear
Non-slip outsole
Very comfortable
Cons
Not breathable, and hence it tends to stink
DREAM PAIRS Women's Revona Low Wedge Ankle Strap Flats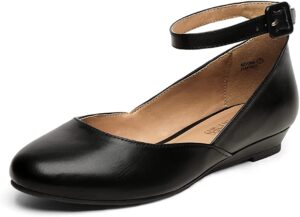 Looking for party wear in the flats? These DREAM PAIRS Revona flats are just perfect for an utterly well-dressed night. These fashion-oriented designs can fit the need of any type. Also, they are flexible and versatile.
The flats come with a round shape and a V-shaped side mouth. It provides enough space for your toes and keeps them cool. Besides, the main attraction of the shoes is their adjustable ankle buckle. It keeps your heel safe and fits your feet just right.
Moreover, it has a soft, lightweight TRP sole that is wear-resistant and non-slip. It allows walking comfortably and safely. The insole is latex, and it is cushioned for added comfort. This pair of stylish shoes are available in a range of colors.
Pick yours to wear with jeans, casual pants, and dresses.
Pros
Exquisite look
Flexible and versatile
Spacious round head design
Non-slip and wear-resistant outsole
Anti-fatigue latex insole
Cushioned for added comfort
Fit with any outfit
Cons
The sizing of these shoes is a bit confusing
Frank Mully Women's Ballet Flat Shoes Knit Dress Shoes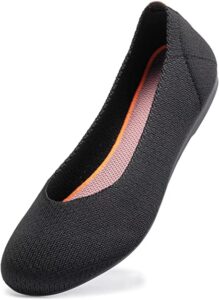 This pretty Frank Mully ballet flat will surely catch your eyes. These flats similar to Rothys, are cute, stunning, and comfortable. Like Rothy's "The Square" flats, they have a round-toe lined with knit upper and insole.
The elasticized topline and ultra-soft lining offer added comfort and breathability. It gives you comfort all day long, no matter whether you are walking or driving. You will feel like walking in the air.
Then, the rubber outsole is just lightweight and flexible. It won't change its form even after you bend the shoes. The outsole is attached with the upper through injection molding, not glue. It ensures the quality and durability of the shoes.
The classic and stylish style of the flats will complement your outfits. Besides, the rounded-toe design will give you a retro and trendy look. Above all, the design is neat and clean. The flats are available in a range of upper materials and colors.
Get your one matching the size.
Pros
Elegant and classic design
Incredibly comfortable
Breathable
Best for driving and walking
Lightweight and durable
Versatile
High-quality insole and outsole
Great lookalike of Rothy's
Cons
Too narrow; not suitable for wide feet
Arch support is missing
Cestfini Chelsea Slip-on Suede Boots for Men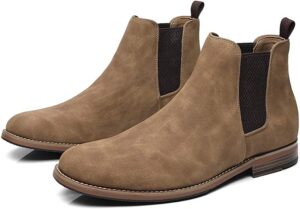 Finally, we have shoes similar to Rothy's Chelsea for men on the list. These Chelsea suede boots from Cestfini are designed only for Chelsea lovers. These Chelsea are as refreshing as they are unique.
However, the material may not be like Rothy's because it is made of suede leather. The suede leather on the upper is comfortable and smooth to touch. Besides, it is water-resistant, so the rain stains just cannot stick to it.
With a water-resistant insole, the boots have a durable and tear-resistant TRP outsole. They are designed to provide good traction in all conditions. Moreover, the elastic bands on the side are intended for easy on and off.
After all, these Chelsea boots will leave a lasting impression on any occasion you wear them. They are available in 9 soothing colors. Choose your perfect size from their range of sizes options.
Pros
High-quality suede leather
Soft, breathable, and comfortable
Easy to put on and off
Anti-slip and tear-resistant outsole
The water-resistant upper doesn't get dirty
It fits on different occasions
Cons
It may be too large for some
Less support for narrow feet
Frank Mully Women's Pointed Toe Knit Shoes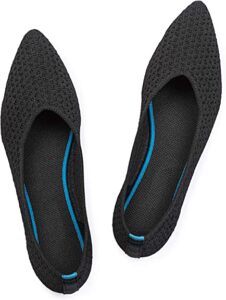 Our final addition to the list is for pointed-toe flats fans. These Frank Mully Women's ballet knit shoes are perfect as Rothy's dupe. They look exactly like Rothy's "The Point," but at a very affordable price. It's a must-have for many reasons.
First, this pointed-toe flat has moisture-wicking holes for added breathability. It has a genuinely comfortable, cushioned footbed to keep you fresh and relaxed for hours. At first glance, you'll think it's a Rothy's because of its knitted upper.
The upper is equipped with lightweight suede fabric. Then, its ultra-bendy sole will flex with every step you take. Thus, your feet will get comfort all day long. The flats also feature a simple silhouette that suits your every attire.
Moreover, the V-cut topline complement a midi skirt or cropped slacks. The best part is it is also washable like Rothy's. Just wash it into a foaming cleanser and scrub gently. These cute Frank Mully ballet flats are available in 20 colors.
So, choose your desired one.
Pros
Stylish pointed-toe design
Added breathability
Micro holes for ultimate comfort
Complement any outfit
Super light but padded
Ultra-bendy sole for added flexibility
Durable
Extremely cheap
Cons
The sole seems to narrow
Not suitable for wide feet
Who Are Rothy's?
Rothy's is a San Francisco-based DTC (Direct-to-customer) fashion company. They started their journey as a women's shoe company in 2012. Later in 2020, they expanded their business by launching handbags and then the men's category in 2021.
Rothy's is widely known as a sustainable shoe brand because of its famous flats. But, what makes them so famous? Basically, Rothy's turns single-used plastic bottles into their signature thread knits.
These bottles are collected from oceans and landfills. Then, they convert these knits into shoes for women, men, and children. And, Rothy's shoes are incredibly comfortable, classic, stylish, breathable, and machine washable.
Which Styles of Rothy's Shoes Are Currently in Cart?
The following styles are currently trending;
The Point – Pointed-toe flats for women
The Point is the signature pointed-toe flats by Rothy's for women. These are fancier shoes that can elevate any outfit. The Point flats are somewhat different than the traditional Rothy's flat.
These pointed-toe flats may not suit everyone because there is not enough room in the toe box. Some may feel uncomfortable. However, they look great with casual work outfits like slacks and dresses.
The Flat – Rounded-toe flats for women
The Flat is the Rothy's signature rounded-toe flat for women. It comes with a relatively standard design of flats. The Flat is perfect for anyone looking for the ideal balance of coverage and comfort.
These shoes fit snugly. Since they are made from Rothy's signature thread, they are a lot more breathable. Moreover, The Flat comes in a variety of colors and styles.
The Square – Square-toe flats for women
The Square is quite similar to The Point and The Flat, just with a square toe. Back of the flat features Rothy's signature halo. Besides, its rounded vamp makes the pair of shoes an instant classic.
The Driver – Rounded toe flats for women
The Driver is a new addition to Rothy's. It is inspired by Rothy's classic driving loafers. Moreover, the driver flats have nubby outsoles for added grip and strength. Then, the dual-density insoles offer cushion-like comfort.
The Lace-Up – Lace-up sneakers for women
The lace-up is the only sneaker style from Rothy's for women. It includes adjustable laces with a terry-lined tongue for a seamless fit. Besides, the contoured footbed offers support and cloud-like comfort.
The RS01 Sneaker – Sneakers for men
Rothy's The RS01 Sneaker is a slip-on shoe that fits with a sporty and casual outfit. These sneakers require a little bit of effort to wear. However, they are good kick-around shoes that are ideal for exploring a new city and hangout shoes.
The Driving Loafer – Loafer for men
Rothy's The Driving Loader is a wear-all-day style. The classic and supportive shape of these shoes provides elegance. Besides, its dual-intensity insoles deliver cushion-like comfort on and off the road. Then, the gum insoles with matching raised nubs offer added grip and durability.
The Chelsea – Classic Boot for Women
The Chelsea is made for walking. Rothy's Chelsea is more durable, steady, and comfortable than the usual Chelsea style. Besides, Rothy's version is much sportier and eco-friendly knitted with Rothy's signature mesh material. 
What is the Most Popular Rothy's Color?
The following are Rothy's signature colors and most popular ones.
Chili red
Black solid
Grey camo
Olive camo
Cloud grey Birdseye
Maritime navy
Bright white
Captoe black
Features of Rothy's flats
Rothy's women's flats come in several styles and colors with various designs. Each flat is absolutely sustainable and comfortable. When it comes to Rothy's flats for women, they have many things in common. Such as;
Soft and flexible upper
Comfortable insoles and durable outsoles
Incredibly versatile
Knitted with Rothy's signature thread
Fully machine washable
Rothy's doesn't stretch much
Extra-cushiony footbed
Each shoe features Rothy's signature halo
Durable
Are There Comfortable Shoes Like Rothys but Cheaper?
Absolutely, there are many shoes that look like Rothys but come with a cheaper price tag. Rothy's may check many boxes for those who don't bother about the budget. However, they give most people the sticker shock.
Rothy's are, no doubt, out of some budget. And that's why many people hunt for shoes like Rothy's but cheaper. Don't worry; we've already reviewed some popular shoes like Rothys but at a lower price.
How to Choose the Best Rothys Dupe? – Ultimate Buyers Guide
Several brands claim their shoes are similar to Rothys. We can say with great confidence that 70% of them are fake. So, how to find flats similar to Rothys? There is a way. By considering a few things, you may find knock off Rothys flats.
Material
The unique thing about Rothy's is its material and build quality. Rothy's shoes are made from their signature thread. It is nearly impossible to find the same material and build quality as Rothys in the knock off Rothys.
Nonetheless, you can opt for shoes that are made of vegan and eco-friendly materials. The knock off Rothys, made of vegan and eco-friendly materials, looks the same as the original Rothys.
Comfort and Breathability
Rothy's shoes are absolutely comfortable to wear because of their incredible breathability. Besides, they are lightweight. They are most comfortable to wear on hot days. So, your knock off Rothys flats must be comfortable shoes like Rothys.
Size
When it comes to Rothy's flats, one thing that comes to mind is that they "fit like a glove." True! Rothy's shoes come in a wide range of size options. They are available in sizes 5 – size 13 for women and size 7 – size 16 for men.
Although Rothy's claims that their shoes are true to size, we think it's true for some styles. So, should you size up or down for Rothy's? If your size is between 9.5 and 10, you should choose the size 10 Rothy's flat.
The same is applicable for shoes similar to Rothy's sneakers, flats, loafers, etc. If you are not sure about your size, it is better to opt for a 1.2-inch size up. Also, if your feet are wide, you should definitely buy a ½ size up.
Style and Versatility
Rothy's shoes are incredibly versatile and stylish. While buying shoes similar to Rothys, make sure it looks equally elegant and versatile. You can wear a pair of shoes with any outfit. Choose the color accordingly.
Machine Washable
Another unique aspect of Rothy's is that it can be machine washable. And since they are machine washable, this means they are also waterproof. They are waterproof in the sense that water won't ruin the shoes like leather shoes.
Hence, make sure your knock off Rothys is also machine washable. If not washable in the machine, at least get a pair of shoes that are washable by hand. So, when you get caught in the rain, just wash them and let them air dry.
Return Policy
It's always wise to buy shoes from a brand that has a good return policy. If the shoes don't fit you, you can return them following their policy. Make sure they don't charge them for returning the shoes.
How do You know If Your Rothy's are fake?
Many knock off Rothys brands claims themselves as the authentic Rothy's. Even you may find a lot of pictures roaming around social media sites. Those shoes appear to be Rothy's. But in reality, they are not.
After finding some pairs of shoes that look like Rothys, we have noticed a few things. Sadly, most of them we found were fake. We'll be sharing some tips to authenticate Rothy's.
Manufacturing Country
First of all, authentic Rothy's are made in Dongguan, China. Many fake flats similar to Rothys mentioned: made in the USA. So, they are definitely FAKE Rothy's. Besides, there is no space between "n" and "a" in the spelling of China.
Check the Stitching
Moreover, you can tell whether the Rothy's are fake or not by checking the stitching. The original Rothy's have neat stitching. Besides, the stitching is clean and uniform. There should be no loose threads in the stitching of the original Rothy's.
Conversely, the fake ones have loose threads. You'll notice the loose threads below the insole. The inner sole also has some stragglers on the stitching. So, you can easily find the fake Rothy's by looking into the seam.
Label Texturing
The label in the authentic Rothy's is printed on a fabric with a textured design. Besides, there is a shine to the fabric in which the info is printed. The fake one has a label printed on solid paper. Also, they have details on it.
Logo Circle
The inner part doesn't touch the outer circle in Rothy's logo. There is a clear gap between the inner part and outer circle. In many fake Rothy's, we observed the logo touching the outer circle.
Drain Hole
Most importantly, original Rothy's have a drain hole under the sole. It is missing in a lot of fake Rothy's. You can easily find them by lifting the inner sole.
FAQs
How Much Do Rothy's Flats Cost?
Rothy's flats "The Flat" and "The Square" cost a whopping $125. On the other hand, their "The Driver" and "The Point" costs $185 and $145 respectively. Certainly, Rothy's flats are unique and cute. But, the price is out of many women's budget.
Does Rothys stretch over time?
No, they don't. In fact, Rothy's shoes are famous for not being too stretchy. They clearly mentioned on their website that "Rothy's do not stretch." They will fit the same from the first day to one year later. So, it is essential to buy the size that fits well with your feet.
How Long does Rothy's Last?
Rothy's can last at least one or two years. Well, it also depends on a few things. How often you wear them in a week, how long you wear them, and how better you take care of them.
Do Rothy's Provide Enough Support?
Yes. Rothy's flats provide sufficient support if you get the right size. However, if you prefer a more cushioned insole, Rothy's shoes possibly aren't suitable for you. Rothy's flats are shallow to grounds. So, you can use an extra insole for added comfort.
Are Rothy's Good for Wide Feet?
Honestly speaking, Rothy's shoes are not just for wide feet. Rothy's shoes have a too narrow insole. If you have wide feet, they will likely hang over the sides. We suggest buying ½-inch up from your actual size. Or else, you can try shoes similar to Rothy's sneakers.
Are Rothy's Good for High Arches?
Since Rothy's shoes have too low insole, they will not likely provide support for high arches. They will not likely provide enough arch support. You can buy an insole if you wear Rothy's.
Can You Wear Rothy's with Plantar Fasciitis?
We already mentioned that Rothy's doesn't provide enough support as other cushioned shoes. If you have plantar fasciitis, we will not recommend you to wear Rothy's. Or, you can buy good-quality insoles for added heel support.
Can You Wear Rothy's with Bunions?
The materials of the Rothy's shoes don't stretch much. So, it might be challenging to wear Rothy's flats with bunions. If you have bunions, you can wear Rothy's sneakers or lace-ups.
Are Rothy's Packable?
Rothy's shoes are very lightweight because they are made of eco-friendly materials. So, they are easily packable. Just make sure to cover your Rothy's while packing it with other shoes.
Are Rothy's Good Travel Flats?
Absolutely. Rothy's are just perfect as travel flats. Since they are lightweight, you can quickly move around with the shoes on. It won't cause you pain.
Conclusion
We can infer that wearing Rothy's is a passion for shoe freaks. That's why we come up with the knock off Rothys that looks elegant but at a low cost. We've only included the high-quality shoes from brands similar to Rothys.
Therefore, you'll find durable and comfortable shoes like Rothys. They will not surely fall apart like a cheap knock off Rothys flat after one year. So, be quick about it and get your favorite shoes like Rothys.