Are you having trouble or going through discomfort while running shoes? If so, it's high time you should get a new pair.
Sometimes problems are with the length of the shoes, sometimes it's the rearfoot sole, and sometimes it's the width of the toebox. Again, it might be that you have irregular pronation or a cramped foot. And, sometimes, it's just about the shape of the feet.
People with broader toe feet and slender heels often find it displeasing and challenging to find the right pair of shoes. Wearing small sizes can make them feel like their feet are being crushed; larger-sized shoes leave too much space around the heel cup. What's the solution, then?
For those who want an increase in the overall toebox volume while keeping the heels snugly, for you guys, we have gathered a list of in-trend running shoes with 'wide toe box and narrow heel' features. Let's check them out! 
Best Running Shoes With Wide Toe Boxes And Narrow Heel 
With a variety of size ranges available, you can select your most perfect fit from the list of these running shoes with wide toe box and narrow heel feature reviewed below.
Top Pick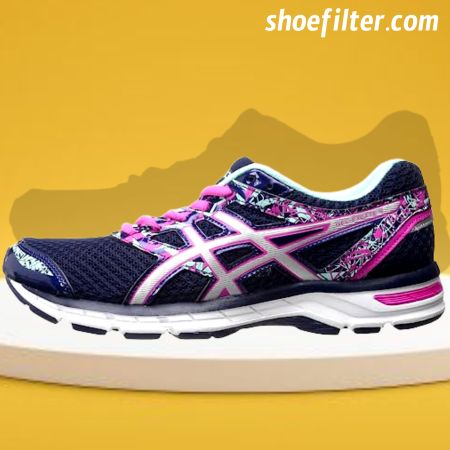 ASICS Women's Gel-Excite 4 Running Shoe
Plush tongue with larger mesh holes on the upper
Gel cushioning system for shock absorption
AHAR rubber compound enclosing most part of the outer
Mesh upper with larger holes for better ventilation
9 ounces in weight with a 10mm heel drop
If you are up for a running shoe that can handle regular wear and tear, this ASICS Women's Gel-Excite 4 Running shoe is the one for you. Alongside a distinctive and stylish look, let's look at some other features it possesses.
This ASICS footwear surely gives off a cool vibe with the 3M reflective material used on the outside! Not only that, but it also cares about efficient transitions and a softer underfoot feel. For this, a Gel cushioning system is added to the midfoot. And to deal with all sorts of terrains, the lugs with conventional flex grooves come in the help!
The mesh upper's holes in these Gel-Excite 4's are wider than the previous models, where you will find the overlays strategically placed for improved fit and longevity. Besides, to keep your feet secure, stitched overlays in the midfoot have been included too. Furthermore, you get a removable EVA sock liner on the inside, which is there to enhance cushioning and comfort!
For those who prioritize comfort over any other factor, rest assured these women's running shoes with wide toe boxes and narrow heels won't disappoint.
Runners Up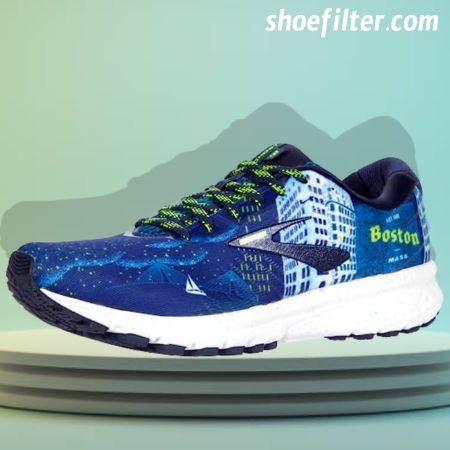 Brooks Men's Ghost 12 Running Shoe
Engineered mesh with 3D fit print
BioMoGo DNA and DNA LOFT cushioning for underfoot comfort
Segmented CrashPad in the forefoot for shock absorption
Blown rubber in the outsole
Weighs 1.83 pounds and has a heel drop of12 mm
Those who want some extra millimeters below the heel, maybe to reduce dorsiflexion, this ones for you guys. With 12 mm heel drop, the second footwear on the list is one of the best men's walking shoes with wide toe box, the Ghost 12th edition of Brooks!
While the  ASICS Gel-Excite 4 uses an EVA footbed for cushioning, the technology in these shoes is slightly different, which makes the Ghost-12 slightly more lightweight. It's the DNA Loft cushioning, an EVA foam with rubber and extra air! Moreover, every step is comforted by the Segmented Crash Pad in the forefoot outsole, which is a shock absorber that ensures smooth heel-to-toe transitions.
For optimal traction, blown rubber covers practically the whole outsole of these shoes. And the heel counter has been upgraded with a soft, textured material that keeps the heel in place pleasantly. The overall feel is quite plush and soft!
These shoes perform well on paved surfaces, so they can be your go-to shoes for daily activities that you can rely on!
3rd Pick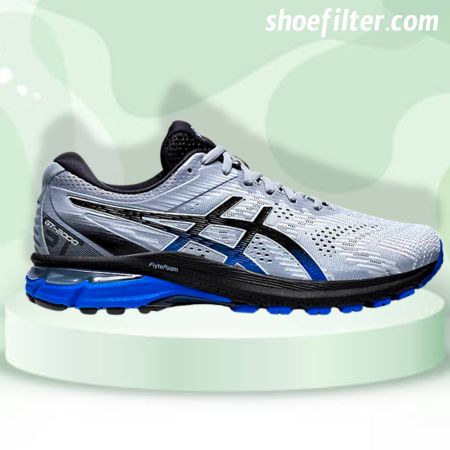 ASICS Men's GT-2000 8 Running Shoes
Engineered mesh upper with fused overlays
Forefoot and rearfoot gel cushioning system
Flytefoam midsole technology for an optimum bounce back
Dynamic Duomax system for platform support
Weighs nearly 1.44 pounds
For hard trailing on rough terrains or moderate-paced training, there are these men's shoes with wide toe box and narrow heel, the GT-2000 8 from ASICS! Manufactured with improved flyte foam technology, let's look at some of its other features.
The 8th edition of GT, like all others of this series, features a stronger DuoMax foam section and a gel cushioning unit on the midsole. You will find the forefoot entirely made of Flytefoam, which is an innovative foam developed by Asics. It's a robust material that combines EVA with fibers to make the midsole lightweight. 
The lugs here are big and have classic flex grooves, which give a good grip and handle traction well. Moreover, you will get extra foam inside the soft collar, as well as a softer tongue flap, which ensures a secure fit. These shoes won't fail to provide stability, comfort, or support.
The forefoot rigidity makes them a good choice for fast running, so those who don't have a problem with a hard forefoot platform can opt for these sneakers
4th Pick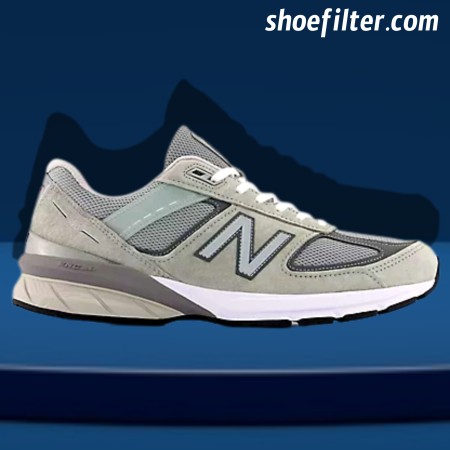 New Balance Women's Made in US 990 V5 Sneaker
Pigskin leather and synthetic mesh in the upper
REVlite midsole with a lightweight cushioning
Rubber outsole with good-grip grooves
NB comfort insert on the underfoot
Weighs nearly 2 pounds
Created in a typical running silhouette with pigskin leather and synthetic, coming up is the 990 V5 sneaker from New Balance.
The manufacturers have used a lightweight foam and polyurethane REVlite midsole in these shoes to lessen joint impact and give your step a slight bounce. They also include an NB Comfort Insert to give your underfoot some extra comfort, while the Ground Contact IMEVA cushioning enhances convenience without increasing weight.
The shoes include a thick foam collar that provides adequate ankle support and prevents strain during agility movements. Another benefit is the greater breathability of the mesh, which will aid individuals with sweaty feet. And not to mention, the roomier toe box improves agility.
If you have orthopedic issues, you can replace your regular shoes with these women's shoes with wide-toe box narrow heels after consulting with your physician, of course!
5th Pick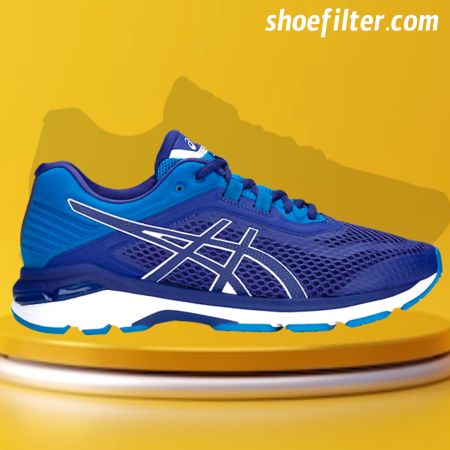 ASICS GT-2000 6 Men's Running Shoe
Wider mesh upper with fused layers
IGS technology from ASICS to help with a natural gait
Forefoot and rearfoot Flytefoam gel cushioning system
Hard rubber outsole
Approximate weight of 3 pounds and 10 mm heel drop
Unlike the ASICS GT-2000 8, these ASICS GT-2000 6 Running Shoes are actually built for light training and exercising and give the best service when used for daily runs. 
The GT-2000 6 has a Flytefoam and EVA foam midsole, as well as a noticeable Gel cushioning beneath the heel and hidden Gel cushioning in the forefoot. The forefoot here is made of blown rubber, while the heel is covered in hard rubber. The upper features a wide-gap-mesh structure with fused layers.
You will get a casual vibe from the forefoot, thanks to the increased forefoot space and the further positioning of lace from the toe box. Besides, they have worked on the breathability and ventilation, too, with the mesh structure and a vented panel on the inner midfoot. And, since the midsole is made of Flytefoam, it will retain its cushioning for a longer period of time
While there is not much difference among the technologies used in the GT shoes, the mildly responsive and relaxing forefoot in these ones makes them ideal for long-distance running!
6th Pick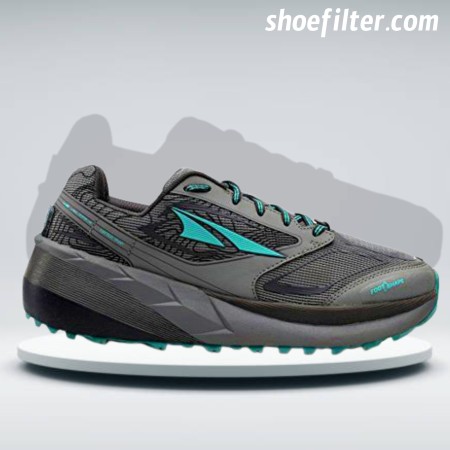 Altra AFW1859F Women's Olympus 3 Trail Running Shoe
Breathable and durable upper mesh structure
Innerflex midsole for superior flexibility
Patterned outsole groove for traction and stability
Stack height of 33 mm
Weight is nearly 3 pounds, and 10 mm heel drop
If you want breathable and softly cushioned running shoes, the Women Olympus 3 are definitely a good match. Typically made for neutral pronation, they will actually serve you pretty well on both trail and off-trail activities,
For optimal stability and stability, the Altra's foot-shaped toe box allows the toes to relax and spread out naturally while keeping the big toe straight. Moreover, the shoes have a zero-drop platform, which ensures natural posture and a low-impact approach by placing the heel and forefoot at an equal distance from the surface.
To give you an amazing experience on the trail, they include features like Vibram Megagrip sticky rubber outsole for traction and Trailclaw metatarsal lug for support. And for performance and speed, you can rely on the grid-like grooved midsole that allows your feet to flex and maintain the natural position.
Increased cushioning and the Vibram Outsole make them ideal for activities like exercising, hiking, or distance races. And they look amazing too!
7th Pick
ALTRA Women's Intuition 4 Running Shoe
Manufactured with 100% synthetic
Has an EVA footbed with an A-bound top layer
Innerflex midsole for flexibility and support
Full rubber outsole
Weighs approximately 8 ounces
To wrap up, there is the zero drop lightweight and stylish Intuition running shoe from Altra for you. The highlighting feature of this footwear is the inclusion of extra rubber in the outsole's toe area and its innovative mesh upper!
These Women's Altra Shoes efficiently manage natural biomechanics, like the Altra Women's Olympus 3. Fashioned for women's feet, especially those who have narrower midfoot and heel with a high arch, they provide a wonderful feeling. Besides, they also keep the feet in a completely comfortable position, allowing them to function as they should. 
The 'A-bound energy return EVA foot bed's improved softness and springiness sacrifice some energy transfer from heel to toe. On the plus side, the underfoot feel is comfortable and stays soft even on long mileage days. And the lugs on the outsole will give you amazing ground adaptability, be it wet terrains or dry ones!
If you like the other intuition series from Altra, you'll pretty much like it too! These shoes will stand out amongst most others as everyday high mileage training.
How to Know If You Need Shoes With a Wide Toebox 
If you are confused about whether you have wide feet and whether you need a roomier toe box, the are some criteria through which you can realize.
When you try on shoes that are meant to be your size yet feel uncomfortable when you walk with them on, most probably, your feet have a wide width. 
Again, if you constantly feel your pinky toe brushing against the sidewall, other the other toe congested to each other, then you have to change your shoes. Developing sores or blisters are another signal. And lastly, if you have flat feet, you will require a wide toebox with orthotic insoles.
Now, while choosing the perfect shoe for yourself, you can try switching to medium-sized shoes. This way, you will get a roomier toe box, while you won't have to compromise much with the heel cup area width.
Features of the Best Wide Toe Box Shoes with Narrow Heels
Many athletic shoe brands have come up with footwear that easily fits, ensures comfortable movement, and provides enough balance. Some of the shoes we've seen above, like New Balance, Asics, and Atra, have both athletic features that can handle wear and tear, and sizes that go with your feet perfectly.
Let's look at some of the features that shoes with wide-toe boxes and narrow heels have.
The shoes have a lacing system so that you can adjust the room of both the forefoot and rearfoot and customize the fit
The toe box is rounder in shape rather than being slender
The inside of the box has more depth than regular ones so that the narrow ankle gets a secure fit
They are made of quality materials. And proper cushioning with a contoured footbed is ensured along with arch support.
The upper construction is flexible and well-ventilated
Buying Guide to Get the Best Running Shoes With Wide Toe Box And Narrow Heel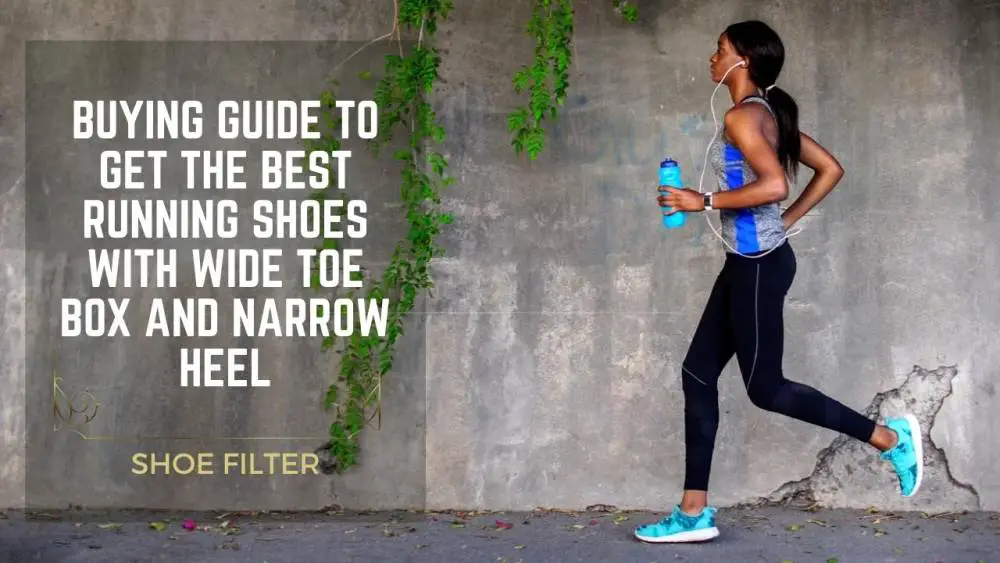 Most often, it is seen that the footwear which has a broader toe box comes with a wider heel; the same goes for narrow ones. So you may find it difficult to find a pair of shoes that provide space on the forefoot and is snuggly around the rearfoot. For you, there is a guide to buying the right pair.
The Depth
For a footlike this, it's better to go with shoes with a moderate depth. Because the deeper the shoes, the better your feet will be able to fit inside them, and your toes won't brush much against the front or side of the shoes. 
Moreover, This will keep your heels from sliding from your shoes too. You can be saved from buying shoes that are excessively large.
The Toebox
A sneaker with a rounded toe box is preferred to pointy ones when you have wide feet. Rounder toe box shoes provide better support and a more accurate heel-to-toe weight distribution. This keeps blisters and rashes from ruining your workout or training. Furthermore, this sort of shoe allows for a lot of movement.
The Lacing
Shoelaces will make a significant difference in locking your narrow heels against the back of the shoes. So instead of toggle laces or velcro straps, it is far better to buy shoes with laces.
The Comfort
We all spend the majority of our time in your shoes, whether at work, on vacation, or exercising. So having a pair of sturdy shoes is crucial. Choose pairs that adjust to the shape of your feet rather than squeezing them, such as curved lasts for high arches and straight lasts for low arches, if you don't want your shoes to wear out after a few uses and cause you pain in the long run.
FAQs
What if my heels slip when I am in wide running shoes?
To prevent heel slippage while you are in wide shoes, you can either wear non-slip socks, or you can shift your feet completely close to the heel cup and then lace the shoes up.
Do trail running shoes come in wide?
Yes, there is a vast range of width in trail running shoes. Some great ones are ASICS Women's Gel-Excite 4,  Altra Women's Olympus 3, and ASICS GT-2000 6. 
How should I widen my toe box for running shoes?
It's better to buy right-sized shoes than try widening the toe box. However, taking out the sock liner can increase some space.
How do you deal with narrow heels?
To deal with a narrow heel, you can try buying shoes that have an adjustable strap or laces that fit them according to your feet. Or your can also insert a pad around the heel.
How much is the width of a 2E shoe?
For women, 2E is an extra-wide shoe, and for men, 2E is the measure of a wide shoe.
How do I know if my running shoes are too narrow?
1/2 to a whole thumb's width of the gap is recommended for a comfortable fit. Again, if your shoes are too narrow, you will find it a bit difficult for the little toe.
Final Words
As for today, we've come to the end of the discussion about running shoes with 'wide toe box and narrow heel' features. Before finishing off, let's preview some of the best shoes.
If you want durable, stylish, and snuggle-fit running shoes, you can go with one of the best women's shoes for narrow heels, the ASICS Women's Gel-Excite 4. If you want the best cushioning shoes, then ALTRA Women's Intuition is a good choice. And if you are a fast runner with hard training and trailing, the  ASICS Men's GT-2000 8 would be perfect for you!
Here's hoping you select the best pair of footwear and enjoy your daily ride!
Related posts:
Best Running Shoes For Morton's Toe