If you are a flight attendant, doctor, or teacher that needs to attend long work hours, you must be familiar with the versatility of Dansko at your (feet's) service! 
Be it the long duration of work that has your feet demanding comfort, or the general need to have lightweight shoes that are practical, Dansko is relatively unmatched.
But what if you learned that the aesthetics, support, footbed, and breathability of these shoes could be replicated to create the best Dansko knock-offs! 
No need to pay in hundreds anymore to save yourself from nervous breakdowns from standing all day, because here are the best alternatives!
Best Shoes like Dansko but Cheaper | Dansko alternatives
If you need the comfort and functionalities of Dansko, but you don't want to pay the price of one, then you can check out the following alternatives to it.
For Larger Ladies: Easy Spirit Women's Tourguide Mule 
Do you need everyday wearable, comfortable shoes that do not burn a hole in your wallet? One of the best Dansko alternatives in the market when it comes to creating value for money, this mule from Easy Spirit deserves your attention! For the larger ladies that need supportive shoes, here are the details:
Specifications:
This shoe is made of Leather material.
The Sole of the Tourguide Mule is made of Rubber.
In terms of style, this is a Slip-on Shoe.
It features a dimension of 10.9 x 7.4 x 4.2 inches.
The total weight of this shoe is 1.3 Pounds.
When it comes to excellent grip and traction, very few shoes can master that of Easy Spirit. With the help of its durable rubber outsole, you get good support while walking or running errands with this shoe.
Also, this shoe is the perfect balance between being lightweight and heavy enough to protect your feet in case you happen to drop anything on your foot. Just like slippers, you can easily put them on and off, and it also features a textile and rubber upper and a rounded toe box for maximum comfort as your feet rest inside.
Recommendation: For aging women who need comfortable shoes indoors, or for those larger women who want to prevent slipping and falling while they work, the Easy Spirit is the perfect mule!
Best for Clinical Settings: Crocs Women's Neria Pro II 
Working 12-hour shifts in the hospital is never easy. But what if you find a way to make the experience more comfortable for your feet? That's exactly what the Neria Pro II tries to offer. Compared to the Easy Spirit Women's Tourguide Mule, this one has a synthetic construction with a thermoplastic outsole, making it easier to clean and more durable!
Specifications:
This shoe is made of Synthetic material.
The Sole of the Neria Pro II is made of Thermoplastic Elastomers.
As for the style, this is a Slip-on Shoe.
The dimension of this shoe is variable.
The total weight of this shoe is 0.625 Pounds
What you'll like about this shoe is that it prioritizes safety. With the help of the extra non-slip tread provided on the bottom of this shoe, a molded overall fit, and the supportive and stable feeling, these can easily be the right fitting shoe for clinics. And there will be no risk of slipping too!
And since it allows you to wash with soap and water, these shoes always look clean. Only if you can put them in the dryer for nearly 3 minutes and wear them with thick socks on until they cool, can you make them stretched out enough for the right comfort.
For shorter people who need a little height from their shoes and for those that require shoes that can go in on professional settings, this is the right slip-on shoe!
Best Overall: Skechers Sport Women's No Limits Slip-On Mule
Any list that does not include Skechers and still dares to talk of comfortable clogs is fake. The reputed genius in the field of convenient shoes that always deliver, Skechers are a cult favorite. Compared to the  Crocs Women's Neria Pro II mentioned above, this one has a similar synthetic construction of protectiveness, and like the  Easy Spirit Women's Tourguide Mule, it has a grippy rubber outsole too!
Specifications:
This Skechers shoe is made of Synthetic.
The Sole of this mule is made of Rubber.
In terms of style, this is a Slip-on Shoe.
It features a dimension of 12.1 x 6.5 x 4.5 inches.
The total weight of this shoe is 0.75 Pounds.
The best and unique thing about this shoe is the triple-layered inner soles. This is what makes it so soft and comfortable. You would feel as if you're walking on cotton. Also, they don't heat your feet at all and cause a sweaty mess.
If you are someone who is on your feet all day long and have even had plantar fasciitis in the past, this pair can prevent it from recurring. A roomy toe area, easy kick-off and on, and a true-to-size fitting make it the father of good shoes and great support!
For people with arthritis who have a hard time putting on other shoes, and for women of all ages that need help with plantar fasciitis from lack of arch support, this is just the mule you need!
True to Size: SR Max Geneva Women's Clog
When it comes to picking shoes that are true to your size, it is always hard when the sizing chart doesn't match! It is either too roomy if you go a size up or tight if you go a size down, but never true! However, this is your chance to have a perfectly snug fit with the Geneva Max, featuring a very similar outsole and overall material selection with the Skechers Sport Women's No Limits Slip-On Mule.
Specifications:
This shoe is made of Synthetic material.
The Sole of the Geneva clog is made of Rubber.
As for the style, this is a Slip-on Shoe.
The dimensions of this shoe are variable.
You will find different weights for this shoe.
One of the best thighs about this shoe is that they have a good cushion on the bottom of the pair, so they don't make you feel like you are standing on the ground at all. In fact, for shorter people, they add a little height which can be always used in the kitchen.
If you have tried Dansko and other high-end and branded shoes that broke your bank and your feet, you can get SR Max to save your feet from tired and painful, and long shifts. They are lightweight and superbly cushioned, what more do you need to create your next go-to work shoe!
If you are a professional chef that needs to work long hours and needs something with which you can be quick on your feet across multiple stations, this is the right pick for you.
Best Low-Maintenance Clogs: Sanita Pro. PU Women's Clog
With the trio of a simple build, ergonomic design, and high-quality material, you can easily count on this customer favorite that Sanita is! Made of leather-like the  Easy Spirit Women's Tourguide Mule, yet much lighter than the latter, this one is less stressful to walk in and more ergonomic as well!
Specifications:
This Sanita shoe is made of Leather.
The Sole of the clog is made of Polyurethane. 
In terms of style, this is a Slip-on Shoe.
It features a dimension of 11.61 x 8.39 x 4.69 inches.
The total weight of this shoe is 0.875 Pounds.
When it comes to the material, you get leather in the form of PU, which means it is not real. Although that means it will scuff easier but it will also mean more lightweight for you and it will eventually break in faster. So within 3 days only, you can expect a snug fit!
Also, these are not like traditional clogs as they have a thin foam sole. They do not feel hard on your feet, so you can wear them for long hours and they'll just get better. this option is the best shoes similar to dansko clogs
I traditionally have a higher arch and instep and had used Sanita in the past. I loved the support! They are different from Dansko despite their similar design.
Best Stability: Anywear Women's Exact Shoe
The last one on the list is called Anywear and it can be worn anywhere if you want to! Whether you want to work 12 hours in these shoes or do some quick gardening, you can go out and about with them. You may be surprised at how comfortable they will be! ; Let's check out the rest of their details.
Specifications:
This shoe is made of Rubber material.
The Sole of the Exact is made of Rubber.
As for the style, this is a Slip-on Shoe.
It features a dimension of 13.4 x 10.6 x 2.2 inches.
The total weight of this shoe is 1.15 Pounds.
Your legs will not hurt at work anymore and your feet will not ache when you get one of these! If you have had surgery on any of your knees, and/or you have been thinking about going back to work, getting one of these shoes can be a blessing in case your legs hurt a lot and you need plenty of support!
They will be comfy on your feet from the minute you slip them on, and they work well as waterproof shoes too. However, they are not good breathers since they are made of plastic, so if you have particularly sweaty feet, you should take a look at the Sanita Pro. PU Women's Clog.
These shoes are great for uneven backyard and garden-wearing purposes. These can help you feel balanced when walking pretty easily.
Dansko vs Klogs
Dansko has been focusing on making shoes for healthcare workers ever since its relocation to the US. Elevated heels, compact and lightweight sizes, temperature control, and durable construction that relieve you of long-time standing pressures make their professional mules one of the best Dansko shoes for standing.
On the other hand, Klogs are known for their ultimate affordability and lightweight nature. Some of the healthcare workers also prefer working while wearing their Klogs. 
These also have heels, a 2-inch size that is comfortable, making them a good and cheap alternative to the best Dansko shoes for flat feet.
Dansko vs Calzuro
Dansko got popular with essential workers by spreading WOM or Word of Mouth. For the most loyal Dansko users, they will tell you that these are meant to last, they always deliver, are fashionable, diverse, and a tad bit expensive. 
However, there is one thing that Dansko doesn't save you from twisting your ankles (if you are prone to it) because of their thick soles.
So if you need alternatives to the best Dansko best shoes for plantar fasciitis that don't burn a hole in your pocket and save you from spraining your ankles at the same time, then you should go for Calzuro shoes. 
These got popular as personal protective footwear because they prevent contamination, allow easy cleanup, and are overall great non-slip shoes.
How To Take Care For Dansko & Sanita Clogs
What do you think makes a good shoe? One that is easy to clean. Even the best Dansko nursing shoes and Sanita shoes are easy to clean. But that still leaves the question of how to take care of them! So here's what you can do:
You can use the Nubuck & Suede Protector Spray. This can be used to protect your clogs from food and drink stains if you happen to spill them, and should be sprayed on before wearing the footwear.
Another great investment is the Beeswax Conditioner. It can protect your footwear in wet or other compromising environments and thus weather-proof your clogs and mules.
Applying either of the two products mentioned above will not only make cleaning your shoes easier but also keep your shoes protected in the long run.
Another thing that you must know, is that if you own box leather shoes, you can clean them after it has been thoroughly formed dirt, with soapy water and a damp cloth to wipe off the grime. Otherwise, with oiled leather shoes, you can use an Oiled Leather Restorer.
Buying Guide For the Best Dansko Shoes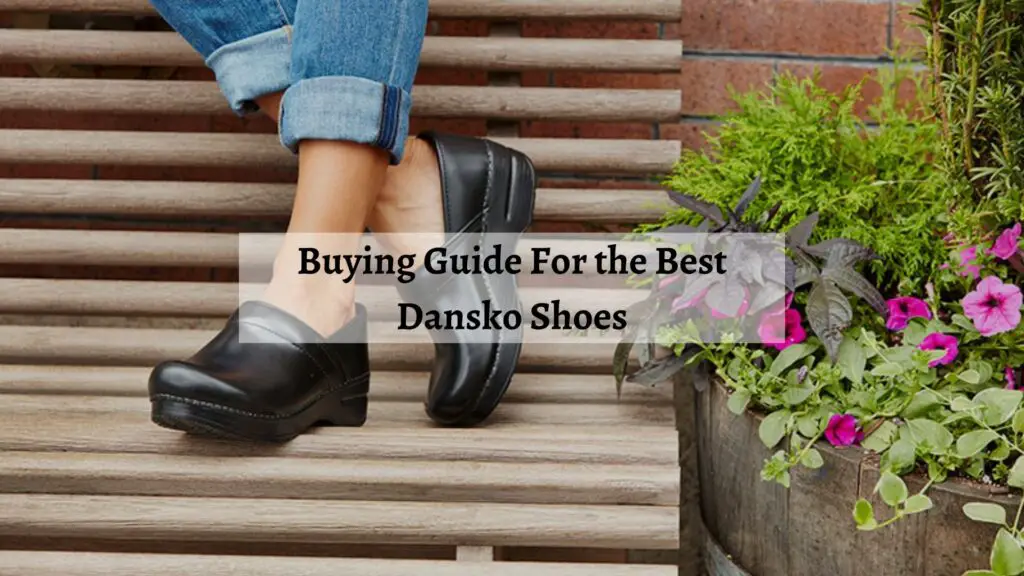 To purchase Dansko knock-offs, you need to know what qualities of a Dankso you need to replicate. For this, check out the following important purchasing criteria:
Material 
There can be different kinds of materials for you to select from. Like you saw in the list in this article, some are made of pure leather, while others are made of rubber or a mix. 
When it comes to getting premium quality, you will almost always find a presence of PU leather.
This makes sure that your shoes are easy to slip into and slip out of. And since one of the key factors of working long hours is that you already have so much to worry about, getting in and out of shoes should not be one of the reasons too! 
So, make sure that the materials you pick are of a longer life span and have a spill-resistant nature overall.
Comfort level
Since comfort is one of the top priorities of such shoes, multiple features assure you that your comfort is given the topmost importance when it comes to the making of these shoes. 
For example, having a padded instep collar that creates a cushion for your feet when you are on the go during duty, an ergonomic and anatomically designed consistent footbed, and optimal traction together make up a shoe that is worthy of the best comfort. 
Undoubtedly, these prove that when you pay attention to the significant designing methods that go into making your shoes, and when you focus on what has been used in production, you can ensure that your feet are resting well.
Waterproofness 
As you know already, working for such a long time would require food and drink breaks and frequent traveling if your job allows it. 
In that case, having a spill-resistant nature in your shoe will protect it from spillage and being damaged due to bad and wet weather. If you want the water repulsion to be maximum and you want to prevent any kind of moisture from penetrating the exterior of your shoes, then you must get waterproof foot solutions! 
Outsole
Different parts of the shoes are important to consider in the comfort and cushion as well as spillage and environmental damage prevention. But perhaps the most important one remains the outsole. 
While it is very common for people like nurses and health service workers to have crumbling outsoles from working a lot of time by standing, it is not impossible to find an outsole that can last longer and won't leave your (feet) side in troubling times. 
For shock and impact absorption, make sure that you have one of the best outsoles in your shoe.
FAQs
What clogs are considered similar to Dansko?
Sanita and Skechers make clogs similar to Dansko. These are usually cushioned so that nurses and other long-hour workers can comfortably wear them.
How can you tell if your Dansko shoes are fake?
To determine if your shoes are fake, simply check the bottom of the shoe for patents. You can also check for the shoe description on the website and match the specs with the classic Dansko wide heel, comfortable sole, and high-quality appearance.
Are Dansko shoes bad for your feet?
Although clogs are comfortable to stand in for long hours due to the low heel cup, some research says it can be bad for the feet in terms of the inherently less stability that some of these clogs pose.
Is the Sanita brand the same as Dansko?
Yes, in terms of the quality, these two brands are the same. However, they maintain their production and manufacturing units separately.
Is it worth paying $100 for Dansko shoes?
If it falls in your budget, why not! However, you can find comfortable and durable shoes even at a price less than that, and that is exactly what the list here aims to find.
Final word
And that brings you to the end of your hunt for Dansko knock-offs! When it comes to selecting the best one, the first choice in the list would be the  Skechers Sport Women's No Limits Slip-On Mule. It is the perfect blend of comfort, the right weight, the perfect weatherproof material, and grip maintenance that is required from long-working shoes.
So as you can see, you don't always have to spend 100-200 dollars on a comfortable shoe that can support your feet for 12+ hours of everyday work. Simply invest in a knock-off that has good qualities and you'll be good to go!
Similar Articles:
Best Knock Off Chacos
Best Knock Off Yeezy Slides
Toms Alternatives