Dr. Martens is undoubtedly one of the most classic footwear brands in the world. They outplay other shoe brands in terms of their incredible durability, versatility, and grip. Moreover, they are absolutely slip-resistant.
But they do need some break-in period which displeases some people. Not everyone is ready to bear the blisters from their favorite footwear, right? 
Moreover, they are really high-end shoes that can leave a mark on your bank account. 
That's why people often look for shoes similar to Doc Martens which come really budget-friendly. 
On that note, we have a list of the best 14 cheaper alternatives of Dr. Martens that are easier to break in.
Let's check them out below!
14 Best Shoes Similar to Doc Martens in an Affordable Price 
To be honest, there are hundreds of brands making Dr. Martens alternatives. But not all of them are as good as the original ones in terms of flexibility, quality, and comfort. So, we narrowed down the list and came up with the best 14 Docs look-alikes below. Hope this helps!
1. Most Elegant– ICHIGO Women's Lace-Up Ankle Booties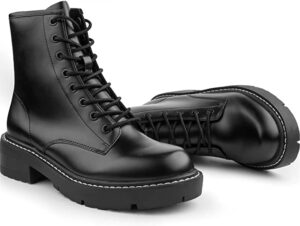 The very first product on the list comes from ICHIGO, a reliable name among shoe lovers. They make some fabulous fashion footwear which always lives up to our expectations. Let's explore if this pair of ankle booties maintains the same standard or not.
Specifications
Made of 100% synthetic material 
Comfortable and cushioned TPR rubber sole
The anti-skid outsole offers better grip and balance
The shoelaces are effortlessly adjustable
High-quality materials make the combat shoes wear and tear-resistant
As a pair of combat boots, these feel pretty comfortable even after walking all day. And they are so sturdy that even if people step on your foot, these shoes will hold up quite well.
Being crafted with a stylish exterior, they look great with numerous outfits such as leggings, short skirts, jeans, maxi dresses, etc.
On top of that, the easy-to-adjust laces make wearing them a breeze, so is taking them off. 
Compared to the original Docs, they are a bit shinier. But you can always change the laces if you don't like the shine. 
Best of all, the classic metal eyelets on the front make them a must-have pair in your wardrobe as an affordable Dr. Martens alternative. 
2. Most Fashionable– SODA FIRM Lug Sole Combat Ankle Booties for Women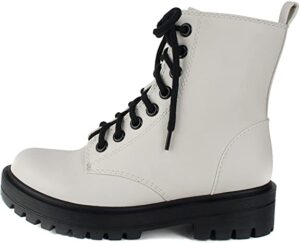 Next, meet another pair of combat-style booties from Soda from their famous FIRM series boots. The key specifications it comes with are as follows-
Specifications
Around 5.5″ shaft measurement from arch for better support
Features inside zippers for easy put-on and off
The chunky heel adds a bit of height to the user
Comes in a sporty exterior to match today's fashion trend
Available in a wide variety of excellent colors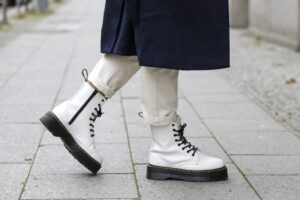 Looking for the perfect Dr. Martens dupes? Try these Soda booties once to fall in love with the cheaper Docs imitations.
They are almost similar to the ICHIGO Women's Lace-Up Ankle Booties in design having 1.75″ of heel height, whereas the ICHIGO one has 1.77″. 
Also, it features slim laces to adjust the fitting. And the platform sole is a true blessing to let you feel comfortable for a long-wearing session. 
Tired of using the regular boots that are hard to put on and take off? Not anymore. Featuring a side zipper these shoes are no hassle to wear within seconds.
Nevertheless, they run a little small. So, we suggest ordering half-size up for snug-fitting. 
3. Most Comfortable– Steve Madden Women's Tornado Combat Boots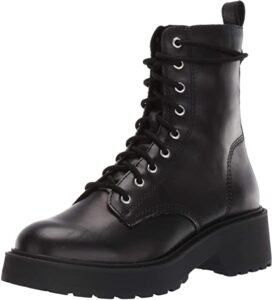 Thirdly, we have come up with a perfect pair of combat boots for those who like power dressing. Let's check out how this stylish pair compliments your outstanding dressing sense. 
Specifications 
Soft and cushioned synthetic sole
Has a functional inside zipper for easy on and off
Comes with 2.5 inches of heel height
Arch to ankle-high shaft length for better foot support
Made of pure vegan leather
As the pair doesn't need any break-in period, rest assured that your foot will have no blisters wearing them. Certainly, the lug soles are pretty comfortable aside from being sturdy. 
Also, they pass the bar of slip-resistant shoes as the chunky platform doesn't slip at all. 
What's more, is that they are true to size. So, you can order your actual size without giving it a second thought.
Moreover, the 100% vegan leather makes them worth every penny. Undoubtedly, they will last pretty long just like the original Docs.
Even if you have narrow feet, worry not as these shoes come with laces to be tied tight for offering the exact fitting you need. 
However, they do not offer a plethora of color choices. But the four colors it's manufactured in are truly elegant offering an expensive vibe overall. 
4. Best Weatherproof– Blundstone 510 Women's Shoes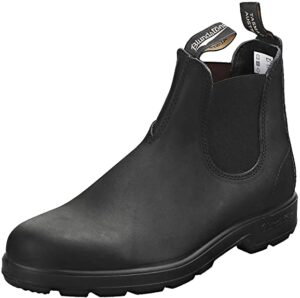 Here comes a weatherproof pair from Blundstone, the name needs no introduction. Let's check out its core specifications below.
Specifications 
Made of 100% leather
The man-made sole is utterly comfortable. 
Perfect for casual wear to workwear 
The dual-density polyurethane sole is exceptionally durable
Offers snug fitting around the ankle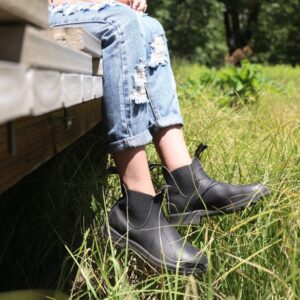 Well, the best part of these shoes is that they don't give you any hot spots while walking. Indeed, they are perfect for people having regular to moderately wide feet. 
And thanks to the super flexible man-made sole, you feel like wearing a year-old pair without a tiny bit of discomfort. 
Furthermore, the 4.75" arch support makes the shoes more reliable in any situation, especially as work boots. Although they are suitable for casual wear as well.
And thanks to the weatherproof leather upper, you can use them all year-round. Though a little bit of polishing could make them more glittering.
Overall, the soft yet sturdy leather construction makes it a wise selection if you choose to save some bucks by buying an off-brand Doc Martens. 
So, go for it.
5. Best Budget-Friendly– Amazon Essentials Women's Lace-Up Combat Boot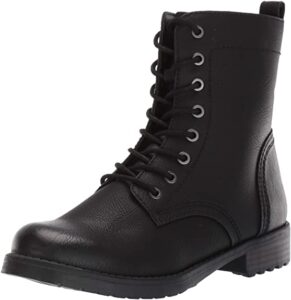 In the fifth place, we have a budget-friendly Docs knock-off from Amazon Essentials. The key benefits it's crafted with are pointed out below.
Specifications
100% premium-quality synthetic material 
Features memory foam padding for ultimate comfort
From the arch to the ankle-high shaft support
Dependable rubber sole
Leather-like smooth finish with long-lasting craftsmanship 
First of all, we liked the shoes for their durable material. They last pretty long without much wear and tear.
Resultantly, even if you use them regularly, the shoes, indeed, hold up quite well. 
Moreover, they come true to size keeping the dilemma of sizing up or down aside. That's surely a great thing for boots like Doc Martens but cheaper.
Similar to the Steve Madden Women's Tornado Combat Boots, they feature an ankle-high shaft for ultimate arch aid. Therefore, they are the perfect match for people having major to minor foot issues.
Best of all, they are so affordable that you can buy 2-3 pairs for the price of an original Docs.
So, what's stopping you from getting them? Claim your pair before they run out!
6. Best Anti-Slip– katliu Lace-Up Military Combat Boots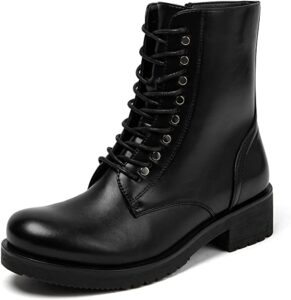 Here comes another affordable pick from katliu. Let's investigate what makes them so special to be placed on this top 14 list of shoes similar to Doc Martens.
Specifications 
Non-slip rubber sole
Strong architecture to withstand all weather conditions 
Classic lace-up front with metal eyelets
Easy on and off with the side zipper
Comes in a super reasonable price range 
After reviewing these classic combat boots for wen, all we can say is that they resemble the ICHIGO Women's Lace-Up Ankle Booties in so many ways. 
First, they feature the iconic metal eyelet on the front and come in the form of classic ankle booties. Secondly, they have a side zipper that lets you wear them without tying the shoelaces.
Another great add-on to these shoes is the anti-slip rubber outsole. As a result, it offers better balance and grip compared to other Dr. Martens look-alikes cheap.
However, the adjustable shoelaces provide a perfect fitting regardless of your foot shape. That surely seals the deal as a Doc Martens knock-off.
All things considered, this is an ideal pair for hiking, camping, trekking, or exploring outdoors.
7. Most Cushioned– White Mountain Women's Lace-Up Boots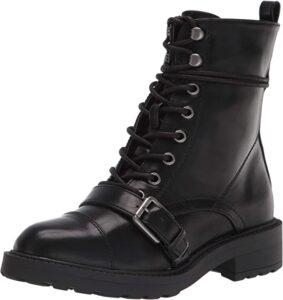 Well, they caught our attention due to their more feminine outlook compared to regular combat boots, thanks to the thoughtful craftsmanship. Let's explore what more they have in store for the users.
Specifications
Treaded outsole for better traction
Adequately cushioned insole
Around 10.25″ boot opening for comfortable wearing
Sturdy architecture makes them long-lasting
Perfect for everyday wearing
As we mentioned earlier, they have a more feminine build up in terms of exterior. That's what makes them ideal for women.
Besides, the boots boast exceptional durability. Even after everyday use, you can expect them to last way longer than many regular combat shoes out there. 
In terms of architecture, they look super cute and trendy. At the same time, they can be paired up with a number of outfits, from formal to casual. 
Unlike the original Docs, they don't demand any break-in time, and therefore, you can wear them straight from the box.
However, they run a little larger though. But that's what makes them ready to use right out of the box. So, that's not a big deal.
8. Most Versatile– READYSALTED Faux Leather Caged Sandals for Women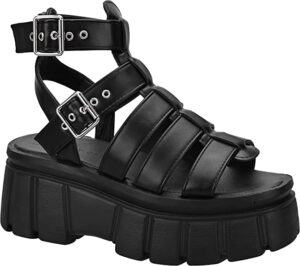 Next, let's explore a pair of chunky platform sandals from READYSALTED. The prime specifications are-
Specifications 
Offers a secure fitting with the adjustable buckle strap
Goes well with different outfits 
Extremely budget-friendly 
Reliable rubber sole
Offers approximately 3.1″ of heel height 
Do you know why people love these gladiator-style sandals throughout the world? Because they perfectly represent the class of the original Doc shoes.
Seeing the sandals there's no way you can guess they are off-brand. The entire exterior claims that these are high-end sandals. 
The price tag claims the opposite though. Indeed, they are incredibly affordable. 
Talking of the amenities, thanks to the fashionable sole, you can wear them with whatever outfit you want. Reasonably, they are the most versatile shoes on this list.
Aside from that, these chunky platform sandals offer a notable height lift to shorter women with the 3.1″ heel measurement. 
Moreover, they come with adjustable buckle straps to keep you secured all the way.
Overall, it's a decent deal for your bucks.
9. Most Secure Fit– Hawkwell Women's Combat Boots with Side Zipper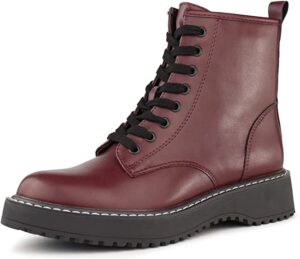 This is a pair without which every girl's wardrobe is incomplete. Yes, we are talking about Hawkwell ankle booties for women with the most timeless design ever.
Specifications
Very comfortable rubber sole
Anti-slip design for better traction
Easy on and off with the side zip and lace-up design
The adjustable laces offer a secure fitting
The faux leather upper comes with a smooth and sleek finish
Being manufactured in three different eye-catching colors, Burgundy, White, and Black- this is one of the most classic combat boots with timeless ergonomics.
You will be blown away by its easy entry due to the side zipper without touching the laces. If needed, adjust the side laces according to your foot shape and you are good to go.
Most importantly, the anti-skid outsole built with premium-grade rubber delivers unbelievable traction on any trail.
Apart from that, the low-heel construction provides day-long comfort providing secured footsteps with a non-slip sole.
In a word, you can rely on these extraordinary ankle booties to complete your everyday look whether you are going to the office or attending a party.
Furthermore, it's a perfect gift for birthdays, Christmas, Valentine's Day, Halloween, or Thanksgiving day.
So, don't miss these super comfy shoes by any chance. 
10. Most Durable– Dunes Women's Dalya Chelsea Boots
Next on this list, we want you to explore a lightweight pair of Chelsea boots from Dunes. The prime features it features are-
Specifications
Lightweight and durable construction 
Soft memory foam insoles
Features soft fabric lining for more comfort
Sleek and smooth vegan leather upper 
Lugged outsole offers better grip and safety
Basically, these are high-tech boots like Doc Martens but comfortable. Thanks to the fabric lining, you feel relaxed wearing them. 
Being made of 100% vegan leather, these are no less than the genuine Dr. Martens as they last forever if maintained properly.  
One good thing about the shoes is the lugged and treaded rubber outsole. It works as a blessing when you need to walk on tough and rough terrain. 
Another exclusive feature is the back pull tab. It allows easy on/off of the shoes. 
Best of all, they are not slippery at all. You can walk in the rain, during the snow, or on a muddy surface without slipping off even once. 
However, you might find the shoes a bit too hard and without breaking in, it might hurt your feet. So, you need to wait a bit to rock on the roads with these memory foam boots.
11. Best Abrasion-Resistant– DADAWEN Lace-Up Comfort Square Toe Oxford Shoes
Need shoes that offer the same type of foot support all day long like a premium Docs pair? Go for this luxurious collection from DADAWEN and you will surely love it. Here's why we picked this pair on our top list-
Specifications
Breathable soft leather lining
Lightweight and flexible outsole
Man-made, abrasion-free sole for day-long comfort
Water-resistant leather upper offers ultimate longevity
Suitable for various occasions 
Being formed in the retro British brogue design, it fills the bill with everything you need from your footwear, flexibility, durability, and comfort. 
Even more, they are very much affordable, more than your imagination. Literally, there's no reason you won't buy them. 
On one hand, you can use them as your everyday wear, while on the other hand, they perfectly fit occasions such as dating, partying, walking, traveling, working, or shopping.
Besides, the easily adjustable lace-up closure makes it a perfect fit for your feet.
As DADAWEN truly excels in making industry-grade Oxford shoes, rest assured this pair will stand out from others wherever you go. 
Despite the positives, we must notify you that they are not as durable as the Dunes Women's Dalya Chelsea Boots. But individually, they make a great purchase though!
12. Best for Dry Climates– Dirty Laundry Women's Margo Ankle Boots
Despite being a bit more expensive than other Docs knock-offs, these shoes made their place on this list due to their exceptional quality. Let's go through the key amenities it offers.
Specifications
Super relaxing synthetic sole
Lug outsole offering optimum grip and traction
Easy pull-on closure for effortless wearing
Ankle-high shaft length for added support
Made of 100% pure leather
To be honest, these shoes are pretty good in terms of making. But as they don't come waterproof, you cannot expect them to last long if you bump wet surfaces every day. 
That's why it's especially recommended for dry climates. 
Other than that, the lugged outsole and side gore panels make it a pretty decent purchase. 
A very good feature of these ankle boots is the arch to the ankle-high shaft. Your feet are protected wherever you go.
Most importantly, you look stunning with these fashionable boots on, be it indoor or outdoor.
Above all, they fit beautifully and that's what is the USP of these trendy women's boots, we guess. 
13. The Highest Heel– DREAM PAIRS Chunky Heel Women Booties
We chose the second last product on our list based on the heel height as these are on-trend nowadays. Let's break down its detailed designs below.
Specifications
Around 11″ boot opening for easy wearing
3.5″ heel height for heel lovers
Long-lasting faux leather upper
Comfy and cushioned TPR outsole
Features an exclusive pocket wallet to keep keys, cashes, or credit cards
Despite being heels, these shoes don't offer any discomfort while walking because of the block design. Moreover, the round toe also helps in this regard. 
With a 3.5″ heel measurement, it truly stands apart from any shoes out there, be it branded or off-branded. 
We cannot but thank these boots like Doc Martens but cheaper for being so affordable. Those who always prefer premium-grade footwear but can't afford them love these inexpensive heels. 
However, the most exclusive add-on of these heels is the secret pocket wallet which is very convenient. You can carry your house key, credit card, or even some caches in it. 
Considering all its benefits, we can assure you that you can use these chunky platform shoes all year round.
14. Best for Summer– Steve Madden Women's Ivo Sandals
Last but not least, we have a Steve Madden pair of sandals in the natural leather color. The core benefits it's crafted with are as follows-
Specifications
Made of 100% premium leather
100% man-made sole for optimum comfort
No break-in period is required
The ankle strap with double buckle closure offers a more secure fitting
The unique multi-strap upper keeps your feet cool and relaxed
To begin with the benefits, we must say that the shoes boast of a natural leather color which is very sophisticated. 
On top of that, the chunky platform sole compliments any outfit on the go.
Besides, the two ankle straps are easily adjustable. Definitely, the shoes add some height without making it obvious.
As Steve Madden made these with genuine leather, you will find the sole very very supportive 
Furthermore, they come true to size. So, you don't need to size up or down.
However, a slightly annoying issue is that they squeak a bit while walking on tiles. 
Other than that, it's one of the great Dr. Martens look-alikes cheap of all time.
What to Look for in a Doc Martens Alternative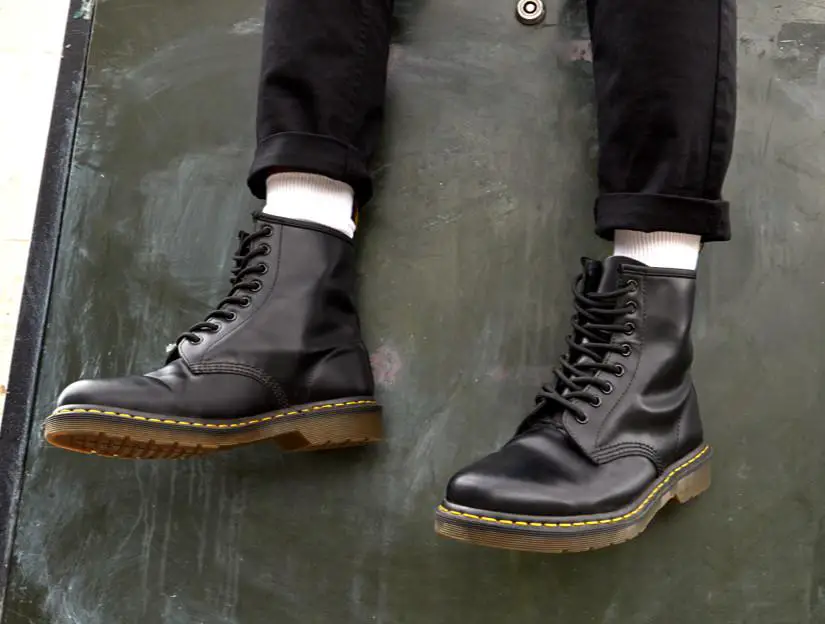 What to Look for in a Doc Martens Alternative
Now you should know what crucial factors you must look for in a Doc Martens alternative. Basically, these are the features that make the difference between an average and an outstanding pair of knock-off boots.
Comfort
You are looking for boots like Doc Martens but comfortable. Therefore, you need to prioritize comfort over anything else. Look for shoes that are ready to use and don't give you bruises or blisters. Besides, it's better to go for breathable footwear to keep the feet cool and dry.
Materials
We know these are knock-off Docs. But that doesn't mean they should be made of substandard materials. You must pick the shoes that come with high-quality materials such as leather or vegan-friendly ones.
Style 
Don't go for cheaper alternatives with less attractive designs. Instead, take your time to find shoes that closely resemble the genuine Doc Martens. Trust me, with the shoes above, nobody can make a guess that you are wearing off-brand Docs without seeing the logos.
Price
Another fact is, of course, the budget. You cannot afford the original Docs, after all. So, balance your budget with the quality and go for shoes that meet your demands the best. 
If a pair costs almost the same as the branded one, then it doesn't make any sense right. A knock-off Docs usually comes at half the price of an original one, sometimes even less expensive. Please remember that.
Size
Most importantly, never compromise with fitting for any footwear. No matter how luxurious it looks, it should offer a snug-fitting. 
As Doc's shoes differ from regular sizing, check before you make a purchase. And if required, go for one size up or down based on your foot measurement. 
FAQs
Who are Dr. Martens's competitors? 
There are so many brands that make similar shoes like Docs. Amongst them, some popular brands like Timberland, Crocs, Vans, Dream Pairs, etc. are Dr. Martens's competitors. 
What shoes are better than Docs?
Usually, shoes with no break-in period are considered better than Docs in terms of comfort. Saying that- Blundstone, Steve Madden, Dream Pairs, etc. make better shoes than Docs.
Why is Doc Martens so uncomfortable? 
Because they hurt initially. Being made of high-quality materials, they need some time to adjust to your foot shape. Besides, if you can't choose the right size, they will always be uncomfortable. 
Should you size up or down in Dr. Martens? 
Usually, Doc Marten's boots run a bit small. So, it's safer to size up while buying boots from Dr. Martens. But you need to check other shoe size charts to figure out your exact size. 
How long does it take to wear Docs?
We all know that Docs boots need some break-in time to be flexible. On average, your new Docs take 3-6 weeks to fully break-in.
Can I wear Doc Martens with a suit? 
Of course, yes. In fact, you can rock any outfit with a decent pair of Docs, be it a suit or casual wear.
Final Words
As a final note, we want you to remember that you don't necessarily need to follow the crowd and dig deeper into your pocket for an original pair of Docs. Rather try the shoes similar to Doc Martens and save yourself from going bankrupt. 
We suggested 14 budget-friendly options above that resemble original Doc boots in many ways. For example, the Dunes Women's Dalya Chelsea Boots are almost as durable as the branded ones. And the katliu Lace-Up Military Combat Boots are perfect outdoor solutions due to their anti-slip outsoles.
However, the Steve Madden Women's Tornado Combat Boots make the best purchase overall if comfort is your priority. 
Hopefully, you can choose your ideal Docs alternatives from the list above that suits your style the best.
Happy shopping!