Have you ever wondered why Doc Martens is ruling the footwear field ever since it hit the market back in 1960? Comfort, convenience, safety, support, versatility- what makes them so popular despite being expensive?
The answer is pretty simple. Above all, their durability makes them power players in the footwear industry. So, how long do Doc Martens last?
Well, the most popular opinion is that these shoes last forever. Although that's not technically true, they last so long that every buck spent on them will pay you back. Thanks to the high-quality materials, a pair of Docs can last for twenty years or more if taken care of properly. 
Wondering how? Okay, let's get into the detailed discussion then.
How Long Do Doc Martens Last If You Wear Them Everyday?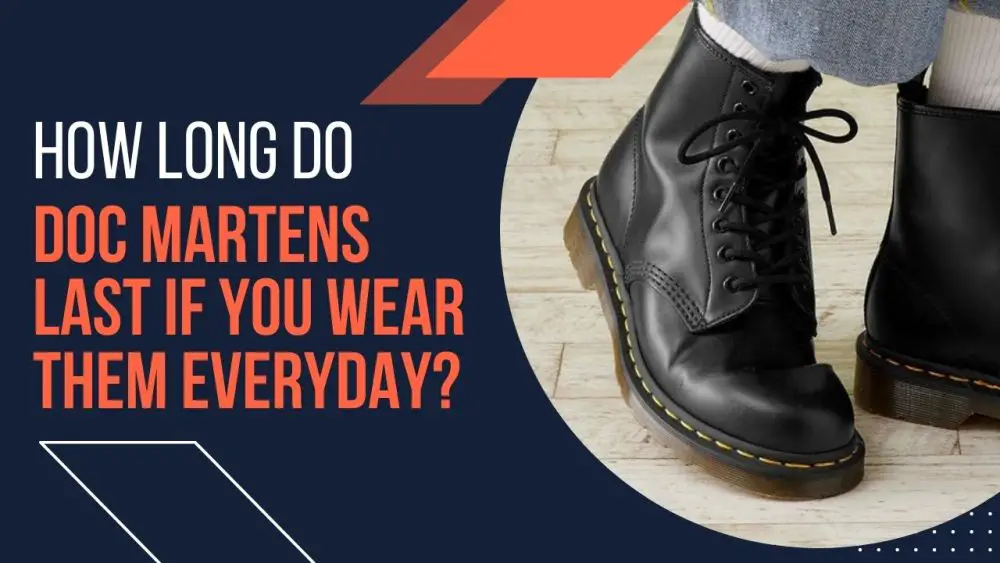 Being made of premium quality materials, a pair of Doc Martens may last pretty long. Even after regular use, they don't face wear and tear and last for at least 20 years. 
As you all know, Doc's shoes are made of original leather. Therefore, they take a bit longer to break-in. But once your feet adapt to the shoes, you can wear them literally every day. 
Unlike other inferior quality footwear, Doc Martens live up to the expectations of the customers. After twenty years or even more, your shoes will have a like-new appearance, thanks to the superior material quality and sturdy craftsmanship. 
Most interestingly, you don't need to visit the cobbler even for once if you keep the boots carefully. Apart from a little bit of wear on heels and split soles, you won't encounter any serious issues. Even the upper will be as dazzling as a new pair. 
So, with the rugged and robust structure, a pair of well-made Docs will be undamaged for at least twenty years even after lots and lots of use.
Do Docs Have a Lifetime Warranty?
No, they don't. Doc Martens declared to discontinue their "For Life" collection in March 2018. 
Although Docs are incredibly durable, currently, none of their shoes come with a lifetime warranty. But the durability lies in the DNA of the brand. So, the work boots are as lenient and long-lasting as before. You don't get any official warranty though!
But those who bought any "For Life" product before March 2018 will enjoy the amenities of life guarantees. Moreover, they offer you the chance to return a pair of defective shoes within one month of your purchase.
Can You Repair Doc Martens?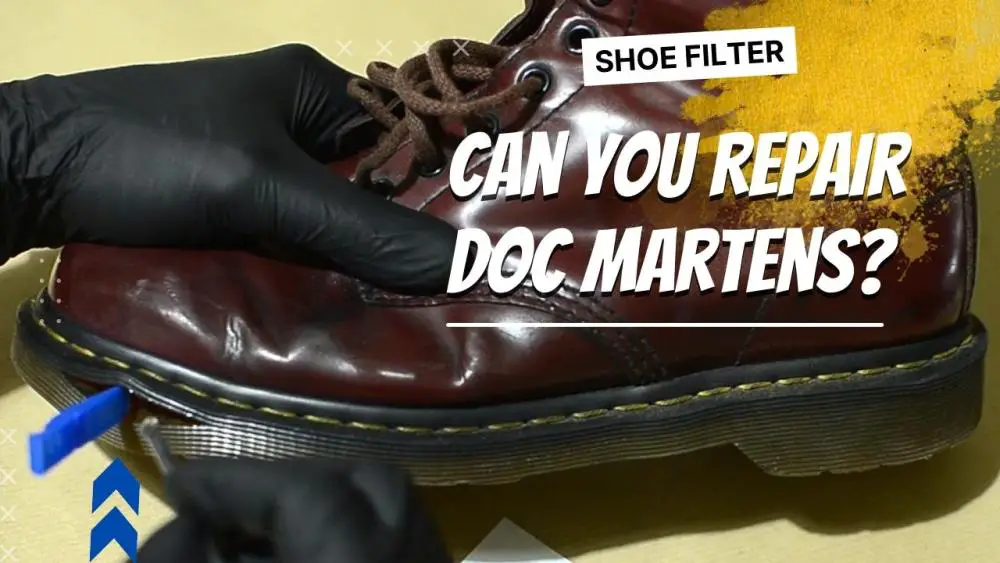 Yes, you can repair or resole the damaged Docs. Thus, even after long-term use, an old pair of Doc Martens can be used for some more years. 
Any regular pair of footwears encounter wear and tear. So, you need to fix them to prolong their lifespans. Similarly, you can repair Dr. Martens' shoes by a cobbler or at home. 
As the boots are architectured with high-end leather, use a quality cleaner first. You can take the help of a cotton swab to clean any unreachable dirt soaking it into rubbing alcohol.
For repairing the sole, you can make use of a toothpick to apply adhesives inside any crack. And based on their terms and conditions, you can apply for a replacement or repair from the manufacturers as well.
But it's quite difficult if the boots need to be resoled as you can hardly manage the original soles. In that case, use Vibram soles to replace the Docs ones and glue them perfectly. On top of that, stitching the midsole ensures more safety. 
Please remember that you need to trim out the edges and dye the stitches so that the shoes don't look refurbished.
What Can I Do with Old Doc Martens? 
As Martens are not exchangeable, you might wonder what to do with an old pair of Docs. 
Well, you can anytime repair them to expand their lifespans. Or if you want, you can donate them. The world-famous Dr. Martens is even more popular for their non-profit organization Soles4Souls. Here, you can donate an old pair of shoes for the worldwide neediest people. 
Shoes that burden you might be a luxury for others. So, these unwanted pairs can contribute to breaking the poverty cycle eventually. 
How Long Are Doc Martens Guaranteed for?
Previously, the brand offered lifetime guarantees for their "For Life" models. Nowadays, they have launched a new collection called "Hard Life" which comes with a one-year warranty.
How Can I Make My Doc Martens Last Forever?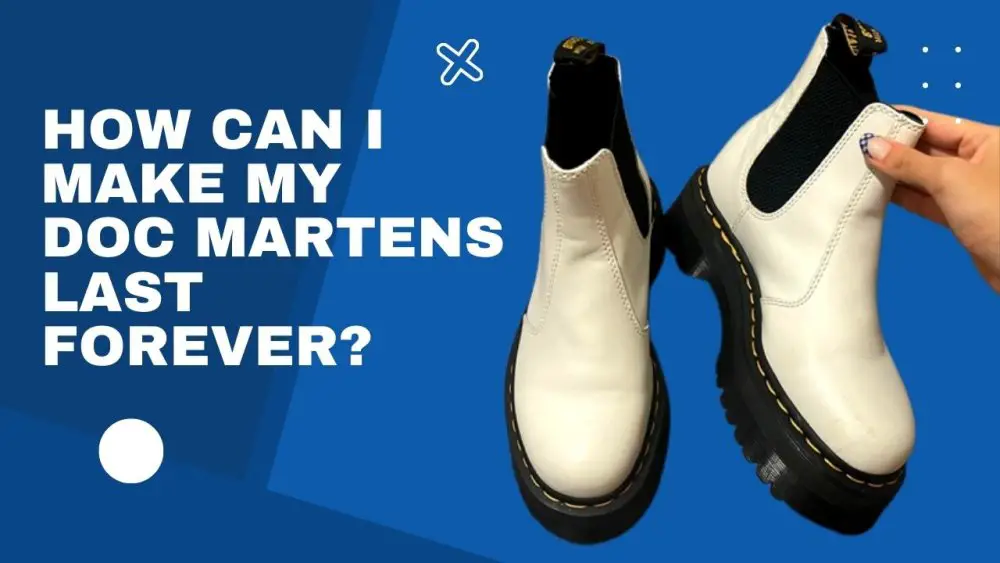 Though a pair of Docs easily lasts for several years, you can add some more years to its lifespan. It actually depends on how you keep the shoes and take care of them.
Cleaning them on a regular basis, not exposing them to sunlight, snow, or water, using a waterproof spray, etc. can make the shoes live up to your expectations by protecting them from wear and tear.
Firstly, make sure to clean the shoes once every two/three months. It will eliminate all the dirt and debris that can affect the overall performance of the shoes. And don't forget to air dry them without keeping them under direct sunlight. Being made of real leather, they are too sun-sensitive. 
Besides, you must follow the rules- high-end materials deserve high maintenance and care. To retain the shine of the original leather, you must use a high-quality conditioner. Furthermore, polish the shoes as much as possible to keep the new outlook forever.
As Docs aren't fully waterproof, excessive water and moisture can damage them. So, try making them water-resistant by using a spray, wax, etc. Also, don't use them during extreme showers or snowfall. 
Thus, some simple yet functional homely DIYs can make your hard-earned money well-spent on Doc Martens. 
Are Doc Martens Worth It?
Hell yes. They are expensive, I agree. But rest assured that you won't regret even a single buck.
The iconic brand doesn't believe in compromising quality. They use authentic leather for all ranges of footwear. Besides, their seamless stitching is even more desirable. 
One of the most attractive features of these crowd-pleasing shoes is that they are not only durable but also comfortable considering the on-foot workers' advantages and disadvantages. The soles are super soft and reliable. Besides, the outsoles are engineered with sufficient grip. Above all, they are trendy enough to match all types of outfits even after several years of use. What more do you want from a single pair of shoes?
Most importantly, you can buy a pair and use it roughly almost throughout your life if any major accident doesn't harm the shoes. 
Read it: Are Doc Martens Worth The Money
Final Words 
Hopefully, the most common query, how long do Doc Martens last?– has been well answered throughout the discussion above.
Being made of the finest materials that are vegan equivalent, these shoes last more than you can imagine. If you provide them with the best care, they can serve for more than twenty years, that too in the like-new condition. 
So, you can invest in a pair of Docs in exchange for their durability, reliability, and lenience. These strong and sturdy work boots would surely accompany you for ages. 
Related posts:
Are Doc Martens Slip Resistant
Doc Martens Sizing Advice
Are Your Doc Martens Tight On Top Of Foot
Are Doc Martens Worth The Money