Teva sandals are one of the best regular footwear options you can choose to go anywhere. They provide the most comfort you need, the best support for your adventure, hiking, and more suitable for any casual attire. These sandals make the best feeling for those who love to walk around with freedom and flexibility.
If you haven't used Teva sandals before and don't know about their excellent properties, it is simple to ask the question 'Are Teva sandals waterproof?' For you, Yes, some Teva sandals are made with high waterproofing ability which can keep you dry in rain and water.
However, the sandals are designed with high comfortability and durability. The straps are made from 80% recycled polyester fibers so it is water repellant. Here we breakdown what makes tevas waterproof and something else you don't want to miss.
Related post: Sandals similar to Tevas
Are Teva sandals waterproof or not?
Yes, Teva sandals are waterproof since they are made with plastic that repels rain and street water. Although Tevas aren't the best option if the water level is high. This is because a large part of your feet remains exposed which can get wet easily.
To make them stand against water, they used EVA foam, plastic, and polyester fiber. Most Teva sandals include arch cookies to support high arch. 
However, the EVA cushioned midsole is attached to the rough outer sole with glue. Therefore, if you use them excessively in water, the glue is likely to be removed and you will need to get a new pair of shoes.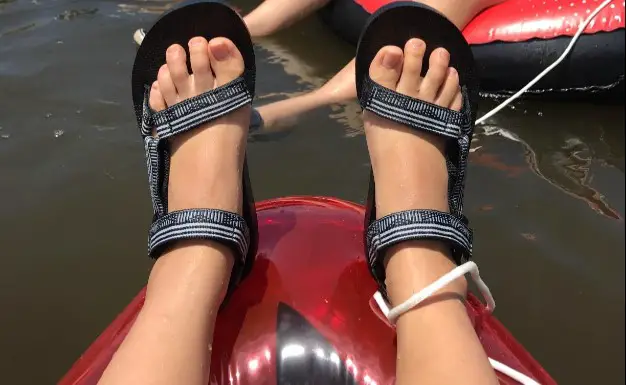 Do Teva sandals dry quickly?
Yes, Teva sandals are quick to dry. Thanks to the excellent build quality which helps to get the water out quickly. When wet, you can leave it outside for 20 minutes to dry. That's pretty enough to get out all the water and make your sandal dry quickly if there is blessing sunlight. 
How to clean your Teva sandals?
It is good to clean up your Teva sandals when it feels soiled and faded. Light cleaning will not damage the shoes rather it removes dirt and makes them look new. Therefore, it is recommended to clean your Teva sandals when needed. Well, how to do it?
You can use warm water, dishwasher or toothbrush, soap, or antibacterial liquid cleaner to clean Teva sandals. First, prepare the hot water and add some liquid cleaner to it. Put sandals in the water for 15-20 minutes. Then give it a wash with clean water and leave it to dry.
How to remove odors from Teva sandals?
Your Tevas may get foul smelling after many uses. This is very common for all types of footwear, especially when you have to wear shoes all day. Bad odor in shoes can be for sweaty feet which lead to bacteria creating lingering odor.
If you are already facing this and can't find a way to remove it, these simple steps can help you regarding this.
There are several methods you can take to remove odors from your Teva sandals. The most popular is using baking soda as it helps to kill the bacteria and eliminate the smell from your shoes. 
For this, you need to sprinkle baking soda on your shoes and keep it overnight. You can find the sandal without any bad smell the next morning. Besides, you can wash the shoes multiple times and can use mouthwash or soap to get the bad smell out of it.
Can you wash Teva sandals in the washing machine?
No, you can't wash Teva sandals on the machine. Teva recommended washing the sandals through a brush, or dishwasher using your hand and also mentioned not to put them in the washing machine. Also, remember not to go in sand and salt water as they can damage the glue.
Are Teva sandals worth buying for comfort?
Yes, Tevas are worth buying for comfort if you are looking for a comfortable daily wearing option. 
They're made to make your daily walking as comfortable as possible. Its highly adjustable straps give you required flexibility on movement and the EVA foam midsole ensures cushioning footbed. 
Moreover, the outsole is flexible and allows your feet to move naturally. The material used in making these shoes is breathable and durable. They are easy to clean and maintain.
Final Verdict
So, you can freely roam outside wearing Teva sandals in rainy weather. It can also be a reliable option on your camping, hiking, or on-the-go adventures. 
They come in trendy colors and designs and look great with any casual outfit. Excellent water repellent plastic material helps it dry when wet. 
Whether you have sweaty feet or high arch, therefore, if you are looking for comfortable shoes, you can try out Teva sandals. Podiatrists recommend Teva for plantar fasciitis and they are good to keep your feet in perfect shape.
Read also:
Are Teva Sandals Good for Plantar Fasciitis
Are Tevas Good for Hiking
Knock Off Chacos But Cheaper