Those days are long gone when people rejected Tevas saying they are not fashionable enough. With its evolution over the past few years, Teva is now one of the most popular fashion footwear brands even among the celebs.
That being said, not everyone can afford premium-grade Teva sandals as they are really expensive. That's why we should look for their budget-friendly alternatives, right?
To be honest, there are a few brands that produce sandals similar to Tevas. But you need to be wise enough to pick their exact look-alikes. 
On that note, we enlisted the 12 best Teva knock-offs with the same foot support, cushion, and traction. Whether you visit the beach or the mountain, rest assured that these shoes will withstand all outdoor conditions. 
So, what are you waiting for? Dive deep into the review below and get your favorite Teva alternative right here!
Best Sandals Similar to Tevas for Outstanding Experience
With growing demands, Teva knock-offs are also being expanded with a large array of designs. But it is very important to pick the right product that is worth your sweat-earned money.
Let's check out if the following products can meet your requirements or not.
1. Best Arch Support– Cior Women's Lightweight  Water Shoes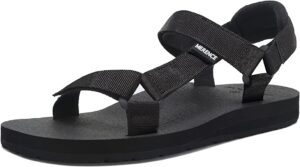 First of all, we have a pair of Cior sandals for women with a very lightweight design. The key specifications it's crafted with are-
Specifications
Impact-absorbing EVA footbed
Outstanding arch support
Long-lasting polyester webbing on the upper
Easy hook and loop closure for perfect fitting
Skid-resistant rubber outsole ensures secure footing
With this famous black Cior sandal, secure both your footing and fitting and have a nice trip anywhere you want. 
Being adequately cushioned with the EVA footbed, the soft yoga mat insole lets your feet rest even on the go.
Moreover, these are impact-absorbing shoes with a more secure grip.
Talking about the arch support, that's what this pair is best known for. You will be blown away by the incredible arch aid that helps control your footsteps. It can even help restrict excess pronation.
An often overlooked feature of fashion footwear is durability. But no big deal, these sandals are meant to last with the super durable polyester webbing upper. 
And they dry super quickly once they get wet. Therefore, they are very good for water hiking too.
However, the soles could have been a little less flexible. Other than that, it's a great purchase overall.
2. Ulta-Lightweight– Gold Pigeon Unisex SIMPLUS Sandals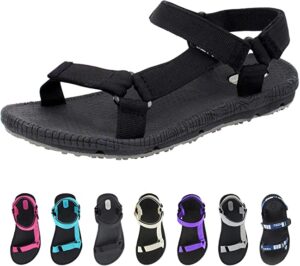 Secondly, we have a pair of GP SIMPLUS sandals with the ultimate comfort similar to a high-end brand.
Specifications 
Ultra-lightweight ergonomics 
Textured footbed offers better balance and grip
Extremely cushioned yoga mat sole
Slip-resistant rubber outsole
Comes waterproof, and therefore machine washable 
With around 30 years of experience as a footwear manufacturer, Gold Pigeon stole the show with this amazing pair that comes in a variety of styles and colors. 
You can get both the slides and the flip-flops. And both versions work great against slippery surfaces. 
Similar to the Cior Women's Lightweight  Water Shoes, they also feature yoga mat insoles for better arch support. 
Besides, the textured footbed ensures a comfortable grip wherever you go. 
Being unisex, both males and females can wear them whether it is a scenic bike ride or a backyard party.
Best of all, it features a SIMPLUS sole for quick water release. 
And they are very easy to clean being machine washable. What more do you need from an outdoor sandal?
3. Best for Hiking– Muboliy Women's Casual Summer Sandals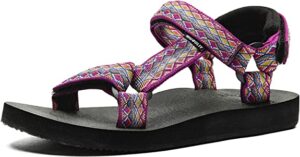 In search of the best shoes similar to Tevas, we got this gem which is a perfect pair for hiking. Let's break down its key amenities below.
Specifications
Casual and comfortable construction 
Adjustable straps for snug-fitting
Anti-skid rubber outsole
Comfy and cushioned EVA footbed
Better arch support with the impact-absorbing insole
Being manufactured with soft yoga mat insoles, these lightweight sandals are the perfect pick for any outdoor trip, particularly for trekking or hiking. But what made them so convenient? Let's figure it out!
Well, the best part of these travel-friendly sandals is the multi-layered sole. 
On the top, you get the yoga mat foam. The midsole is meant for added arch aid to relieve foot fatigue.
And the bottom layer consists of an anti-slip rubber sole to prevent any accident slip-off. 
Next, the woven straps on the upper are incredibly durable. They also assure a better fitting regardless of the foot shape. 
However, the downside is they run a bit bigger. So, sizing down is suggested if you prefer a comfortable fit.
4. Best Shockproof– CAMELSPORTS Men's Athletic Sandals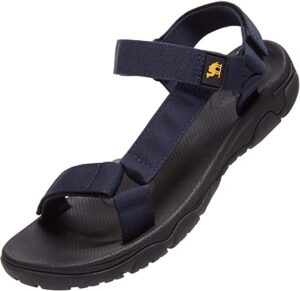 We all know how sturdy footwear CAMELSPORTS produces and this one is no different in terms of quality, comfort, and durability. Let's check out its prime features below.
Specifications
Highly elastic sandals with lightweight fabric
The slip-resistant outsole makes walking safer
Waterproof materials
Hand-stitched architecture lasts longer
Air-cushioned summer sandals with strong ankle support
Need a pair that outplays any regular outdoor footwear? Try these summer-friendly sandals from CAMELSPORTS and rock any terrain with confidence. 
Being exceptionally durable, they will readily accompany you in any outdoor activity like walking, trekking, camping, driving, hiking, etc.
And thanks to the high-quality waterproof materials, you can wear them while fishing as well. 
On top of that, they perfectly fill the bill as your daily wear too featuring shock-absorbing soles. 
The shoes also boast an anti-skid design with an elastic polyester webbing upper. Furthermore, the open-toe shoes are flexible, breathable, and wear and tear-proof.
All things considered, we highly recommend them as high-quality knock-off Teva sandals.
5. Most Stylish– Lancholy Women's Original Sport Sandals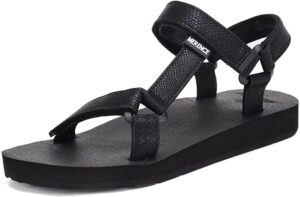 If you still live in the era where people believe that outdoor sandals can't be stylish, then come, we will break that myth with these super cool Lancholy sandals. 
Specifications
Come in a wide array of colors
Suitable both for indoors and outdoors
Skid-resistant rubber outsole
Built-in arch aid
Reduces foot fatigue with the EVA footbed
Looking for shoes that can be paired up with your ripped jeans to a slim swimsuit? Then you have to check out this pair.
With the quick-dry polyester webbing upper that is available in multiple colors, they look very trendy with any outfit.
Besides, the easy hook and loop closure makes them easy to wear. Also, you get a better fit by adjusting the straps.
And with the amazing arch support it delivers, you feel relaxed even after day-long wear.
So, wear these fashionable shoes with your favorite outfit to rock on the road. Undoubtedly, it will complement both your casual and semi-casual looks.
Nevertheless, they are exclusively made for women to flaunt the silhouette of their leg curves. If you are looking for unisex sandals, go for the Gold Pigeon Unisex SIMPLUS Sandals.
6. Best Overall– Chaco Women's Z1 Classic Sandal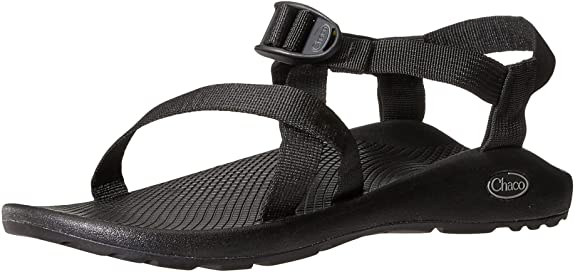 Next, we will talk about a pair of Chaco sandals that give Tevas a hard competition. Let's look forward to whether they are better than Tevas or not. 
Specifications 
Feature Luvseat dual-density midsole for better foot support
Non-marking rubber outsole
Comes with adjustable straps to offer customized fitting
Suitable for day-long wearing
Lightweight construction to carry everywhere easily 
It is said that women's wardrobe is incomplete without a pair of Chacos and this timeless sandal from their classic series proves that again.
One good thing to invest in this long-lasting shoe is the double-strapped polyester jacquard webbing on the upper. It offers a great fit for any foot shape. 
Again, it features durable high-tensile webbing heel risers. And their signature Luvseat PU footbed seals the deal by offering day-long comfort.
Another thing to fall for in these sandals is the non-marking ChacoGrip rubber outsole. 
Indeed, you will enjoy your every step wearing these premium sandals in your preferred color. Yes, they do come in a versatile range of color choices. 
Read also: Knock Off Chacos
7. Most Comfortable– Camel Crown Anti-Skidding Sports Sandals for Men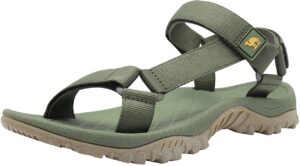 Here comes the comfiest sandals on the list, a pair of athletic shoes from the very famous Camel Crown. Living up to the expectations, it offers the following facilities-
Specifications
The thermoplastic rubber sole is incredibly comfortable 
Made of water-resistance and rebound TPR materials 
Personalized fitting with the adjustable hook and loop closure
Features a shock-absorbing midsole
Suitable for several occasions
Well, this pair offers unmatched stability with the anti-skid sole, thanks to the anti-slip grain in the middle.
For the same reason, it drains sand or water pretty fast and reduces the risk of slipping.
Also, the shock and impact-absorbing midsole is the best bet for such outdoor sandals and these shoes pass the test successfully. The foamed midsole alleviates impacts quite well providing optimum cushioning. 
Above all, they last way more compared to other cheap Teva alternatives, credit goes to the wear-resistance build-up. 
On top of that, they are a suitable pair for any outdoor occasion with a waterproof ergonomic design.
However, if you have thinner feet, the straps may seem too big for you. So, watch out!
8. Best Versatile– MEGNYA Comfortable Walking Sandals for Women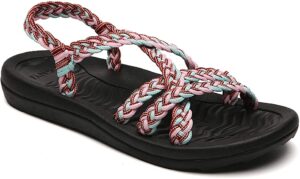 In the eighth spot, let's explore a Megnya pair made of the best quality rubber. The striking features it's engineered with are as follows-
Specifications
Immensely comfortable EVA cushioned midsole
Water-resistant ergonomics 
Exclusive braided rope upper 
Exact fit for all ages of women
Perfect for long-distance walking
Going on a cruise trip? Carry these everlasting sandals with you and enjoy your vacation to the fullest. Whether you try fishing, kayaking, hiking, or just attempting a simple beach walk, you will be guided by secure footsteps everywhere. 
These famous Teva alternatives are the best water-friendly shoes you can purchase at such an affordable price point. 
Furthermore, the hand-woven upper features a nylon cord to create an elegant outlook altogether. 
Talking about the synthetic sole, it's so soft that you feel like walking on a cushion of air.
Resultantly, you don't develop any bruises, blisters, or foot fatigue.
However, it's not that supportive for high arches. Though people with low to medium arches just love them.
9. Best for Wide Feet– Chaco Women's Z×2 Classic Sandal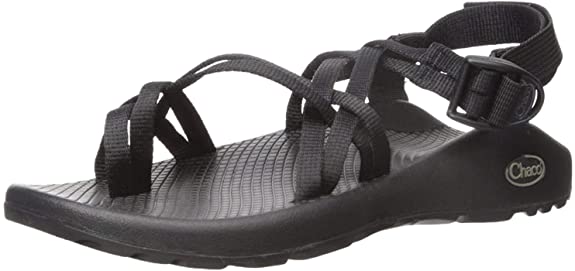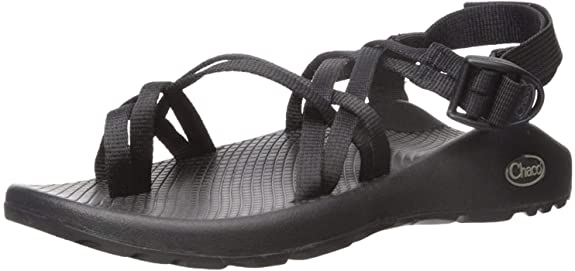 Next on the list, we have another Chaco pair from their famous classic series, the Z×2 Classic Sandals. Let's break down its prime features to learn more. 
Specifications 
Features non-marking rubber outsole with 3 mm lug
Strong and sturdy construction to be used as athletic shoes
Durable jacquard webbed upper
Adjustable high tensile heel risers for better fitting
The biocentric footbed offers loads of comfort and sustainability 
As we all know, Chaco is a premium footwear brand that provides high-quality sandals similar to Tevas.
Upon being investigated, these cute sandals prove the claim to be 100% true.
Not only do you enjoy the same level of comfort as Tevas but also they offer outstanding grip and balance. All thanks to the toe loop that offers extreme forefoot control.
Another big plus is the podiatrist-certified Luvseat footbed with added traction on the trail. And the versatile size range fits even people with wide feet.
So, like all other Chaco pairs, we found this black classic pair to stand apart from the competitors in terms of, fitting, function, and flexibility. 
So, what are you waiting for? Go and get a pair before they run short.
10. Most Durable– Chaco Men's Z2 Classic Athletic Sandals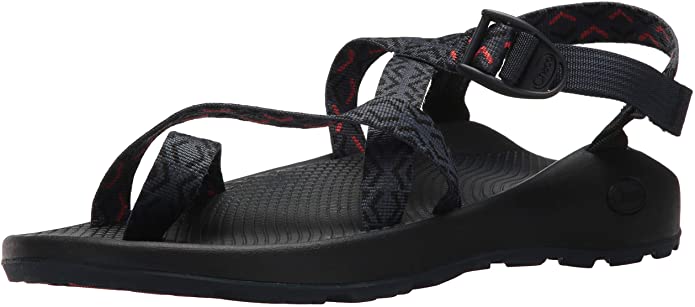 Need a durable pair of Teva look-alike? You should try these Men's Chaco sandals then. The striking features it comes with are-
Specifications
Soft and cushioned Luvseat dual-density midsole
Non-marking ChacoGrip rubber outsole
Personalized fitting with the double strapped webbing upper
Features a toe loop for secure movement
An ageless exterior design to match any outfit
First of all, let's talk about its toe strap. You get amazing stability with those jacquard straps while kayaking, trekking, or river rafting. 
Next, they are unarguably the most durable production by Chaco, especially in the athletic sector. 
Whether you need to walk on rick, sand, or water, no other sports shoes can beat it in terms of traction. 
Furthermore, they also offer a great fit for the wide-footed people like the Women's Z2 Classic. 
The only thing we didn't like is that they are a bit heavier. So, you need some time to get used to wearing them.
Keeping this minor issue aside, this is one of the best bangs for your bucks. 
11. Best Water-Resistant– KEEN Newport H2 Water Sandals for Men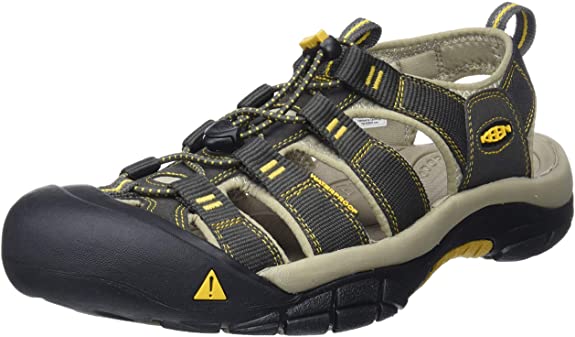 At the second last spot, we came up with the most suitable solution for those who always prefer waterproof outdoor shoes. Let's check out how these KEEN water sandals perform in reality. 
Specifications
The lace-lock bungee capture system offers easy on/off
Leaves no mark while walking indoors 
Waterproof polyester webbing on the upper
Provides sufficient cushioning with the compression-molded EVA midsole
Extremely easy to clean as they are machine washable
If you want both traction and protection from your footwear, try these super supportive shoes from KEEN. 
Literally, you can never go wrong with their waterproof sandals offering optimum grip and balance. 
Even on slippery surfaces, you don't slip a bit, thanks to the water-repelling outsole. 
Another perk of using these high-tech sandals is the ultimate security with the multidirectional lugs. 
Most importantly, they feature anti-odor technology. What a great feature, isn't it?
Despite being designed as sandals, they offer similar toe protection as shoes.
So, you can undoubtedly choose these adventure-ready sandals any day.
However, they are a hit expensive compared to the other sandals on this list. But considering the conveniences it offers, that doesn't count as a deal-breaker.
12. Best Value for the Money– MEGNYA Women's Hiking Sandals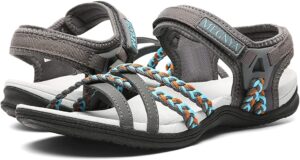 Finally, meet another Megnya pair, specially designed for hiking. The striking features of these outdoor shoes are-
Specifications
Rugged and robust ergonomics for extreme foot protection 
Stable rubber outsole for better balance
The memory foam insole makes them thin enough to walk comfortably 
Exclusive nylon braided rope on the upper
Offers great value for the money 
Honestly speaking, these are the best sandals that look like Tevas with such a beautiful exterior. You will literally be blown away by the braided rope upper alongside the hook-and-loop strap.
Talking about the outsole, it is quite sturdy being made of the finest rubber. 
As a result, the shoes are exceptionally durable too. 
Not only does it support your foot but also your entire body with the high-tech build-up.
Furthermore, they boast an all-around foot protection design that is abrasion-resistant as well. 
Coming in a reasonable price range, they offer a great value for your bucks keeping you sure-footed on any outdoor activities. 
In a word, these are outstanding hiking shoes featuring a great grippy outsole that fights any uneven terrain very smoothly. 
Teva Vs. Chaco: Which Sport Sandal Is Better?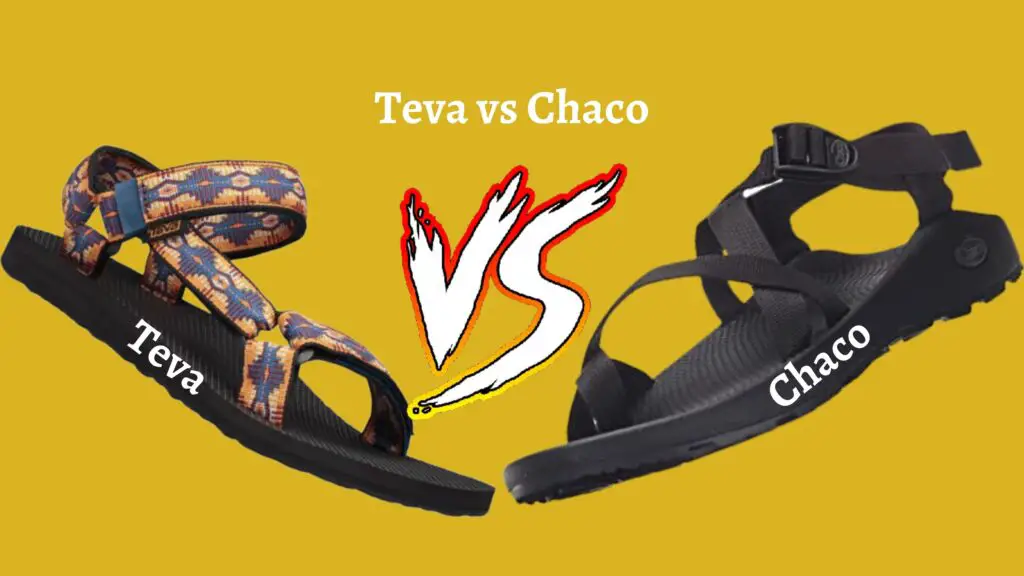 Now let's look forward to the age-old battle, Teva Vs. Chaco, the two most renowned sports footwear brands. The quick checklist below portrays a fair comparison between these two. Let's dig in!
Longevity
To be honest, both sandals last a lifetime if properly taken care of. So, we would like to say that it's a tie between them in terms of durability. 
Weight
While buying outdoor sandals, weight is a crucial decision-making factor. Lightweight shoes come in handier while going on a trip. 
On that note, we vote Tevas as the winner since they have thinner footbeds than Chacos. Resultantly, they are easier to carry.
Fitting
In terms of fitting, both give each other a hard competition. But Chacos are slightly ahead, we guess, thanks to their adjustable straps. 
Although Tevas are no less with their customized hook-and-loop closures.
Cost
Umm, it depends on the design actually. But overall, Teva sandals cost less than the premium quality Chacos.
Comfort 
Both these high-end brands manufacture foot-friendly shoes with optimum comfort. But having a thicker footbed, a pair of Chaco wins the race as it provides better cushioning.
Buying Guide for Shoes Similar to Tevas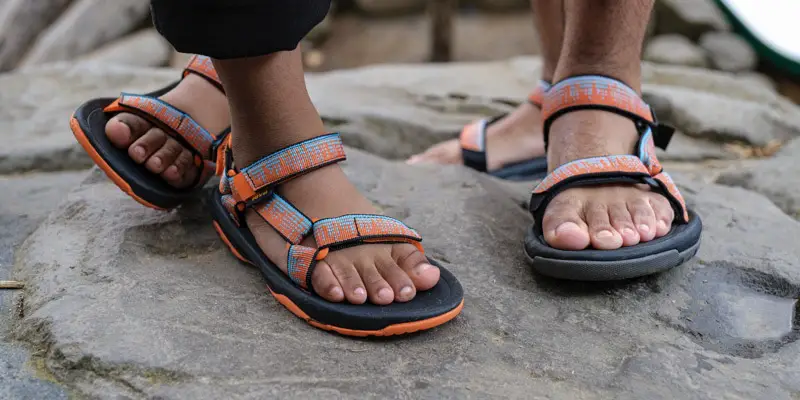 Here are the most common things to check before you buy a pair of off-brand Tevas.
Comfort
As we all know, Tevas are most known for its extraordinary comfort level. In fact, they are specially designed to offer extreme foot support.
So, when you go for their cheaper counterparts, don't compromise that.
Soles
Usually, the original Tevas features a rugged and robust rubber outsole with an adequately cushioned insole. So, look for shoes that have the same benefits to reduce foot fatigue. 
Straps
Another specialty of Tevas is the quick-drying adjustable straps. That's why we highly recommend Teva knock-offs that come with a waterproof lining in the straps to drain water rapidly. 
Grip and Traction
Any outdoor sandals are marled premium for their grip and traction. Because they need to struggle against all types of trails including watery, slippery, rocky, uneven, and whatnot. 
In that regard, shoes with anti-skid outsoles with superior foot control are always recommended, be they branded or off-brand Tevas.
Budget
Why do people look for Tevas alternatives? Most often to cut the cost. If you can pick the best deal, it can save you from spending your arm and leg on a pair of  Teva sandals. 
But that shouldn't affect the overall build quality. Never go for substandard shoes seeing the cheap price tag. Instead, focus on shoes that avail the best value for the money, performing almost similarly to Tevas.
FAQs
What type of sandals are Tevas?
Tevas are premium-quality outdoor sandals with ultimate comfort, cushion, and flexibility. With the super feasible features, they last long in any outdoor condition. 
What's special about Teva sandals?
Tevas outperform other high-end outdoor sandals with their unmatched comfort and coziness. Besides, they are made to support your foot all day long and that's what makes them more preferable. 
Do Tevas have good arch support? 
They do offer quite a good arch support in some sandals. But it could have been better. Especially compared to Chacos, their footbeds feel way thinner and a bit intimidating. 
Are Teva shoes good for hiking? 
Yes, they are. Being made with high-quality waterproof materials, most Teva shoes can withstand any terrain. But they are mostly suggested for light hiking with less arch aid.
What's the difference between mules and sandals?
Well, the basic difference between a mule and a sandal is that a mule comes with no back support. Almost one-third of mules are covered. On the contrary, sandals are open-toed shoes that are considered strictly casual. But mules are more formal.
Final Thoughts
To wrap up our search for the best sandals similar to Tevas, we sincerely hope you get the right pair that pays you back on the trail.
A premium brand like Teva always makes great outdoor shoes for sure. But if someone wants to switch to a different brand, whatever the reason is, the Chaco Women's Z1 Classic Sandal is the best Teva alternative with almost the same advantages. 
And if cutting the unnecessary expense is the reason, go for Gold Pigeon Unisex SIMPLUS Sandals or MEGNYA Women's Hiking Sandals. Both come really budget-friendly compared to the original Tevas. Though they include all premium features. 
Also, the rest of the 9 products on this list are equally deserving to be picked as the best Teva competitor.