A brand that comes from the land of comfort food, aka Italy, Hey Dude was made to provide wearers with comfort while being stylish. 
However, with crazy-stylish shoes, wearers came to realize that Hey Dude shoes are lightweight and comfortable with the attractive modern-casual style, but not the best partners when you need to stay in them for long hours, and they don't have a great price for some too.
While Hey Dude has its own share of an impressive fan following, if you are among the people who are not dishing out the price for their footwear and want something that can keep your feet happier for longer, this article features 6 casual shoes, the best Hey Dude alternatives for your next pair of kicks. 
4 Short list of Hey Dude alternatives
Best Hey Dude Alternatives with Crazy-Style 
Here are the detailed reviews of knock-off Hey Dudes:
Top Pick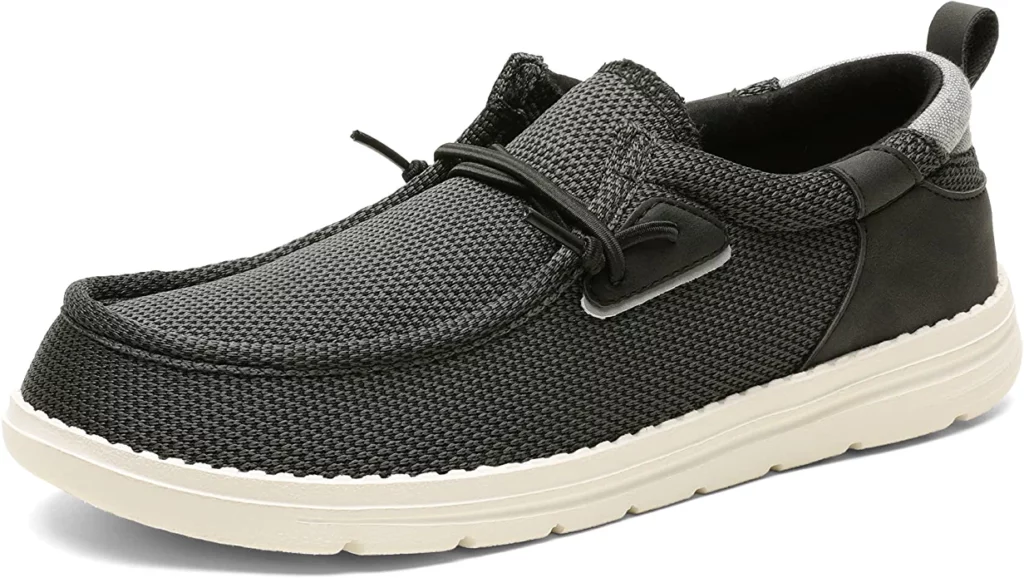 Bruno Marc Men's Casual Slip-on Loafers
Cotton linen upper for maximum breathability.
Has a skin-friendly inner lining for keeping your feet dry.
EVA insole keeps you warm in winter and cools in summer.
Lightweight to let you wear it to work, for travel, or for morning jogs.
Includes replacement shoelaces and insoles with the footwear.
Whatever the outfit, whatever the occasion, Bruno Marc shoes are always trendy. The first one on the list of Hey Dude look-alikes, this casual loafer is made from 85% Cotton Linen and 15% Vegan leather and is completed with an Ethylene Vinyl Acetate sole.
When it comes to users who need a good amount of breathability and moisture-wicking properties to keep their feet dry during long wear, this is a perfect sneaker. The casual style features a unique cork surface that increases the porosity of the shoe and thereby wearer comfort.
For men who have wider feet than regular, this affordable alternative grants a roomier toe box and acts as "stretch shoes" to make more room if needed, without slipping up and down. These come with elastic and standard laces to pick from so that you can tune your comfort. And these even work for women!
2nd Pick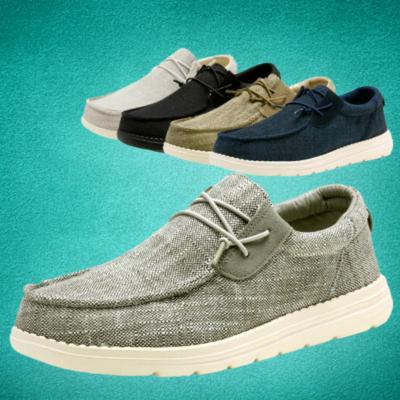 Bruno Marc Men's Linen Canvas Stretch Loafer
Has stretch laces to the front of the panel for easy wear.
The raised seam of the stitch lasts longer than usual.
Features a Moc toe for wearer ease and comfort.
The lining of the shoe features soft twill while the leather upper is ventilated.
EVA traction sole offers a breathable footbed that comes with holes.
Yet another one of off-brand Hey Dudes from Bruno Marc (Bruno Marc official Amazon Store); this loafer is a little different from the Bruno Marc Men's Casual Slip-on Loafers. The upper this time is of linen canvas and suede leather, while the sole is still EVA. However, this one is significantly lightweight.
If you are tired of having bruises from getting your shoes on and off, cut down your woes because this canvas loafer has a brilliant solution. 
It comes with a soft padded heel collar that makes wearing and taking your shoes off super comfortable for the ankle area, while the shock-absorbing midsole, EVA outsole, and knit upper keep the rest of your feet comfortable.
Also, if you want to go for long hours of walking, shopping, or traveling that requires you to stay on foot, the superior durability and the weight of these shoes will help you a lot.
3rd Pick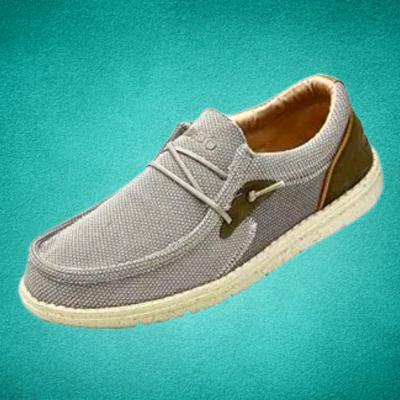 FUSHITON Men Loafers Slip On Shoes
The outsole of these sneakers is made of Phylon.
You have a mesh upper on the entirety of the shoe.
It features a lace-up closure for easy wearability.
The high elasticity of the sole allows you to bend it easily.
Offers excellent bounce-back ability and durability.
Of all the shoes that are like Hey Dudes, Fushiton makes some beautiful and stylish pieces. But when it comes to shoes, you have to look beyond what is pleasing to the eye and pay attention to the foot easement. So let's take a look at its features.
For sneakers that offer you a perfect fit and are much better quality than Hey Dudes, Fushiton is a game-changer. 
Why? 
Because for roads that are as unpredictable as ever, these shoes are the bomb. They can bend easily owing to their softness in construction, making them easy on rough roads and hence, traveling in general.
However, you don't need to go out on the rocky roads to enjoy the comfort and performance of these shoes. You can wear them every day and enjoy the style of walking, jogging or simply going to work in these.
4th Pick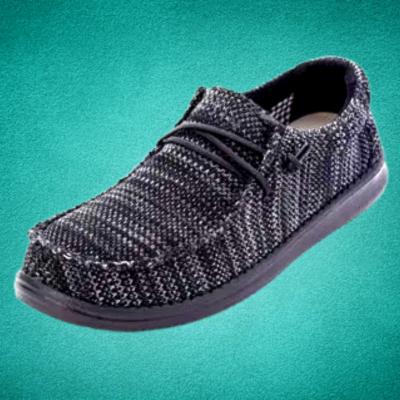 WHITIN Men's Laid-Back Slip-On Loafer
This soft black canvas sneaker features a synthetic sole.
The upper of the shoe is made of canvas to allow breathability.
Includes a raised stitch seam to the front of the shoe.
Allows you a custom fit with its knotted, elastic lace to the front.
Ultralight and flexible shoe anatomy overall.
Very slightly heavier than the FUSHITON Men Loafers Slip On Shoes above, this pair from Whitin is known for two of the greatest benefits that people with wider feet could enjoy: having a wider Moc toe and having one of the softest soles ever. Here's more:
One of the best things about people who deal with foot pain is finding a shoe that contours to the shape of the feet so that it feels like you have nothing on the feet. 
This sneaker with memory foam insoles (which is removable, too) is quite a blessing in that regard. 
It is anatomically linked with vent leather, making it more comfortable.
When compared to Fushiton above, it is also similar in the stance that you can bend it too for its good foldability and enjoy uninterrupted treads on rough grounds.
5th Pick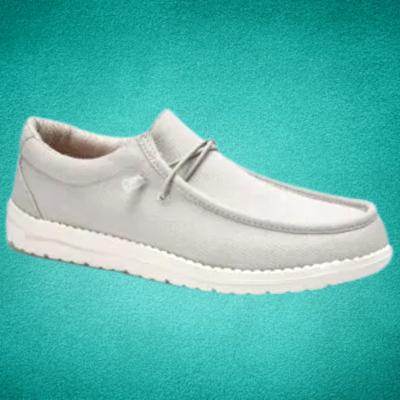 FW FRAN Men's Loafers
These imported shoes are made from canvas.
It features a Phylon outsole on the bottoms.
The closure here is a slip-on making it easy to take it on and off.
It comes with a removable cork surface insole.
You get a skin-friendly lining on these shoes, which is great for sensitive feet.
Fans of minimal shoes that scream style and comfort love and adore these Men's Loafers, and there's a reason they are so popular. It is because of the machine's washability of the pair. For more features that you may like, here are the specs.
A stretch loafer for those with sweaty feet should be able to quickly absorb any moisture and sweat and volatilize it as you go, always keeping the interiors comfortable and dry for you. 
This one from Fran does just the same. If you need to work long hours and have extremely sweaty feet that tend to swell up nearing the end of the day, these are lit.
Particularly great for hospital workers, these are also non-slip, meaning the grip on slippery surfaces is quite superior. And with their easy cleaning ability, great fit, and comfort, things just get better when you have them on!
6th Pick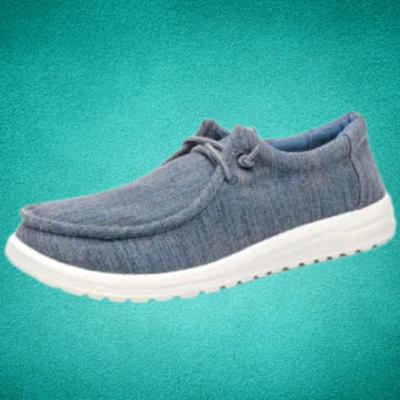 Betrue Men's Boat Shoes Slip-On Shoes
The boat shoes feature a rubber outsole.
It features a round toe that allows room in the toe box.
You have an anti-skid insole in these shoes.
Offers great arch support along with being comfortably lightweight.
The padded insole allows you high resilience.
Quite similar to the FW FRAN Men's Loafers but much lighter when it comes to the weight, these Boat Shoes are a fashion-forward jogger's need if you want to enter the park in style. But is a style all that it has got? Let's see.
The soles on this pair have a very decent grip. But what is better and more lauded is the removable insole. For anyone who wants to adjust the footbed, they can do it with different inserts. You can wear them with or without socks if you want as they tend to be smaller than expected.
So this is better with those who have narrower feet. If you need to be on the beach for long and you want something comfortable to wear, these are great as they don't put any unbearable tension and cause future bruising on your ankles.
Related posts:
Hey Dude vs Sanuk Shoes
The similarity of Hey Dudes and Sanuks is that both of them make slip-on shoes in various styles and designs to suit the wearers. They both have an eye for both comfort and manufacture lightweight shoes for those who need them.
When it comes to the differences, Hey Dude shoes are more detail-oriented. You'll have them focus on the lining, footbed, insole, midsole, outsole, upper, toe box, closure, and meeting the needs of people with foot pain, wide foot, narrow foot, etc. 
But when it comes to Sanuk you don't see as much of the focus, especially if you have conditions that take a toll on your foot comfort. 
And as you have seen in the reviews, Hey Dudes make sure that you have no ankle bruising from wearing their shoes for long. The same can't be said for Sanuk shoes.
Hey Dude vs Sanuk Shoes When It Comes To Durability
When it comes to durability in shoes, a lot of factors need to be considered. For example, it is better if your shoes have a rubber sole. 
While Hey Dude does make rubber shoes, it also has more EVA outsoles. Sanuk again is rubber-only, so the durability might be higher. However, if we are talking about rough roads and wearing your shoes often on these roads, Hey Dudes are more durable for their bendability.
Other than soles, the upper, lining on the side, and seam construction influence how long your shoes last. As it hugely depends on the frequency of wearing, it boils down to the user how long they can keep the shoes running/walking.
Similar Blogs: Hey Dude Vs Sanuk Shoes [Read here]
How Do I Clean Sanuks?
If you want to clean your Sanuks, here are some tips:
Don't use hot water to soak these shoes, as soaking ruins them. You can start by dabbing a little hot water and detergent mix on the shoes to get off dirt. Use a sponge or rag for dipping it and cleaning off the stains.
If you want to wash it in the machine, throw in old towels with the shoes to prevent banging on the inner walls and making loud noises.
Make sure you use warm or cold water in the machine, not hot water.
Instead of drying your Sanuks in the drawer, put them out in the sun. This will get rid of the odor too.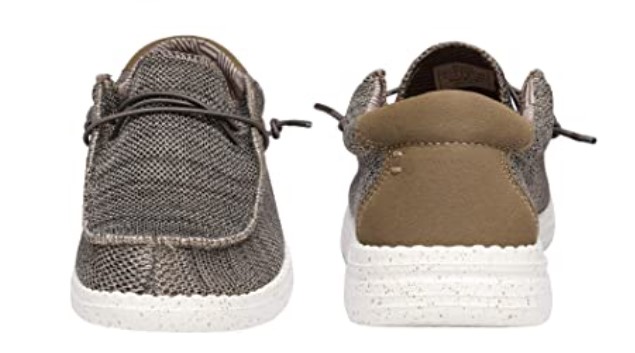 How To Choose The Best Hey Dude Alternatives
To pick the best Hey Dude alternatives, here are things you need to be aware of:
Size
The size of one brand may not match your shoe size for the other. When you are looking at Hey Dude Alternatives, it would be wiser to take a look at the conversion charts as some shoes tend to run smaller for those with narrower feet, while some run bigger and are more suited for those with wider feet. This will help you make an informed footwear decision.
However, compared to kids' and men's alternatives for Hey Dudes, the women's shoes tend to run larger.
Stretch Style
As Hey Dudes are known for their stretchy styles, your alternatives should have some form of elasticated fabric in their composition. 
This feature will be useful for those whose feet tend to swell up after day-long use. And because these are designed to stretch out and eventually accustom to how your feet are shaped, you would love the stretchiness to reduce foot discomfort. 
You should not only go for stretch fabric in the construction of the shoes. This is why make sure that it has canvas/suede leather/vegan leather/linen lining/cotton or other textiles in the shoe blend. This will increase the durability of the shoes and allow the shoes to sustain machine washing.
Flexible Uppers
A remarkable feature of Hey Dude Shoes is that they tend to have flexible uppers. This allows the shoes to bend and fold when required. So having a knit upper always helps in the alternatives. It will give you freedom of movement while protecting your feet.
It is also going to make your alternative shoe highly breathable, allowing air to flow in and out of your shoes keeping your feet dry throughout. But this also means that they are not the best for pools!
Lightweight
Hey Dude shoes are also known for being really lightweight. The shoes could range from 10 ounces to 16 ounces and offer you the lightest stride. 
The list on this article also features some of the lightweight choices so that you know what range to do for. These should make you feel like you are wearing socks, but give you the protection that you get from shoes, protecting you from natural elements.
Cushioning
If there could be a trademark feature for Hey Dudes that they claim of, it is the comfort. So your alternative should have either memory foam or EVA insoles and a nicely cushioned footbed to replicate the feeling. 
This should also mean that you need an outsole with maximum shoe absorption, as too much cushioning may be bad for your overall balance and stride. So with a snug fit and maximum traction, your hunt should be complete.
FAQs
Can I wear socks with alternatives to Hey Dude Shoes?
Yes. You may or may not wear socks with your alternative shoes; It totally depends on your preference of feeling on your foot. If you have had difficulty picking the right size, wearing socks alone may accentuate or ease the grip of your shoes on your feet.
Are these alternative shoes good knock-offs for Hey Dude Shoes?
Yes, they are. Hundreds of customers who have bought these shoes have raved about how well they fare compared to the build and price tag of Hey Dudes. They basically give you the same good quality at a much affordable price and last even longer.
Are Sanuk shoes good for walking purposes?
Yes. Sanuk makes good walking shoes. You can wear them to your walks if you need both comfort and style!
What Shoes are considered better than Hey dudes?
The shoes from Bruno Marc, Betrue, and FW Fran are heavily comparable to Hey Dudes. They are much better than Hey Dudes, are more comfortable but come with much less cost. 
What shoes are similar to Hey Dudes for women?
Some of these shoes mentioned in the list have been worn by women while paying attention to the size, and they had no problem. However, brands like BOBS and Rocket make good women's knock-offs for Hey Dudes.
Final Words
And that ends the hunt for the best Hey Dude alternatives for men. Everyone who is obsessed with loafers but also does not want to pay as much as the former brand demands, and at the same time wants comfort, style, breathability, and above everything, durability; these 6 shoes mentioned in the list make the best options. 
If you have foot pain, you can pick the WHITIN Men's Laid-Back Slip-On Loafer. 
Or, if you want a little of everything best in your shoe, you can take the Bruno Marc Men's Casual Slip-on Loafers. 
No worrying about tying laces, no-slip, no-skid, only stylish and convenient shoes; that's the deal you should be after.