All outdoorists would agree to have owned or have the desire to own a pair of Blundstones. Let's face it, this Australian Work/Fashion Boot is nothing short of being iconic. But wait, could there be a better way to be the cool kid of fashion with all the functionality and with just a fraction of the price tag of these pairs? 
Of course, there is! In this article, we find 15 of the easiest to slip on, super protective, highly versatile boots that you can wear with almost any dress and to nearly all terrains.
The following list covers the best Blundstone alternatives, right from your favorite fashion boots to strut through new cities to work boots for unforgiving jobsites. For a better pair of pull-on boots this season, check out the list below.
Boots Similar To Blundstone for Every Feet Type
No matter what your feet type is, wide or narrow, of a man's or a woman's, suffering from foot pain or just a regular pair of well-functioning feet, this list has a Blundstone alternative for all. Here are the detailed reviews on them:
Best Overall: Dr. Martens 2976 Unisex Leather Boot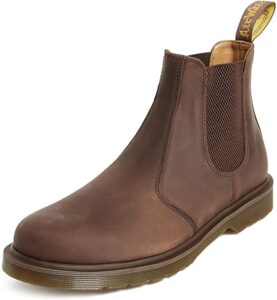 First on the list of boots similar to Blundstone, we obviously have Doc Martens. If you are a huge fan of Victorian shoes and would love the modern take on those, the 2976 is your hit. It has all the sturdiness, convenience, and fit of its Victorian predecessors yet a style that can let you be in Vogue. The 2976 is one of their most-sold pairs and its features show why.
Specifications:
It features an extremely durable and non-slip PVC AirWair sole made of rubber.
The shaft measurements are approximately mid-calf from the arch.
It has a low heel measuring approximately 1 inch from the ground.
Smooth cowhide or leather constructs the entirety of the shoes.
You get a signature pull tab design on these boots, with welt stitching and elastic gores.
Coming up with the craftsmanship and signature detailing from Docs (take the stitching, side grooves, and heel loops), this is a pair that has been built to last. The biggest advantage of this unisex boot is its construction.
Forging Goodyear welts and sealing them using heat to the outsole is the finest method Docs could come up with. With the highly durable leather on the upper and that AirWair sole on the bottom, this pair can resist fat and water. 
It can resist abrasion and prevent you from slipping even when you strut through city slush. And this functional boot has a silhouette that looks good even when you're doing that! 
Best Eco-Friendly: Timberland Women's Courmayeur Valley Chelsea Boot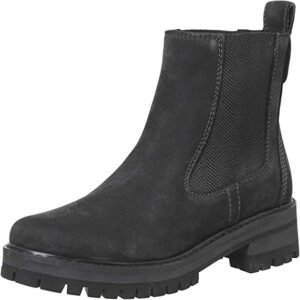 On this list, the second knock-off Blundstone is from Timberland. How it is different from the Dr. Martens 2976 is that it is made using eco-conscious and more sustainable materials. So the leather you have here is not your everyday shoe leather, but Better Leather that is sourced from a tannery that has been rated Silver. But does this affect the performance of these boots? Let's see.
Specifications:
The outsole of this pair of Chelsea boots is made of rubber.
The shaft measurements are approximately from the ankle to the arch.
Your boot opening here measures around 11 inches.
Pull-on style on these boots is paired along with dual-stretch gores.
Uses ReBOTL fabric lining that is itself made of at least 50% recycled plastic.
If you are visiting someplace cold during the season or tend to live in colder climates, these will be your go-to boots. Extremely comfortable and wearable with almost anything, the weather in DC, Tampa, or even in the cities of Mexico is suitable for these pull-on booties. 
And you can easily walk several miles in these boots without a problem! They feel warm, do not scuff easily, do not slip off ankles, keep off water and moisture from getting inside the shoe, and give you a gentle lift of height. 
And when you are done with the day's walking, these are easy to clean too. Users have reportedly worn these every single day for months and still found them to be as good as new. 
So you can be sure of not buying another pair of stylish bootie anytime soon unless you want the Courmayeur in other colors! 
Best Cowboy-style: Ariat Midtown Rambler Men's Leather Boot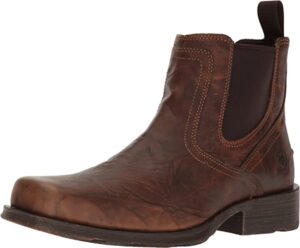 The third Blundstone alternative is what a cowboy's footwear dreams are made of, in leather. The Midtown Rambler is a perfect combination of durability and comfort since it makes use of the highest-quality, most lightweight material. Just like the Timberland Courmayeur, the shaft here goes up to the ankles from the arch, creating a cowboy- appeal to your entire ensemble.
Specifications:
These all-weather boots are made of 100% imported leather.
It features Advanced Torque Stability (ATS) Technology for moisture-wicking.
You have a gel-cushioned footbed here along with a heel stabilizer for stability.
The Duratread Outsole features Ariat's blend of rubber compounds for extreme flexibility. 
Pull-on style with side-stretch elastic panels allows easier styling
A perfect choice of boots if you find yourself walking on slippery surfaces frequently, these western boots can be worn with your everyday jeans, without hurting the authentic country fashion or even your feet. 
Thanks to the ATS technology promoted by them, you have a breathable pair of boots that are stable and comfortable all day. Pair this with the breathable lining, and you can maintain cool and dry feet throughout your day. 
The combination of EVA midsole and Duratread outsole ensures that you not only have lightweight cushioning in your strides but also have great durability—something you would seriously want from boots that you want to wear every day. 
What's more, the oil and slip-resistant outsole come with an additional 90-degree heel that increases the support that you get from them. 
Best Winter Boots: Dr. Martens Women's Leonore Chelsea Boot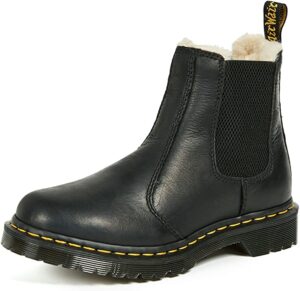 Of all shoes that look like Blundstones, the working men have found their pair of distressed boots that also meet the outdoor athletic requirements in the Ariat Midtown Rambler. But what about the women? Back with another Doc Martens, this is a pair suitable for women looking to be outdoors in extremely chilly weather and looking for comfortable and easy-on, easy-off boots. 
Specifications:
Constructed featuring the iconic Dr. Martens extra-rugged, air-cushioned outsole.
Goodyear-welted boots where the upper and the sole are sewn and heat-sealed to make the signature Z-welt stitch.
Offers abrasion and slip resistance without slipping off thanks to the elastic ankle gusset 
Lined with warm faux fur to keep your feet warm during the colder months.
Also features the essentials of Doc DNA: yellow stitching, groovy sides, and heel loops.
For women who love a gorgeous pair of functional boots to adorn and protect their feet in chilly winters, the Leonore is the safest bet. If you had previously thought chunky Doc Martens would look bad on your feet, this pair is here to debunk the rumor–because it not only looks great but also feels better. 
For outdoor trips where you need a comfortable and weatherproof pair, these boots deliver and survive in snow, ice, or rain! Planning to dress down or dress up? No issues of boot incompatibility. 
If you want to wear socks along with your boots, the slightly roomy fit when you size up is perfect. 
Allowing you a warm envelope of faux fur everywhere inside the boot minus the ankle (left out for obvious stretching), this pair is made for Upstate winters and standing 12-hour shifts like a pro.
Related article: Boots similar to Doc Martens
Best for Small Heel: Bruno Marc Men's Chelsea Ankle Boots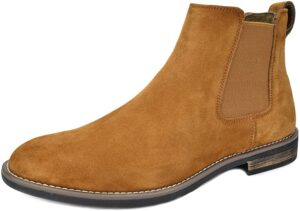 Quite a few brands like Blundstone are available at the market that can actually deliver a comfortable pair of boots without causing blisters. Bruno Marc is one. An excellent value for money, this is different from the Ariat Midtown Rambler or Dr. Martens 2976, because it is made of Suede Leather. But is this bargain worthy of being the best less-expensive Chelsea boots? Let's see.
Specifications:
The outsole of the pair is made of Thermoplastic Elastomers.
It comes with stretch bands for elasticity and is also secured by pull tabs for easy wear.
The leather lining here has been well-made to keep your feet warm all day.
In the footbed of the boots, you get soft EVA foams for fresh breathability.
The TPR outsole increases its durability, traction, and wear and tear resistance of it.
If you want a pair of boots with genuine leather but can't pay a hefty load for it, this is what you need. There isn't a direction you walk in that doesn't feel comfortable in this pair of Bruno Marc's. 
Unlike most boots, it is super comfortable around the ankles, so you have zero chances of getting blisters and bruises there from frequently wearing and putting off the shoes. 
In terms of quality and construction, these feel great and fit true to size as well. For those messing up size charts frequently, make sure you check your US sizes when getting it, which is one size up from the UK size. 
To add a slight touch of dressiness to your outfit without leaning towards the everyday slip-on sneakers, these boots are always great!
Best Waterproof: Sorel Women's Chelsea Boots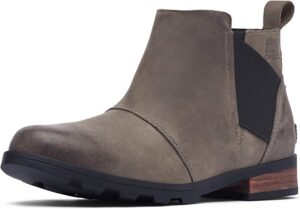 Similar to the Dr. Martens Women's Leonore, here's a pair of the best knock off Blundstones from Sorel that doesn't cost as much as the former. Combining excellent craftsmanship and in-the-moment designs, Sorel is known for making all-season boots so you can strut and work without needing to look for new pairs for every new season or for walks vs works. Here's how they manage functionality and fashion.
Specifications:
The outsole of these pair of boots is made of Rubber.
The shaft measures approximately 5 inches from the arch.
For the boot opening, you have a measurement of approximately 12 inches around it.
In terms of construction, it features premium and waterproof, full-grain leather.
There is also a seam-sealed construction that lines the entirety of the boot for support.
A go-to pair for rainy seasons, this pair of ankle boots is a classic from Sorel. If you have ever got nerve damage from wearing bad ankle boots to work and are looking for an excellent substitute for orthopedic shoes, these are the best Chelsea work boots for working long-standing shifts. 
This versatile pair combines a steady sole along with a sturdy block heel and on top of that, you have stretch panels on the upper of the boots. So taking the Emelie on and off your feet feels less like a chore and much easier. 
Out on a trip during the monsoon? 
This pair will keep your feet dry but also relatively warmer and you can walk miles and miles for days in these with absolutely no issues. Even after the trip and without the rain, these can be worn as casual boots with your everyday jeans.
Best Lightweight: Timberland Men's Earthkeepers Stormbuck Chelsea Boot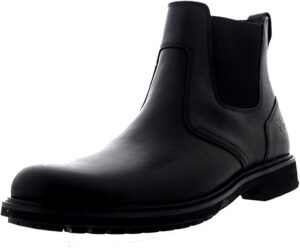 As one of the thriving and cheaper Blundstone alternatives, the Stormbuck from Timberland for the men is more toned down and has a lower heel than the  Timberland Courmayeur for women. However, it still has the revered burnished, waterproof leather and suede upper that makes Timberland boots so loved. What else does it have? Let's find out.
Specifications:
The construction features a 100% premium, full-grain, leather, and synthetic outsole.
The upper also features Burnished Suede for better waterproofing properties.
Materials are sourced from Silver-rated tanneries and are made of 100% Recycled PET Mesh Lining and 42% Recycled Rubber Outsole
Anti-Fatigue Comfort Technology means you can wear and work in these boots for long.
There is a single pull tab on the back and contrasting stitching accents on the pair.
Quality and durability are two of the biggest benefits of the Stormbuck boots. However, there's something new wearers of the pair need to be aware of to enjoy the full functionality of the shoes, and that is its size. 
This pair tends to run half a size smaller than your usual wear. So once you figure that out, you can easily lay your hands (or feet!) in these boots. Further, the longevity of these boots surpasses years, with only you needing to change the outsole of the boots if required at all. 
Furthermore, the comfort is unmatched and you can naturally have a lighter tread for how lightweight this pair actually feels. So no need to drag your feet like heavy boots make you do. 
Simply put them on with the right fit and these are good to go for 13+ hour shifts even in colder months without getting uncomfortably hot.
Ture to Size: Amazon Essentials Men's Chelsea Boot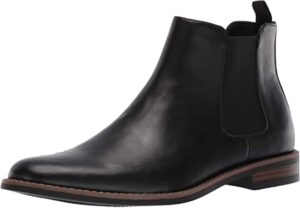 For many boots comparable to Blundstone, you will find that you may need to go a size up or a size down, and so on. With the Amazon Essential boots, you can rest assured of a true, snug fit that doesn't hurt your ankles or your toes! As an affordable pair, let's see what else it has got to make the quality and comfort from it worthy of your time.
Specifications:
The entirety of the shoe is made of 100% Synthetic materials.
It features a rubber outsole on each boot for durability and flexibility in strides.
The shaft measures are approximately ankle-high from the arch.
There are pull-on tabs on the pair with elastic gores as well.
It features a Casual Design that can be worn every day.
For people who have been wearing boat shoes for years and are looking for a change, this one is for you.  
Serving as a fresh pair of change for all those who do not like 2-inch block heels on their everyday boots, this one comes with a small, nearly-flat outsole, without making you feel like you are barefoot. It has an excellent fit even for taller wearers with wider feet. 
If you would like to add socks to your boots, a couple of days of wearing them with break it in for you, and do not need to opt for a larger size at all. 
The synthetic black leather looks as if it were real and the elastic gores are not overly tight. So you can not only wear them in style but also get them on and off pretty easily.
Best Rain Boots: Sorel Women's Harlow Chelsea Rain Boot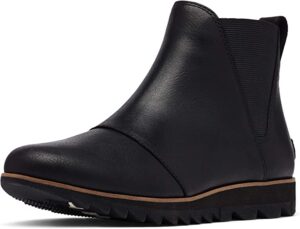 The Sorel Emelie Boots were ones that you could wear to work, on trips, and during winter or rain. Similar to this, and with the iconic balance of protection and construction Sorel is so proud of, here's to Harlow from Sorel. A perfectly practical pair of boots that you can wear for long miles, this pair is also suitable to wear in rain and is super comfortable for tours or travel. Here's more.
Specifications:
The outsole of the pair features gore details and synthetic/canvas lining.
On the upper of the shoe, you have waterproof full-grain leather.
This bootie also features molded rubber for steadier walks on slippery surfaces.
The insole design is made of a die-cut memory EVA footbed which is also removable.
It has a heel height of an inch and a platform height of 1.5 inches for all-day wear.
To those who want the right, glove-like fit from the shoes they buy, the Harlow will never disappoint. The actual size that you wear with most other brands is the one that will be your pick from Sorel, so it becomes super convenient for wearers to not have to dig up the size chart. 
If you feel like they initially feel snugger across the toes, wearing it for a little while around the house will ease it up for you. 
After that, pair it with dress pants, skinny jeans, or other styles you want to try out and you'll see how versatile it is in blending with the outfit! For those who need a steady tread for snow and slush, these fit the bill without causing foot pain. 
With a fantastic grip on the bottom of the shoe, this is also great for anyone older and with field duty during winter.
Editor's Pick/Best All-terrain: UGG Men's Biltmore Chelsea Boot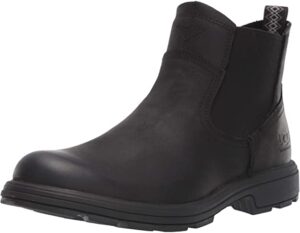 Like Sorel delivering for the women, UGG has also stepped up in the list to give the men something that they can wear outdoors in rain or snow without slipping: the Biltmore. It merges style and function to create a practical boot that features state-of-the-art waterproof construction and excellent support.
Specifications:
The Chelsea silhouette is made from full-grain leather and has a rubber sole.
The shaft measurement here is approximately ankle-high from the arches.
You get a boot opening of approximately 11 inches around it.
It also features a seam-sealed construction for better support and durability.
There is twin gore, rear pull tab, and all-around textile lining on the pair.
There is no doubt as to the quality of materials that goes into the making of UGGs. It is quite soft upon touch and has premium craftsmanship written all over it. But like any good boots, you have to notice the ankle is here. How is it? 
The ankle areas on both sides of the boots have an expandable section. It stretches according to the leg sizes of different wearers, depending on how their day combines walking, sitting, and running actions. 
Another likable feature of the Biltmore is the sole which is thick, yet not hard. It makes walking more comfortable with cushioning. You also have good arch support from here that saves you from painful blisters. 
A pair that suits the Highlands of Scotland or London, this is waterproof, comfortable, and can perform effortlessly in the worst rain, cold, or muddy grounds with an instant break-in.
See also: Boots like to UGG but cheaper
Most Comfortable: Cushionare Women's Sasha Chelsea Boot
Are the girls reading this impressed by the cushioning of the Biltmore Chelsea Boot and would like something similar for themselves? Cushionare is here to deliver! Featuring soft foam insoles that keep your feet comfortable throughout the day, this pair is true to size and is super cute and wearable with any outfit. The other features are mentioned below:
Specifications:
Rubber sole on the bottom of the pair increases flexibility and durability.
Premium Vegan Leather or Suede upper construction with the highest quality.
Easy slip-on and slip-off for convenience of the wearer.
Premium Memory Foam Insole that molds to the shape of your feet for the best fit.
The durable outsole also has 2 inches of a supportive block heel.
Getting a pair of Steve Madden boots without having to pay for Steve Madden boots–that's what sums up the Sasha Boot and its feel. 
It has the looks, it has the fit and it surely has the comfort of the cult-favorite brand for boots hence, our verdict is that it is indeed a surprisingly good Steve Madden dupe at half the price! 
If you are someone with wider feet, you will need to size up for these boots, otherwise, the fit is very true to your normal size. These boots have excellent quality in the sole and the upper with suede leather and rubber and are considered great Steve Madden Howler knock offs. 
For those living in cold weather, these will be great even if you wear socks with them.
Best Dress Boots: Gifennse Men's Chelsea Boots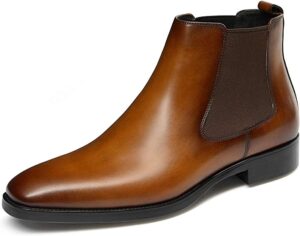 Don't get this pair unless you're ready to get a ton of unsolicited compliments on your shoes. Made to be the perfect sculpture of Italian dress boots, this pair not only looks good with formal, dark pants and jeans but with virtually any outfit that needs an upgrade. It breaks in relatively quickly compared to other dress boots and is pretty comfortable without being overly thin.
Specifications:
Classic Italian and elegant shape with outstanding temperament.
It comes with a breathable Pig Leather Lining and insole that is comfortable, elastic, and absorbs sweat to keep your feet dry.
Slightly cushioned foams in the insole provide comfort and shock absorption
The upper of the boots is made of high0quality, genuine Cowhide Leather.
It uses a handmade coloring process in giving the finishing to the shoe.
Quality starts in these boots right from the packaging. Wrapped up in a beautiful box, these boots have high quality rubber soles and are made of premium custom pieces joined together to make the ultimate Italian boot. 
It feels and looks as fine as a custom-made Italian dress shoe. Also, these hold up quite well if you are wearing them for frequent and casual wear instead of wearing them on special occasions, so they are long-lasting too. 
For walkers, these are greats shoes to put mileage on. Finally, in terms of size, they might run a touch big, so you would be better off going one size smaller to not end up with big boots. If you are deciding between 2 sizes, you would be wiser to pick the smaller size.
Best Fit: Clark's Clarkdale Arlo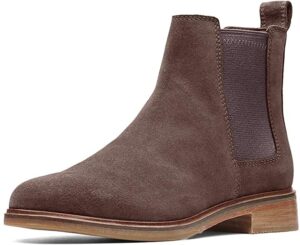 As much as the Gifennse Men's Chelsea Boots are the epitome of Italian dress shoes, the Clarkdale Arlo ankle boot from Clarks is what you would call a peak casual Chelsea boot. An easy-going fit that blends and looks good with almost any outfit, this pair of boots exudes style thanks to its lush suede upper. You can easily slip it on and enjoy strutting through the city!
Specifications:
This pair has a textile lining and is made of durable leather with a rubber outsole.
The construction can be slipped on easily and is well-made with dual goring.
You have a rear pull tab for easy wearing on both the boots.
There is a removable footbed on these boots that makes them more customizable.
It has a solid weight without making the shoe heavy.
The best thing about these shoes is that they run true to size. You might have a little more snugness than you want initially when you wear the shoe, but it quickly stretches out to imitate the mold of your foot. 
So it is fair to say you can break-in in a couple of days. Also, the width of the shoe is great for even those with a wide, boxy foot having a high arch. 
These fit surprisingly well. If you are someone who likes pointy shoes, you would love these more. And for the record, real cowboy boots are not squared-off in the toe-box, so these are a good representation of the cowboy style. 
And if you thought that would hurt your toes–no way! It still feels comfortable on boxy, high-arched feet. So those with narrow feet will also enjoy the fit of the pair. 
Best Wide Feet: Asgard Women's Ankle Rain Boots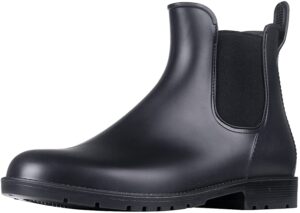 Men with wider feet will easily love the Clarkdale Arlo boots. But what about the women? For women with wider feet, Asgard boots are Godsend. It focuses on making rain footwear for women. So if you want to build a comfortable and very fashionable pair of rain shoes for your feet, don't look further than Asgard, ladies. These are lightweight and comfortable shoes that always keep you trendy!
Specifications:
It is made of high-quality environmental PVC material for lighter weight and durability.
Elastic-goring on both sides of the pair and pull-tab at the heel makes wearing it easy.
You get a roomy toe area here with an EVA foam insole that ensures all-day comfort.
It can be easily cleaned with wet clothe or a hose, so is excellent for garden work.
Delivers a perfect matte finish and can be worn in any weather.
Comfort is the middle name of these rain boots. It features textile lining along with a padded footbed that makes it easy for you to wear it all day, every day without causing discomfort at your ankles from frequent rubbing. 
The inner elastic fabric is edge-finished and quite helpful in this regard. It comes with a thick and durable rubber outsole that gives you remarkable traction on the wet, muddy ground. So these can be good competitors for hiking shoes or garden shoes. 
If you are regularly commuting to work, you can wear them casually too. In fact, users have gone so far as to call them house slippers for the comfort they render. 
So you see, these are great boots if you do not want to have constricted feet but a comfortable fit.
Best chunky: JABASIC Women's Casual Chelsea Boots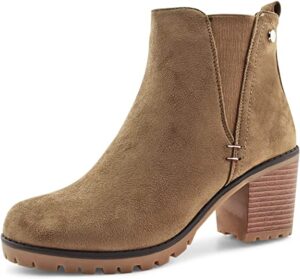 The last boot on the list today is from Jabasic, but there is nothing basic happening in the pair because it has some stunning advantages to provide you with. Firstly, this has great shape without being expensive but then again, looking expensive. For those who like to wear Chelsea boots to clubs and dance their hearts off, doing so in these boots will have your feet thanking you!
Specifications:
The boots are made of synthetic rubber soles for flexibility.
The upper material of the boots features premium synthetic suede.
You have a softer lining here that ensures no uncomfortable rubbing or stiffness.
It comes with improved elastic panels on both sides of the shoe for easy wear.
The outsole of the pair enhances the stability of the shoes and gives traction.
If you have suffered the hurt of your toes getting squished in Chelsea boots and hence you dread every Chelse boot, this will give you the time to think again. 
Causing no issues to the wearer or her toes, these boots are super comfortable and have never created sore feet on the wearer. 
So no blisters or rubbing, even if you wear them for long. It comes with a gentle slope at the top that prevents your feet from sliding down to the front. 
So there is no problem of your weight being pushed forward on the boots and tripping. So these are not just stylish shoes but also practical ones that look good dressed up & casual. 
If you love a little higher heels, the rippled platform and the height from it are manageable and very easy for you to walk in!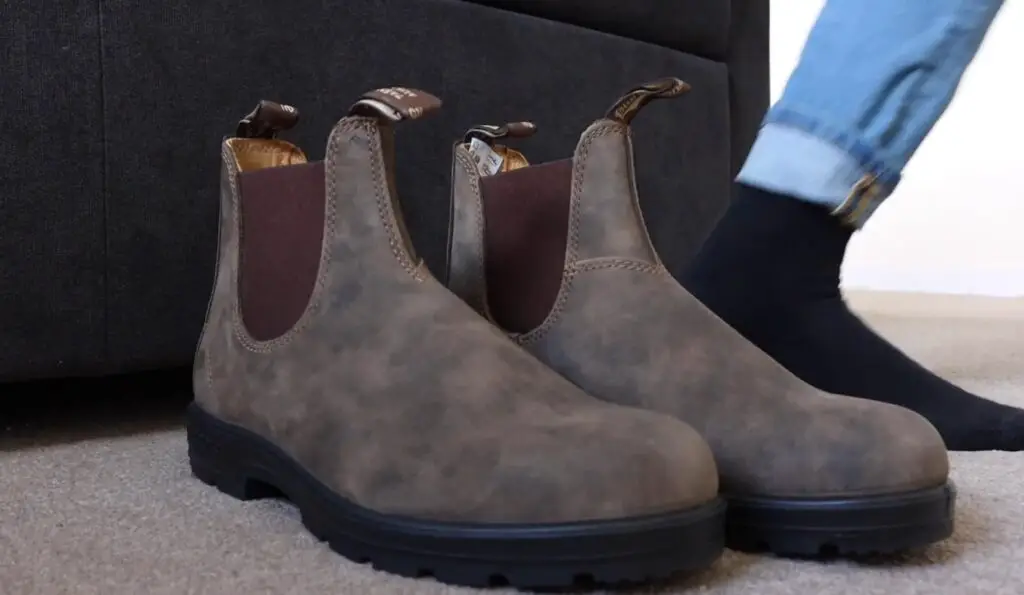 Buying Guide to Get the Boots Similar to Blundstone
You can follow this guide to get the best boots similar to Blundstone:
Size
Make sure that the boots that you are going to get come in a wide range of sizes and even better—these should include half-sizes. What it does for you is that it helps you decide the snug fit that you need from the pair. 
For those with wider feet, some shoes may require them to go a size up, while those with narrower feet may go a size down. The size up and down bias may also change when you have to decide whether or not you want to regularly wear socks with your boots. 
Then again, there are boots that fit true to size no matter for wide feet or narrow because they have a stretching element for the wider feet that doesn't need users to go a size up. 
Also, these shoes may be able to accommodate heavy socks without needing you to go a size up.So make sure you understand the manufacturer's size guide for the boots and go through reviews to find the right size for you. 
Material
Since boots are subject to the natural elements and the worst of them all throughout their lives, you should get Chelseas in materials that can hold up well. 
Picking between premium or suede leather and making sure that you care for it well enough to extend the life of the shoes is what you need to do. Also, get water-resistant or completely waterproof pairs.
Design
Your classic Chelsea boot should hit slightly above your ankles and dip a little at the elastic side panels. 
You will also find them having either platform or 2-inch block heels or sitting on a low/non-existent heel. Depending on what's around now, you will find the shafts and the soles varying. 
Make sure you have your desired combination of cap toes, pull tabs, and other features that make your boots unique to you.
FAQs
What boots are considered similar to Blundstones?
Boots from brands like Doc Martens, Timberland, Sorel, and Ariat are similar to Blundstones. These shoes may or may not feature chunky heels, padded ankles to reduce comfort, good textile lining, rubber/synthetic outsole, and real/suede leather construction. Most of them are waterproof and can be worn as a dress or casual boots.
What is so great about the Blundstone boots?
Blundstones are considerably great because of their comfortable fit, high-quality construction, and suitability for winter/monsoon climates that wearers absolutely love. The materials they use are protective, breathable, and supportive and hence these promote good foot health to the wearer.
Are Blundstone boots waterproof?
Yes. If you get Blundstone boots from the Gumboot and the Thermal series, you will get waterproof Blundstones featuring leather in their construction.
Are Blundstone boots still in vogue?
Yes. For celebrities like Ellen Page and the Beckhams, these shoes are ever so popular because they wear these boots. They are perfect for all-year Canadian seasons so if you live there, this is one of your footwear must-haves. Besides, these are popular for their longevity, lasting years because of their steady quality control.
Can I wear Blundstones during the summer?
Yes, if you get Blundstones that are made of lightweight material than their usual line of boots, then you can wear them during the summer too. Only make sure that they are made of breathable material that would be having moisture-wicking properties to feel your feet cooler in the summer.
Final Words
And that brings us to the end of our hunt for the best boots similar to Blundstone! As you saw, the top favorite was from Doc Martens. Dr. Martens 2976 is durable, comfortable, convenient, sturdy, yet flexible and ties modern design with Victorian shoes. 
Head to head with this, the Sorel Harlow Chelsea Rain Boot for women is excellent for women who love to go on trips and need a pair that can protect their feet from rain, mud, or snow without hurting their feet. 
For older women and the truest fit, the Harlow or Emilie from Sorel is great. And for a really affordable option that you can wear every day outdoors and not break the bank (and still look stylish,) the Amazon Essentials Men's Chelsea Boot is good enough. 
So make sure to have your pick wisely!
Related posts:
Are Blundstones Worth It
How to Break in Blundstone Boots Fast