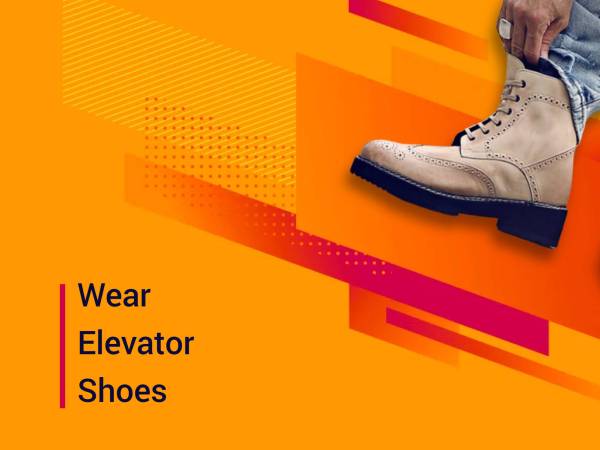 If you feel down or want to make yourself look a little taller, elevator shoes are your best companion. They can boost your confidence by adding a few inches to your height. But you might feel suspicious about their merits and demerits. 
If you wonder, 'should I wear elevator shoes? Yes, you can wear elevator shoes and it will increase your confidence make you presentable. Plus you can add extra inches to your height.
Elevator shoes are becoming more popular every day with their special feature of making you look taller and sophisticated designs. If you want to switch to elevator shoes, you need to learn about how you can wear them and what makes them special. So, without wasting any second, let's dive into it.
Should I Wear Elevator Shoes? 
If you think that adding a few inches of height can boost your confidence and present you more elegantly, you can go for elevator shoes. Elevator shoes can add a few inches of height while maintaining your outlook. 
There are various comfortable and stylish elevator shoes that you can wear. The lightweight and comfortable shoes add extra height and can keep you trendy and maintain your fashionable look.
Are Elevator Shoes Better Than Temporary Insoles? 
 It depends on the user. Some people prefer using temporary insoles to slide into their shoes and elevate their height. In contrast, others prefer built-in elevator insoles that cannot be separated from your shoes.
Though obtaining temporary insoles can be cheaper than buying new pairs of elevator shoes, it can be troublesome if they do not properly fit your shoes. It can make you uncomfortable, cause blisters and even make you fall.
Do Elevator Shoes Make Walking Uncomfortable?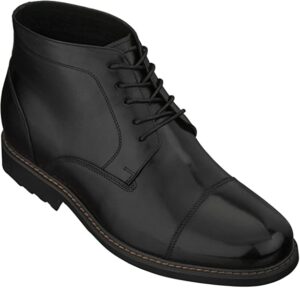 If you can choose the right pair of shoes, elevator shoes can be the most comfortable pair in your closet. You can make your walk comfortable and confident while adding extra few inches. 
However, the experience of your walk might change slightly as the structure of your shoe changes.
Comfort depends on the structure and fitness of your shoes. If you buy good quality and perfect size shoes, it won't make your walk uncomfortable or troublesome. But if the shoes are poorly made, or the insoles are faulty, it can cause discomfort and damage your feet.
Can Elevator Shoes Hurt My Feet? 
There is a common misconception circulating that elevator shoes cause pain to your feet. But the discomfort or pain entirely depends on the quality of your shoes. 
If the shoes are poorly made, they will not fit properly and damage your feet whether they are elevator shoes. Elevator shoes do not cause any additional pain or discomfort. But you need to choose a good quality and fit pair for that.
Can I Wear Elevator Shoes Every day? 
Yes, you can wear elevator shoes every day. If you are new to this, you need to consider some factors. If you want to wear your shoes for a long time, you must ensure the quality of your shoes. 
And if it is elevator shoes, make sure that the insoles are soft and comfortable so they won't give any extra pressure to your heel or feet.
Your type of work also plays an important role. If you stand or walk a lot, increasing the height of your shoe suddenly can be uncomfortable. As long as you wear comfortable and good quality shoes, it won't create an issue.
How Many Inches Can The Elevator Shoes Add?
Starting their journey with six inches elevator shoe is a good choice for beginners. Choose the right design and comfortable insoles for your shoes and start wearing them.
You can add eight or inches of height using elevator shoes. But starting with this much height can be uncomfortable and cause pain to your heels. But if you don't need to move much, you can also start with 8 inches heels. You can always add extra elevation after becoming comfortable with the current height.
How To Maintain Elevator Shoe In A Good Shape?
The maintenance of elevator shoes is not much different than usual shoes. If the insole is removable, you can remove and wash it with warm water and then air dry it. 
Machine washes are not recommended for keeping your shoes in good shape for a long time. 
Some shoes don't have separable insoles. So, when the insoles get worn out, you need to replace the whole shoe to maintain hygiene and comfort.
Final Thoughts
Elevator shoes have become more versatile and comfortable with time. Nowadays, you will find elevator shoes that are barely noticeable to match your purpose. If you are still worried about queries like whether should I wear elevator shoes or not, you don't need to think about that. 
You can gracefully carry yourself with this added height without any uneasy feeling. Knowing about the quality of your elevator shoes can give you extra confidence and make you shine even brighter. So, let's use the opportunity and enjoy your confidence once more.
👨‍⚕️HEALTH BENIFITS OF USING ELEVATOR SHOES FOR MEN This article