Who doesn't want a fancy pair of boots like Uggs? Especially when Ugg boots are the comfort king. But not everyone can afford those high-end shoes, right?
Why worry so much when we got you covered? Here we came up with the 20 best boots like Uggs but cheaper even though they offer the same warm hug to your feet as Uggs Boots do.
Moreover, they are equally fashionable to make you look rocking stylish indoors or outdoors. So, what are you waiting for? Decide on your pick from our review below and shop right away!
20 Best Boots Like UGGs But Cheaper | Knock Off UGGs
When you don't have the budget for original Ugg shoes, you can still enjoy the premium coziness they offer using their cheaper alternatives. Trust me they are incredible despite being off-brand Uggs in terms of convenience, style, and practicality. 
So, without further ado, let's get straight into the review.
1. Best Water-Resistant– Ausland Women's Classic Leather Mid-Calf  Snow Boots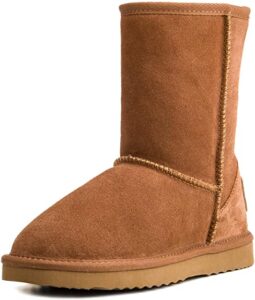 First comes a cute pair of classic leather boots from Ausland. The key specifications of this pair are-
Specifications
Comfortable and cushioned EVA sole
Water-resistant leather upper
Features soft fur lining to keep your feet warm
Durable and lightweight ergonomics
Easy to wear
You cannot but love these mid-calf boots if you want the best Ugg alternative. Being taller than ankle boots, these offer adequate support to your feet with a super comfortable feeling on the go.
Special thanks to the faux lining that works wonderfully well to let you feel warm. With a heel height of 0.79 inches, we think this pair makes the perfect replacement for the original Ugg boots at an affordable price point. 
However, as these shoes come straight from the factory, don't mind the loose fur inside. Just a simple hand clean-up would do in that case. 
Also, the durable EVA outsole perfectly suits these snow boots to let you rock on the road. 
Overall, this is a pair you will always come back for if used once. So, give it a shot before it runs out!
2. Best Flexible– Bearpaw Women's Emma Short Snow Boots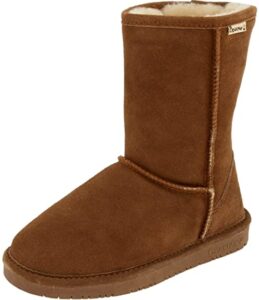 Looking for boots similar to Uggs but cheaper and haven't heard about Bearpaw yet? Come on, that seems impossible. After all, they live up closest to the Ugg boots standards.
Let's check out what these snow boots have in store.
Specifications
Unfailing rubber sole
Super flexible no-mark outsole
Classic pull-on style for easy put-on
Made of 100% suede
Available in some versatile colors
As we all know, Bearpaw never disappoints when it comes to combining comfort and contemporary fashion. That's what these snow boots do too. You can effortlessly style them up with denim, skirts, or any other outfit.
The soft suede upper is actually a big plus for these shoes as it offers a natural classic outlook. 
And thanks to the pinched seaming lining, these turn out to be the most cushioned snow boots ever. 
Best of all, the round toe design completely goes with the super flexible outsole. 
What's more, they are non-marking shoes in a very reasonable price range. 
However, they could have been a little more durable though.
3. Most Comfortable– Dream Pairs Women's Shorty Winter Boots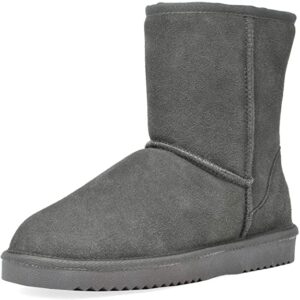 Thirdly, we have a beautiful pair of short boots for those chilly winter days. The core amenities of this classic pair from Dream Pairs are as follows-
Specifications
Features ultra-soft sheepskin fur lining
Adequate grip with the flexible rubber outsole
Comfy and cushioned rubber sole
Sheepskin footbed offers exceptional cushioning
Suitable for both indoors and outdoors
If you need the best Uggs dupes with a skin-friendly padded insole, what could be the best option other than Dream Pairs?
These shoes boast a slip-resistant outsole even during heavy snowfall. Certainly, these are the perfect winter boots you should get right away.
Besides, the long-lasting material makes the boots ideal for both outdoors and indoors. 
Similar to the Ausland Women's Classic Leather Mid-Calf  Snow Boots, they have faux fur lining to block the cold air.
Another good thing about these mid-calf snow boots is the variety of classic color choices. Furthermore, they all have elegant exteriors perfect for all occasions.  
Overall, they perform better than you pay for. So, don't miss the chance to get them in your closet.
4. Thickest Sole– Holly Triplet Bow Tall Classic Winter Boots for Women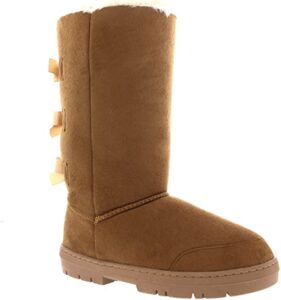 Next, meet an exclusive pair of rain and snow boots from Holly that is advertised as waterproof? But is it true? Let's find out.
Specifications
Made of high-quality faux suede
Soft synthetic sole
Fully lined interior for better support
Thickest soles ever to last forever
Available in some eye-soothing shades
First, let us inform you that these cheaper counterparts of Uggs come at an extremely affordable price. So, the budget won't be an issue here.
Next, moving into its performance, we were totally satisfied. The thick and durable soles drew our attention along with the deep tread.
Naturally, you get a better grip on the go even when it's raining or snowing heavily.  
Besides, the super-soft synthetic sole ensures you enjoy the same comfort level an expensive pair of Ugg boots provide. 
Above all, some classic eye-catching color options make it even more desirable. 
However, the only disappointing fact is that they are not as waterproof as advertised. But adding a waterproofing agent could solve that issue. 
So, we highly recommend this foot-friendly pair for all the women out there.
5. Best Multipurpose– Comwarm Lightweight Open Toe Women's Slippers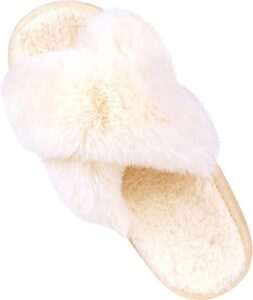 Need the best knock-off Ugg slippers? You are in luck as we have one on the list. Let's break down these lightweight multipurpose slippers to learn more about their key features.
Specifications
Super fashionable criss-cross design
The open toe design keeps the feet breathable
Soft and lightweight for regular use
Anti-slip EVA outsole for better stability 
Suitable for both indoors and outdoors 
Need a super comfortable pair of slippers that too with fancy design. We guess you got your pick. These amazing cross band slippers from Comwarm exactly meet your requirements. 
Being architectured with the skin-friendly fluffy plush, they offer an incredible wearing experience. 
Besides, they are extremely durable, thanks to their exquisite craftsmanship. All the edges are rugged and robust so as not to crack anytime soon.
On top of that, you can wear them both at home and around the backyard. Don't worry, they don't leave marks on the floor. 
Nevertheless, if you want to use this luxurious pair of slippers for longer, we strongly recommend hand washing them instead of machine wash.
6. Most Gorgeous– Cushionaire Women's Heather Pull-On Boot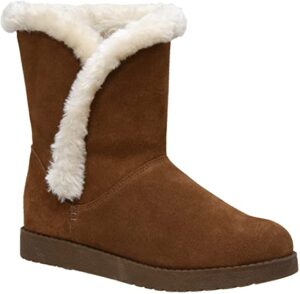 At this spot, we want you to meet the most gorgeous pair on the list in the genuine chestnut color. The prime specifications it is engineered with are pointed below.
Specifications
Long-lasting rubber outsole
Easy slip-on wear
The premium memory foam insoles offer added support
Made of soft genuine suede leather 
Comfy and cozy rubber sole
Aside from having an attractive outlook, these are also extremely comfortable not to let you miss the original Ugg.
Talking about its exclusivity, we cannot but praise the faux fur linings and memory foam insoles. No wonder you feel so relaxed wearing them.
On that note, the easy slip-on system makes the shoes easily wearable. And the 6.5 inches shaft measurement is a blessing for people who tend to have leg injuries. They get proper arch aid from reliable rubber soles.
Most importantly, the high-quality materials make it long-lasting. Besides, your feet feel exceptionally warm even when you are walking on 3 inches of deep snow. 
However, they run a bit small. So, check the size properly before buying!
7. Most Cushioned– Dream Pairs Black Winter Snow Boots for Women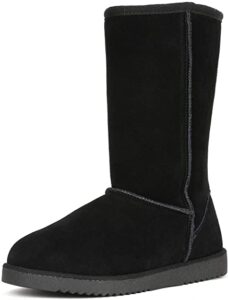 Here comes another pair from Dream Pairs, a renowned name in the fashion footwear field. Let's check out what specialties this elegant pair of boots offer.
Specifications
10.5″ shaft measurement for better arch support
Very comfortable opening
Unfailing artistry makes the shoes pretty long-lasting
Sheepskin footbed with ultimate cushioning 
Optimum grip and traction with tread design in the outsole
First of all, we cannot but thank the rubber outsole of these boots. They are more than perfect for any trail, be they slippery, muddy, rough, or curved. The special tread design makes it possible to win over any surface with these traditional suede leather shoes.
Fast forward to the craftsmanship, the mid-calf boots are in high demand during those freezing winter days for the warmth they deliver. All thanks to the original sheepskin fur linings, cold air cannot attack your legs.
Above all, the heavily padded suede upper combined with the ultra-soft insole makes it a great purchase as the best fake Uggs.
But they run small in size. So, size up if you want a snug-fitting.
8. Best Moisture Wicking– Bearpaw Women's Knit Tall Winter Boots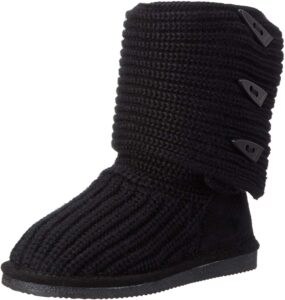 If you prefer wearing mid-tall boots, this full-knitted Bearpaw pair could be a nice alternative. The key features it's crafted with are-
Specifications
Made of 100% fabric
Lightweight TPR outsole
Features a genuine sheepskin lining for better moisture wicking
Full knitted upper delivers a classic outlook
The collar is convertible to tall or folded based on your choice
Undoubtedly, these boots provide the snuggest fitting ever with the rounded toe design. Besides, you can wear them in two ways- keeping the collar tall or folded. That's surely a great amenity for any off-brand Uggs, isn't it?
As Bearpaw made these boots with high-quality materials, they are outstandingly durable. 
Being made of natural fur and genuine sheepskin, they are no less than an original Ugg pair in terms of offering a warm hug to your feet. 
However, they come in two colors only. So, if you prefer more color choices, try out the Cushionaire Women's Heather Pull-On Boot.
9. Best for Regular Use– Dearfoams Water-Resistant Scuff Slippers for Indoor/Outdoor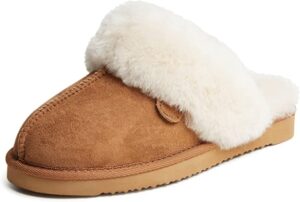 Those who prefer wide-width slippers for indoors or outdoors can try these super comfy slippers from Dearfoams.
Being available in a wide variety of colors, these are what they have in store to offer the users'-
Specifications
Comfortable EVA sole
Lightweight architecture to maintain stability 
Made with 100% Australian sheepskin
Features breathable sheepskin lining
Absorbs moisture quickly to let your feet stay dry
Similar to the Bearpaw Women's Knit Tall Winter Boots, these too feature moisture-wicking properties. Resultantly, the breathable upper adjusts to your body temperature pretty fast.
As it won't let your feet sweat, you can comfortably wear them all day long. Wear it on the busiest day ever and still feel relaxed. That's the magic of the luxury sheepskin, we guess!
Offering a competitive price range, it stands out from other contemporary slippers with the chick scuff style. 
Above all, the low-maintenance shoes let you clean them with just damp clothes. Thus, they became everyone's favorite as regular working shoes.
10. Most Perfect Sizing– WaySoft Genuine Australian Sheepskin Water-Resistant Shearling Boots for Women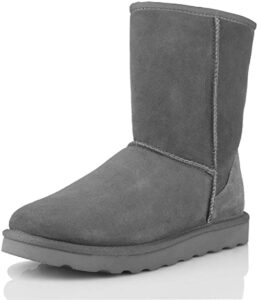 If you are amazed by the original Australian sheepskin slippers from Dearfoams, here we have a pair of boots from the same material.
Let's check out its key benefits first.
Specifications
Made of premium Australian sheepskin 
Labeled as water and stain resistant boots
Comes in a beautiful box
Offers breathable warmth with the natural wool construction 
Meets the highest quality standard like the high-end brands
Honestly speaking, we could spot no difference while wearing these women's boots if it were an original Ugg or an off-brand one. 
The reasons behind it were the highest quality material. Besides, the super velvety finish makes them compete with the high-end brands effortlessly. 
Best of all, it does not differ in size chart from those expensive brands' shoes. For example, if you are size 8 in a famous brand like Ugg, you need the same size from WaySoft. What a great advantage, isn't it?
Si, would you like to miss the same luxury brands' comfort at half the cost? Umm, we don't think so!
11. Most Stylish– ZGR Women's Classic Outdoor Ankle Booties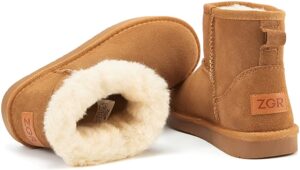 Next on the lineup, how about exploring a pair of low-height boots for winter? Let's then check out these classic outdoor mid-calf booties from ZGR in detail. 
Specifications 
Very relaxing rubber sole
Breathable water-resistant upper
Lightweight and flexible ergonomics 
Features warm and cozy wool lining
Made of durable suede leather for all-year-round use
Need a pair of boots similar to Ugg Adirondack? We have a solution that will cost less than half of the original pair.
But it doesn't make it any less than a stylish pair of Uggs. In fact, it is one of the most stylish pairs of booties to pair up with anything in your wardrobe. 
Although we call it a winter boot, you can use it for wet and damp weather as well. 
Most importantly, you get a non-slip grip with a reliable rubber sole. 
Overall, it seals the deal quite well offering optimum warmth. So, get a pair and help yourself during the freezing winter.
12. Best Eco-Friendly– Aus Wooli Unisex Short Ankle Boots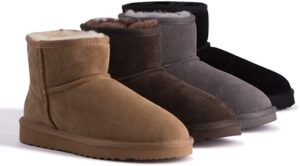 As the twelfth product on the list of the best boots like Uggs but cheaper, we came up with a pair of unisex shoes. Similar to the ZGR one, it's also a short ankle boot. Let's break down the key amenities below.
Specifications
Fully molded insole with proper support
Water-resistant suede upper
Genuine Australian sheepskin wool lining for extra warmth
Sourced the materials in an eco-friendly process
High-density EVA blend outsole for added traction
As already mentioned, these shoes are sustainably sourced so as not to affect the environment. That's why they are an eco-friendly option on the list. 
However, they come in a brand new box. So, you can consider them as a valuable gift item for your near and dear ones. They will love these shoes for sure. 
A great advantage of these short ankle boots is the premium sheepskin material. As a result, it keeps your feet cool in summer and warm in winter. 
All things considered, this pair makes a great purchase for the price.
13. Best Anti-Skid– Husmeu Women's Cross Band Slippers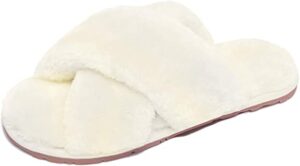 Looking for a pair of house slippers with anti-skid outsoles? Lucky you are as we have selected one after so much research. Let's explore if it meets your expectations or not.
Specifications
Breathable open toe design
Easily matches with most of your outfits
Anti-skid rubber outsole
High-density memory foam insole offers ultimate cushioning 
Wear-resistant material prolongs its lifespan 
Whether you use it as a regular house slipper or not, rest assured you are not going to slip or slide, thanks to the durable non-slip outsole. 
The anti-skid texture really justifies the features with 100% foot support.
Be it hot or cold, you will never feel stiff in these shoes because of the breathable open-toe design. 
For the same reason, it's quite easy to put on.
Also, the three classic colors, namely grey, green, and white let you wear them with pajamas, jeans, nightwear, gown, and whatnot.
However, as they are made of flush and fuzzy materials, naturally, they shed a lot of fuzz. So, watch out if that's an issue for you.
14. Most Versatile– Bearpaw Women's Alyssa Slip-On Winter Boots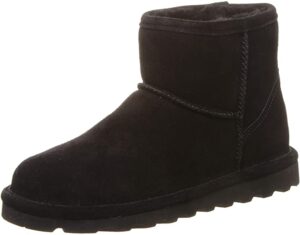 Meet a pair of boots that you can wear as slippers too! Surprised? Well, check out the details then.
Specifications
Made of 100% suede
Sheepskin and wool blend lining to keep the feet warm
Durable and lightweight rubber outsole
Treated with NeverWet technology for strong water-resistance
Withstands up to 40 wash cycles 
Suppose, you are wearing a pair of gorgeous socks and want to flaunt them. That's when these Bearpaw ankle boots come in handy.
In fact, they are so easy to pull on that you can use them like slippers as well. No wonder, they are the most versatile pair of winter boots on the list. 
If you are suffering from extreme foot fatigue, rely on this super convenient pair for once. The incredibly soft sheepskin footbed will reduce the pain to a notable extent.
Above all, the NeverWet technology is worth every penny by making the shoes highly waterproof. So, you shouldn't miss them at any cost.
Read also: How To Clean Bearpaw Boots at Home
15. Best for Heavy Snow-Sorel Women's Winter Carnival Snow Boot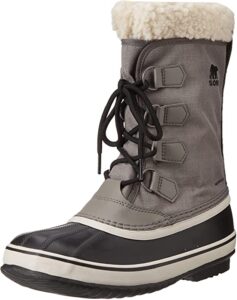 The fifteenth place of this review is occupied by a heavy-duty snow boot from Sorel, the name always lives up to the expectations. Let's break down their waterproof winter boots in detail below.
Specifications
Waterproof nylon upper
¾" heel and ½" platform assures all day long comfort
The vulcanized rubber shell with herringbone outsole offers outstanding balance 
Carefully made in the USA
Seam-sealed waterproof workmanship for extra durability
Sorel always makes some amazing winter boots and this one is no different. They outplay their contemporary shoe manufacturers by providing the best winter support in their famous snow boots. 
Living up to the promises, these unique snow-friendly boots feature a 2.5 mm bonded felt frost plug in the sole. 
Moreover, the purposefully crafted details are all up for protecting heavy snow, water, or rain.
In a word, you can trust these Winter Carnival boots for anything from drinking on the slopes to strolling through the shops. 
16. Most Long-Lasting– Cushionaire Women's Hipster Pull-On Boot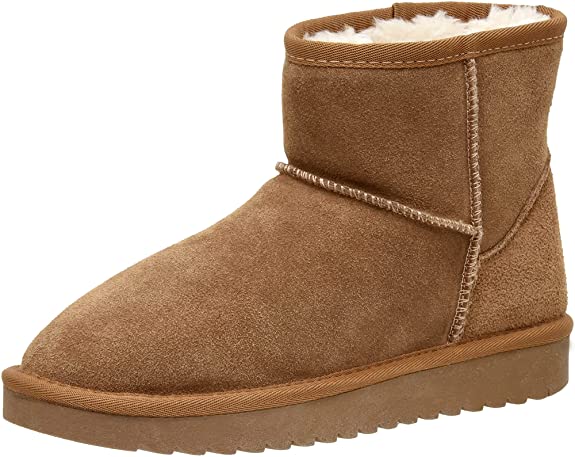 When it comes to the most long-lasting outsole, Cushionaire outperforms all other contemporary brands in terms of replacing Ugg boots within budget. Here are the core specifications of their latest Hipster women's boots-
Specifications 
Soft and cushioned rubber sole
Made of premium quality suede leather
Features memory foam insoles and soft faux shearling lining
5-inch shaft support
Like all other Cushionaire boots, this too features full fur lining on the bottom, resultantly, more comfortable for day-long wear similar to the Dearfoams slippers. 
Also, they are quite easy to maintain. Just wipe them with a damp cloth or wet wipes and they will retain the like-new shine. 
To be more straightforward, they just don't look like the Uggs but also feel like them. Most importantly, the shearling lining is almost identical.
Just make sure to go ½ size up if you prefer wearing thick socks.
17. Best on Budget– Cushionaire Sushi Cozy Slipper+Memory Foam for Women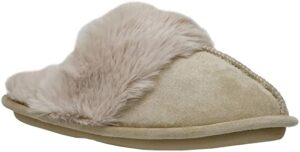 Who doesn't want the best value for money, especially, when you are choosing cheaper dupes of those high-end Uggs? Then check out our budget-friendly pick as a favorable alternative. 
Specifications
Very affordable price point
Soft and cozy vegan suede upper
Durable rubber outsole
Made of superior quality material compared to other cheap Uggs knock off
Supportive rubber sole to reduce foot fatigue 
After wearing these cute fluffy slippers, the first thing to knock our heads was, these are, indeed, the comfiest Uggs dupes ever. 
Why so? Wait, let us explain. The faux fur lining is so soft that you can literally sleep with these shoes. And the slip-on system makes them easily wearable. 
Besides, they come in five different colors all of which are elegant.
If only the memory foam insole were a bit more supportive, it could have been better.
18. Best Wide Width– Cushionaire Women's Happy Pull-On Boots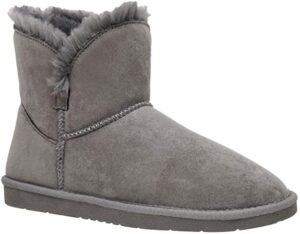 As the name suggests, you literally can happily put on these boots even in a hurry. The key conveniences it offers are as follows-
Specifications
4.5 inches shaft measurement 
Strong and sturdy rubber outsole
Features premium quality materials to last longer
Soft and supportive vegan suede upper 
Hassle-free slip-on wear
Well, the biggest benefit of this pair from Cushionaire is its availability in wide width. Therefore, people even with wide feet can comfortably wear them.
Next, the textured rubber outsole is treated to provide added traction on any trail.
And the 4.5″ heel measurement is perfect for those who prefer a bit elevated boots.
Despite the positives, the bad smell it creates after taking off the socks is a bit annoying. Though it goes away with time. 
19. Most Exclusive– MUK LUKS Felicity Fashion Boots for Women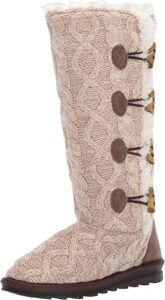 Here comes the most exclusive collection from one of the most legendary shoemakers, MUK LUKS. The prime features it comes with are-
Specifications
Water-resistant architecture 
Very fashionable exterior 
Arch to knee-high shaft measurement for extra protection 
Made of 100% pure synthetic
Features cozy and cushioned rubber sole
If you have no idea how these shoes look, you can mistake them for your favorite sweater at the first glance. That's what makes them so exclusive though. 
The knit cable design along with toggle buttons drew out attention swiftly. Then the water-resistant upper surprised us with its commendable protection.
Another desirable spec is the faux fur detail that keeps these fashion shoes trusted and trendy forever.
20. Best Slip-Resistant– SUSHAN Soft Plush Anti Slip Slippers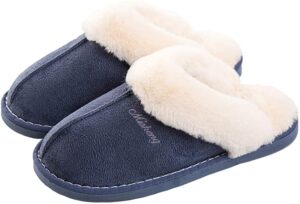 Specifications 
Durable and dependable polyvinyl chloride sole
Made of high quality plush
Breathable cotton upper 
Comes with anti-slip PVC outsole
Both for indoor and outdoor use
Do you want a secure footstep anywhere you go? What could be better than these non-slip faux fur slippers then?
It literally delivers next-level cushioning with the high-density terry cloth foam. Moreover, the breathable upper keeps the feet dry always. 
Whether you are walking in your bedroom or walking in the backyard, holidaying on the beach, or working in the garden, rest assured you will never be out of fashion with these slippers on.
So, definitely, they seal the deal as your best bet, what do you say?
Reasons to Buy UGGs Alternatives
Whether you buy knock-off Uggs for toddlers or for adults, there are some substantive reasons behind that. Let's have a look at them below.
Budget
The first thing, of course, is the huge price gap. You can buy multiple pairs of Uggs knock off for the price of one original pair. 
Quality 
Despite being cheaper counterparts, some Uggs-like boots are really worth it. For example, Bearpaw is almost identical to Uggs in terms of quality. 
Style
Cheaper Uggs lookalikes are available in a variety of styles whereas original ones come in some limited designs. This is one of the biggest reasons for going after off-brand Uggs over the branded ones. 
How Can I Clean My UGGs?
Cleaning Uggs is the biggest challenge as you cannot afford to buy them regularly. So, you should follow the exact steps for the healthy maintenance of the shoes. 
First, wipe the shoes with a soft-bristled brush and then use a damp sponge or cloth to moisten them. 
Of course, you need to stuff them with paper pieces to hold their original shape. 
Now, gently clean the shoes with that sponge and let them air dry. 
Please remember that such a gentle hand wash extends Uggs' lifespan rather than a machine wash. 
Things to Consider When Buying Boots Like UGGs But Cheaper 
To save you from the tiring process of trial and error, we have a checklist below to consider before you invest in the Uggs lookalikes. 
Durability 
Not all Uggs-style shoes are equally durable. Only high-quality material and top-notch workmanship can make them long-lasting. Even though you are going for cheaper dupes, they should at least last long, right?
Sole
Be it original or fake Uggs, you should aim at a comfortable and flexible sole to make the best use of it. Generally, rubber soles are flexible on every terrain. Besides, they are very cushioned and textured to remain slip-free.
Materials
Even though you are buying fake Uggs, you are still spending your hard-earned money. So, the material should pay you back. Aim at premium category materials like suede or upper. They will let you feel like original Ugg boots in many ways.
Lining
One of the most exclusive add-ons of genuine Uggs boots is the inner lining. So, knock-off Uggs should also have it. If possible, try to get the Australian wool lining inside. 
However, faux fur or regular wool isn't a bad choice either. 
Fitting
The major issue we encountered with the Uggs-style shoes is with the fitting. In most cases, the off-brand shoes don't match the size chart with the branded ones. Either you need to size up or size down.
Therefore, be specific when you intend to buy a dupe pair. Check the measurement chart properly and get your exact size. Otherwise, you won't feel comfortable and end up having blisters.
FAQs
Final Words
Here is our search for boots like Uggs but cheaper ends. Hopefully, you can decide on the right pick that offers similar comfort and warmth as the branded ones. 
If you are still confused, let us make your task easier. You can go for the Holly Triplet Bow Tall Classic Winter Boots for Women that have three cute bows on the back. Also, they have the thickest soles to fight against cold.
Or else, try out the WaySoft Genuine Australian Sheepskin Water-Resistant Shearling Boots that don't differ in size from the genuine Ugg boots. Naturally, you need not size up or down.
However, the Aus Wooli Unisex Short Ankle Boots are the best selection as men's boots like Uggs but cheaper as they come unisex. 
Finally, take good care of your knock-off Uggs and they will serve you more than you expected. 
Happy shopping!